Or; Exploring Rum – X Marks the Tot
Given its hugely diverse nature – in terms of flavour, geography and production methods – rum has, over the years, proven notoriously difficult to classify, regulate and, most fundamentally, understand.
One of the ways in which we at The Whisky Exchange are trying to tackle these issues is with our brand-new rum classification, which aims to categorise different types of rum primarily by production method – much like has been done with Scotch whisky, e.g. single malt, single grain, blended, etc. – and secondarily by flavour, doing away as much as possible with the arbitrary (and easily manipulated) but widespread colour classifications: White, Golden and Dark, which fail to provide any real insight into how the rum is made, what it contains and, most importantly, what it tastes like.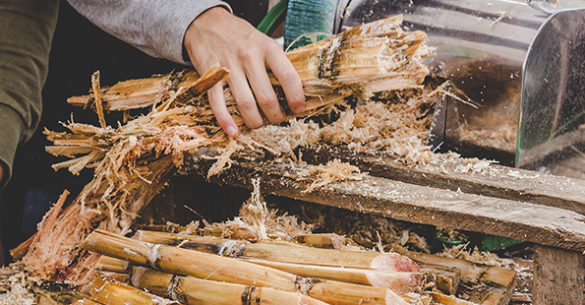 Another way to explore rum, in particular its history, heritage and traditions, is through its geography. Whilst not an iron-clad guarantee of specific flavours and production methods, where rum comes from has, historically, dictated production options, ingredients, and thus, the individual styles produced in any given region or on any given island – similar, again, to the whisky regions of Scotland. Those rum regions, and the styles traditionally associated with each, are what we'll explore here.
For an introduction to the world of rum and how it's made, explore our new classification and flavour camps and even take a fun quiz, Discover Rum over on The Whisky Exchange website.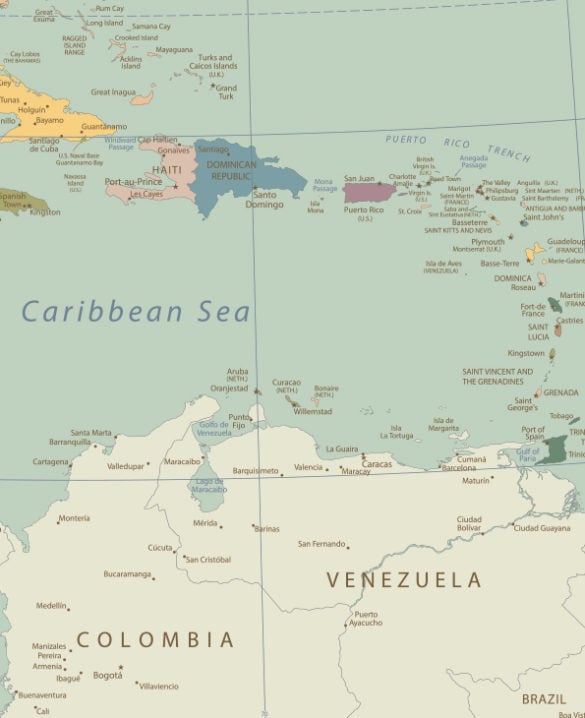 The Americas
Sugar cane was introduced to the 'New World' – modern Brazil – by Christopher Columbus in 1492, literally sowing the seeds of modern rum.
Much of South America's rum production has traditionally focused on the distillation of sugarcane honey, with its dual benefits of classic rum flavour and a longer shelf life than sugarcane juice, helping producers to craft rich, sweet rums originally designed for the North American palate.
Guyana
Due to its proximity to the equator, Guyana is able to make two sugar harvests a year, allowing it to produce very large quantities of rum.
Diamond Distillery has been the only operational distillery in Guyana since 2000, the last bastion of rum production upholding the nation's trademark, rich and sweet style.
Panama
The geography of Panama's sugar-growing regions is very similar to the Caribbean islands' finest cane-growing estates.
Panama's rum production began in the 1920s, emulating the light, fresh and fruity Cuban style in order to appeal to American tastes.
Nicaragua
Nicaragua began producing rum in 1937, opting for the lighter, Cuban-style spirit that Americans loved.
Venezuela
Unlike most of its South American neighbours, Venezuela still incorporates pot-still distillate into its finished rums, making for a weightier style seen less often in the region.
Despite a long history of rum production, Venezuela has just two surviving distilleries: Santa Teresa, and DUSA, which produces popular brand Diplomatico.
Venezuela is one of few countries with a designation of origin: Rum of Venezuela. This dictates that all rum must be aged for at least two years – the longest minimum for rum ageing in the world, equal to Cuba's.
The Caribbean
The Caribbean is the birthplace of rum as we know it today. Sugarcane alcohol production in the area dates back as far as the 15th century, with evidence of distillation in Barbados as early as 1637.
Barbados
The spiritual home of modern rum, rum production has been a constant on Barbados since 1703. The island is now home to some of the world's best-known producers including Foursquare and Mount Gay.
Barbadian rum tends to be Caribbean rum in the truest sense – blends of pot- and column-distillate are aged in oak barrels to create a full-bodied, well-balanced and fruity style.
Jamaica
Jamaica has been one of the Caribbean's biggest sugar producers since the early 18th century and was a substantial contributor to the tenfold increase in rum imports to the UK by the 1770s.
Jamaica is home to some of rum's best-known names including Hampden Estate, Worthy Park and Appleton Estate.
Jamaica's Hampden Estate distillery has built its reputation on incredibly high-ester rum – the fruit squash concentrate of the rum world, it was originally used to add weight and flavour to less-intense, less-flavourful spirits. A challenging spirit on its own, it's a powerful and valuable ingredient in blends.
By the 1820s, Jamaica was exporting as much rum to the UK as current world-leader Bacardi's entire global output in 2017.
Jamaican rum is similar in style to that produced on Barbados, producing blends which lean more heavily on full-bodied pot-still rum and are rife with rich, fruity esters.
Trinidad
Trinidad's rum-producing history is now in the lap of its last operational distillery, Angostura. Though the island is currently garnering plenty of attention thanks to the release of old bottlings of Caroni rum.
The darling of many modern rum enthusiasts, closed Trinidadian distillery Caroni is famed for producing powerful and incredibly deeply-flavoured column-distilled rum.
Haiti
Rhum (the 'h' is often added on French-speaking islands) has, historically, been big business in Haiti and even today the island has more individual producers than anywhere else in the world.
Haitian rhum such as Clairin and Barbancourt is typically oily and vegetal in character.
In recent years, Haitian rhum has been brought into the limelight by bottler Velier, who buy and sell spirit from selected small distillers under the Clairin label.
Cuba
Cuba and its capital city, Havana, are synonymous with rum, but Havana Club is the only remaining large-scale producer left on the island.
Cuba is the home of cocktail culture, and pioneered the light, fresh and floral style of rum which has become the staple of classic drinks like the Mojito and Daiquiri.
The Rest of the world
With the rise of craft spirits since the early 2000s, there are now hundreds of commercial rum distilleries and countless other small-scale producers, from London to Australia and beyond.
England
Austria
Rum has taken Austria by storm, with Stroh Austrian Rum having become something of a national phenomenon. Spiced and flavoured with natural flavourings, Stroh is used most notably in alpine areas, added to hot chocolate or as an ingredient in hot mulled drink Jägertee, often served in ski resorts.
Scotland
Scotland's first purpose-built rum distillery, Dark Matter Distillery, has already won gold medals at The Spirits Business Rum + Cachaça Masters. It has since been joined by SeaWolf; created by Mike Aikman and Jason Scott of famed Edinburgh cocktail bar Bramble, and J. Gow, made and matured entirely on Orkney from imported high-grade molasses.
Australia
An Australian favourite, Bundaberg produces an award-winning range of rums from Bundaberg Underproof, all the way up to top-tier sipping rums – all made with locally-sourced ingredients.
Japan
Rum has even flown as far as Japan, where boutique distillery Nine Leaves distils in Scottish copper-pot stills under Yoshiharu Takeuchi, who trained briefly at Chichibu.
Phillippines
Don Papa holds the torch for rum in the Phillipines, where it creates and ages award-winning, small-batch rum.
To learn more about the wonderful world of rum, check out our dedicated rum hub or, even better, treat yourself to a bottle or two from our Top 10 Rums and Customer Favourite Rums.
Posted in
Rum / Rhum
Tagged

Angostura, Appleton Estate, Bacardi, barbancourt, Bimber, Bundaberg, Cabby's, caroni, Clairin, Dark Matter, Diplomatico, Don Papa, Doorly's, Flora de Cana, Foursquare, Habitation Velier, Hampden Estate, Havana Club, J. Gow, kill devil, Manchester Still Inc., mount gay, Nine Leaves, Santa Teresa, Sea Wolf, Single Barrel Selection, Stroh, Worthy Park