While the weather seems to have forgotten that it's autumn, Diageo has not, and the latest instalment of the company's much anticipated annual drop of tasty things has arrived. Please welcome the Diageo Special Releases 2023 – Spirited Xchange.
What are the Diageo Special Releases?
If you're new to the Special Releases, it's quite simple. This range of bottlings pops up once year to showcase different takes on whiskies from Diageo's various Scottish distilleries. There are old favourites that appear regularly, rare expressions from distilleries that don't get much love and surprising twists on classic single malts. On top of that, the past few years have seen themes appearing across the range, tying the whole lot together under a unifying concept.
This year's Special Releases are particulalry special to us, as they were launched at Whisky Show, our annual celebration of all things whisky. Stuart Morrison – the malt master behind the range – was on hand at the event to answer everyone's questions, and give us an insight into how he created these remarkable bottlings.
If you'd like to learn more about previous years, check out the links at the end of the post or head to The Diageo Special Releases – What are they?
The 2023 Edition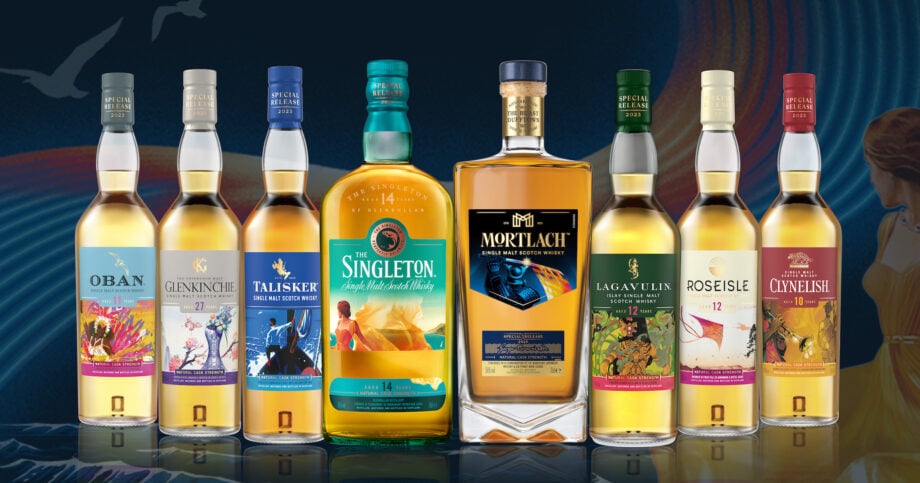 The past few years have been all change in the Diageo blending rooms as Stuart Morrison has taken over Craig Wilson's role as head of the Special Releases. Stuart's moved things in a different direction to the past few years of Craig's stewardship, and the Diageo Special Releases 2023 look beyond Scotland' s borders for influences from other countries, wines, spirits and cultures.
Spirited Xchange
While Diageo is best known for its whiskies (and maybe a little bit for Guinness and Smirnoff), the company has its fingers in many other pies. Not only does it own distilleries around the world it also, through its Distill Ventures wing, supports new producers who are doing something a little different.
The 2023 Special Releases takes a selection of familiar names – and one less so – and looks at them through a lens of collaboration. The result is eight expressions influenced by a spirited (e)xchange of ideas.
And with that, it's time to talk whisky…
The Singleton of Glendullan 14yo The Silken Gown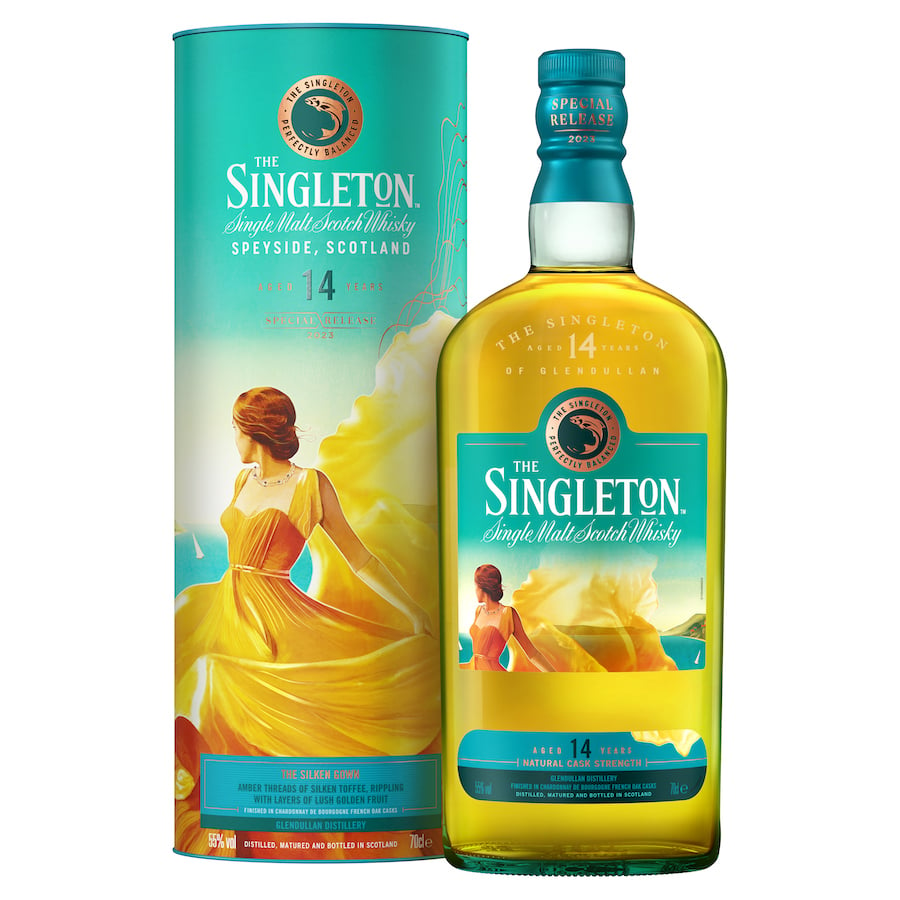 55% / £132
The first bottle in the range is from Glendullan distillery in Speyside. Inspired by the fashion houses of France, it showcases the distillery's rounded and fruity spirit finished in Chardonnay de Bourgogne casks – white wine casks from Burgundy. The wine itself is a rich and rounded expression of the grape's character which melds very well with the whisky, adding depth, complexity and yet more fruitiness to the spirit.
Nose: Sweet shops to begin: peach Haribo, rhubarb and custards, sherbet lemons and barley sugar. Notes of cream and sour apple develop over time.
Palate: We've moved down the road to the baker's now, with lemon shortbread and custard slices joined by milk chocolate, speculoos spices and plump sultanas.
Finish: Floral notes initially dominate, slowly fading to reveal sultanas, toffee apples and more of the speculoos spiciness.
Buy The Singleton of Glendullan 14yo The Silken Gown >
Oban 11yo The Soul of Calypso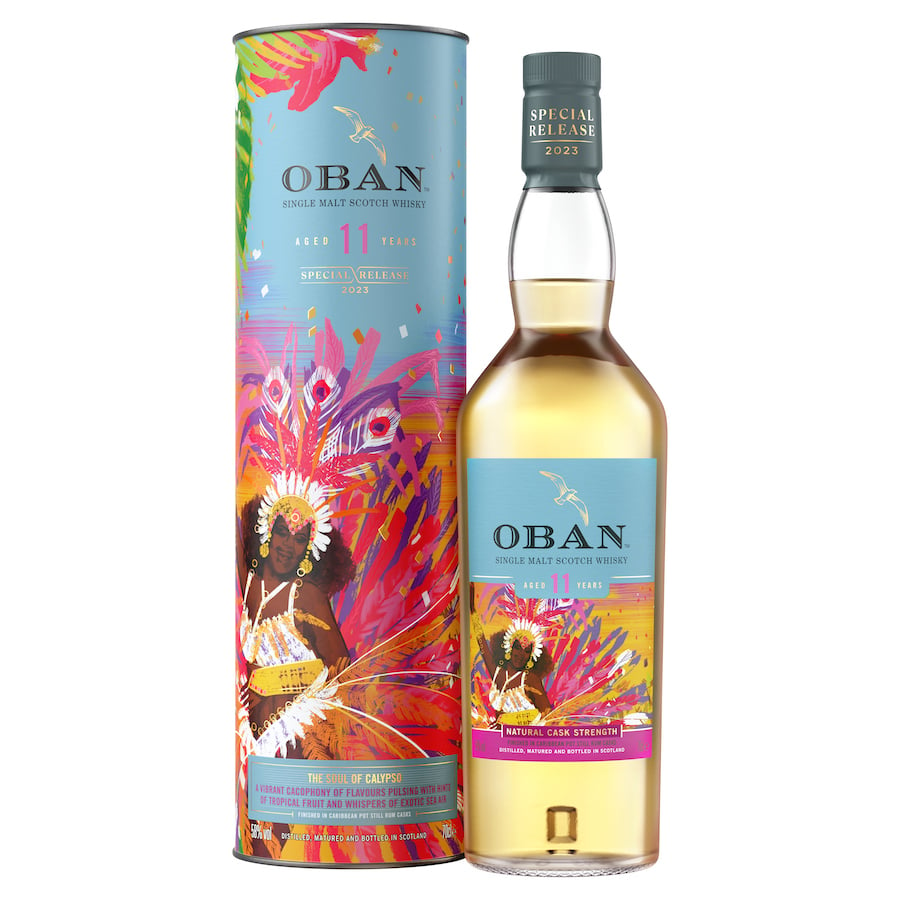 58% / £150
Oban is very much a seaside town, with a history tied closely to the sea. Its whisky is likewise coastal, with briny sea spray and oranges incongruously and pleasantly combined. When looking for an overseas pairing for this characterful single malt, our whisky makers looked to the Caribbean for inspiration. While the tropical islands of the Americas may not be the first place you might think of twinning with a fishing town on the west coast of Scotland, it's the spirit that really brings the two locations together – Oban even has a couple of palm trees.
This expression has been finished in casks previously filled with Caribbean (exact origin undisclosed) pot-still rum, adding extra layers of fruit, toffee and spice to the distillery's softly maritime spirit.
Nose: Apple, banana, barley sugar, white pepper, toffee touches and a hint of mint imperial. Waxy fruit notes develop, accompanied by soft, spring-meadow flowers.
Palate: Richly textured and layered. Red apples sit on top of flowers, and sweet and sharper green apple notes. Pepperiness builds with a background of slightly unripe mango and orange oil
Finish: Gently peppery spice, even more apples, orange peel and mango skin.
Buy Oban 11yo The Soul of Calypso >
Clynelish 10yo The jazz Crescendo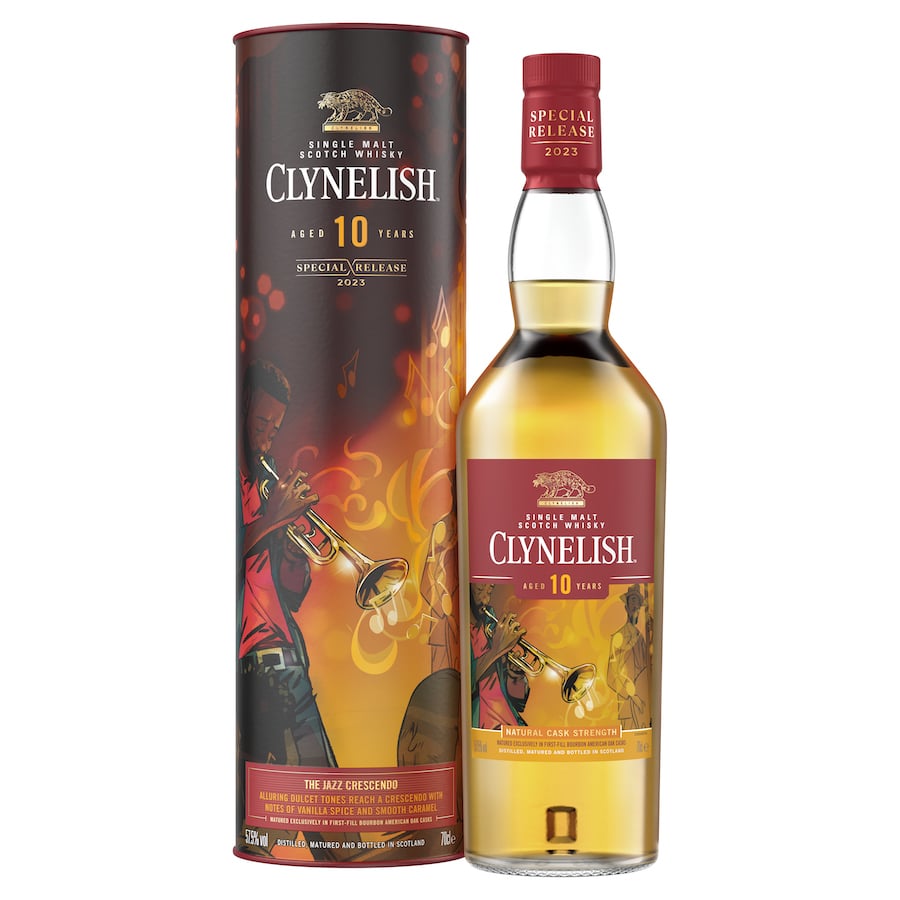 57.5% / £165
A second appearance in a row for Clynelish and, for those who remember the Select Reserve, it has an age statement – 10 years old. Clynelish makes a versatile spirit, and while older editions are sublime, more youthful expressions can be juicy and packed with flavour, especially when paired with sympathetic maturation in American oak, like this dram.
Its inspiration is the USA and its music, exclusively using first-fill bourbon casks to give a bit of extra weight, gravitas and a nod to the complexity of jazz.
Nose: Waxed red apples (we're in proper Clynelish territory), dolly mixtures, barley sugar, lemon travel sweets, meadow flowers and piles of flower petals dusted with sugar.
Palate: Weightier than the nose suggests, with a rich texture balancing out thick juiciness, soft spice and layers of vanilla. The sweets and flowers from the nose return, along with a touch of oaky spice and wax-polished oak.
Finish: Vanilla, white pepper and sweet apple sauce.
Buy Clynelish 10yo The Jazz Crescendo >
Roseisle 12yo The Origami Kite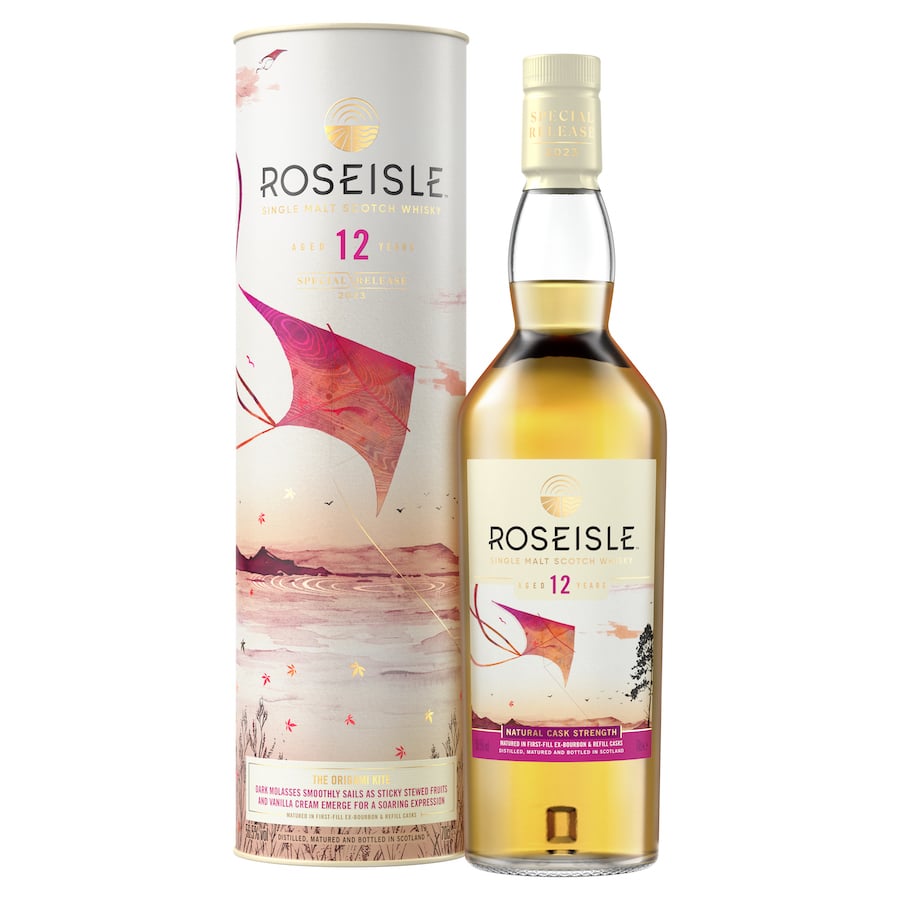 56.5% / £120
The one we've all been waiting for – the first release from Roseisle. Diageo's newest Scottish distillery, affectionately known to whisky geeks as 'The Death Star,' is far more than a technological terror. Set up to be hugely versatile, with a variety of stills (and even an option to use stainless steel condensers, for all you meaty-spirit geeks), it can create a wide range of whisky styles, including some that replicate those found at other Diageo distilleries.
The spirit here is described as 'medium bodied' in the release notes, but that hides a complex combination of grassy, fruity and earthy spirits. The casks used are simply first and refill bourbon. letting us clearly see the complex compilation of spirits. The inspiration: the complex folds of origami, represented on the label by a delicate and floaty kite.
Nose: Moss, bracken and damp bark at first, with a muskiness that slowly recedes to reveal pear skin, classic bourbon-cask vanilla and toffee. Fruity apples, fresh figs, and grassy meadow notes develop.
Palate: Thick on the palate although with a crisper flavour than that might suggest. The apples from the nose are drizzles with cream, dotted with sultanas and dusted with oaky spice.
Finish: Layers of fruit, light and custardy vanilla, and a lingering musky oak spice. Very long.
Buy Roseisle 12yo The Origami Kite >
Glenkinchie 27yo The Floral Treasure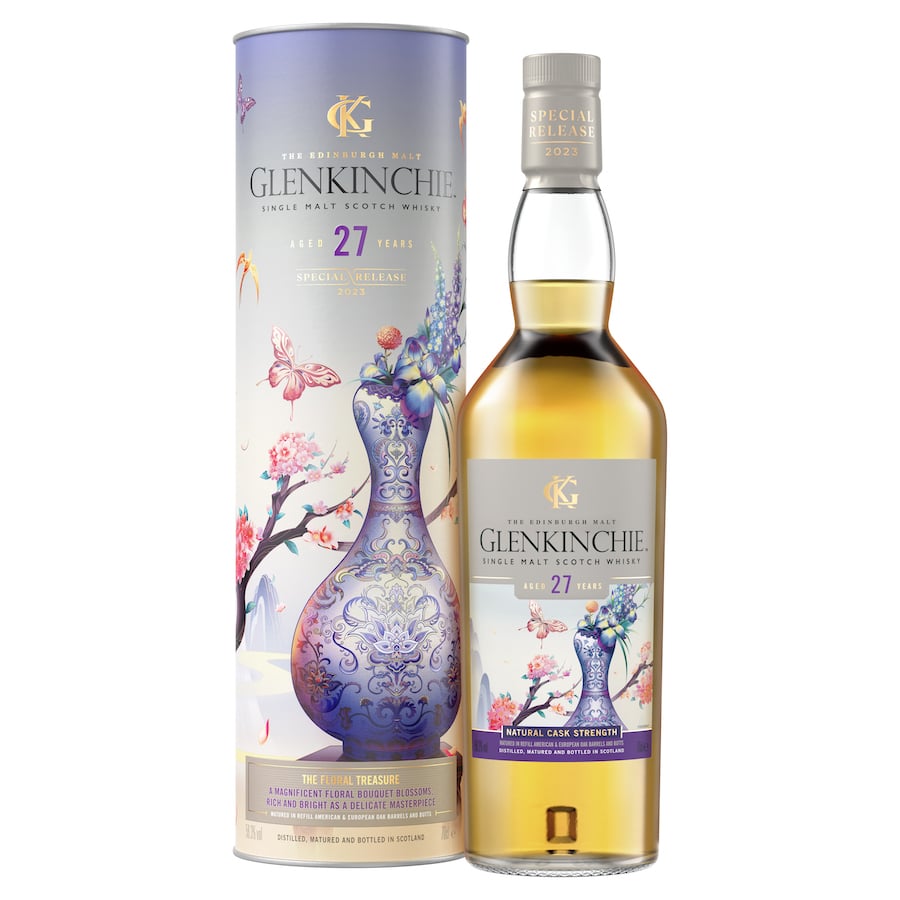 58.3% / £340
Glenkinchie has long been one of Diageo's key single malts, rising to prominence as part of the Classic Malts range, and now remains one of the two lowland distilleries that have remained in production while others have closed, and now new ones have opened. We've not often seen a whisky from the distillery in the Special Releases, with only three previous bottlings, and none since 2016. As a lighter and more floral whisky, it doesn't always get the spotlight that it deserves, and I'm pleased to see it pop up on the list here.
This elegant dram is inspired by the delicacy of Chinese porcelain, and is matured in refill casks – American and European oak barrels and butts – laid down at the distillery in its cool warehouses. Stuart Morrison used to look after Glenkinchie's whiskies and has been keeping on eye on these casks for years, waiting for them to be ready. They've finally hit their mark, and the result is my favourite whisky of the line up.
Nose: Star fruit and white flowers. Crunchy apples, polished oak and floral perfume, backed up by old-fashioned sweetshop notes and a touch of white chocolate (the good stuff).
Palate: Hugely floral – the classic, old-fashioned Lowland style. Fresh and sweet apples, a touch of waxiness and wax polish, and well-integrated, well-structured oak.
Finish: Meadow flowers, freshly mown grass and gentle sweetness.
Buy Glenkinchie 27yo The Floral Treasure >
Mortlach The Katana's Edge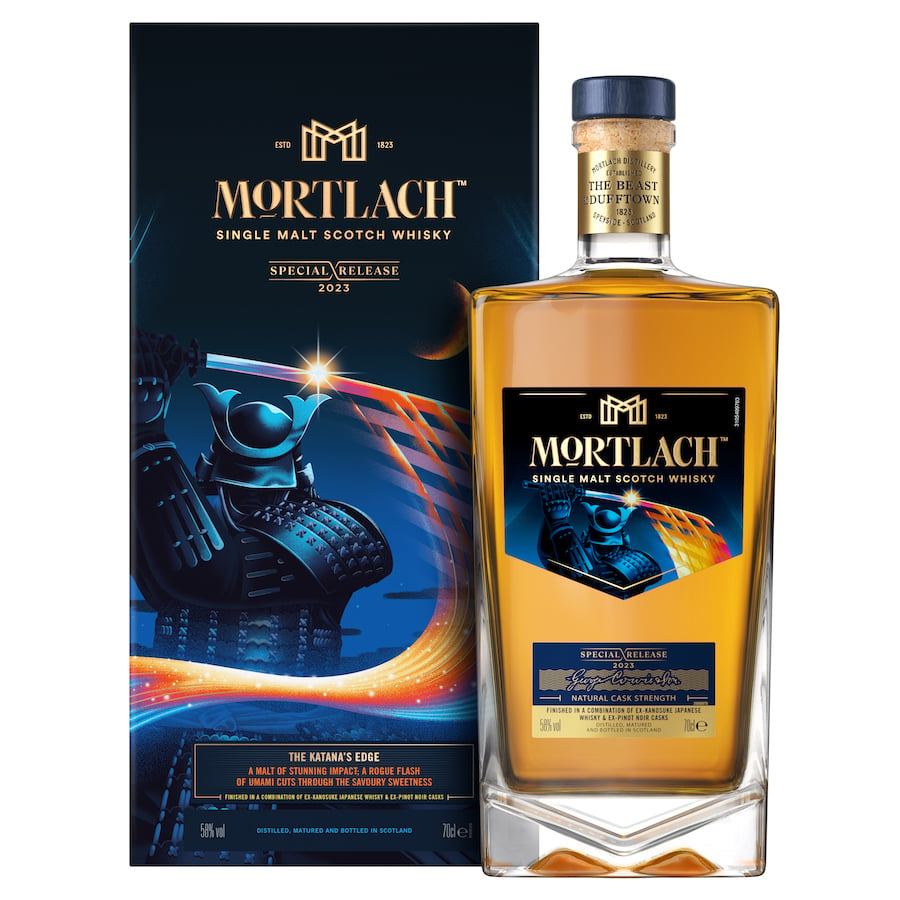 58% / £250
Mortlach has become the meaty heart of the Special Releases range. Meatiness is very much the connective element here, looking eastwards to Japan and the country's obsession with umami – the mysterious fifth, savoury taste. This release takes the rich Speyside spirit and combines it not only with ex-Pinot Noir red wine casks, but also ex-Japanese whisky casks from Kanosuke distillery in the south of Japan.
As a Japanophile and a big fan of Kanosuke (and the shochus that owners Komasa Jyozo make at their other distillery down the road – ask me about their crazy four-lyne-armed horizontal pot still if you find me in the pub) this is the whisky I was most looking forward to trying.
Nose: Sesame crackers, sultanas and cream to start. Sour Japanese plums, singed toffee, soft peppery notes and a gentle, almost incense-like muskiness.
Palate: Rich and creamy in texture, with the toffee from the nose leading into pear, crunchy spun sugar and cocoa. Drying oakiness is balanced by juicy apple sauce and black pepper, while candied fruit develops.
Finish: White chocolate and dark spice. Stewed apple and damp oak.
Buy Mortlach The Katana's Edge >
Talisker The Wild Explorador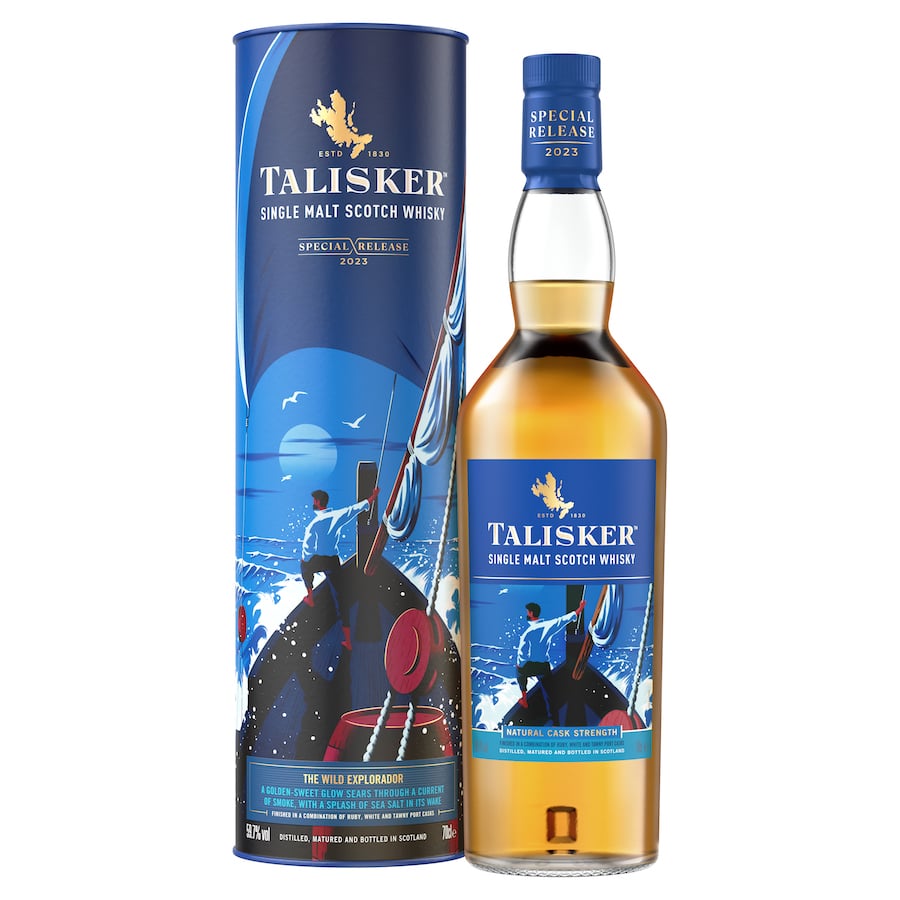 59.7% / £120
With this release, Talisker has cemented itself as a mainstay of the modern Special Releases line-up. As the blending team have experimented with different casks across Diageo's entire range of distilleries, Talisker has been the beneficiary of a range of tried-and-tested finishes. This bottling continues the work that started with Craig Wilson's Talisker Port Ruighe by looking to Portugal for inspiration and adding more types of port to the mix. This is finished in tawny, ruby and white port casks.
Nose: Rich and leathery, with briny smoke – fresh but dark. Salty seas turn to warm black rubber and sweet bacon dusted with barbecue salt. Lime peel emerges along side the distilleries trademark black pepper spice.
Palate: Very definitely Talisker on the palate: salty seas and freshly ground black pepper. Sweet sultanas and dried orchard fruit are balanced by savoury wood and leather notes, and an all-encompassing but gentle peaty smokiness.
Finish: The black-pepper spice lingers with roasted apples and crisp sweetness.
Buy Talisker The Wild Explorador >
Lagavulin 12yo The Ink of Legends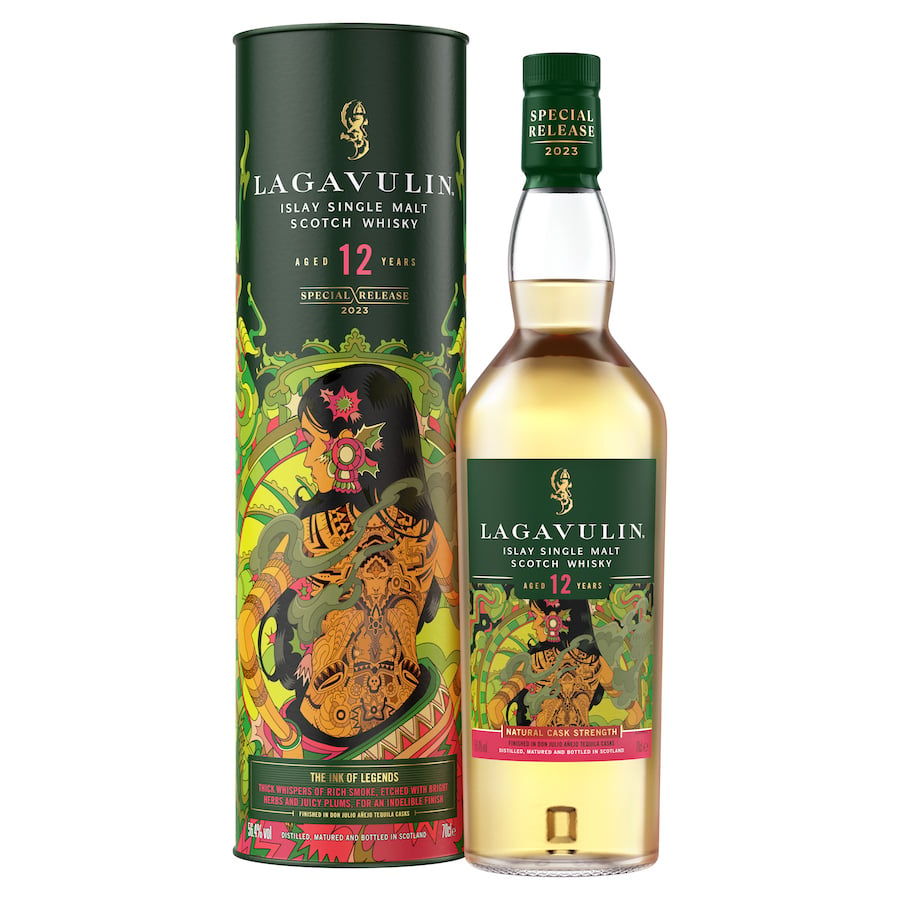 56.4% / £155
The Special Releases wouldn't be the same without the Lagavulin 12 Year Old – a mainstay since the first 'proper' annual release in 2002. While it has traditionally been a raw Lagavulin with a focus on the distillery's more elemental side, this year brings in inspiration from a spirit that has recently been controversial in whisky maturation: tequila.
While it might not seem traditional, the flavours of youthful whiskies – especially those from Islay – often cross over with the vegetal and spicy notes you find in tequila, and it seems both an obvious and strange match to me. This has been finished for a few months in casks that previous held Don Julio tequila, just enough to impart a little bit of the agave spirit's peppery character.
Nose: The classic Lagavulin seaweed smokiness is slightly subdued, but is bolstered by mulchy leaves and sweet green peppers. Black pepper notes build, balanced by damp earth, peat smoke and brine.
Palate: Sweeter than the nose suggests, with a crisp smokiness and gentle spice. Leafy notes lead, both herbs and piles of damp, raked autumn leaves. Dark chocolate, mint and menthol hide at the back, with the middle ground covered with green peppers, black pepper and briny smoke.
Finish: Smoky liquorice, sweet orchard fruit and lingering green pepper.
Buy Lagavulin 12yo The Ink of Legends >
WHEN DO THE SPECIAL RELEASES 2022 ARRIVE?
They're here! A little earlier than usual, but you can find all of the bottle (that we still have in stock) up on The Whisky Exchange website on our Diageo Special Releases 2023 page.
We also have stock in The Whisky Exchange's London shops, so if you can't find what you're looking for online, give them a call to check what they have and pop buy to grab a bottle or two.
---
If you want to see what's happened in previous years, we've got details and tasting notes for all the releases since 2008 here on the blog: 2008 pt1/2008 pt2, 2009, 2010, 2011, 2012, 2013, 2014, 2015, 2016, 2017, 2018, 2019, 2020, 2021 and 2022.
We still have a few bottles from previous year's releases – you can find them on our Diageo Special Releases page.