It's that time of year again: Whisky Show is days away, the year-end acceleration of new whisky releases is upon us and I'm already pining for a holiday. All of this means that that we are ready for the latest edition of a much-anticipated yearly release – the Diageo Special Releases 2022: Elusive Expressions.
What are the Diageo Special Editions?
In short, they are a series of yearly releases, showcasing lesser known distilleries within whisky-giant Diageo's extensive portfolio as well as less-common takes on the whisky from its more familiar producers. It started up in 2001 and has been running ever since, bringing a small pile of whiskies to fans every autumn.
If you want to know more, head over to our Diageo Special Releases – What Are They? post to get the lowdown on the series.
The 2022 Edition
The past few years have seen a change in Diageo's approach to the Special Releases. The whiskies have become more affordable – with higher end bottlings moved to the Prima and Ultima range – and there's now a unified sense of style across all of the bottlings.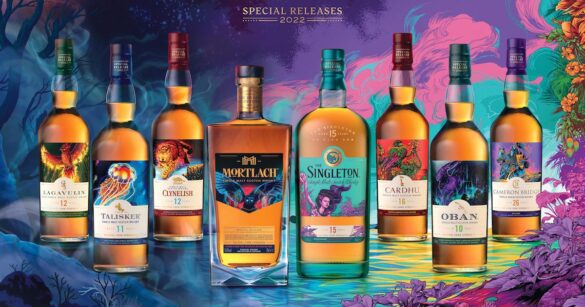 This year the look is thanks to artists Ken Taylor and Kevin Tong, who have created a fantasy world inspired by the whiskies and distilleries. It appears across the whisky packaging, as well in an online experience accessed from QR codes on the labels. The experience features not only a tour of the whiskies but also, for the first time, a cocktail book with recipes for every whisky. I'm not entirely convinced that many fans of the range are going to stir them down into a mixed drink, but the recipes all look very tasty, and at the end do helpfully inform you that: "This single malt whisky can also be enjoyed neat'
Elusive Expressions
This year has a dual approach to the whiskies in a couple of different ways. Firstly they've been divided into two camps to express their overall character: vivid and dark. For me they also fall into two distinct groups: those which have been left quite natural and those that have been tinkered with.
The Special Releases are a showcase of Diageo's experimentation with casks and process, and that is on show here, but there are also a few whiskies which are left almost naked, letting the spirit shine. While I'm a fan of casks, there's something quite special about a whisky where all the heavy lifting is done by the spirit and time.
Without further ado, here are my thoughts on this year's line-up.
Oban 10 Year Old – Dark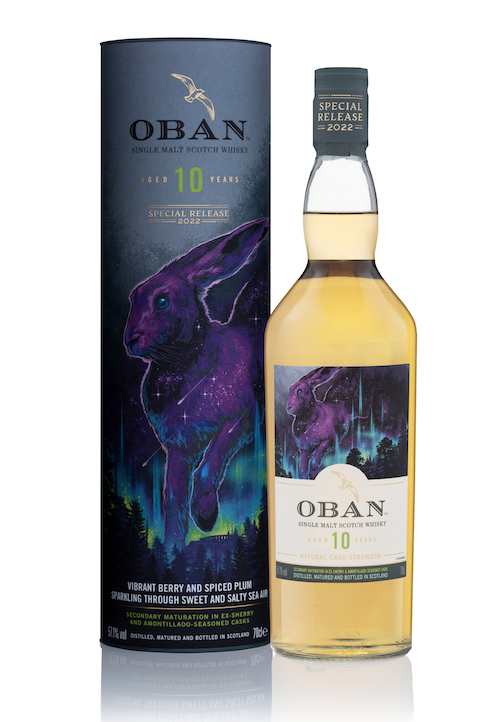 New expressions from Oban don't pop up very often, so it's nice to see this more youthful and lightly-tinkered-with edition in the Special Releases. It starts out with maturation in refill and new oak casks before a finish – I assume a longish one, as that's a bit of a theme with this year's line up – in palo cortado sherry casks. While palo cortado sits between oloroso and amontillado in style, this is much more elegant and refined than you might expect for a relatively young whisky with a sherry overcoat.
Nose: Apples oranges and sultanas at first, with hints of spice. The sultana notes build but never overpower. Creaminess develops, dusted with lemon zest and a little brown sugar. Toffee and milk-chocolate notes emerge from the depths and crunchy pear sits around the edges.
Palate: Apples, pears and cream lead to milk chocolate and orange fondant. Soft toffee and a grind of black pepper grow in intensity, with pear, a pinch of chilli heat and green-capsicum flavour. Dark-chocolate and plum notes notes develop with a touch of sweet liquorice.
Finish: Chilli spice tingles and fades to reveal wine-poached pears and crunchy apples.
Cardhu 16 Year Old – Vivid
Cardhu's thing is a being a honey-forward, easy-drinking whisky that's primarily enjoyed in warmer climates. This whisky takes that idea and twiddles the Cardhu character to be more tropical thanks to a Jamaican pot-still rum cask finish. Jamaican rums are famed for fruitiness and funk, and it is definitely the former that comes through here, adding something quite different to the classic Cardhu character without hiding it.
Nose: Spiced cream, toffee and fruit: mango puree and roasted pineapple. The toffee notes build, joined by creamy milk chocolate and soft spice. Cinder toffee hints hide at the back with pineapple upside-down cake and spiced pears.
Palate: Buttery toffee is swamped by fruit – pineapple leads with creamy apple sauce, sharp Granny Smith apples and poached pears. The fruit continues to build, followed by spiced fruitcake, sultanas and fudgey touches.
Finish: A tingle of spiced is followed by green apples, soft spice and shortbread hints.
Cameron Bridge 26 Year Old – Vivid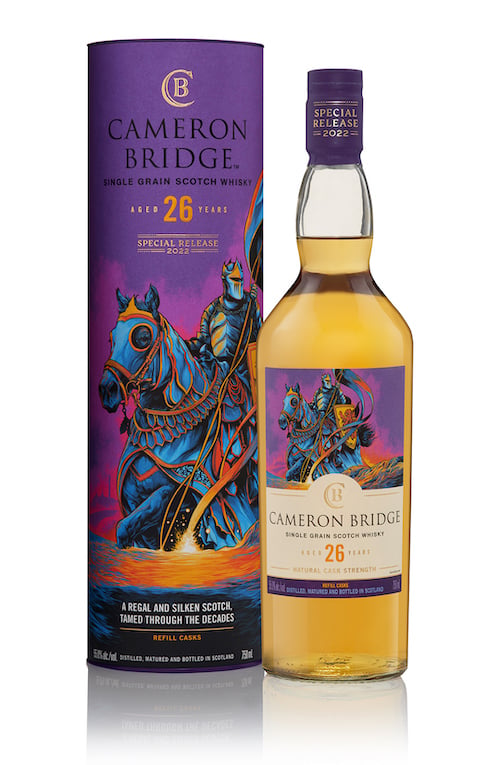 Surprisingly, this is the first appearance for Cameronbridge (the distillery previously known as Cameron Bridge and, until recently, generally available as Cameron Brig, hence the space in the name on the label), Diageo's largest grain distillery and maybe the largest distillery in Europe. It provides the whisky that's the backbone for, as far as I know, the whole of the Johnnie Walker range, but it doesn't get much of chance to shine on its own. The Diageo blending team have done a great job with this, leaving it well alone and maturing it simply in refill bourbon casks. A 'long and gentle' maturation as master blender Dr Craig Wilson puts it, just what I think this sort of whisky needs.
Nose: Layers of sweetness – toffee, caramel and cinder toffee – although never really feeling overly sweet. Balancing the sweetness is a touch of cask char and leafy green herbs: tarragon and mint. Barley sugar, vanilla cream and stewed apples develop.
Palate: Creamy coffee and toffee with singed caramel, polished oak and dark chocolate. Bursts of sour blackcurrant are joined by fruity green blackcurrant leaf and dark brown sugar. Mintiness hides at the back, along with layers of freshly sawn and polished oak.
Finish: Spice and oak are followed by toffee and vanilla, with a touch of lingering black pepper.
Buy Cameron Bridge 26 Year Old >
Singleton of Glen Ord 15 Year Old – Vivid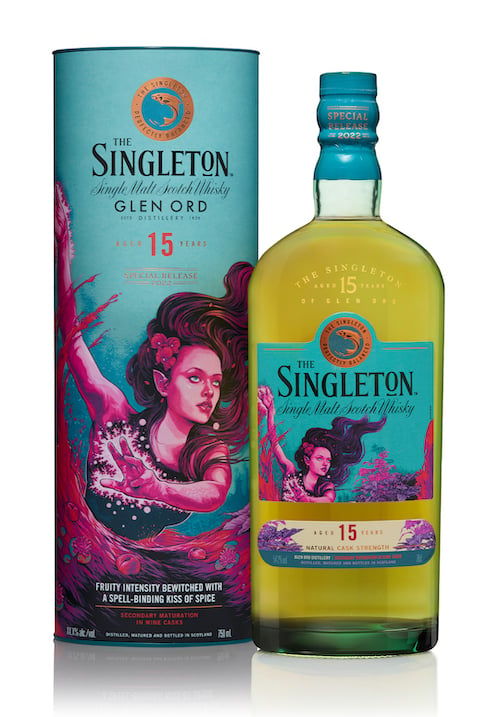 Glen Ord distillery is very much on the radar at the moment, with its visitor's centre rechristened 'The Singleton Distillery Visitor's Centre' and becoming the home of the triple-headed Singleton brand (also encompassing Glendullan and Dufftown distilleries). As such, it's no surprise to see it popping up in the Special Releases and taking the core range Singleton of Ord 15 Year Old in a very different direction. This starts in refill European and American oak casks, as usual, but was then filled into wine casks for a long eight-year secondary maturation. The result is something that is still Ord, but not like any other Ord I've tried.
Nose: Stacks of fruit: orange, peach, raspberry, fresh and stewed plums, and spiced baked apple. Aromatic oak notes build along with gentle spice. Toffee touches hide at the back.
Palate: Soft and creamy in texture, with sweet cream leading into the fruit from the nose: apples, pears, raspberries and fresh plums. Buttery notes give way to orchard fruit purée and damp oak. Sponge cake appears from time to time, studded with sultanas.
Finish: Creamy apple sauce and buttery sponge cake with gentle spice and sweet cream.
Buy Singleton of Glen Ord 15 Year Old Special Releases 2022 >
Mortlach Special Releases 2022 – Dark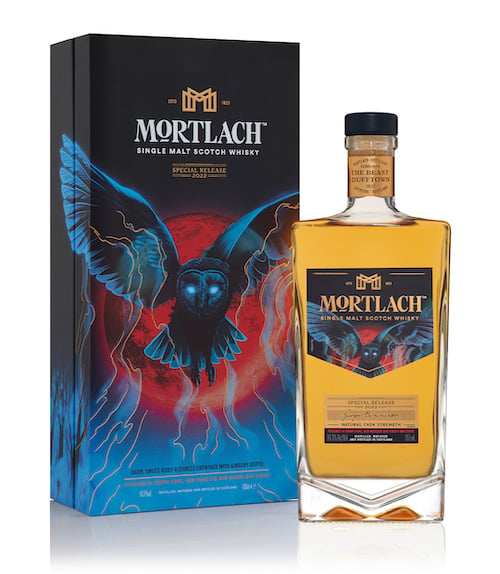 There's always one bottle in the line-up that seems to be there to challenge whisky fans, and this year it's the Mortlach. The second-most-expensive bottle in the range and the only whisky without an age statement. Process-wise, this veers from the usual 'stick it in a sherry cask' Mortlach approach, instead going for red-muscat-wine and tawny-port casks for the finish, as well as a little bit of virgin oak. It's still definitely a Mortlach – the meatiness and rich texture do stand out – but the flavour profile is not as expected.
Nose: Sweet sponge cake, sweet and sour berries, stewed apples and green leaves. Spiced butter builds, along with sharper berry notes, spicy wine-poached pears ginger cake and a touch of freshly-sawn oak.
Palate: Big, thick and weighty on the palate, with fresh and zingy orchard fruit balanced by creamy chocolate, caramel and stewed fruit. Buttered fruit loaf and stewed mandarins lead to liquorice root and a pinch of anise.
Finish: The buttered fruit loaf fades away to leave green leaves and sugar-dusted sultanas.
Clynelish 12 Year Old – Dark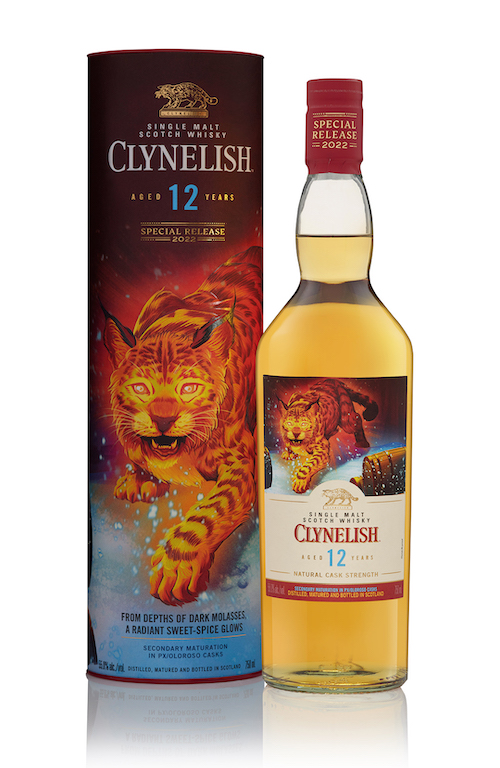 After a few years away, it's great to see Clynelish back, and with an age statement. The last releases caused some consternation due to being pricy (but very good) NAS bottlings, but the geek-favourite distillery is back with not only a number on the label, but a style more often seen in indie bottles. Rather than the full-term bourbon (maybe with a bit of sherry) maturation that the official bottlings have become known for, this has been finished in oloroso and PX casks for more than two years. The result is something that we've not seen Diageo put out before, that swerves away from the house style.
Nose: Fruit cake, brown sugar, Danish pasties, sticky baked apples and vanilla sauce. Fruitiness slowly starts to poke its way through – apples, pears and pineapples. At the back is thick and fruity toffee sauce, stirred through with raisins.
Palate: Rich, rounded and thick – actively thick on the palate. Apples, sultanas and raisins start fresh and are slowly cooked down into a rich sauce. Minty touches give a burst of further freshness that fades to reveal another round of rich spice, and a touch of dark chocolate.
Finish: Layers of orchard fruit and chocolate at first. Apples linger as polished-oak and buttery notes build.
Talisker 11 Year Old – Dark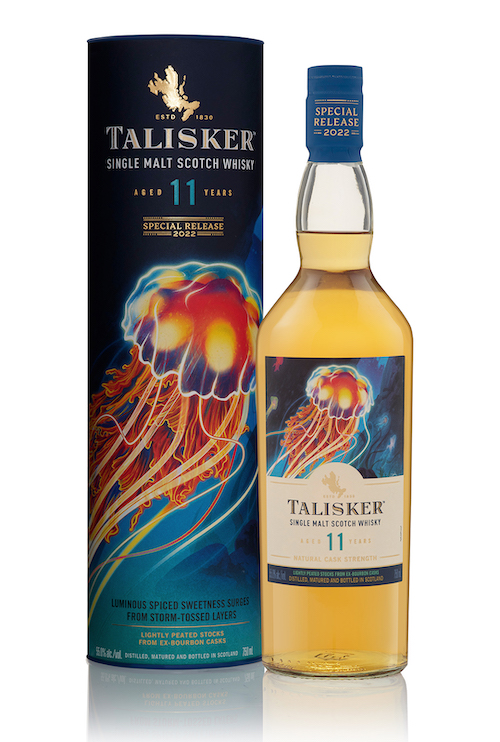 The new regular – a special Talisker has been in the line-up since 2018 and in the past few years it's felt like the natural successor to the unpeated Caol Ila that used to be a mainstay of the yearly release. The past few years have seen some playing with Talisker's character, with a rum cask the most recent twiddle, and that trend continues here, although in a more subtle fashion: on top of the regular ex-bourbon maturation, there is also some wine-cask-matured whisky in the mix.
Nose: Beach bonfires and sea breezes – soft smoke, hints of brine and sweet, singed seaweed. Smoked butter and roasted apples emerge, sprinkled with freshly cracked black pepper.
Palate: Intense concentrated apple sweetness becomes singed and mingles with wood smoke. Brine mixes with apple juice and hot cinnamon spice. Tarry notes and coiled ropes sit at the core, with an underlying layer of char and sultana -studded sponge cake with burned edges.
Finish: Tingling spice and char linger with flashes of orchard fruit, toffee and smouldering oak.
Lagavulin 12 Year Old – Vivid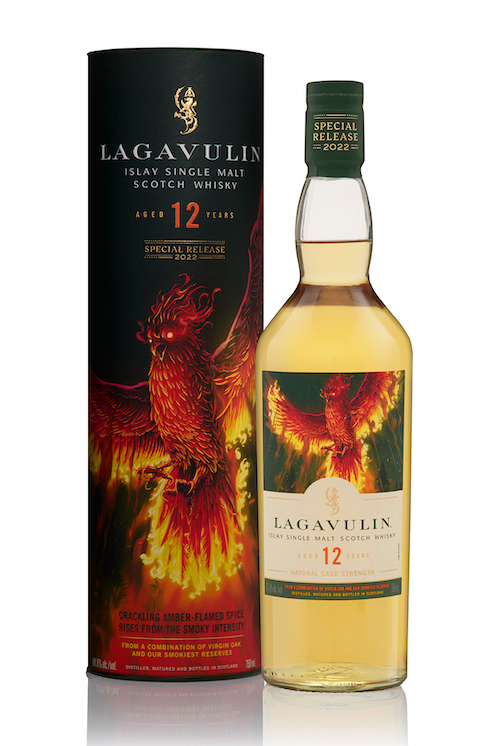 To round things out, we have the 21st release (by my counting) of Lagavulin 12 Year Old, the longest running whisky in the collection, only missing the first release, back when plans for an annual release of whiskies where still in their earliest days. Usually this release is left alone, showing off different aspects of Lagavulin's spirit via carefully chosen casks. However, this year the team have brought in an extra aspect to the complement the refill American-oak: a proportion of spirit finished in virgin-oak casks. On top of that, they sought out the peatiest Lagavulin in the warehouses to create the whisky – whenever spirit is filled into cask, its phenol content (the compounds used as a marker for smokiness) is recorded, and the blending team pulled the casks with the highest numbers for this release. The result: a big, smoky and spicy Lagavulin.
Nose: Damp peat smoke, rich loamy soil, seaweed and roasted apples. Tarry notes build along with creosote, mulching leaves and woody spice. Classic Lapsang Souchong tea notes are joined by hints of smoked fish and smoky leather.
Palate: Intense golden sugar sweetness wrapped in damp green leaves, mulchy earth, black pepper and sour green apples. Damp oak and smouldering driftwood builds with a touch of something medicinal. The tar and leather from the nose provide a backbone.
Finish: Rich and earthy notes linger with flashes of mint choc chip.
When do the Special Releases 2022 arrive?
We hope to have almost all of the bottles very shortly – click through the buy links above to go to the product pages, where you can enter your email address to be notified when they're on sale, if they're not already.
We have been told that, as is traditional, one of the bottles is delayed – the Mortlach will be with us shortly after the rest. Along with Mortlach, we will also have smaller 20cl bottles of the range appearing soon, if you'd like to jump into the range without committing to a full bottle. Keep an eye on the site – they won't be long.
---
You can find all of the bottles above on The Whisky Exchange's Diageo Special Releases 2022 page.
If you want to see what's happened in previous years, we've got details and tasting notes for all the releases since 2008 here on the blog: 2008 pt1/2008 pt2, 2009, 2010, 2011, 2012, 2013, 2014, 2015, 2016, 2017, 2018, 2019, 2020 and 2021.
We still have a few bottles from previous year's releases – you can find them on our Diageo Special Releases page.