This year's Diageo Special Releases have been a bundle of surprises. First, they were announced months earlier than usual, popping up in April in an attempt to beat the annual internet leaks, and now we get to tell you about them a couple of weeks earlier than expected.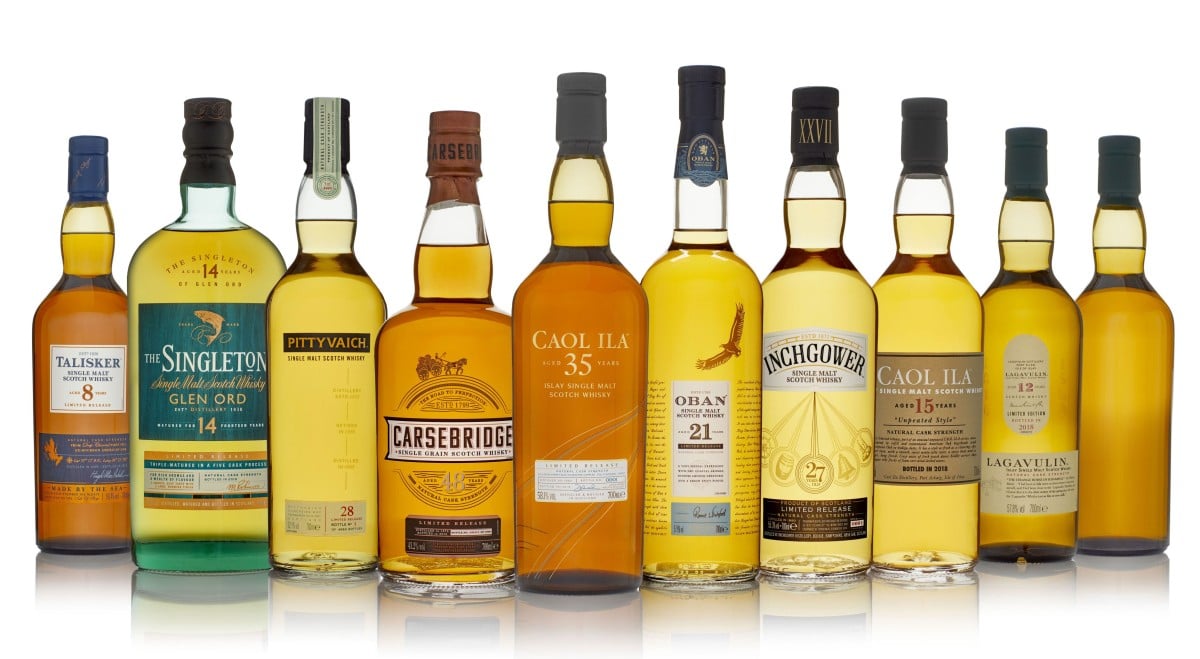 There is still one gap in the line-up – there are ten whiskies on the list year, but the tenth is staying a secret until 12 September, the day before they hit the street. We'll be back then with more details of the final dram – and prices for the whole range – but in the meantime, what about the rest?
As brand ambassador Donald Colville said at this week's preview tasting, there are three things missing from this year's Special Releases: Dr Nick Morgan, the traditional revealer of the range, who is travelling the country researching and writing a book about Johnnie Walker in preparation for the company's 200th birthday; a Port Ellen; and a Brora.
The normal flagship whiskies have been hidden from the range this year, ready for their own return to the spotlight when their distilleries reopen in a few years, and it's given Diageo a chance to showcase even more of its wide portfolio.
Anyway, Caroline and I got to try the range, so on to the whiskies…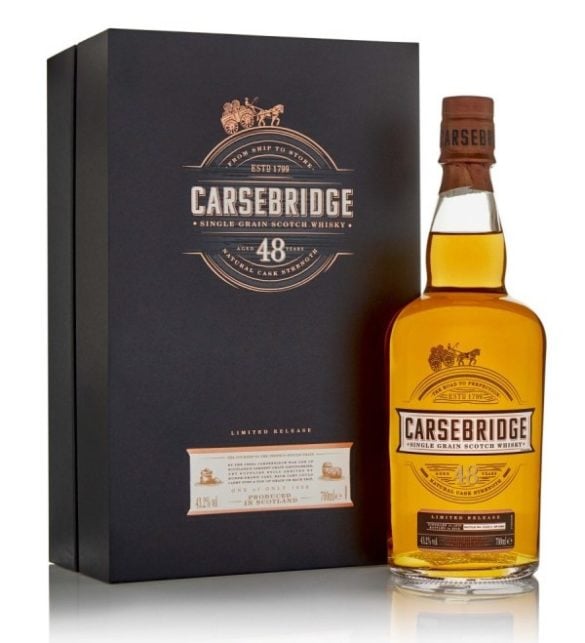 As has now become tradition, the Special Releases kick off with a very old grain whisky. Master blender Maureen Robinson is a fan of old grains and the past few years have been a slow escalation in age: The Cally 40yo, Cambus 40yo, Port Dundas 52yo and now a step back to 'just' 48 years old.
Carsebridge started out as a malt distillery in 1799 but was converted to grain production in 1852 and was one of the founder members of the Distillers Company Ltd, aka DCL, one of the companies that eventually became Diageo. It closed in 1983, one of the many casualties of that year, and pops up from time to time as an independent bottling.
This release is the oldest Carsebridge Diageo have ever bottled, matured in refill American-oak hogsheads. There are just 1,000 bottles – a number chosen in honour of the work it took to get grain to the distillery. Grain was delivered to Carsebridge by sea, but the final step of the journey from boat to distillery was done by packhorse, each of which could carry a ton of grain – 1,000kg. One bottle per kilo of grain.
Nose: Portuguese custard tarts, crystallised honey, blackcurrants and model glue. Thick vanilla and toffee spread across a freshly varnished table.
Palate: Sugar syrup and fudge, lime and vanilla cream. Full-strength Ribena follows, along with developing notes of damp leaves and forest floors.
Finish: Blackcurrants hang around, slowly facing to reveal caramel, brown sugar and a touch of varnish.
Comment: A fine balance of the elegant dustiness and rancio typical of old grain against rich fruit and more youthful brown sugar and toffee notes.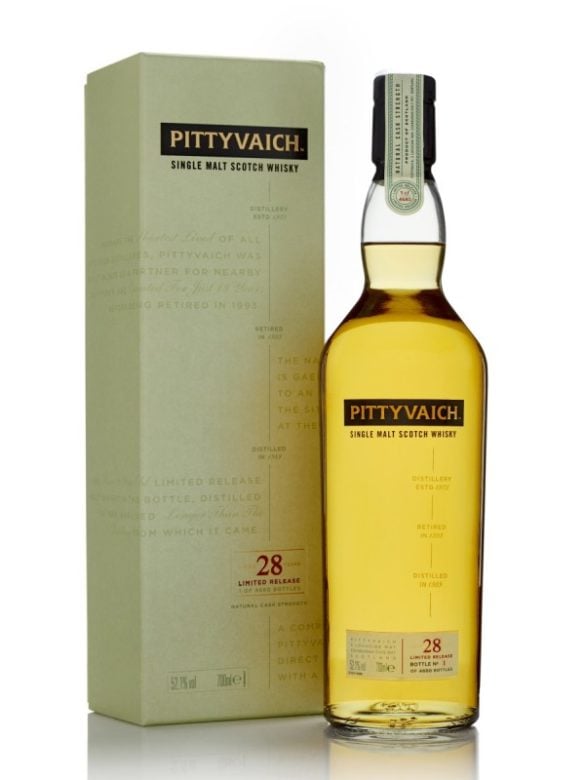 Pittyvaich is a distillery with little history. It opened in 1975 and closed in 1993, making whisky for blending for 18 years. It's always nice to see a new release from Pittyvaich as it's not a well-known distillery and there are so few bottlings. (we've had only 21, including this, and I can find details of fewer than 100 in total). It's a rare enough occurrence that the only consensus I can find describing its style is 'weird'.
This is the third Pittyvaich to appear in the special releases and, like the others, was distilled in 1989. It was matured in refill American oak hogsheads. Over to Caroline for some tasting notes:
Nose: Really intense aromas. It starts with something inorganic that's metallic and plastic at the same time. Notes of dry barrel, savoury spice and general mustiness are then quickly supplanted by juicy fake fruit notes – priapmarily peach and orange. It's a delicious soft fruitiness, and it gets fruitier over time, but all the while there's the undertone of earthy savouriness.
Palate: Spice, dried tropical fruits and a leatheriness from the off. It's sweet but there's a heat from some peppery spice notes. When water is added the dried fruits give way to ripe, freshly-picked ones and the spice becomes much rounder and more mellow. A dram that gets progressively fruitier the longer it rests.
Finish: Soft and fruity.
Comment: It's a bit of an oddball, but captivating all the same.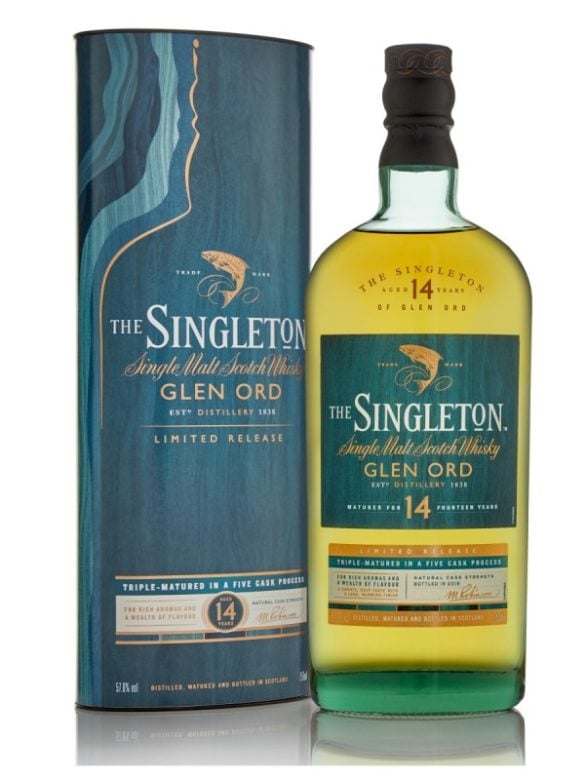 I've always had a soft spot for Glen Ord. Hard to find since it became part of the Singleton range, as it was focused on the far eastern market, it's good to see a new release appear and be more readily available.
While my favourite Ords are less played with, this one shows Diageo's blending team's love of tinkering with casks and finishes – they call it 'triple matured in a five cask process'. It started out in European oak ex-sherry casks and refill American oak ex-bourbon, before being moved to ex-Pedro Ximénez and Moscatel casks, and finally married together in European oak puncheons. A tough selection of flavours to balance…
Nose: Rich toffee and caramel with stewed sultanas and raisin jam wrapped in spiced puff pastry. Orchard fruit notes develop: spiced apple and poached pears.
Palate: Soft and rounded with creamy vanilla and more orchard fruit. Leathery touches creep in around the edges, along with raisins and background of stewed fruit. Spicy cinnamon and nutmeg slowly build.
Finish: Sweet oak notes hang around, layered with soft spice, apple sauce and icing.
Comment: Each of the casks has added its own thing and its all well integrated – nothing fights and it all mingles nicely.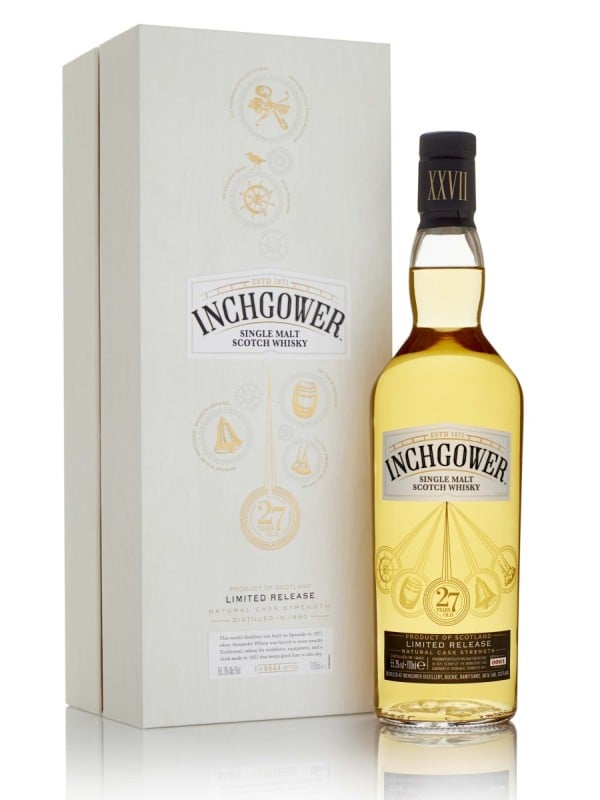 A first appearance for the distillery in the Special Releases, a feat that is becoming increasingly rare as the years go by – there have been 38 distilleries so far and Diageo only have 27 open at the moment. Sat by the sea, Inchgower is another of Diageo's workhorses, quietly producing a nutty and briny spirit that is a key part of Bell's.
This edition is an almost naked example of whisky from the distillery, matured in refill American oak hogsheads to reveal as much of Inchgower's character as possible without draping it in too much oak.
Nose: Fruit and spice with lime boiled sweets and waxy apples. Sweet icing and light fruit cake hide behind, studded with a handful of nuts.
Palate: Sweet and creamy. Apple puree is dusted with cinnamon and sawdust. A touch of brine develops along with orchard and citrus fruit: fresh apple, crunchy pear and sweet orange.
Finish: A touch of sichuan pepper numbness, soft spice and lingering apple.
Comment: Classic Speyside with a pinch of salt. I don't put too much truck in the 'salty whiskies come from by the sea' theory, but it seems to work here.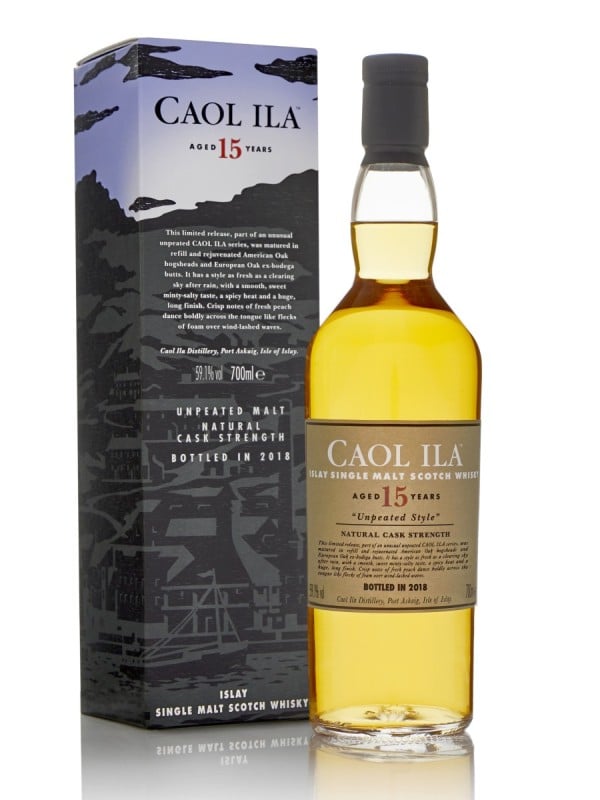 One of the regulars in the line-up and the one that I (controversially?) always look forward to most – unpeated Caol Ila. I have a soft spot for Islay's factory distillery, an unattractive 1970s building with one of the most fantastic sea views you'll ever see. Head inside and everything looks much nicer, with much less grey concrete.
This release focuses on sherry-cask character more than previous editions, mixing refill and rejuvenated American-oak hogsheads with ex-sherry European oak butts.
Nose: Flowery forests: honeysuckle and bracken. Sweet pine and brine notes follow along with a touch of meatiness. Then the sherry-casks make themselves known: raisins and sultanas, chocolate and a touch of citrus peel.
Palate: Stewed apples and sultanas lead, with fruit cake not far behind. Rich spice builds along with old oak and pleasantly musty damp forest notes.
Finish: Juicy raisins and a touch of menthol.
Comment: Weightier than previous editions, but still showing the piney/briney seaside notes that I like in the distillery's unpeated spirit.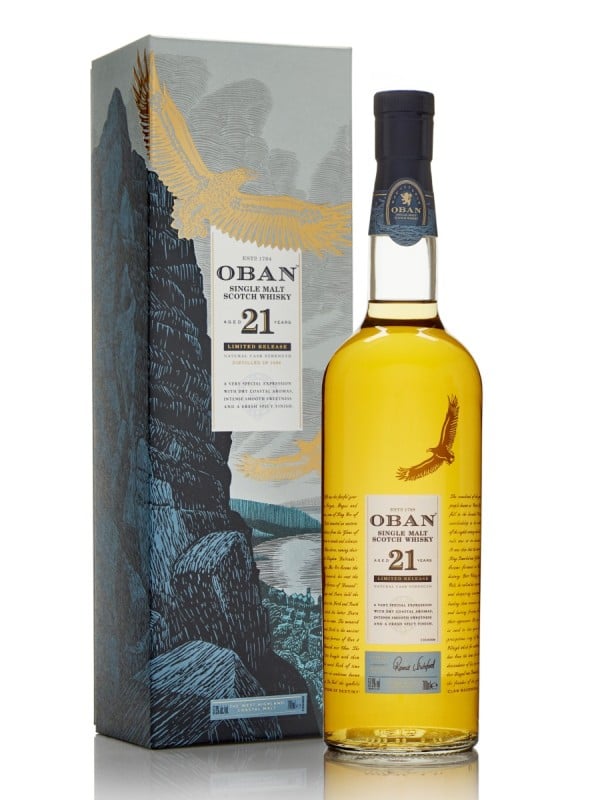 I'm never entirely sure about Oban. It's been one of my favourite distilleries to visit and I always like its whiskies, but I've still not tried that many. This new 21 Year Old is a perfect chance to rectify that.
It was matured in refill European-oak butts, giving the distillery's traditionally maritime spirit a little bit of a sherry jacket:
Nose: Olive oil and oranges, hints of ozone and a touch of greenness – Maureen reckons pea pods. More orangey notes develop: candied flesh and spiced peel. Chalky sweets pop-up Refreshers, Love Hearts and a hint of Parma Violet.
Palate: The sweets are back – Love Hearts and Refreshers lead. Sour orange zest and stewed apple follow, accompanied by darker notes: liquorice and chocolate.
Finish: Chocolate and waxed apples start, with oranges and spice lingering.
Comment: Orangey, as Obans often are, but packed with a sweetshop of flavour on top. It doesn't get too much, as the European-oak keeps things in check with some darker flavours.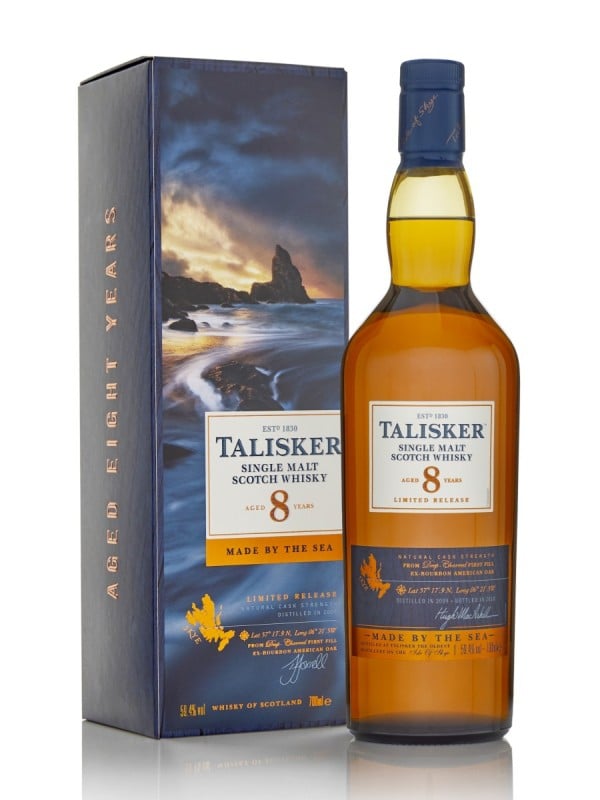 A real star of this year's Special Releases and blender Maureen's favourite of the whole range. It harks back to the Talisker single malts before the 10 Year Old became a favourite of whisky fans around the world. Back in the 1970s and 1980s, Talisker 8 Year Old was a standard malt and helped build the distillery's reputation.
This edition is bottled at a punchy cask strength of 59.4% ABV, rather than the 80° proof – 45.8% ABV – of the older versions, and was matured in first-fill ex-bourbon casks.
As an occasional Talisker fanboy, I was really looking forward to trying this dram and don't think I can be that objective, so over to Caroline for some tasting notes:
Nose: Antiseptic and menthol, but accompanied by an almost surprising sweetness that's comprised of candied limes and lemons plus a dose of vanilla. Later, there's bacon and notes of pine sap drizzled over oatcakes and digestive biscuits.
Palate: Bacon-tinged smokiness rolls through the palate, accompanied by the dryness of very dark chocolate. Watered down lemon juice is accompanied by the peppery and salty notes so intrinsic to Talisker.
Finish: Gentle, ashy and sweet. A very moreish dram.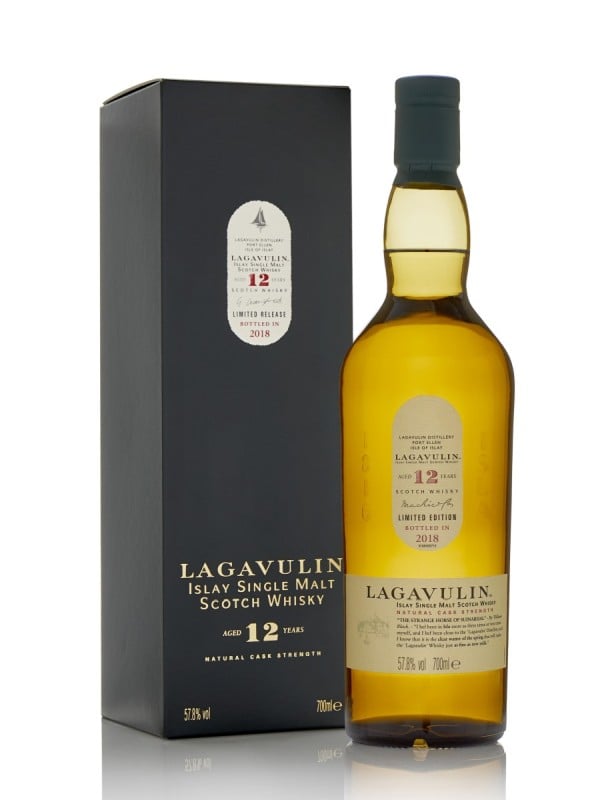 The longest remaining regular bottling in the Special Releases, having only missed the first year, and the yearly fan favourite. So many people assume that Lagavulin is all like the 16 Year Old and Distillers Edition, but pull it out of cask a few years earlier and bottle it at a higher strength, and you see a totally different side of the distillery: feisty, packed with breaking waves and prickly smoke.
This one is sweeter than last year's release, a dram that Donald described as 'like lemon meringue pie that's been in the oven four minutes too long'. It's matured in refill American-oak hogsheads, putting the distillery's wilder character at its core:
Nose: Singed leaves, sweet peat and damp earth – a mismanaged forest campfire after a rainstorm. Sweeter notes build, with pink shrimp sweets, joined by crashing waves and damp leather. Soft spicey notes develop, along with pine trees and a touch of lime.
Palate: Chocolate-covered pine needles and leafy undergrowth. The sweetness from the nose is here too, with icing sugar and barley sugar balanced by zesty lime.
Finish: Minerally and minty, with leathery smoke and sawdust touches.
Comment: Definitely sweeter than I expected, but still a raw but well-balanced display of Lagavulin's 'other side'.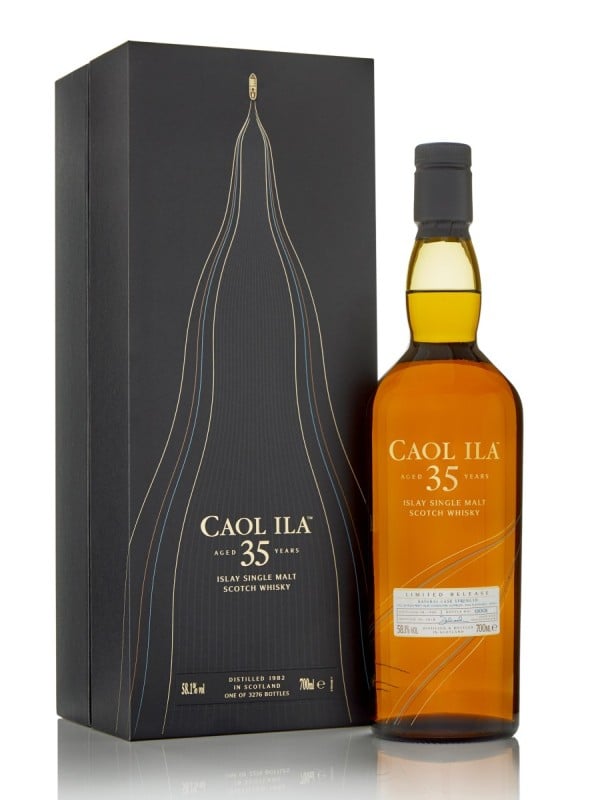 The final dram of the 2018 Special Releases: the oldest Caol Ila yet to appear in the range. This was the most anticipated dram on the night, and has some expectations to live up to. It's a vatting of refill American-oak hogsheads, and both refill American- and European-oak butts – a whisky that's all about Caol Ila's spirit, rather than swamping it with cask influence over three and a half decades.
Caroline and I were both rather taken by this…
Caroline
Nose: Intense aromas. Anchovies and kedgeree. Sweet smoke and briny, salty butter on top of wholemeal bread. Rich, dried white fruit notes and layers of raspberry jam.
Palate: Juicy fruit, gentle smoke, a little light almond sweetness. The fruitiness verges on honey mangoes, then red fruits come through and meld into warm bakewell tarts. Dry notes, like licking the stones inside the fruit, plus hints of marmalade.
Finish: The dryness continues with sweetness slowly building. A very complex whisky.
Billy
Nose: Waxed apples, royal icing and honeysuckle to start. Hints of dirty smoke hide at the back, surrounded by brine and a touch of aromatic sandalwood. Fruit sits at the heart of the dram: sweet berries, pear and pineapple.
Palate: Rich and thick. Fruit juice runs through the core: mandarin, apple and pineapple. Spice builds slowly along with waxy touches: nutmeg and white pepper. The smoke is soft but present: woody and fragrant.
Finish: Icing and damp tree bark. Dark and white chocolate. Black pepper pops up and fades. Apples and pears linger.
Comment: Before I went to the tasting, a colleague of mine bet me a fiver that he had a single cask Caol Ila 35 at home that would easily beat this. He has not received his £5. An appropriately excellent closer.
One more to go…
So, nine out of the ten have been revealed and tasted. We've been sworn to secrecy on the mysterious tenth, but will have all the details on 12 September – come back then to find out more.
In the meantime, all of our tasting notes are up on The Whisky Exchange website, and you can sign up to receive an email when the whiskies are available to buy by clicking on the links below. We're hoping it will be 13 September or shortly after.
Caol Ila 15 Years Old Unpeated
Caol Ila 35 Years Old
The Singleton of Glen Ord 14 Years Old
Carsebridge 48 Years Old
Inchgower 27 Years Old
Lagavulin 12 Years Old
Oban 21 Years Old
Pittyvaich 28 Years Old
Talisker 8 Years Old
We've also got details and tasting notes for the past 10 years' of releases here on the blog: 2008 pt1/2008 pt2, 2009, 2010, 2011, 2012, 2013, 2014, 2015, 2016, 2017.