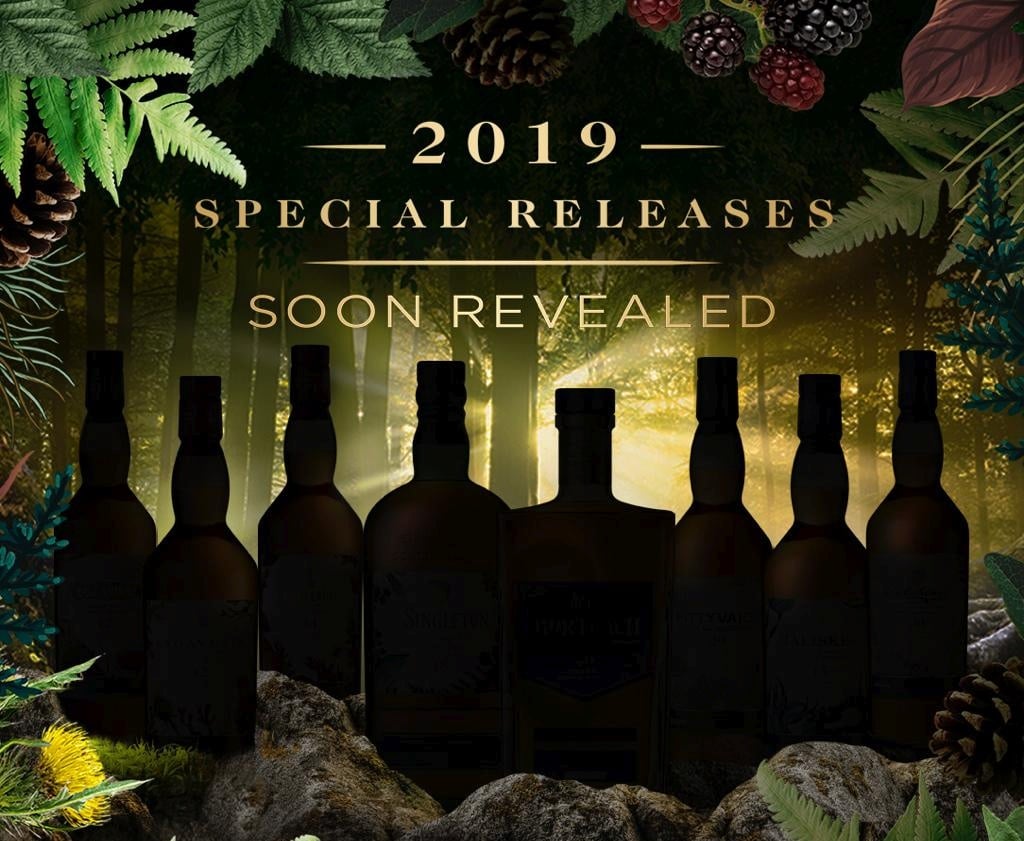 After 2018's super-early April announcement of Diageo's annual Special Releases collection surprised everyone, we've been wondering what they were up to this year. The radio silence has now been broken, and the first tidbits of information about the range of whiskies has now landed.
Don't know what the Special Releases are? Learn all about them in our handy guide: Diageo Special Releases – what are they?
Diageo Special Releases 2019: the line-up
This year's collection will feature eight new cask-strength Scotch whiskies, and they're all single malts this time.
The line-up is:
It's an interesting selection, with some potentially very interesting whiskies. It's also missing a couple of things that we've come to expect.
Missing in action
Firstly, there's no blended malt this year. The past two releases have seen Collectivum XVIII and Cladach in the line-up, both blended malts with a theme – the former was made up of single malts from Diageo's 28 working distilleries and the latter featured whiskies from coastal distilleries. They both divided opinion, but I'm sad to see them go. Unless there's a mysterious ninth bottle waiting in the wings for a late announcement, as both Collectivum and Cladach were…
Secondly, there's no grain whisky this time. The past four years have seen long-aged single grains, from the comparitively youthful Cally 40 Year Old, to the elegantly wizened Port Dundas 52 Year Old, but this time the focus is back on malt.
And there's no Caol Ila. A mainstay of the collection since almost the beginning, the yearly release of Caol Ila Highland is the general public's only chance of getting its hands on this otherwise unobtainable unpeated version of the Islay whisky. It's been a reasonably priced hit in every year's line-up, so it's both unexpected and sad not to see it this time.
What's new?
While the Lagavulin 12 Year Old is an old friend, and most of the rest of the list are drams that are reminiscent of ones we've had before, there are a few whiskies in the announcement that have piqued my interest:
Talisker 15 Year Old – I do love a Talisker and, after last year's eight-year-old release picked up fans, I'm intrigued to see what they do with an older entry in the Special Releases collection. The announcement described it as 'A sweet, yet deep and spicy bottling layered with unmistakeable maritime flavours' – that suggests a sherry-matured dram to me. Will it be a replacement for the Caol Ila Highland or something a bit different?
Mortlach 26 Year Old – the now discontinued Mortlach 25 Year Old, launched a few years back as part of the revamped range, remains one of my favourite whiskies from the distillery. However, will this 26-year-old focus on a bourbon-cask maturation, as the 25 did, or will it go for the more traditional sherry maturation?
Cragganmore 12 Years Old – Cragganmore was one of my first whisky loves, but even so a 12-year-old release wouldn't normally inspire much interest from me. However, this one has an interesting word hidden in the short description we've been sent: 'A complex and intriguing bottling that combines Speyside elegance with a touch of spice and smoke'. Smoke. Hmm…are they talking a touch of char or have they been playing with peat? Only time will tell…
We expect to see the Diageo Special Releases 2019 arrive in the Autumn, and until then all we can do is wait. Along with the current heat wave, it's another reason to wish for the summer to end sooner rather than later.
Update: You can find out tasting notes for all eight whiskies in our Diageo Special Releases 2019 post.
If you want to see what's happened in previous years, we've got details and tasting notes for the past decade of releases here on the blog: 2008 pt1/2008 pt2, 2009, 2010, 2011, 2012, 2013, 2014, 2015, 2016, 2017 and 2018.
We still have a few bottles from previous year's releases – you can find them on our Diageo Special Releases page.