Our 20th anniversary celebrations continue! Along with a host of exclusive birthday bottlings – with more to come through the year – we're also looking back over the past 20 years and giving away 20 of the spirits that have made the drinks world what it is today.
All you need to do is head over to our competition Instagram post, make sure you are following @whiskyexchange, and leave us a comment telling us which bottle you'd like to win and who'd you share it with if you did.
Head to the end of this post for the full terms and conditions or read on to find out what you could win…
The Prizes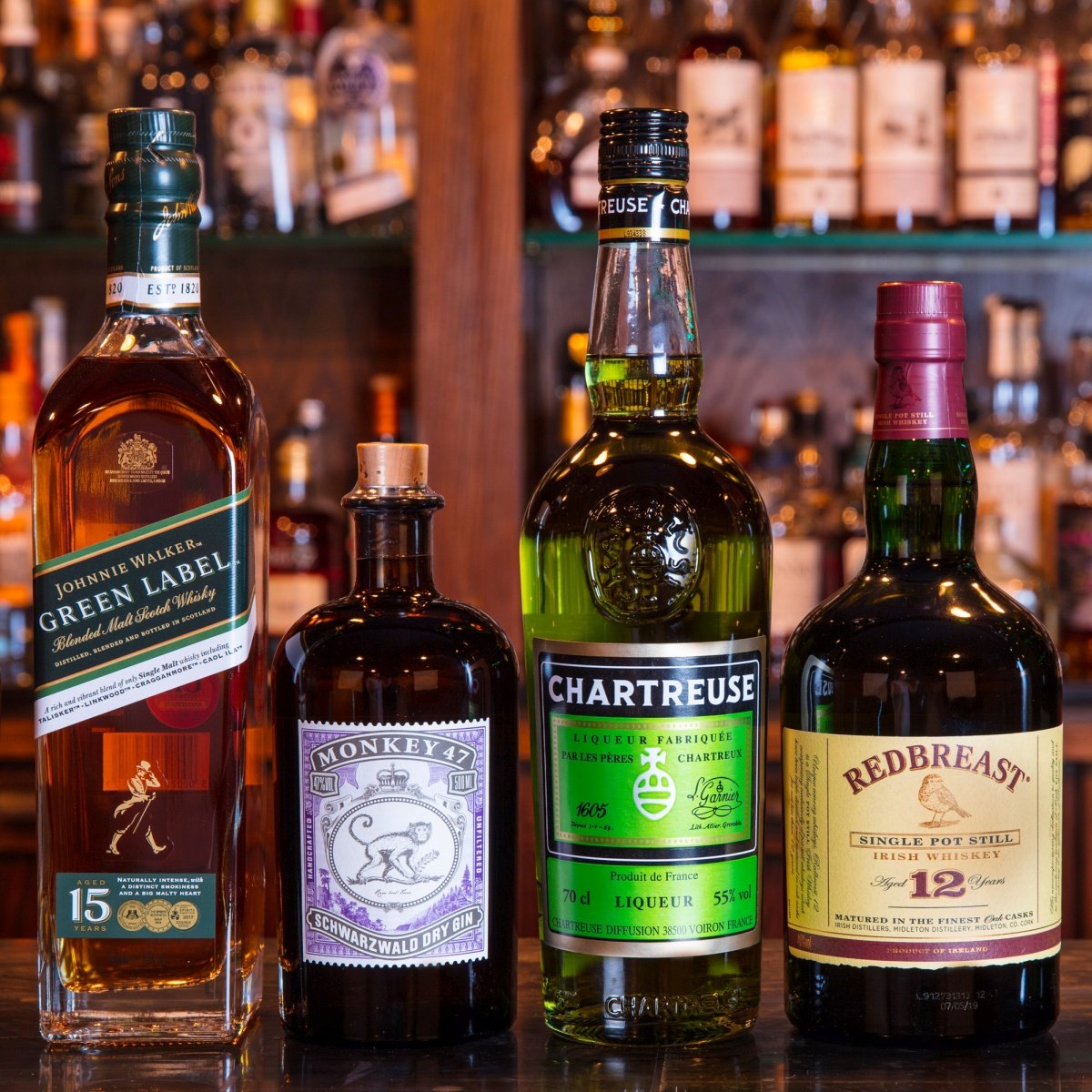 Johnnie Walker Green Label – An oddball in the Johnnie Walker range and a pioneer in an increasingly popular part of the whisky world: it's a blended malt. A mixture of single malt whiskies from some of Scotland's most iconic distilleries, Green Label created a new style of blended malt when it appeared on the market, with drinkers assuming it was a single malt. This focus on creating a unified character from disparate ingredients has now been embraced by the whisky world, but Green Label remains at the forefront of the category.
Monkey 47 Gin – Maybe the marker of 'peak gin' and the end of the 'less is more' approach to gin making: it's called Monkey 47 because it contains 47 botanicals. Complex, full-flavoured and and beautifully presented, it opened the door for the current crop of great-tasting but over-the-top gins that are brimming with botanicals.
Chartreuse – One of the original herbal liqueurs, with history back to the 1600s and tales of monks, war and secret recipes handed down through the generations. Sweet, spicy and packed with herbal flavour, it is almost a category of drink all on its own. Perfect after-dinner and, thanks to its slow development in the bottle, one of the most sought-after collectible spirits in the world.
Redbreast 12 Year Old – Irish whiskey is booming and while Jameson is leading the pack, Redbreast opened the world's eyes to more premium releases. Made by Jameson producer Irish Distillers, it introduced a new generation of drinkers to pot-still whiskey, once Ireland's most popular style. Back in the pre-Whisky Exchange days, The Nest (the family shop were our founders Sukhinder and Rajbir Singh learnt all about the drinks trade) was an early supporter, and that's continued until the present day.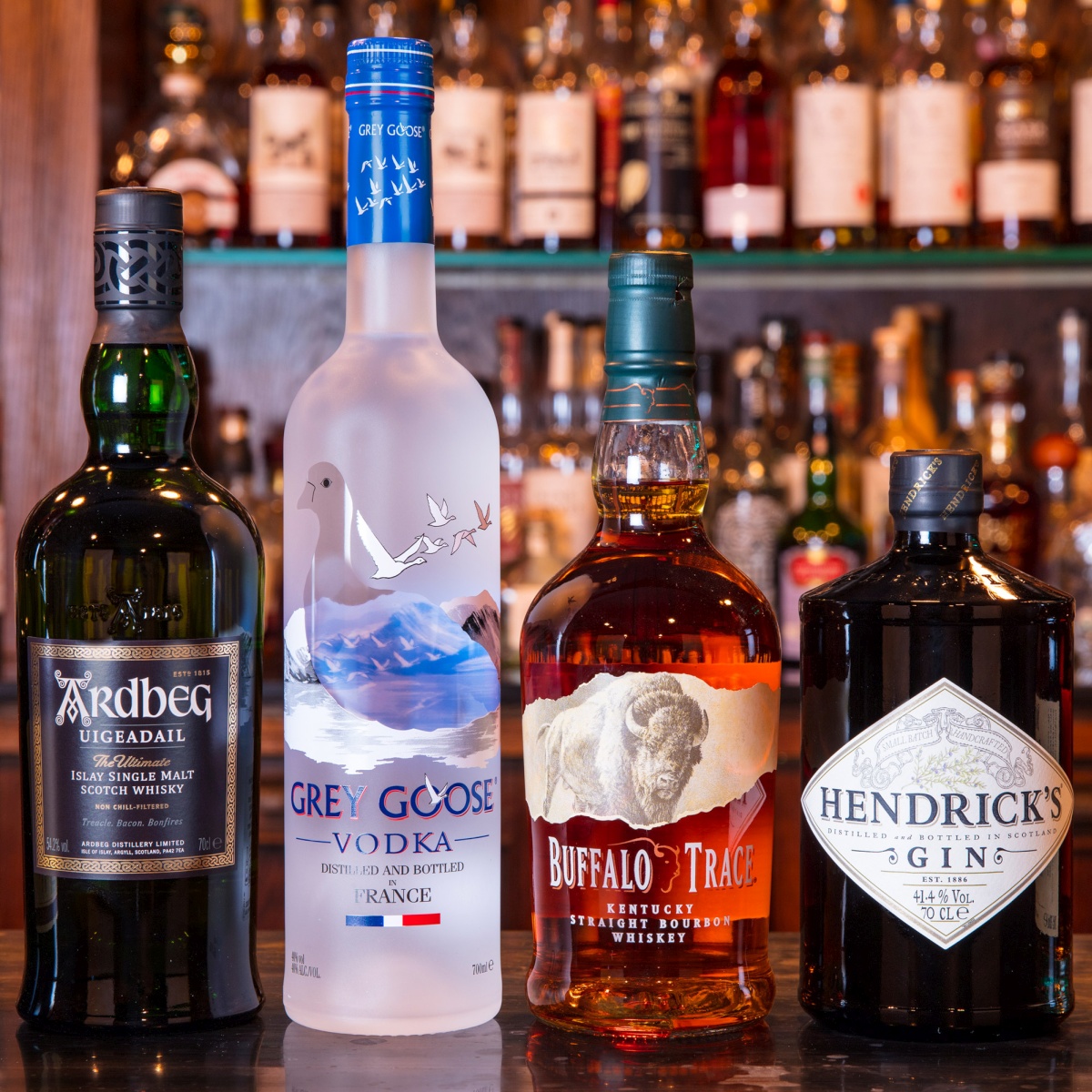 Ardbeg Uigedail – Ardbeg 10 might be the biggest selling whisky from the distillery, but we still like Uigeadail the best. An unashamed no-age-statement whisky with a well-balanced mix of bourbon and sherry casks, it shows off what you can do with peated spirit. It's even the favourite of the Ardbeg Committee, the distillery's 120,000+ strong fan club…
Grey Goose – Vodka came into its own in the 1980s and Grey Goose launched a whole new type when it appeared at the end of the 1990s: premium vodka. This was a spirit that cared about its ingredients and its presentation, and the current vodka market owes a lot of its success to Grey Goose's care and attention to the way that people drink.
Buffalo Trace – Bourbon's been one of the success stories in the UK drinks market, with American whiskey now a common site on back bars and in drinks cabinets – Buffalo Trace was one of the whiskeys that helped make that happen. Reasonably priced and easy to get hold of, it's become a go-to whiskey for bourbon fans and a mainstay of my cupboard.
Hendrick's Gin – While it is now almost ubiquitous, Hendrick's was one of, if not the first gin in the current new wave. Leaving behind the over-the-top luxury of Bombay Sapphire – the gin that made gin cool again – it radiated a sophisticated-but-fun attitude and started the escalating garnish wars: it all began with a slice of cucumber. We helped launch it in the UK and have been firm fans ever since.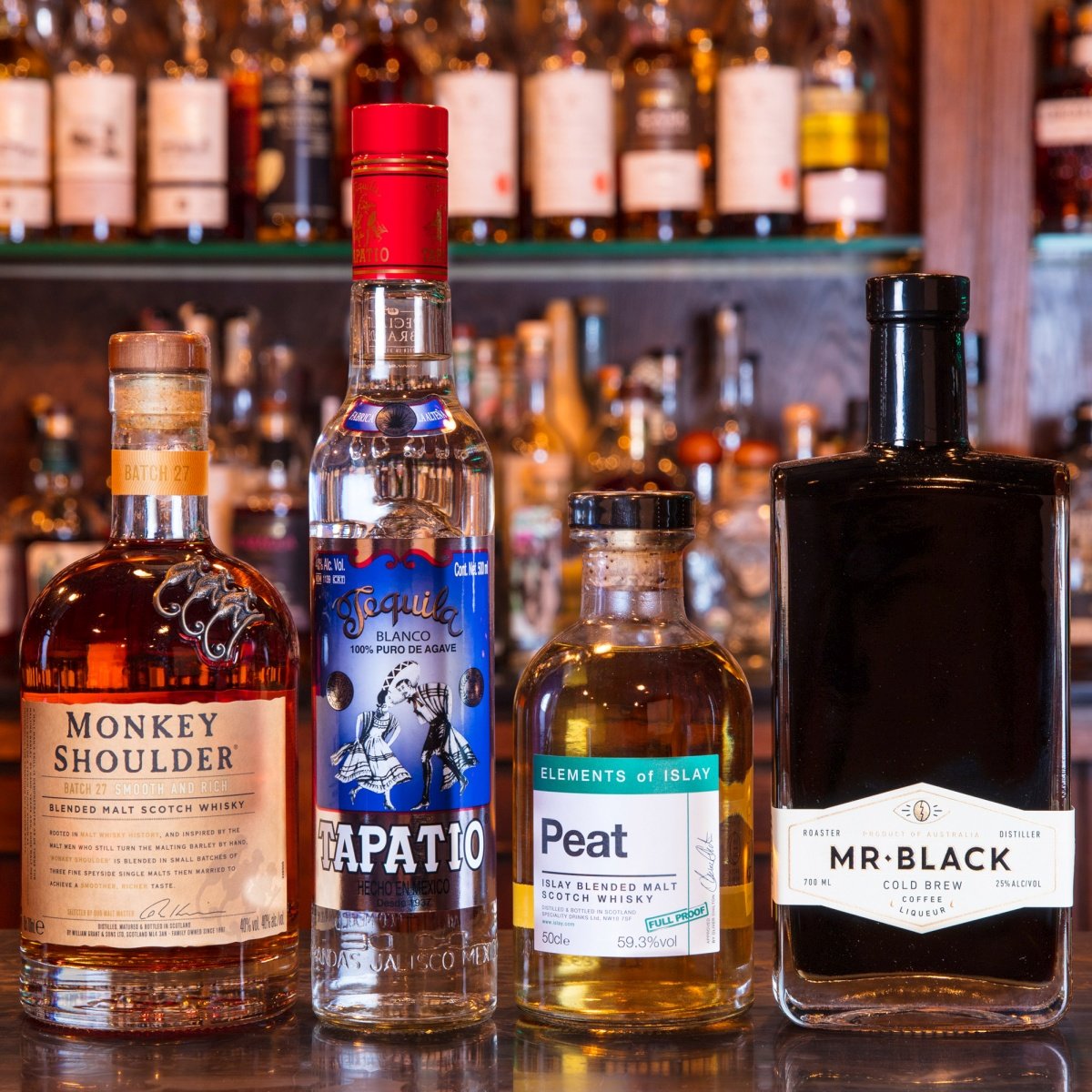 Monkey Shoulder – Things are definitely changing, but whisky has had an old-fashioned air for at least the past few decades. One of the whiskies that has helped to push us into the modern world is Monkey Shoulder. An irreverent attitude, no fear of cocktails and an easy-drinking character have helped it grow to be one of the most popular blended malts on the market, and an excellent gateway dram.
Tapatio Blanco – Tequila has had a bad rap for years, thanks to low-quality mixtos and endless horror stories of shots, lime and salt. Tapatio is one of the Tequilas that has helped change that, and we've had it on our shelves since the day it arrived in the UK. Made from 100% agave and well-balanced, it shows what good Tequila should be.
Peat Full Proof – The Elements of Islay range started its life as a Whisky Exchange project. Now looked after by our sister company Elixir Distillers, the Elements have given us a chance to dig deep into whisky from Islay with a range of great small batch bottlings. Peat Full Proof was the first ongoing release in the range, a punchy cask-strength whisky that you can always grab a bottle of.
Mr Black Cold Brew – Coffee liqueurs have been a popular ingredient since the golden age of cocktails, but Mr Black brought them into the modern era. Made using cold brew coffee – the go-to way of summer brewing for coffee geeks (like me) – it offers a more delicate and complex flavour profile than more traditional coffee liqueurs. A must-try for coffee fans.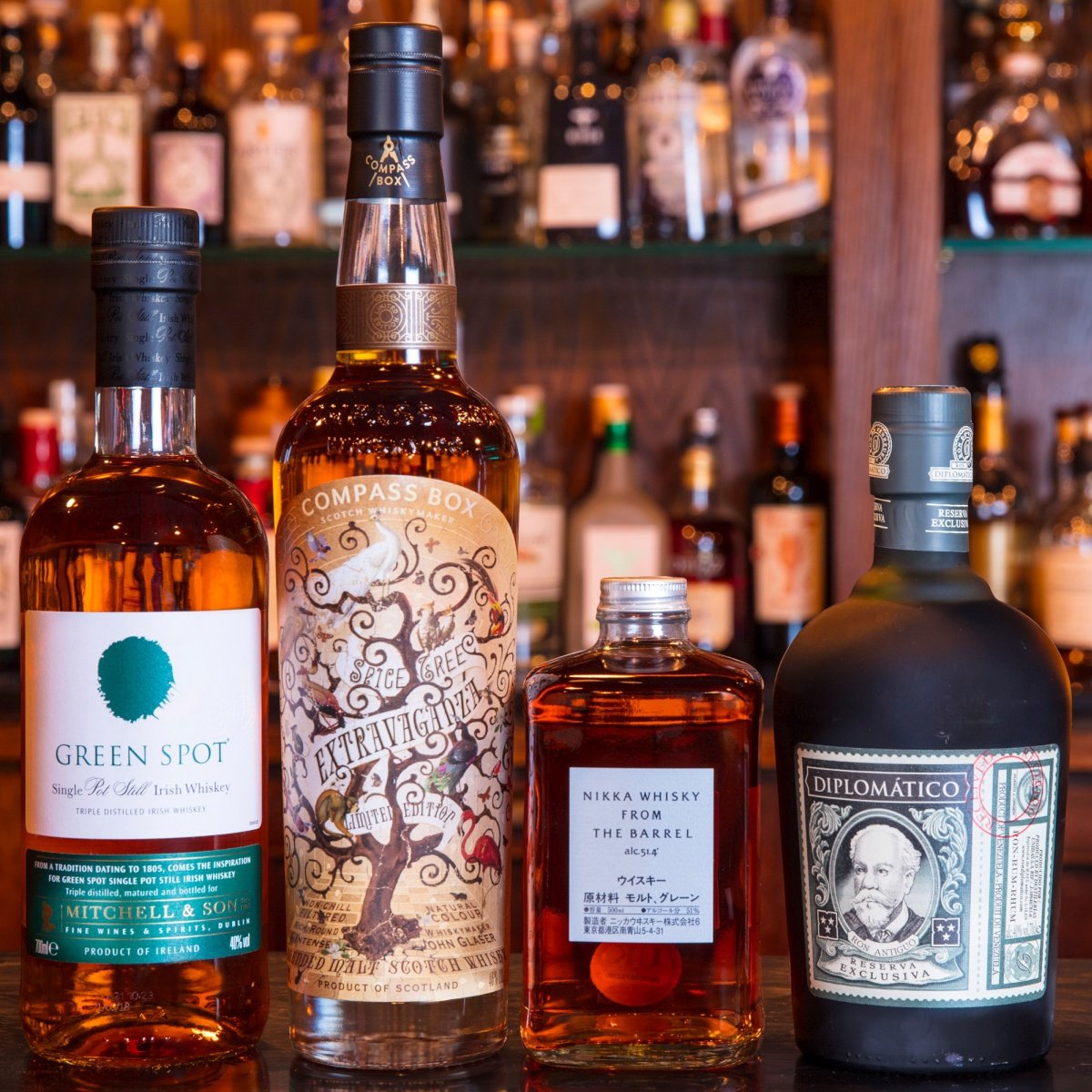 Green Spot – While Redbreast may have helped bring Irish pot-still whiskey back into the public consciousness, it was Green Spot that kept it alive through the fallow years. The only pot-still whiskey to keep going through the 1980s, it kept the spark of Ireland's native whiskey style alive until the time was right for it to reemerge into the limelight.
Compass Box Spice Tree – Compass Box have made a name for themselves by pushing the regulations that surround Scotch whisky, and Spice Tree was where it all began. Initially made by putting extra new-oak staves into casks of whisky to give an extra kick of woody spice, the original Spice Tree was banned for breaking the rules. The next version, which survives to this day, uses new-oak barrel ends, staying just inside regulation while still giving a spicier take on Scotch whisky that has been copied by many other producers.
Nikka From the Barrel – The whisky that brought Japanese style to British back bars. A whisky designed for the Japanese market with a distinctly Japanese character, it looks great and tastes even better. As Japanese whisky has grown over the past decade, Nikka from the Barrel has sat at the front, helping educate bartenders and whisky fans about how great Japanese whisky can be.
Diplomatico Reserva Exclusiva – Rum might not yet have the sophisticated feel that whisky and Cognac do, but its reputation is growing. Diplo Res Ex, as it is fondly known behind the scenes, opened drinkers' eyes to the world of rich and sticky dark rum, and pulls in new fans every day.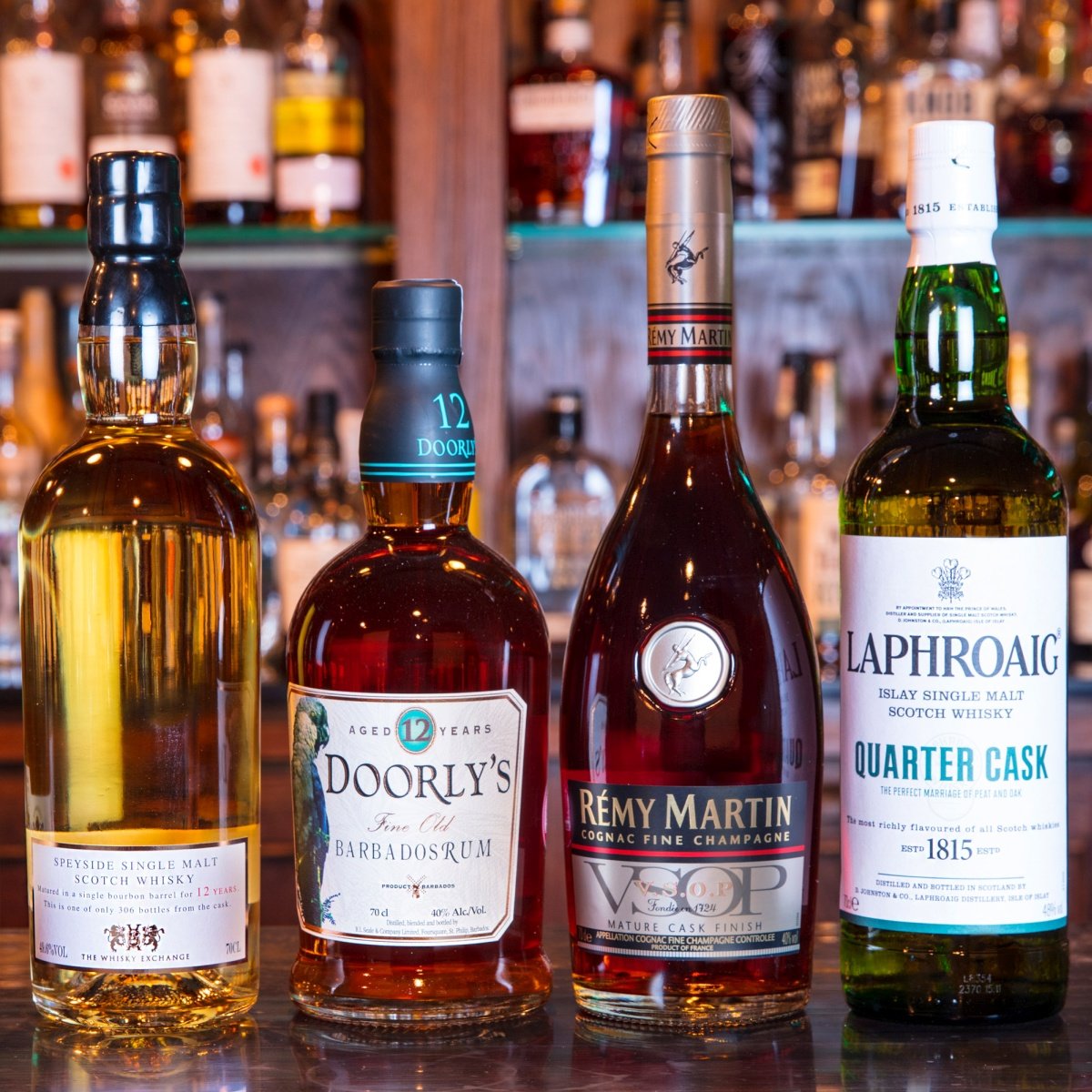 Whisky Exchange Personalised Speyside 12 Year Old Whisky – Too often, buying a personalised bottle means accepting something second-best. We started doing something a bit different with our wide range of engraveable bottles, and have now launched our own personalisable labels for both whisky and gin. The whiskies are single cask bottlings, chosen from the stocks that we use for our various other Whisky Exchange releases, and the only thing different to our normal great tasting drams is that you get to choose what's on the label. This 12-year-old Speysider is a fruity delight that shows the sort of whisky we like drinking.
Doorly's 12 Year Old – This is the year of rum at The Whisky Exchange, all kicked off by Doorly's 12 Year Old winning our Spirit of the Year award. Foursquare, the distillery behind the Doorly's range, is one of our favourites, and master distiller Richard Seale is creating some of the best rum in the Caribbean. Doorly's 12 shows off his skills, as well as being a perfect place for the rum-curious to start their investigations.
Rémy Martin VSOP – The Cognac world is dominated by the large producers – a quarter of all Cognac sold is Hennessy VS – but even though they are well established, they like to play around with their core releases. Rémy Martin's VSOP is a perfect example, using whisky-inspired finishing techniques to rest and marry the spirit to give it extra intensity. Reasonably priced and full of flavour, it's the perfect starting point for those getting into Cognac.
Laphroaig Quarter Cask – Laphroaig might have been around for more than 200 years, but the distillery isn't stuck in the past. The art of maturation has been hidden behind closed doors for much of whisky's history but Laphroaig Quarter Cask shone a light on it, combining traditional large casks with rarer smaller casks to create a punchy and spicy dram. The floodgates have now been opened and the shelves are full of whiskies proud to tell you about their casks.
The Terms & Conditions
This promotion is only open to people who are legally able to purchase alcohol in their country of residence and who reside in a country that The Whisky Exchange can ship to, with the exception of employees of The Whisky Exchange or anyone else associated with the administration of this promotion.
By entering the contest you expressly accept these terms and conditions of entry.
To enter you must:
a) follow @whiskyexchange on Instagram
b) post a comment on our competition entry Instagram post stating which prize you would like to win and who you would share it with.
The prizes are non-transferable, non-refundable and no cash alternative is available. However, the Promoter reserves the right to provide an alternative prize of equal or greater value in the event of unforeseen circumstances.
By entering the competition, you agree that any personal data supplied in connection with the competition (including your name, image and contact details) may be used by us, our agents, partners and/or any third-party suppliers (as applicable) in connection with the administration of the competition and for any other reasonable and related promotional purposes.
We may, in our sole discretion, disqualify entries deemed to be non-compliant with these terms and conditions and we reserve the right to disqualify any entrant whose conduct may be unlawful or otherwise bring the promotion into disrepute. In the event of such disqualification we may award the prize to another entrant
The decision of the Promoter regarding any aspect of the promotion is final and binding and no correspondence will be entered into
The Promoter and its associated agencies and companies will not be liable for any loss (including, without limitation, indirect, special or consequential loss or loss of profits), expense or damage which is suffered or sustained (whether or not arising from any person's negligence) in connection with this promotion or accepting or using the prize, except for any liability which cannot be excluded by law (including personal injury, death and fraud) in which case that liability is limited to the minimum allowable by law.
We reserve the right to suspend or withdraw the promotion without prior notice. Any changes will be posted either within the competition information or these terms and conditions.
This promotion and all issues arising out of it shall be governed in accordance with English Law and are subject to exclusive jurisdiction of the English courts.
For full TWE terms and conditions, please click here.
Other terms and conditions may apply.
Promoter: The Whisky Exchange, Elixir House, London NW10 7SF.