Since it first opened in 1995 the Arran Distilling Co has operated out of its distillery in Lochranza, on the northern coast of the Isle of Arran off Scotland's south-west coast. As the distillery slowly filled its warehouses and grew in popularity it became clear that more space was needed and in 2016 a request for planning permission was submitted for a new distillery on the south side of the island, near the village of Lagg.
After three years of planning, hard work and anticipation, the Lagg Distillery and visitor centre opened its doors on the 12th of June 2019.
New and exciting
The construction of a new distillery on the Isle of Arran's south coast was initially prompted by the need for more warehouses in which to store casks as they matured. Isle of Arran Distillers acquired a piece of land, near the village of Lagg, and, deciding to think bigger than just new warehouses, began working on plans for a new distillery and visitor centre.
Smaller than the original distillery at Lochranza, Lagg Distillery has been created as a more artisanal distillery, experimenting with both casks and peat. While production has begun at Lagg, it will be a few years until we see any single malts from it, however, the distillery's new make is available to buy now from the visitor centre.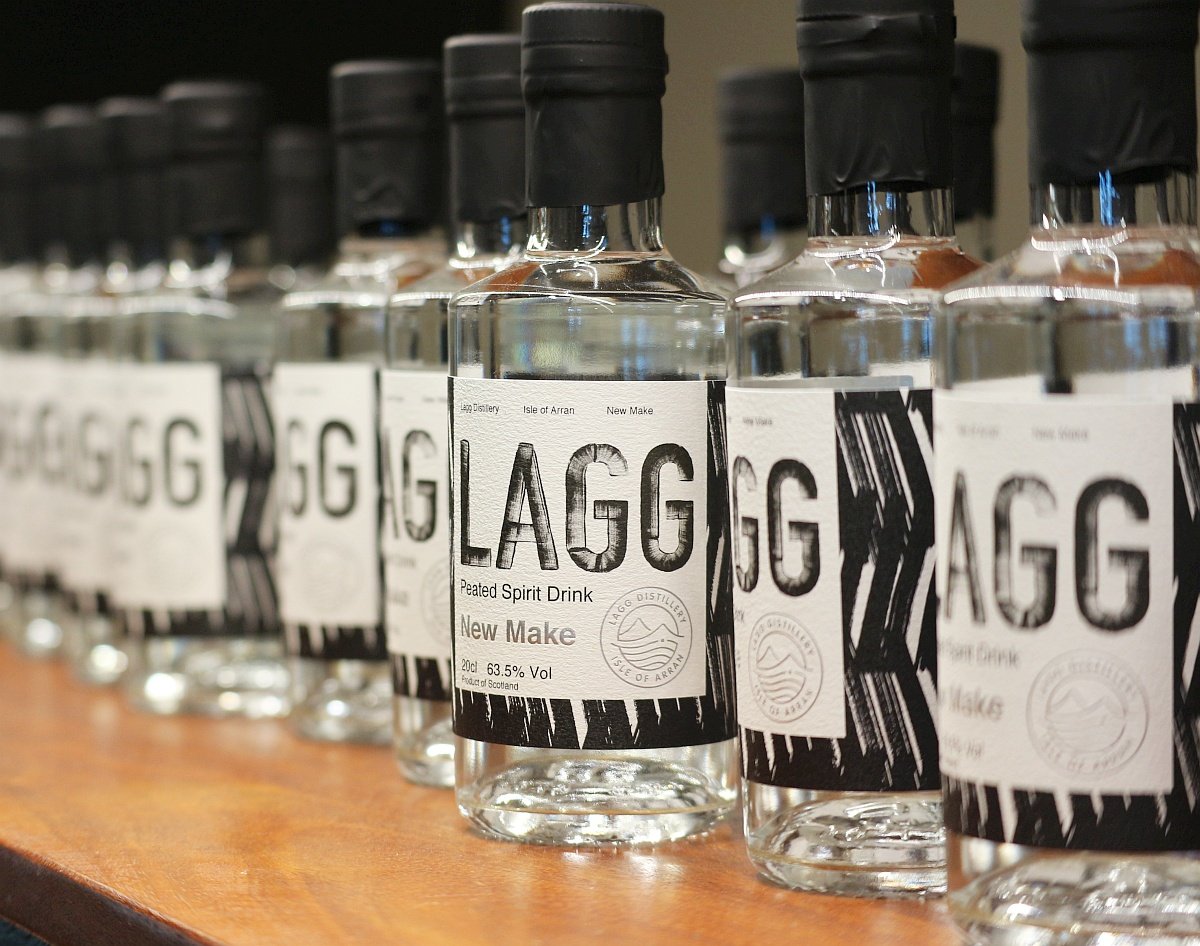 Nose: Freshly-mown grass, white peppercorns, heather honey and earthy smoke are instantly apparent. The smoke softens, bringing out aromas of summer flowers, garden herbs and seaside bonfires.
Palate: Straight off there are sweet, grassy notes, fresh hay, meadow flowers and rich wood smoke. There's an earthier edge underneath the light, fresh notes – peat smoke wrapped around rich spices and sharp citrus.
A winning recipe
Using cloudy water from local stream, Lagg Distillery is able to produce malty, sweet spirits with a distinctive sulphur character. This is helped by a 72 hour fermentation, which produces the earthy, floral flavour profile that Master Distiller James MacTaggart is looking for.
Arran Distilling Co. have opted to use traditional Douglas fir wash-backs, due to their self-regulating properties removing the need to manage temperature and yeast-activity.  The distillery has two stills, each designed slightly differently to create a light spirit that maintains a heavily-peated character.
The wash still is wide and bulbous, with a steep downwards gradient to the lyne arm that prevents large amounts of copper contact, preserving the heavy peat flavour in the first run. The spirit still has a lamp-glass shaped neck to promote reflux, creating a lighter spirit than if it had the same plain necked shape as the wash still. Currently Lagg are distilling to 63% ABV before filling into a variety of different types of cask.
Looking to the Future
Isle of Arran Distillers have designed Lagg Distillery with people in mind as much as whisky. Employing locals from the south of the island, Lagg is focused on the visitor centre, aiming to provide information on the history of Arran's whisky trade, and the history of the island itself.
As the two distilleries lie at opposite ends of the island travelling between the two is difficult, especially after a tour and tasting. Isle of Arran Distillers have been looking into a shuttle bus service between the distilleries which will hopefully be up and running soon, allowing you to see both distilleries in a single trip.
Already, the team at Lagg is looking further into the future – the distillery has been designed to grow and evolve over time and they're already putting in the groundwork for projects that might appear further down the line. As a more artisinal distillery than Lochranza, there's much more scope to play with the distillery's whisky, and they've also planted an orchard behind the distillery – plans of making cider are already being made and apple brandy won't be far behind.
Arran's whisky-making project has impressed us since its early days at Lochranza, and the new distillery at Lagg and the possibilities it opens for whisky production (and more) on the island is very exciting. We can't wait to see what they come up with next.
While waiting for Lagg's whisky to mature, check out the rest of the Isle of Arran range.