At the end of the month is one of the biggest dates in the Scottish calendar. When it comes to excuses for a party, at least. Less than a month after Hogmanay and it's time for another night of celebration – 25 January is Burns Night.
Who was Robert Burns?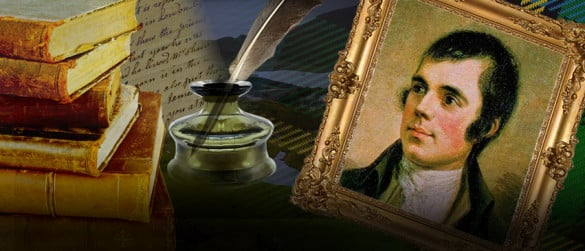 For those who don't know the work of Robert Burns, he was a Scottish writer, who was born on 25 January 1759 – hence the date of Burns Night – and died in 1796. In his time he was a not only a writer and poet, but also a farmer and an exciseman, working a beat in the lowlands that included checking up on at least Annandale distillery.
He is one of the most influential writers in Scottish history, and his influence is still felt today. In honour of his life, his birthday has now become a day of celebration, with Burns Suppers and parties popping up around the world.
Sowing the seeds of Burns
If you've been reading this blog for a while, you'll know that I'm a bit of a fan of Burns and his poetry, with the seeds sown at my first Burns Supper at The Whisky Exchange in Vinopolis. Franchi Ferla of Simply Whisky stalked the floor while telling the tale of Tam o' Shanter – still one of my favourite Burns poems – and I was a convert.
Since then, I've expanded on my Burns Night obsession each year, with posts on food and beer ideas, ginny alternatives to whisky, a spot of poetry and keeping things more traditional. Strangely, the one thing I've not looked into is what whisky to drink with your Burns Supper.
A traditional Burns Supper can take many different forms – there have been suppers for more than 200 years and things have changed a lot over that time. However, here's a skeleton of how things usually go and what we'd recommend – feel free to add bagpipers and as many courses as you like.
Before Dinner
As an opening dram of the evening, we'd go for something lighter and more aperitif-like. To keep with the Burns theme, we've chosen Arran Robert Burns Single Malt, the 'official' Robert Burns whisky. We're not entirely sure what makes it official, but it's the perfect start to an evening of whisky, food and poetry.
Some hae meat an canna eat,
And some wad eat that want it;
But we hae meat, and we can eat,
And sae the Lord be thankit.
– The Selkirk Grace, the traditional opening to dinner
The Soup
Some like a Scotch Broth, some a Cullen Skink, but if I'm about to chow down on a hearty main course, then Cock-a-leekie is the soup I want to start with. As the name suggests, it's a chicken and leek soup, traditionally with prunes in the mix. I like the recipe on GreatBritishChefs from Graeme Taylor of A Scots Larder – it's a bit more substantial than some, has carrots for extra sweetness and has the prunes cooked in from the beginning rather than used just as a garnish.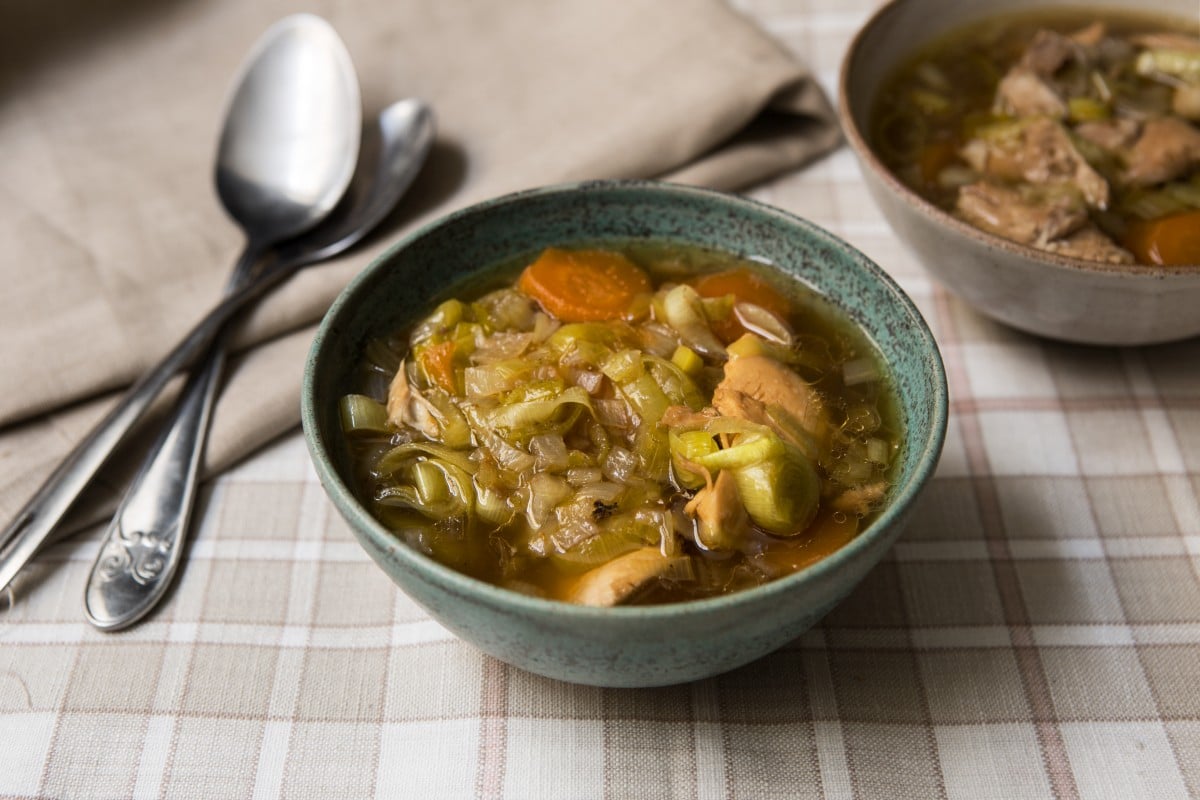 On thee aft Scotland chows her cood,
In souple scones, the wale o'food!
Or tumblin in the boiling flood
Wi' kail an' beef;
– Scotch Drink. Burns liked a bit of beef and cabbage soup
To go with the soup, we'd go for something lighter and sweeter, although with enough weight not to get lost – something that will pair rather than contrast with the homely, comfort-food character of chicken soup. We've chosen Bruichladdich Islay Barley. It's buttery and creamy, like most Bruichladdichs, with a touch of grain sweetness. Our second choice is Glen Grant 18 Year Old. More delicate than the Bruichladdich, it's got more sweetness and a touch of dried fruit richness hiding at the back – just the thing to pair with a prune-tinged Cock-a-leekie.
The Haggis
The arrival of the haggis is the centrepiece of a Burns Supper. Cooked in whatever manner you wish (I like to wrap mine in foil and roast it), it should be brought in whole and presented to the assembled throng. It's at this point that the most famous bit of dinner poetry is read – Address to a Haggis. This is the important bit:
His knife see rustic Labour dight,
An cut you up wi ready slight,
Trenching your gushing entrails bright
Like onie ditch;
And then, O what a glorious sight,
Warm-reekin, rich!
That means it's slicey-slicey time. Cut open the Haggis and make sure it gets served quickly: haggis is at its best when hot. It's usually served with neeps and tatties – mashed swede and potatoes – and a sauce that often has a bit of whisky in. Just make sure you don't pour whisky over the haggis: it's not a Christmas pudding.
To go with the main course, you need something a bit more robust – haggis is a peppery beast, with strong flavours throughout, and the neeps and tatties normally have more than their fair share of butter. Our first pick is our Whisky-Exchange-exclusive Glenfarclas 2007 Marriage of Casks. It's rich, spicy and very sherried, without getting too heavy – it won't be cowed by a weighty haggis. And as an alternative, something a bit smoky: Talisker 2007 Distillers Edition – it's got the classic salt, pepper and smoke Talisker character with an extra hit of richness from its amoroso finish. An excellent match.
The Dessert
Dessert often gets a bit forgotten at Burns Suppers. However, when it comes to rib-sticking puds, the Scottish know a thing or two.
If you look beyond the deep-fried Mars Bar (no matter what The Three Drinkers recommend), there's a whole raft of options, with Clootie Dumpling sitting at the top of my puddin' pile. However, after a hearty serving of haggis, there's only one dessert for me: cranachan.
It's a Scottish riff on a style of pudding that pops up wherever there is milk: cream, something sweet, something crunchy and something fruity. Eschewing the southern decadence of the Eton Mess's meringues, cranachan is straight-down-the-line Scottish: cream, heather honey, oats and raspberries. With maybe a splash of whisky. Just a splash…
Matching whisky and creamy things can be difficult, but we reckon something fruity will give an extra layer of flavour. Our first fruity dram is Ben Nevis 10 Year Old. It's got a whiff of smoke and a rich chocolate background, but it's also packed with tropical-fruit flavour – it'll cut through the cream and compliment the berries. Our second choice is our exclusive Glenlivet 1981 from Signatory. It's got orchard and stone fruit in spades, and has a rich, sherry-cask backbone that'll make sure the cranachan doesn't take over.
After Dinner
Once the eating has finally finished, it's time for some more whisky, and a bit of a sing-song. Arguably Burns' most famous poem is one that people around the world sing without realising it's one of his: Auld Laing Syne. It's not all his own work, but he added some verses to an old folk song, and it's thanks to him that it's spread as far as it has.
While it's best known as a new year song, it's also traditionally sung at the end of a Burns Supper. It's a song about remembering friendship and times past – the perfect end to the evening.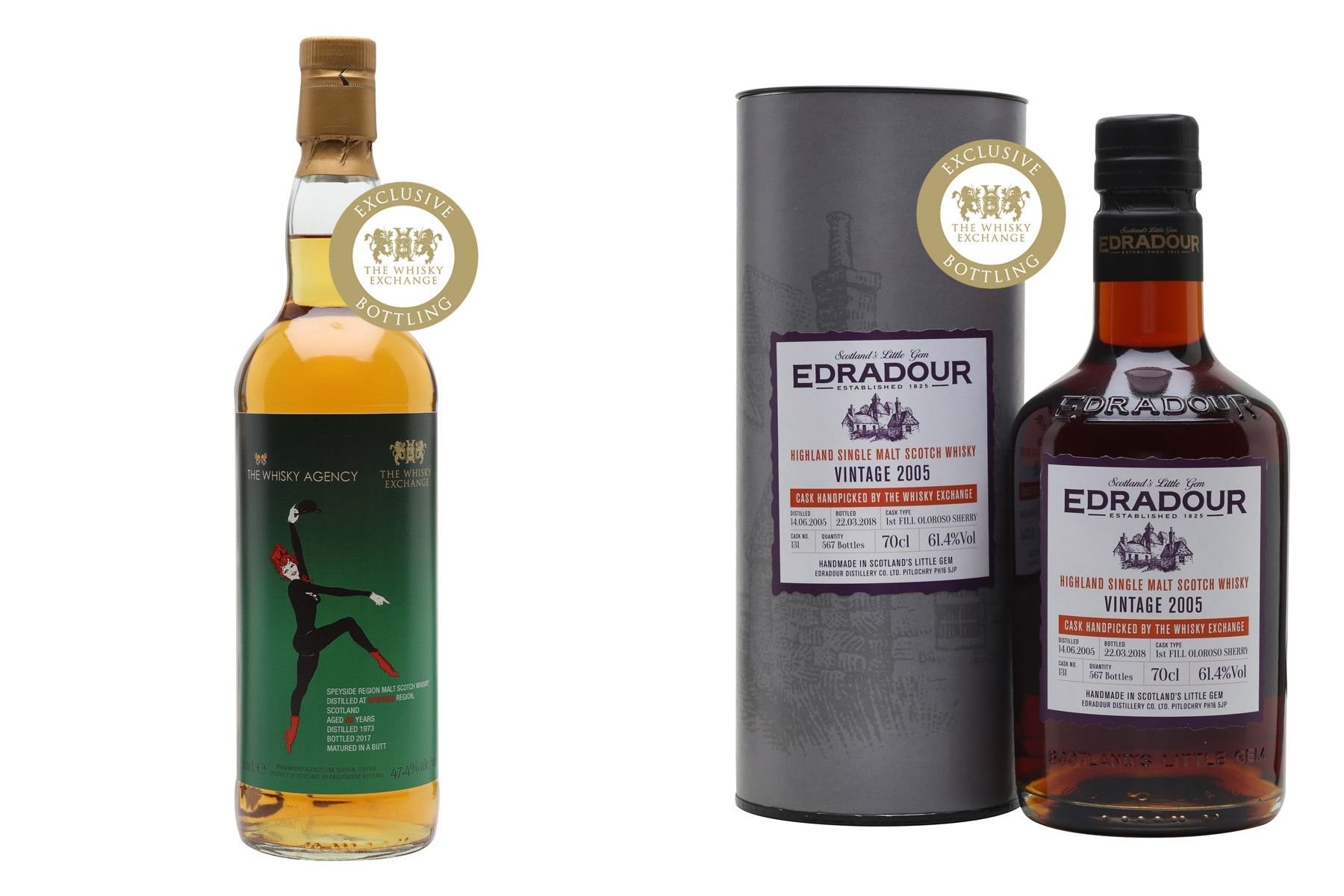 If you're singing, you need a drink in your hand, and we'd go for something big and special. Our first choice is the Whisky-Exchange-exclusive Speyside 1973 bottled by The Whisky Agency. It's packed with tropical and dried fruit, with the fruity spirit amplified by maturation in a sherry cask – we think it might have been a fino cask. Our second choice is even bigger and more sherried – our exclusive Edradour 2005 oloroso sherry cask. It's a sherry monster, with loads of dried fruit and spice, just the thing for toasting the end of the perfect Burns Supper.
Scotch Drink
Whatever you do this Burns Night, make sure you raise a dram to the Ploughman Poet – as if we need an excuse to drink some guid auld scotch drink.
O thou, my muse!
guid auld Scotch drink!
Whether thro' wimplin worms thou jink,
Or, richly brown, ream owre the brink,
In glorious faem,
Inspire me, till I lisp an' wink,
To sing thy name!
–Scotch Drink, my favourite Burns poem