For the Scotch whisky lover there's one event that pops up early in the calendar that gives the perfect excuse for a bit of a special dram or three – Burns Night. On and around the birthday of Robert Burns people gather together to celebrate the life and works of Scotland's most influential literary export, and normally have a few drinks.
This year we joined up with the folks at Vinopolis, location of our central London shop, to put on a bit of a party, enlisting the help of Simon and Franchi from Simply Whisky as masters of ceremonies, and Licence to Ceilidh to provide a spot of music and direction in the black art of regimented folk dancing. The party was on Burns Night itself, January 25th, and was a successful full house with about 200 people filling the Great Halls at Vinopolis.
As you'd expect from TWE we had a few whiskies to hand (the 'W' in our name giving it away) and the folks at Chivas Brothers supplied us with a bar for the evening, stocked up with Chivas Regals 12 & 18, Glenlivet 18 and cocktail fixings. On top of that we had a few extra whiskies set aside from Diageo, Whyte & Mackay and Glenfiddich to pair up with our Supper.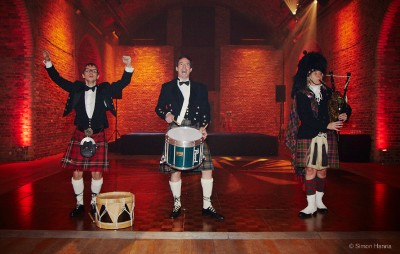 Simon and Franchi are no strangers to TWE and last year's tasting with them still lingers in our memories, thanks to the directory of blackmail ready photos of the shop staff being fed whisky at Simon's knee. Their approach to Scottish tradition is generally somewhat more flamboyant than many and they started the evening, accompanied by their superb bagpiper Hillary, by welcoming the guests into Vinopolis with pipe and drum. Two drums, to be exact, one being tapped lightly by Simon and one thumped expertly by Franchi.  Such is the nature of the instruments that the serenading didn't only stop with our guests and everyone within a fairly decent radius got to join in with the festivities.
We started the evening off with a cocktail, mixing Chivas Regal 12 year old with some cinnamon syrup and apple juice to make a drink that was alarmingly like apple pie in a glass. I'm sure it had a name, but I forget what it was now. It was nice anyway, apple juice seems to be a standard mixer that (blasphemous words, I know) matches well with whisky. It goes a bit weird if you mix it with something that's got much more smoke than the Chivas 12, but it's good place to start for cocktail lovers who aren't so keen on whisky.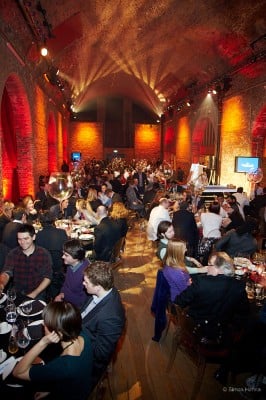 Simon and Franchi then ushered us through the curtains into the dining room (aka, the other half of the great halls) for supper. We started with a Cock-a-Leekie soup, paired with Scapa 16, the slightly savoury edge of the whisky matching well with the creaminess of the soup and the light citrus helping to cut through it.
Our plates were whisked away and the most famous part of the evening began, with Hillary leading the procession as a haggis (which I've been reliably informed by Alan Titchmarsh's TV program was an English invention) was piped through the hall ready to be addressed. The popularity of haggis outside of the north is generally ascribed to Burns's Address to a Haggis and Simon launched into his rendition with shiny knife in hand ready to cut it up "wi' ready slight" [translation: disturbingly violent stabbing of the poor wee haggis – Tim]. I pulled up the text of the poem on my phone for my table buddies (not for myself, obviously) as Scots dialect is not the easiest thing to pick out of a recitation, and the translation into English beside it (also obviously not required by me at all. Oh no) was also considered rather useful…
Haggis duly addressed, the main course came out – the traditional combination of haggis, neeps and tatties. In a break with the truly traditional the Vinopolis kitchens had substituted the usual mashed neeps for a fondant of baby turnips, a burden that we bore stoically. The dram for this course was Isle of Jura 16 year old, with its sweetness contrasting against the creaminess of the potatoes and neeps, and the earthy peat matching well with the haggis.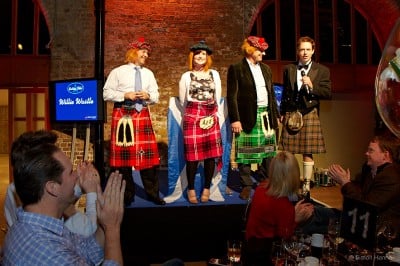 After the plates were cleared a contest was declared, Burns Idol – where the crowd had to decide which of three volunteers was the best at reciting Burns. With one native speaker among the three it seemed to be no contest, but voting for the underdog came through and the third speaker won, despite being Australian and having a 'Scots' accent that fluctuated from the Netherlands to the deep south of the USA via India. He took away a bottle of Arras, our 'bottle your own' blended malt whisky that we sell in the TWE shop (and which is tasting rather good at the moment, from all accounts).
We finished the meal with individual Clootie Dumplings, the hefty suet pudding originally named for the cloth it was wrapped in before boiling for hours. Ours were slightly more delicate than those of Burns's times, served with a light custard and garnished with a raspberry. It was matched with Glenfiddich Rich Oak, a 14 year old made of a combination of sherry and new American oak finished whisky. It's quite a sweet dram and that went perfectly with the dessert, with fruit and vanilla popping up in both.
Plates were collected and coffee was poured, as well as our final (before we hit the bar) dram of the night – Talisker 10. Matching whisky with coffee isn't a particularly easy task (as Tim and I discovered at a coffee tasting a few weeks back, although by the time the whisky appeared I was high enough on caffeine that concentrating on flavour was becoming difficult. No sleep that night) – but this worked rather well: the smoke and briney edge of the Talisker really complemented the acidity and bitterness of the coffee.
Then there was dancing.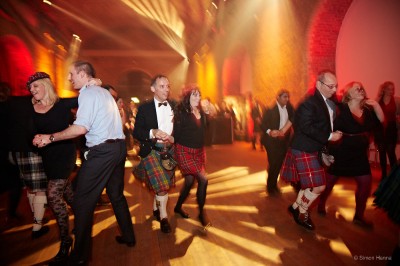 I'm not a fan of dancing and did rather well at hiding, using Simon the photographer as a shield and occasionally holding up my dead video camera while claiming "Sorry, I'm working", but luckily there were a good number of people who do like to dance. Or had been filled with enough whisky. Either way, it worked. License to Ceilidh did dancing music, their caller did instructing and people vaguely moved around the floor in the right way.
Those who were there, or who have heard tales, may have noticed something I've missed. In the middle of the dinner Franchi launched into an epic telling of the tale of Tam O'Shanter, one of Burns's longest poems. I may not have been able to understand much, due to the combination of Scots accent, Scots dialect and my positioning relative to the speakers, but Franchi whirled around the floor, hurling wifely abuse at our chief accountant, fondling shoulders and generally being a menace. I had, very naughtily for someone involved in the whisky business, never read the poem but got a chance to the day after Burns night when a new whisky arrived on my desk – Cutty Sark Tam O'Shanter.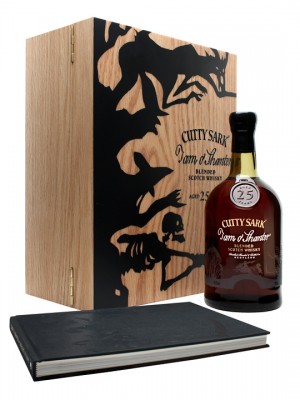 I had a sample bottle passed to me earlier in the week and a quick nose showed it to be something rather special, but I had no idea quite what Cutty Sark had in mind until the real thing arrived, complete with book and heavy box. The book not only has a copy of the text of the poem, but also some paintings by Alexander Goudie and a bit of historical analysis, which means that I can now blag knowledge of the poem slightly more effectively than previously. Did you know that Cutty Sark is the nickname that Burns gave to one of the apparitions that chases Tam, Nanny Dee, due to the short shirt she wore, known as a Cutty Sark at the time? It's from there that the ship Cutty Sark got her name and thus Cutty Sark the whisky. That is the entirety of my Tam O'Shanter related knowledge. Anyways, what does it taste like?
Nose: Big juicy raisins, some green aniseed-laden wood, molasses, and woody spice, lifted by some lighter spirity notes and red fruit.
Palate: Oily and sweet to start, with more raisins, leading to spiced custard, black liquorice and aniseed balls, some rum laced fruit cake and a touch of bitter wood.
Finish: Spicy wood, a hint of liquorice, warm tarmac and green leaves.
Comment: A big and spicy whisky with a lot of heavily sherried spirit in the mix. Sweet and rich with a nice astringent edge of liquorice. It's the first new whisky to be created by Kirsteen Campbell, the Cutty Sark master blender, and based on this outing of her skills I look forward to seeing what she comes up with next.
Anyways, back to Burns Night – a big thanks to the folks at Vinopolis for being our partners in crime, Simon & Franchi of Simply Whisky for doing their thing, Hillary for her rendition of Super Trooper on the bagpipes, License to Ceilidh for almost tempting me to dance and Simon Hanna for running around and taking photographs in one of the most difficult sets of photographic circumstances that I've ever seen. I think we might have to do it all again next year…