Continuing our look into The Whisky Exchange's latest exclusive releases, we move on to my most anticipated whisky of last year. It's a release from one of Scotland's most northerly distilleries and one which we very seldom see new whisky from – Scapa 2007 19 Year Old.
Orkney – almost as far north as you can go
Scapa is one of the Orkney islands' pair of distilleries. However, it's very much Orkney's second distillery, with the running joke about the recent run of anonymous independent Highland Park releases being that they 'aren't Scapa'. With very few whiskies available from the distillery, it's not hard to see why Orkney is dominated by Highland Park. However, even though it sits in its neighbour's shadow, it's a distillery with a following thanks to its excellently fruity whisky.
Situated on Orkney's main island (Mainland) just outside of the capital of Kirkwall, Scapa distillery wasn't a very welcoming place until relatively recently.  A sign outside famously said 'No Visitors' and whisky fans roaming nearby couldn't get past the front gate.
In 2015, the distillery finally got a visitor centre and opened its doors to the public for the first time in its 130-year history.
However, while Scapa fans could now see around the distillery, they still didn't have much in the way of options when it came to drinking its single malt.
Scapa – a short history of its whisky
Scapa's spirit is unique, with an apple/pineapple-forward character tinged with maritime touches that you can't find anywhere else in Scotland. As such, it's sought after by blenders, who use nearly every drop produced to create their whiskies. On top of that, the distillery was mostly closed – with only intermittent production – between 1994 and 2006, drastically limiting the amount of older whisky they've had available.
Over the years, there have been a handful of distillery bottlings. The Scapa 14 Year Old of the early 2000s was very highly regarded, but disappeared in 2008. It was replaced by Scapa 16 Year Old, which also picked up lots of fans, but it too was discontinued as stocks of older whisky ran out, with the last bottles leaving the line in 2015.
Since then, Scapa Glansa and Skiren have flown the flag for the distillery, but while great examples of Scapa's fruity spirit, they don't quite fit the same niche as the previous longer-aged editions. Owner Chivas Brothers keeps a close rein on casks, and the few older whiskies they have don't make their way out to independent bottlers very often, which makes any Scapa other than the current distillery bottlings very rare.
It's for this reason that we jumped at the chance to have our own exclusive Scapa, not only bottled at batch strength, but also with some decent age – 19 years.
Scapa 2003 19 Years Old
A sister release to our exclusive Strathisla 2007 15 Year Old, our Scapa is similar in make up – a small-batch release matured solely in first-fill ex-bourbon casks, bottled at full batch strength. It was distilled in 2003, towards the end of the quiet years when they were starting to ramp up production again. As such, it's about as old a whisky as Scapa can bottle, with only a scattered selection of older casks in the Chivas Brothers warehouses stretching back to 1994 and beyond.
As a big fan of the old 14 and 16-year-old releases – whiskies that helped me realise that I might be slightly obsessed with fruity flavours in spirits – I've been waiting for this since I heard it was on its way.
For me, Scapa is all about apples; for TWE co-founder Sukhinder Singh it's pineapple. Whatever your flavour sensitivities, this whisky stacked with tropical-tinged orchard fruit, all drizzled with well-balanced, creamy, American-oak-influenced vanilla.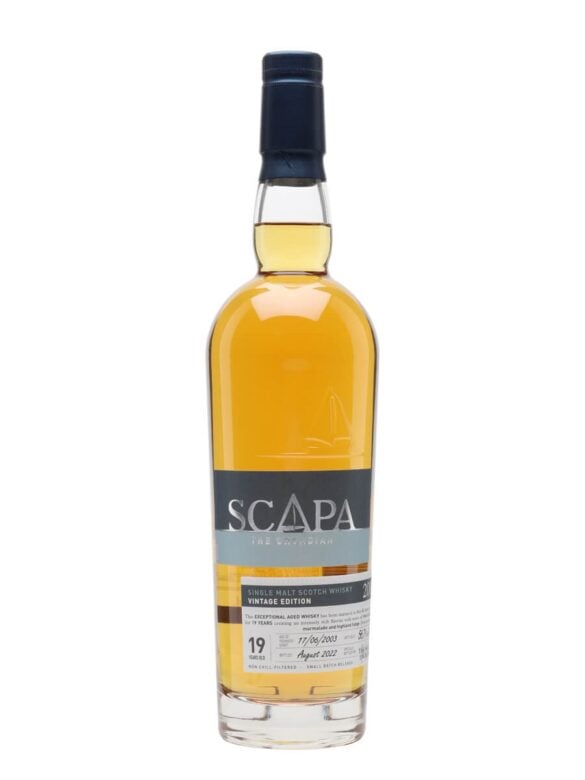 Nose: Granny Smith apples and vanilla cream to start. Layers of apple and fruit build: sour sliced apples, boiled sweets, apple pies and apple sauce. That's all quite green and fresh, balanced by some sultana and dried apricot fruitiness. Briny notes float around the edges, joined by building citrus – lemon zest and orange marmalade with peel.
Palate: More apples, this time with extra apricot, barley sugar and pear drops. Lemon sherbet sweets develop along with touches of violet and spiced shortbread. The marmalade from those nose hides underneath, along with wax polished oak, baking spices and a touch of honey.
Finish: Ryvita crackers with honey, sweet liquorice and buttered toast with apple jam.
The whisky arrived just in time for Whisky Show last year, and I spent the weekend grabbing whisky friends – both fans and industry folk – and pointing them towards the bottle on The Whisky Exchange stand. It went down very well, an unexpected treat and one that we hope heralds more from the all-too-quiet distillery.
Our exclusive Scapa 2003 is available from The Whisky Exchange website or our London shops. You can also find more bottles that are only available from us on our Exclusive to The Whisky Exchange page.