The past few months have seen a whole host of new exclusive whiskies hit the shelves at The Whisky Exchange. Now that the combined whirlwind of Whisky Show and Christmas has calmed down, we're going to take a bit of time to look at our new acquisitions, and give you a bit more background on them.
Today, we're starting off with the first of a pair of very exciting small-batch whiskies – Strathisla 2007 15 Year Old.
Chivas Brothers and the Independents
Chivas Brothers is the Scotch whisky wing of drinks giant (and TWE parent company) Pernod Ricard, and the owner of a wide range of distilleries across Scotland. While there's some big names among them – Glenlivet, we're mostly looking at you here – they are mostly lesser-known, with single malts available from independent bottlers rather than the distilleries themselves. However, some are often hard to find, including Strathisla.
Strathisla – a short history
Strathisla is very much at the heart of the Chivas Brothers portfolio and is key to making Chivas Regal. The company bought the run-down and bankrupt distillery in the 1950s and brought it back to life, changing its name from Milton (the name it was founded with and switched back to in 1890) to Strathisla (the name it had from 1870 to 1890). Chivas Regal whiskies had been around since the early years of the 20th century, but with Strathisla in the mix, the range expanded and continued to grow into the international favourite it is today.
However, this did mean that there wasn't as much Strathisla single malt around as there once was, and this has continued to the present day. Independent bottlers – especially Gordon & MacPhail, who used to bottle under the distillery's own label – are the main source, releasing occasional single-cask and small-batch bottlings. Whisky from the distillery has also been occasionally available as a distillery bottling – usually as a Strathisla 12 Year Old – but not currently. In general supplies are rather scarce, with younger and more-affordable editions especially so.
Strathisla 2007 15 Year Old
With there not being many Strathisla bottlings out there, we were very happy to get the chance to grab an exclusive release for The Whisky Exchange. Company co-founder Sukhinder has long been a fan – with bottlings often popping up in our exclusive selections from Signatory Vintage – and this release shows off why he holds the distillery in high-regard.
While I am usually someone who claims that the Scotch whisky regions don't have much of a place in modern whisky (with everyone making pretty much every style of whisky all over the country these days), Strathisla – and this Strathisla in particular – is the exception that proves the rule: it's about as classic a Speyside as you can get. Matured in first-fill ex-bourbon casks and bottled at full batch-strength, it's a punchy dram packed with the stereotypical Speyside fruit and spice, all wrapped up in a creamy American-oak blanket.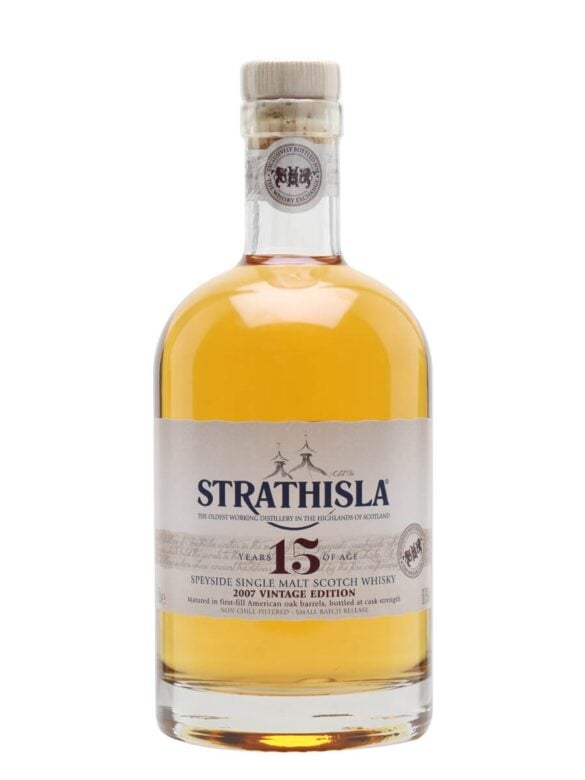 Buy Strathisla 2003 15 Year Old >
Nose: Victoria sponge cake with raspberry jam, spiced shortbread, sultanas, baked apple, candied orange peel and ripe pear. The vanilla from the sponge becomes light custard and apples become apple pie. Creaminess builds along with banana hints.
Palate: A big hit of spice and fruit leads to barley sugar sweetness, orange milk-chocolate and lots of orchard fruit – fresh and cooked very ripe apples and pears. Garibaldi biscuits develop, along with berry fruit: blueberries and blackcurrants.
Finish: Spiced custard and shortbread with banana hints.
It's rare that we get a chance to taste Strathisla at all, so this exclusive bottled at higher strength and without a cloak of sherry-cask maturation hiding the distillery's character is really special. It's available to purchase online and from our London shops.
You can also find more bottles that are only available from us on our Exclusive to The Whisky Exchange page.