One of the standout Masterclasses at The Whisky Exchange Whisky Show saw the launch of Gordon & MacPhail's new Private Collection Ultra series – a range of four single-cask whiskies, each selected by a branch of the third and fourth generations of the Urquhart family.
Four members were present: Stephen Rankin, Laura, Michael and Richard Urquhart – each presenting one of the whiskies in the line-up – along with whisky writer Jonny McCormick who wrote the official tasting notes. The Masterclass also served as a farewell to outgoing managing director Michael Urquhart, who joined the family business in 1981 and is retiring after seven years at the helm.
We started with MacPhail's 15 Year Old as an amuse-bouche, while Jonny introduced the range. The releases are all from the 1950s (around 60 years old), with approximately 60 bottles available. We are only selling the bottles as a four-bottle set, priced at £25,000, here are my thoughts:
(chosen by Stephen Rankin, UK sales director and his mother (Michael Urquhart's sister) Rosemary Rankin, a retired director)
Being a classic Speysider, Linkwood is a favourite with Gordon & MacPhail. Believed to be the oldest-ever bottling from the distillery, this was the oldest cask of Linkwood Gordon & MacPhail had, would have been produced with floor-malted barley and was aged in a first-fill sherry hogshead.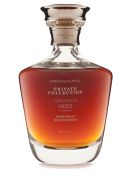 Nose: Intense notes of prune and fig, with hints of sweet toffee and walnuts in the background.
Palate: A classic sherried whisky – the waxy and mouth-coating texture reveals rich dark chocolate, coffee, Christmas cake, marmalade, prune, fig, and hints of cardamom.
Finish: Cardamom spice is present at the end of a very long finish.
Comment: A classic example of sherried whisky, but one which, despite the age, is beautifully integrated and not as oaky as one would expect.
(selected by retired managing director Ian Urquhart, his son Neil, director of logistics and facilities, and daughter Jenny Houldsworth, a non-executive director)
Initially aged in a first-fill sherry butt, this was transferred to a sherry hogshead in 1969. Produced at a time when the distillery was only producing 7,000 gallons a year – this figure is now more than 2 million.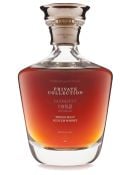 Nose: Rich in profile, yet elegant in intensity, with chocolate and Turkish delight, along with fresher fruit than expected from a long-aged sherry-cask whisky, with orange and lemon notes.
Palate: Stunningly elegant in nature with a classic sherried flavour profile of dark chocolate, fruit cake and orange, along with a hint of ash and tar from the wood, but it's not overly oaky.
Finish: Long, with chocolate orange and some oak spiciness.
Comment: The transfer to a hogshead from a (presumably over-active) butt has created an elegant style rather than a sherry monster. Elegant whiskies of this age and complexity are rare and a delight.
(chosen by retired joint managing director David Urquhart and his twin sons Stuart, whisky supply manager, and Richard, export sales executive)
This was the company's last cask of 1951 vintage Mortlach, a distillery that's another Gordon & MacPhail favourite, and was aged in a sherry hogshead.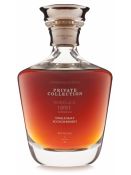 Nose: Sweet-style nose of crème caramel, butterscotch and toffee with a hint of beeswax.
Palate: Wow – a stark contrast to the nose. Creamy, and drier than the nose suggests, with the fruit notes of orange and apricot joined by clove and hints of ash, tar and smoke.
Finish: Long, dry and spicy, with the smoke increasing in intensity.
Comment: The contrast from the nose to the palate was startling, and proves you can't smell sweetness. The smoke was unexpected but welcome and helped to integrate the fruit and spice – another exceptional whisky.
(selected by retiring managing director Michael Urquhart and daughter Laura, brand manager)
The darkest in colour of the four (with a dark mahogany hue), this is believed to be the oldest bottling of Strathisla ever released, and was matured in a sherry hogshead. Michael's father John bid for the distillery at auction in 1950, losing to incumbent owners Chivas Brothers.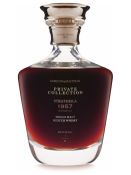 Nose: Incredibly intense and complex nose, with pickled gherkins joined by hazelnuts, geraniums and a hint of wood.
Palate: The complexity continues with an oily texture with soy sauce, umami and Christmas cake combined with dry woody spiciness that is well integrated.
Finish: Long and dry with the wood notes prominent, but not overpowering.
Comment: This one divided the room – the prominent woodiness too much for some – but for me it was well integrated, with the oak not overpowering. An excellent example of drier-style sherried whisky.
With this range, Gordon & MacPhail have demonstrated they have stocks of whisky that are unrivalled in age and quality. This is an exceptional set of whiskies, with each having its own place in the range. However the Strathisla (for its sheer intensity of flavour) and the Linkwood (a classic example of sherried Speyside) were my personal favourites.
This was a fitting farewell to Michael's tenure. In his years as managing director, he oversaw the release of the oldest Scotch whisky bottlings – a 1938 Mortlach in 2008 being followed by a 1940 Glenlivet two years later – and while not as old as that pair, judging by this tasting, the four expressions in the Private Collection Ultra series are sure to receive the same level of acclaim.
The set is available to buy on The Whisky Exchange website – your chance to own a piece of Urquhart family history.