Some drinks are simply synonymous with a big-screen moment and with the person drinking them. The freshly poured, ice-cold Martini for James Bond. The Dude's White Russian in The Big Lebowski and the stain it leaves on his beard and clothes is the perfect match to his deadbeat character. Hannibal Lecter's Chianti reminds us of this sophistication and taste (the book went one better – Lecter's original wine choice was the even-more upmarket Amarone). Here are our top-five whisky moments in film and TV:
1. Johnnie Walker Black – Blade Runner
Harrison Ford's character in 1982 cult classic Blade Runner would have looked weird drinking anything but whisky. The futuristic glasses and bottles that closely resemble a bottle of Johnnie Walker Black Label are as much a futuristic prop as it is a reminder that this detective reluctantly came out of retirement has his work cut out for him. Something tells me it would have be jarring to see this noir detective tackle a case with a beer in hand. For fans eagerly looking forward to the 2049 sequel, early shots and trailers suggest that this trend is set to continue…
33 Year Old Highland Scotch – Inglourious Basterds
In one of the more tense scenes of this excellent film, Michael Fassbender is posing as a spy, speaking fluent German to a Nazi major. When he lets his guard down – and exposes himself as a spy – by ordering glasses using a British three-finger gesture rather than the German version, the only thing more British and patriotic than Fassbender's accent is his quote: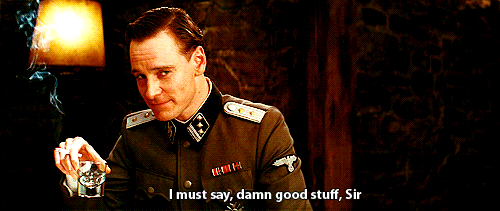 'There's a special rung in hell reserved for people who waste good scotch. Seeing as how I may be rapping on the door momentarily…'
[drinks his Scotch] 
'I must say, damn good stuff, Sir.'
Everything about his delivery is almost comically English and makes for a memorable quote, not least because of his choice of drink. It's a classic Scotch moment.
3. Glendronach & Dalmore – Kingsman: The Secret Service & The Golden Circle
I learned recently that the director of The Kingsman, Matthew Vaughn, is a big fan of whisky, so I'm confident that this wasn't a crude product placement; instead an inspired choice of vintage 1962 Dalmore (one of the most expensive whiskies ever released) to set the tone of the opening scene in the first film – WARNING: contains spoilers, language, violence and very expensive whisky:
The new film is hitting our screens at the end of September and this time Vaughn has got in touch with Glendronach. Master blender Rachel Barrie has put together a special 1991 vintage bottling to celebrate the launch of the movie and reports from the launch earlier this week are excellent. We'll have it at The Whisky Exchange soon – sign up for an email alert when it arrives here.
4. Lagavulin 16 – Parks and Recreation
The tie-in has become so classic that the folks behind Lagavulin have since placed Nick Offerman (the actor in Parks and Recreation) at the centre of their latest marketing efforts: who can forget the Whisky Yule Log stunt.  I'm curious whether or not this started out as product placement or was just an organic piece woven in by the writers, but either way it doesn't matter because Lagavulin 16 as a drink dovetails perfectly with the no nonsense Ron Swanson. His dislike of white spirits ('clear alcohol is for rich women and people on diets') and his love for whisky ('nectar of the gods') chimes perfectly with every other facet of his character. I'm sure that this whisky and TV moment has put Lagavulin 16 on the map.
5. Suntory Whisky – Lost In Translation
No list about whisky and the big screen is complete without a mention of the infamous 'Suntory Time' scene in Lost In Translation. The clip below speaks for itself, but for me it's one of my favourite ways that whisky has ever been worked into a script. Bill Murray's character is forced to decipher the cryptic messages of the director and his translator, attach pseudo-Western suave to this commercial he would much rather not be doing. It's a really amusing scene and made all the more relevant by the number of celebrities we now see endorsing whisky brands.