This is the third part of Tim's over-written journal from The Spirit of Speyside festival. Brave readers happening on this post for the first time may want to read Part 1 & Part 2 first.  Proper breaks should be taken between posts for refreshment and the avoidance of headaches.
Saturday proved to be another beautiful day with the sun splitting the uncharacteristically cloudless Scottish heavens in a manner to gladden the hardest of hearts.  However, one nightcap too many and a logistical snafu (I had forgotten to override the weekday-only alarm setting on my phone) had led to my oversleeping and missing breakfast.  You can imagine my chagrin, but the heroic staff of Linn House managed to thrust a bottle of water and a bacon sarnie into my clammy grasp as I hurried wearily to the car, en route once again to Glenlivet. 
We were met in the car park by Glenlivet's Alan Winchester, resplendent in some worryingly serious-looking hiking gear, plus some similarly-attired members of the public who were joining us for the morning.  After the requisite standing around that such occasions demand while everyone checks their bags and ho-hums over whether it was really worth bringing that extra coat, we set off on what was to prove yet another highlight on this increasingly memorable trip: the Robbie McPherson Smugglers Trail.
Moving up a steep path from the distillery, we passed Josie's Well (Glenlivet's water source) and the site of the original Glenlivet distillery in Upper Drumin, before heading into the foothills for an assault on the peak of Carn Daimh.  The going was tough in places as the sun beat ever more remorselessly, but periodic stops during which Alan enlightened us on specific points of historical interest, such as the camouflaged pits used by McPherson to shelter his illicit spirit for the winter – cue the timely usage of one of my hipflasks containing a superb SDL Rosebank – refreshed our spirits.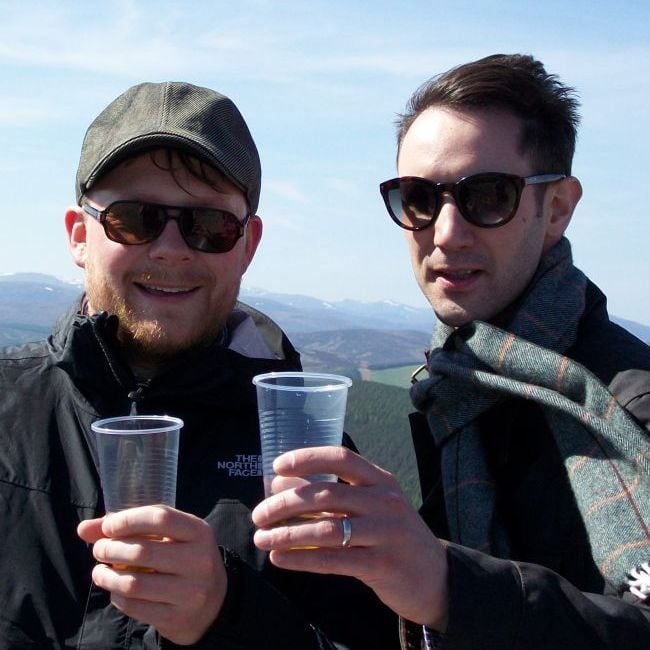 An hour or two later, after a particularly punishing push up the last few hundred metres, we attained the windswept summit.  Your correspondent arrived towards the rear of the party, sweating profusely and in a state of general dishevelment after an extremely badly-timed ciggy just prior to the ascent.  Nonetheless, the views were magnificent and the winds so strong that they actually rendered Ridley's normally rigid haute coiffure temporarily horizontal, almost spoiling his caddish vintage car-dealer look.
Twenty minutes, several hundred photographs and two bottles of Glenlivet 18yo later (don't worry, there were quite a few of us), the group set merrily off on the descent, a rather more leisurely affair taking in Blairfindy Castle before arriving back at the distillery in time to see the famous Sma' Still.  Ridley's barnet had sprung back into place as soon as we got off the summit, of course.  I really must buy some shares in whatever gloop he puts on it.  
The Sma' Still was a tiny potstill of the kind McPherson & George Smith would have used in the early 19th century and it was soon dribbling out some authentic oldstyle new make spirit for the group of eager festivalgoers in attendance.
The renowned Robin Laing debuted a new ditty in honour of George Smith on acoustic guitar while we sipped the extremely tasty new spirit, before we were summoned back to the cafeteria for lunch and more of that tasty oatmeal ice cream.
Feeling inordinately proud of ourselves for having successfully completed our 11km trek, we were next whisked off to Strathisla distillery to meet up once again with the charming Ann Miller who had shown us round Longmorn the day before.  Now back in the picture-postcard surroundings of Strathisla, Ann treated us once more to a fascinating tour taking in the unusual stillroom – where one of the stills has been built around the crossbeams – and a visit to one of the Chivas warehouses containing an atmospheric caged off area populated by various special barrels – the Royal Salute Vault.
Wisely, this web-strewn Holy-of-Holies was off-limits to the bloggers, but our spirits were raised once again as Ann led us into one of the distillery's handsome function rooms for an exclusive tasting of the Cask Strength Editions – a series of distillery-only bottlings from some of the unsung heroes of the Chivas group's distillery portfolio.
We tried five whiskies at this tasting, and almost all of them were terrific:
Scapa 1993 16yo 60.9%:  A lot going on; very tropically fruity with notes of tangerine, heather, apricot jam, peach cheescake, and guava.  This was pretty hot at full strength, but became delightfully mellow with a few drops of water.
Glenburgie 1994 15yo 54.6%:  A quite biscuity 'Burgie with attractive shortbread and pear drop flavours on the palate.  A real blast of jammy spongecake with water.
Miltonduff 1991 18yo 51.3%:  I wasn't superkeen on this one, finding it rather more duff and less Milton (apologies to any other whisky nerds who may have coined that joke already).  However, it was interesting and far from undrinkable, showing unusual vegetal / leaf mulch / compost aromas on the nose and a faintly dusty palate.
Glenlivet 1992 16yo 57.8%: We'd tasted this the previous day during Alan Winchester's Masterclass, but it was a pleasure to return to it again, and of course in different surroundings some slightly different flavours came to the fore: this time I found a rich, syrupy flapjack nose, with a blast of peaches 'n' cream on the palate.  As before this was another one that needed a drop of water to really express itself.
Strathisla 1994 16yo 55.3%:  Another great dram, laden with toasty vanilla, marshmallows and biscotti.  Very drinkable indeed, and a guaranteed eye-opener for any whisky fan who's previously only encountered the standard 12yo.
Following the tasting, we returned briefly to Linn House to get changed and ready for the evening's entertainment, only to discover a wonderful gift waiting in our rooms – a bottle of the very special Linn House Reserve Blend. During a previous visit to Linn House earlier in the month Joel & Neil had already received a bottle of this money-can't-buy 35 year-old cask strength blend (originally bottled in 2005 and only presented to guests at the house itself), and Joel very kindly popped the seal on his new bottle for us to try.  It proved to be everything one could hope for – a dramatically rich, superbly-balanced sherried dram that took our breath away with its intense fruit and an almost rancio-like character coming through on the long finish.  A fabulous, and much-appreciated, gift.
After a delicious dinner in the lovely dining room at the house, we strolled back to the nearby Strathisla distillery for the evening's entertainment – and one that I know the bloggers had been secretly dreading – the whisky quiz.
Hosted by Chris Brousseau, the inventor of the whisky version of Trivial Pursuit, this was never going to be easy – and as supposedly knowledgeable bloggers the potential for humiliation was high.  Thankfully, I'd been co-opted in advance via twitter onto a team of international whisky nuts which included Malt Maniac Tim Puett of the Ardbeg Project.
Unfortunately for Tim, this was the Speyside festival and there wasn't a single Ardbeg (or even Islay) question.  Nonetheless, he and the other members of my team came into their own during the fiendishly difficult picture round, identifying several distilleries solely from close-up shots of the warehouses or pagodas, and in the end we finished a creditable 4th from thirteen teams.
This meant that we missed out on the blind nosing round; and after that session had finished all square, a nailbiting tiebreak took place, with a Linn House team including two of the jovial Germans from our party (and a 'ringer' in the form of Chivas's own Jim Long) taking on two teams of international whisky buffs and local whisky retailers.
The retailers had very sportingly levelled the playing field by allowing their prize nerd to become somewhat over-refreshed before the quiz had even started, but this altruism eventually proved fatal as the tiebreak progressed.  To no-one's surprise, the German Linn House team triumped in the penalty shootout, winning a bottle each of the splendid Inverleven Deoch an Doras 1973 – a very handsome prize.
Ever the gentleman, Jim the Ringer quickly defused the cynical grimaces from some of the other teams that  missed the final by a couple of points (ie me) by opening his winning bottle on our return to Linn House.  As nightcaps go, they don't get much better than that – kudos to Mr. Long for a very generous gesture.
Tune in next week for the enthralling final instalment, wherein the bloggers go up another mountain and drink some more whisky.