We're almost done with March, so it's time to announce our April virtual tastings. This month we've got a couple – a taste through the Elixir Distillers' Whisky Trail and a secret one that we'll reveal soon…
April's Line-up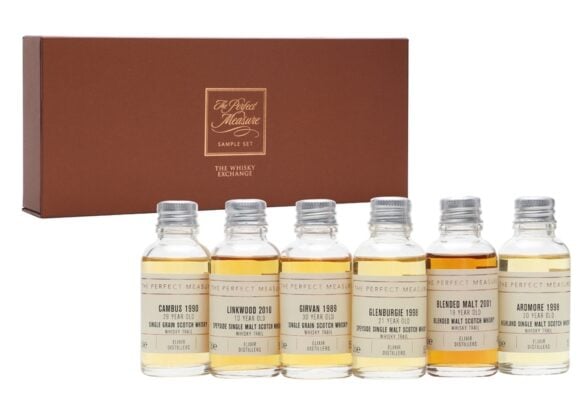 14 April 2021 2021, 7-8.30pm – Whisky Trail by Elixir Distillers with Oliver Chilton and Billy Abbott: Elixir Distillers may be best known for Port Askaig, Elements of Islay and Single Malts of Scotland, but they also have a selection of other ranges. While they were originally available overseas, we are now getting a few bottles over here in the UK, and I will be joined by blender and cask selector Oliver Chilton to taste through some of his latest whiskies from the Whisky Trail. We'll be trying whiskies from the Retro Cars and Concert series: Cambus 1990, Linkwood 2010, Girvan 1989, Glenburgie 1998, Blended Malt 2001 and Ardmore 1998.
Buy the pack >
Coming soon
We'll have another April tasting appearing soon – keep an eye on The Whisky Exchange website in early April to find out more…
Other than that, Virtual Cognac Show approaches and now has lots of tasting packs available, with a few more still to come. Whether you want to learn about Cognac, Armagnac and Calvados, or dig into old & rare Cognac, we've got something for you.
Rum Show has landed! Tickets are available and we'll have tasting packs available soon. For now, head over to the website to check out our rum basics to get ready for the show.
Planning for our first in-person show of the year continues: Whisky Show 2021 is on its way. Tickets are available for both the in-person and virtual show, and we'll have masterclasses and packs up soon.
…and don't forget that if you've missed a tasting, you can find them all up on Facebook and YouTube.