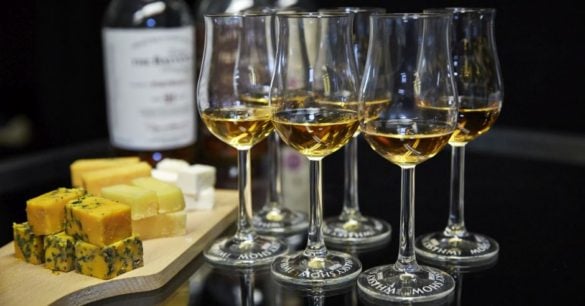 Cheese is an incredibly varied thing. From runny blues to rock-hard Pecorino, from smoky Oscypek to stinky Epoisses, the range of flavour is wide. Fortunately, whisky is up to the task of pairing with it.
Here are a few styles of cheese and some ideas of which whiskies to drink with them. These have been road-tested during a long afternoon's work with Paxton & Whitfield, cheesemonger to Her Majesty The Queen, but if you have any suggestions, please let us know in the comments below.
Cheddar – semi-hard cows' milk cheese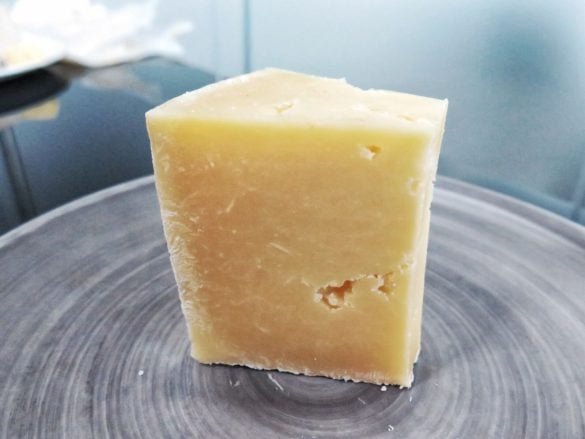 We start with the UK's favourite cheese. Despite the name, Cheddar can happily be made around the world and in general is a slightly sour and salty cheese. More traditional Cheddar adds in a hint of farmyard and both grass and hay, all flavours that hint towards excellent whiskies. To pair, we looked to coastal Highland drams, and while Oban 14yo and Glen Garioch 12yo worked well, Clynelish 14yo won the day – just enough sweetness to balance the cheese's saltiness, and waxy notes that stood up well alongside the creaminess.
Comte – hard alpine style cows' milk cheese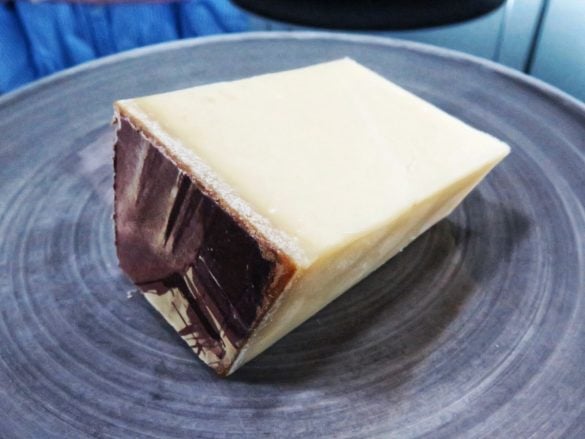 This is different take on the harder style of cheese, and while there are a number of examples, Comté is the easiest to find in the UK. It has a touch of acidity and lots of nuttiness, but you can also taste the grass and meadows that went into making the milk. To pair, we've gone for two approaches: a sweeter grain whisky, and a floral and delicate malt whisky. While finding grains is fairly easy these days – Compass Box Hedonism and Girvan No.4 Apps are both great matches – the lighter and floral drams are more difficult. If you find a bottle of bourbon-matured Imperial, make sure to try it with a slice of Comté.
Parmigiano Reggiano – hard cows' milk cheese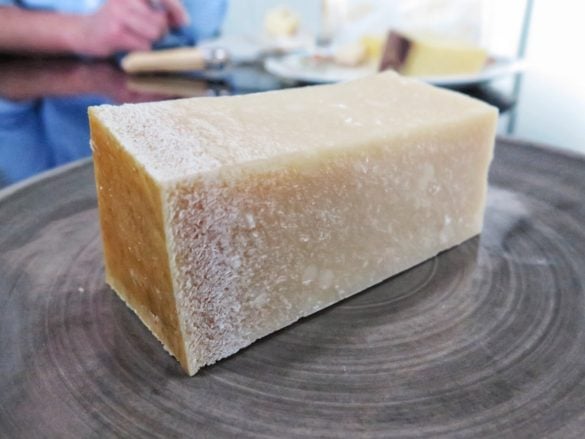 There's a lot more to Parmesan than grating it over pasta. It's got a more crumbly and crunchy texture than the first two cheeses, and while it almost melts on the tongue when sliced thinly, larger lumps are run through with calcified crunchiness. To taste, it's intensely salty with lots of meatiness. We've gone both traditional and New World with our pairings: Glen Grant and Japanese whisky. Glen Grant is Italy's biggest-selling whisky, and its lighter style is perfect with Parmesan, providing a delicate foil to the salt and umami. However, a heavier Japanese blended whisky also works wonders – The Nikka 12yo and Hibiki Harmony both cut through the intense flavours as well as add a layer of fruitiness behind.
Goats' Cheese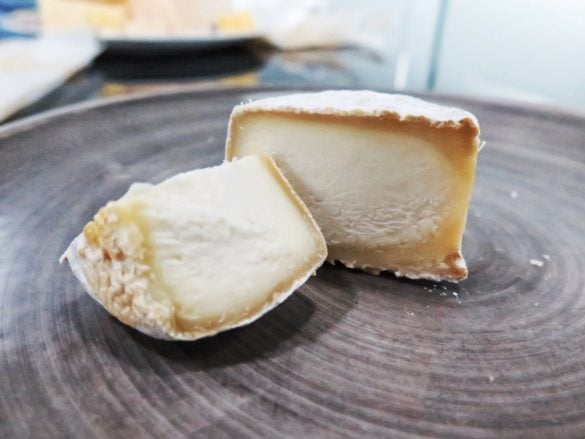 While this is a wide category, there is one common underlying flavour: goatiness. It varies from a touch of something farmyardy to tasting like licking a sweaty animal, but balanced against other flavours in a cheese, it can be excellent. We tried Crottin de Chavignol, a small goats' cheese with a chalky texture and light character, but even with a more intensely goaty choice, we were agreed that youthful peaty whisky was the way to go. A citrus-led dram like Elements of Islay Peat, Ailsa Bay or Caol Ila Moch provides an excellent contrast to a more goaty cheese.
Blue Cheese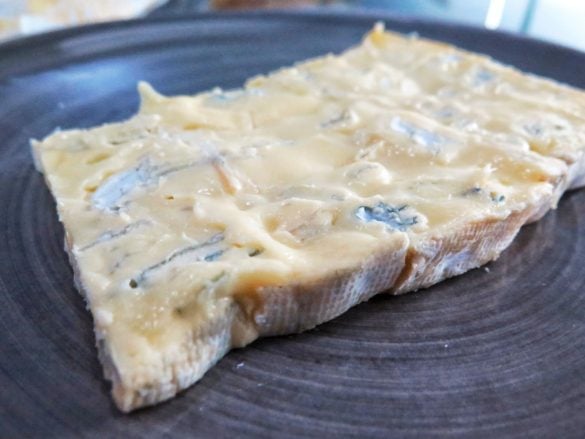 Again, this covers a wide range of styles, but there are a few common flavours at their core: creaminess, salt and blue. The blue notes range from musty and mouldy to intense and bitter, but again, it's all about the balance. We tried Beauvale, a relatively mild English-made Gorgonzola-style cheese which focused on the creaminess, with bursts of salt and mineral-heavy blue bits. On first nibble, it demanded fruit and acidity, which pointed us straight at sherry-matured drams. Something on the sweeter and more raisiny side of the spectrum worked best, and I'd go for Glenfarclas 15yo or Glenmorangie Lasanta 12yo. With a stronger cheese, a cask-strength sherry bomb would hold up to the flavours more – Aberlour A'Bunadh and Tamdhu Batch Strength are both solid choices.
Many thanks to Andrew from Paxton & Whitfield for the afternoon of cheese exploration. The leftovers were gobbled up even faster than last month's cured meat selection.
Posted in

Food Pairing, Japanese Whisky, Scotch Whisky
Tagged

Aberlour, ailsa bay, Caol Ila, Clynelish, Compass Box, Elements of Islay, girvan, Glen Garioch, Glenfarclas, Glenmorangie, Hibiki, Nikka, Oban, Tamdhu