Welcome to the concluding part of Tim F's monumental write-up of this year's Spirit of Speyside festival.  Foolhardy stalwarts can find the earlier episodes here, here and here.
Neil, Joel and I had to bid farewell to our fellow travellers on Saturday night after the whisky quiz, as most of the group were on early transport back to the airport in the morning.  As former members of ManDate (South London Branch), however, the three of us just can't get enough of a good thing.  We'd made alternative plans after conferring with the ghost of our fictional Eastern European bovine spiritual philosopher, the immortal Cowjetski.  He said: 'Sod getting up at half six – is there anything else we can squeeze in on the Sunday?'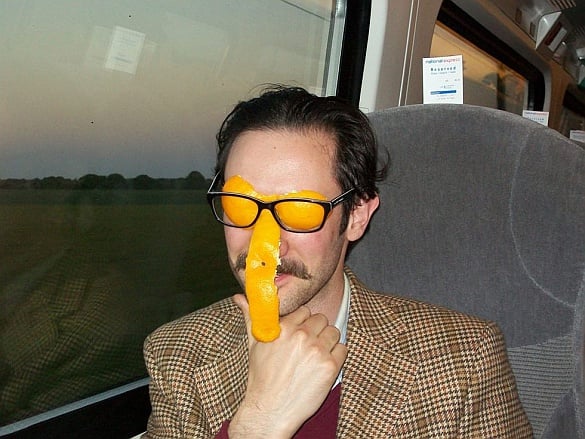 Following this sage advice from the imaginary chin-stroking genius, we'd arranged to take a later flight and join Dave Broom on Sunday morning for a jaunt up Ben Rinnes, the region's highest mountain.  Some might say that after three days of whisky-based events and an 11km hike, the worst thing you can possibly do is another whisky-based 11km hike.  The South London Whisky Mafia (SLWM), however, sneer at such small thinking.
It was yet another scorcher.  Armed to the oxters with sun lotion (my bap had been badly scorched the previous day during the Smugglers Trail hike), plus hipflasks and another fine packed lunch – a parting gift from the fabulous staff at Linn House – we set off once again, dear friends, into the peaks.
During the mandatory pre-sojourn milling around in the car park, we were delighted to encounter Ann Miller from Chivas and fellow bloggers Jason B. Standing and Oliver Klimek, and as the climb progressed it transpired that renowned whisky author Hans Offringa was also on board.
It was an incident-packed climb which began with a setback, as I discovered that one of my antique hipflasks had suffered some kind of ill-conceived attack of patriotism and tainted half a pint of Jameson Gold, which had to be thrown away (don't worry, readers, I still had some Rosebank in my back-up flask).
The trek was punctuated with a few pauses for the seemingly omniscient Alan Winchester to point out the many neighbouring distilleries, before a daring encounter with some sort of feral hill-based bird that excited the ornithologists amongst us (don't ask me, it's not my scene – it was a mottled grey colour and looked a bit like a cross between a hen and pigeon if you're interested).  Thankfully, it wasn't nearly as scary as the Killer Bunny, and the Holy Hand Grenade of Antioch was not required.  Which was just as well, as I'd left it in my suitcase. Finally, and without any loss of life or good humour, the summit was reached.
With the departure of our German chums the previous evening, the risk of blogger tomfoolery had been greatly increased, and it grieves me to have to reveal that there was some juvenile larking about at this point, as Neil produced some heroically tacky plastic 'Gold' medals for the SLWM – plus honorary member Dave Broom – in recognition of another job well done.
Thankfully, Dave and Hans managed to restore the dignity of the occasion with a suitably windswept address thanking us for coming along and plugging Hans' new book, and much Glenlivet 18 and BenRinnes was quaffed in celebration.  It was the perfect end to a remarkable trip.
About five minutes later over lunch we suddenly realised that we were rather far behind schedule.  Bearing in mind that the airplane was unlikely to wait, a rapid descent was required.  Accompanied by the indomitable Ann, we waved our friends farewell and scurried down the mountain to the car park where our carriage awaited to transfer us back to Aberdeen.  An hour or two later we were airborne once again, en route to London with a sliver of Speyside lodged in our hearts.
And that's it – thanks for reading my account of a magical whisky trip.  Heartfelt Thanks are due once again to our zen-like handlers Michelle, Courtney & Jim; to Ann, Ian, Neal and Alan from Chivas for their patience and forbearance in the face of silly questions; to Martine and her staff at Aberlour for a wonderful meal; to Chris Brousseau for an enormously entertaining quiz; and a very special Thank You to all the staff at Linn House for their marvellous food and hospitality.  Apologies are due to Dave Broom and a host of innocent bystanders who may have been forced to listen to various witless ramblings during the events mentioned herein.