The Glenlivet is a tricksy whisky. While the distillery is normally quite transparent about how it makes its whisky, once a year they release a bottle where they hide all the details. First Alpha, then Cipher and Code, and now the latest in the range: The Glenlivet Spectra.
A riddle wrapped in an enigma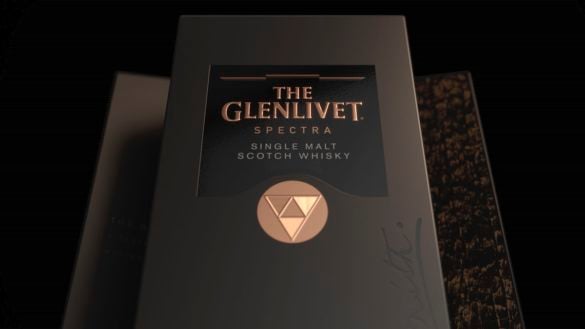 The conceit is simple. Firstly: here's a whisky, and we're not going to tell you anything about it that we're not legally obliged to – strength, size of the bottle, 'single malt Scotch whisky' and not much more. Then: taste it, write tasting notes and compare them to what master blender/distiller/everything else Alan Winchester thought. And finally: they'll let you know how closely your thoughts matched up with Alan's with a percentage score.
Good whisky, a bit of a game, and a score at the end – what more could you want?
What about three whiskies?
If one's good, why not three?
This year's release is called Glenlivet Spectra and rather than being one whisky, it's three, showing the range of flavour you can get from a single distillery – the spectrum of flavour, if you will.
We don't have any information about the whiskies themselves, but they have been deliberately created to be very different-tasting whiskies while still all being Glenlivet.
And rather different each of the three is.
Oh, SPOILER ALERT: if you don't want to know anything about the whiskies, jump to the bottom of the post and ignore my tasting notes.
The Glenlivet Spectra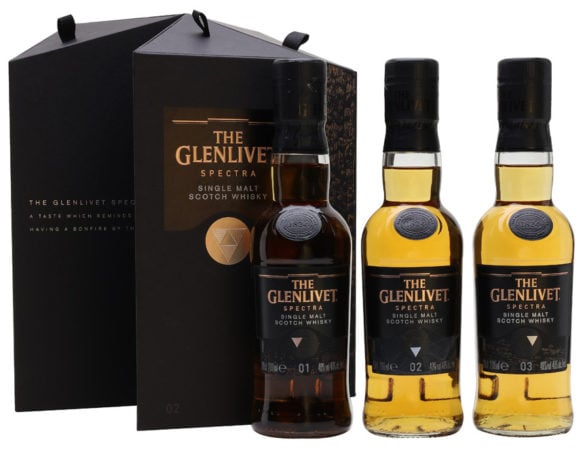 Spectra #1
Nose: Fresh and floral – vanilla, grass and meadows. Nice biscuits and a hint of lemon. Apple and ripe pear notes develop along with caramel shortbread.
Palate: Light, delicate and creamy: apples, pears and green leaves. The floral notes from the nose build, along with more biscuits and a touch of lemon shortbread.
Finish: Damp oak and twiggy hints, with stewed pear and a touch of earthiness.
Comment: This is a zesty and rather traditional take on Glenlivet – light, floral and delicate.
Spectra #2
Nose: What's happening here? Sweet barbecue sauce, burning wood and a handful of singed leaves? This not what I expect from Glenlivet… Damp peat smoke, menthol and fresh sea breeze follow. Floral notes and crisp apple develop.
Palate: Soft, rounded and focused on charred wood. Roasted bananas on a beach barbecue with salty air whipping around. Pears and creosote appear, accompanied by lemon, grapefruit and a good sprinkling of salt.
Finish: Maritime and smoky – burnt toffee and zingy toffee apples.
Comment: This is not what I expected. It's still got the orchard fruit and flowers you'd expect from Glenlivet, but someone's set them on fire.
Spectra #3
Nose: Vanilla toffee with a hint of mint to start. Soft spice builds with fudge and leafy hints. Creamy apple, orange, peach and spongecake follow.
Palate: Very creamy, with loads of spiced apple sauce and a touch of clove-studded orange. Wine-poached pears are drizzled with toffee sauce and crumbled spiced biscuits.
Finish: A burst of mint and menthol is washed away by cream and apple sauce. Hints of charcoal and char build, along with mint.
Comment: Rich, rounded and creamy, this hints at the first whisky while making its way straight to the after-dinner drinks trolley.
Glenlivet Spectra is on sale now >
Final thoughts
SPOILERS OVER
In short: mission accomplished – these are all definitely Glenlivet, but they are all very much their own drams. From zingy to smoky to rich and toffee-laden, it's a demonstration that with a few tweaks here and there in the whisky-making process can lead to a very different end result.
The Glenlivet Spectra website offers a headphones-recommended multimedia experience – accessed via a QR code on the (rather excellent) box – which adds sound and vision to the whisky-tasting experience before you give your tasting notes, and they help steer you in the direction of Alan Winchester's take on the drams.
Everyone will get something different from these, so don't pay attention to your score (and I'm not only saying that because one of mine was only 60% – I also got a 90%, so it all evens out) – it's a fun way of pulling apart the flavours you can find in one of the world's favourite whiskies.