Our Whisky of the Year 2023 has been decided! Ledaig 18 Year Old single malt from Tobermory distillery's range of peated whiskies won the hearts of the attendees at our judging event in London and claimed the title. It's a commanding win for a bold island single malt, and this year's shortlist provided stiff competition, featuring whiskies from well-known distilleries from across Scotland.
To celebrate the occasion, we're taking a closer look at this award-winning Island single malt–Ledaig 18 Year Old.
Island Spirit
The second largest island of the Inner Hebrides, the Isle of Mull lies off the coast of Argyll and Bute, west Scotland. The island's capitol is the colourful town of Tobermory, most famous for the colourfully-painted houses that overlook the harbour and for being the home of Mull's only whisky distillery. Named after the town, Tobermory distillery started life in the 1790s, first as a brewery and then a distillery, under the name Ledaig, from the Gaelic name of the area, meaning 'safe haven'.
Rich, bold and smoky, peat works its way into every nook and cranny it can find, making it hard to produce both peated and unpeated spirit at the distillery. Still, for six months each year Tobermory produces heavily-peated single malt, and they call it Ledaig.
What does it taste like?
Ledaig 18 Year Old spent the first 16 years of its life in ex-bourbon casks before a final two years in sherry casks, which impart layers of sweet fruit and soft spice that complement the island character.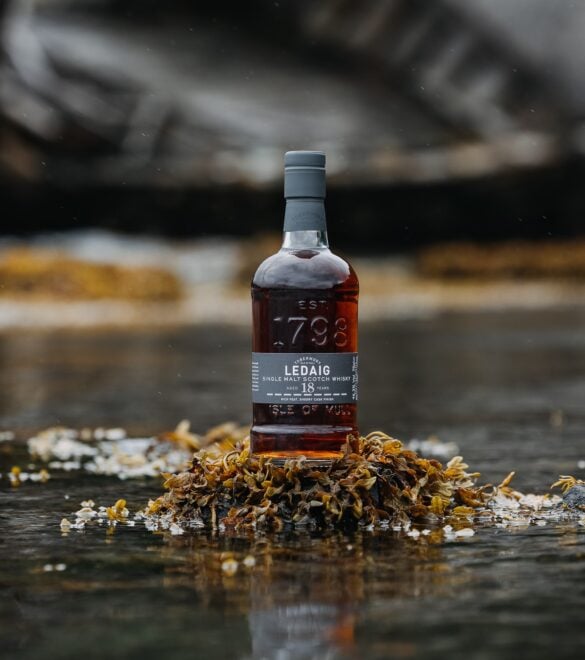 Nose: Right off the bat there's a big wave of savoury, almost meaty peat smoke, with undertones of malty marmite. Sweeter aromas of stewed plums, vanilla pods and raisins develop in the glass, over a backdrop of spicy peppercorns, seaweed and sweet oak.
Palate: Sweet and spicy, the palate initially brings notes of chilli flakes, ginger and honey, before chocolate-covered coffee beans join the fray. Soft tendrils of peat smoke appear, flanked by orange peel, walnuts and leafy, green herbs.
Finish: Sea salt crystals and bold peat smoke linger in the finish, as well as roasted coffee beans, seaweed and tobacco.
Comment: There is a good balance between savoury and sweet, the coastal character of the whisky is clear, it reminds me of bonfires on the beach. Its time in sherry casks has also left its mark, mingling with the peatiness without being overpowered.
Giving her thoughts on this year's winner, our buying director Dawn Davies MW says 'It is great to see the distilleries that are less well-known winning tastings like this. I think this Ledaig offers fantastic value for money for an 18-year-old, and always offers consistency across the range.'
To find out more about the shortlist and competition head over to The Whisky Exchange Whisky of the Year 2023 page.