We look forward to new releases at TWE Towers just like everyone else and when Balvenie announced an online unveiling of their newest dram, along with tasting packs for us to follow on at home, me and Tim of this parish both signed up. In a fit of good luck, days before our shiny packs turned up, we got invites to an in-person tasting hosted by Balvenie UK Brand Ambassador Andrew Forrester and started planning blog posts synced with the release. We handed over our tasting packs to colleagues and meandered, in the way that a broken tube line forces you, to Boisdale of Victoria for an evening of whisky.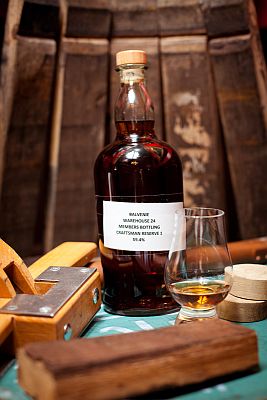 The whisky is called The Cooper and it's the first in Balvenie's Craftsman's Reserve range, which will hopefully continue in the future with tributes to the other craftsmen who work at the distillery (they have quite a range). As ever David Stewart, Balvenie's Malt Master, is behind the whisky and it's a combination of a couple of sherry butts, very much going against their regular bourbon-cask tinged style. The casks are refills made from European oak and the whisky was matured in them for 15 years before bottling at a full proof of 59.4%. Anyways, what did it taste like:
Tim (these notes are from a sample, rather than my notes at the time which are in a notebook I left at Joel Caskstrength's house during  a messy impromptu post-event after-party).
Nose:  Lovely rich raisiny notes straight off the bat.  Perfectly clean sherry profile, not a trace of sulphur. Rich baked apples and syrup.  Becomes biscuity and nutty (hazelnut shell, brazilnut, chocolate praline).  Then some more vinous notes, rosehips, flapjacks and a touch of treacle.
Palate:  Polished oak up front, then the syrup-sweet notes.  A tad hot and dry at full strength, lets add water…much better.  Stays very true to the nose, with the oak quite assertive.  This can take plenty of water, don't be shy.  Delicious sweet, rich, nutty, apple & raisin goodness.
Finish:  Warming and balanced.
Comments:  This Balvenie certainly needs water to get the best out of it.  But what a cracking dram.
Billy (these notes are from on the night because I'm a good boy and went home, despite the naughty people trying to tempt me into staying out)
Nose: It starts off with pungent manuka honey (or is that just my brain telling me I can smell Balvenie's signature note?), good maraschino cherries and a powerful woody spice scent that masks most of the other flavours. That slowly burned off in the glass along with some of the higher alcohols to reveal rum and raisin dark chocolate, sour cherries, Garibaldi biscuits and slightly sweet German black bread. A drop of water added some astringently woody spice – especially cloves.
Palate: Chewy, rich and oily with icingless cherry bakewells, coffee sweetened with dark brown sugar, leather, burnt dark wood and some sweet woody spices. Water opened it up a little revealing fruity malt loaf (with a light sheen of butter), dried fruit and a bitter edge of clove and sharp wood.
Finish: Hints of anis, dark chocolate and spice, fading to lingering clove and polished wood.
Comment: A very nice bit of sherried whisky. Very different to normal Balvenie, although my brain was sure that it could pick up some of the honey character that they go on about as the distillery's key flavour, but really rather tasty. I'll definitely be looking to grab a bottle…oh wait a moment…
It turned out to be a bit of a bait and switch – TWE won't be getting any. It's an exclusive bottling that will only be sold to members of Warehouse 24, the Balvenie members club, through their website. This does make sense, as with only 315 bottles for the UK (with another 200 bottles appearing elsewhere at some time in the future) and a price point of £65 it's not going to stay on the shelves very long. So, sign up to Warehouse 24 and await instructions…

In the meantime, or when you (as we expect will happen to us) fail to get a bottle when the Craftsman's Reserve #1 goes on sale, there's a few options out there in the world of sherried Balvenie. Up first is the Balvenie Doublewood, matured in bourbon casks but finished in sherry wood to add a bit of a fruity kick. It's their standard expression, a great introduction to their range and one of the standard whiskies in my drinks cabinet.

Stepping up the scale a bit further is the now discontinued 17 year old Sherry Oak. This is one of their more experimental whiskies, sitting in the same range as the more recent Peated Cask and the also departed Roasted Malt and Islay Cask bottlings. It was fully matured in oloroso sherry casks, like the Craftsman's Reserve, and is the natural predecessor of the new release.

Sitting at the top of the sherried Balvenie tree is a 1970 vintage single cask whisky that we have hiding in the special cupboard – a rather rare single sherry cask. They only got 191 bottles out of the barrel, bottling it in 2007 after 36.5 years of maturation. It's also a bit of a step up in price, coming in at 20 times more expensive than the Craftsman's Reserve…