It's that time again – the announcement of our Whisky of the Year. And the winner is, drum-roll, please…
Benromach 15 Year Old – The Winner
Congratulations to Benromach! We're big fans of the distillery's old-fashioned, lightly-smoky style and we're really pleased that our judges agreed. It's available from The Whisky Exchange website with a discount to celebrate its win – Benromach 15 Year Old.
Here are my tasting notes:
Nose: Chocolate, caramel and wood smoke lead to a hint of new-trainer-sole rubber and rich maltiness – Shreddies cereal and malt extract. The smokiness winds its way through the gaps, becoming wispy coal smoke trickling out of a stove filled with baking sultana-studded apples.
Palate: Rich, thick and rounded, with sultanas and raisins quickly overwhelmed by spicy peat smoke. The baked apples from the nose are revealed as the smoke blows away, sprinkled with spicy cinnamon and mint leaves. Chocolate-covered liquorice and Hob Nob biscuits appear, along with a touch of charcoal.
Finish: Singed fruit cake and sultana-heavy fruit loaf fade slowly away to leave tingling menthol, leafy mint and cocoa.
Comment: Peatier than expected, but with all smoke wrapped up in fruit and chocolate. Supremely well-balanced, with a long and leafy finish.
The Blind Tasting Pack
This year we changed the way we nominated and judged the whiskies, opening it up to you – the public. We asked you to nominate whiskies on our website for a month, and then took the top three from The Whisky Exchange's panel and the top three public choices to create a six-whisky short-list. We then made them into blind tasting sets and sent them out around the world. Votes were cast online as well as at our yearly Whisky of the Year blind tasting, and I pulled them all together to choose the winner – Benromach 15 Year Old!
But now the big reveal – what the whiskies in our blind tasting set were: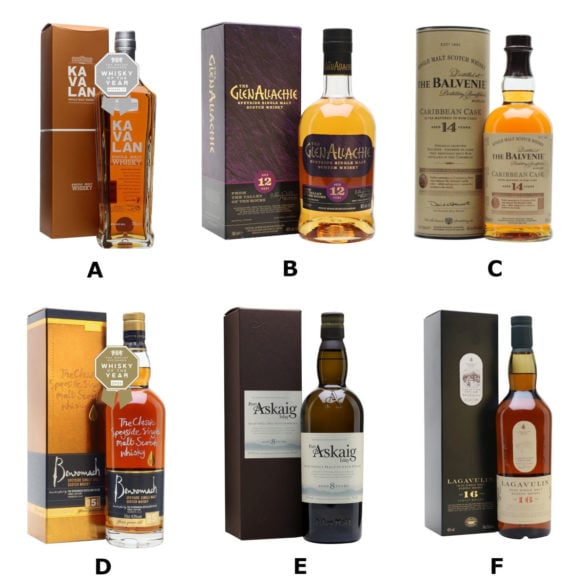 Whisky A – Kavalan Single Malt (Runner-up)
Whisky B – Glenallachie 12 Year Old
Whisky C – Balvenie 14 Year Old Caribbean Cask
Whisky D – Benromach 15 Year Old (Winner)
Whisky E – Port Askaig 8 Year Old
Whisky F – Lagavulin 16 Year Old
If you want to try your way through the short-list yourself, we now have non-mystery versions of the set available – Whisky of the Year tasting sets. The voting might be closed, but you can still see if you agree with our judges.
More Things of the Year
Like usual, we didn't stop at whisky. Our in-house panel of drinks experts have chosen a Spirit of the Year and a Champagne of the Year, along with a short-list for each: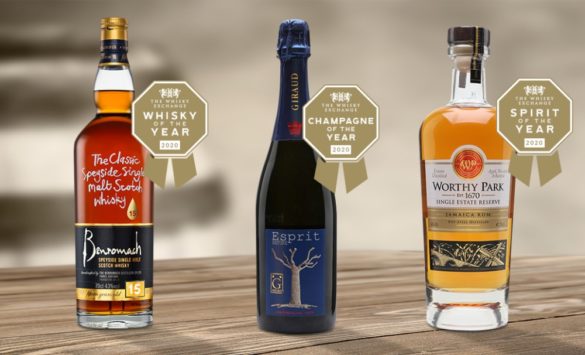 Spirit of the Year: Worthy Park Single Estate Reserve – one of our favourite rums of the past few years. It's hit the scene at just the right time, with interest in more complex rums growing and Worthy Park producing some of the most interesting spirit that the Caribbean has to offer. The short-list includes gin, grappa, mezcal and, of course, more rum.
Champagne of the Year: Henri Giraud Esprit Nature – With almost 400 years and 12 generations of experience behind them, the Giraud family produce excellent Champagne. They're one of the few producers using oak vats to produce their wines, and Esprit Nature is the perfect example of the rich character they create. On the short-list there are another seven great Champagnes from across the region.
If you want to try all three of them, we've got a set of all three products of the year available for a great price.
Many thanks to all of our judges – we couldn't have done it without you. You can find many of their names at the end of our Whisky of the Year page.