[Following on the
first part
of Tim's write-up of his trip to Midleton, we jump straight back in with talk of the new expressions from Irish Distillers.]
We're back in the Distillers Cottage at the Old Midleton distillery, where Irish Distillers' Master of Whiskey Science, Dave Quinn, has finally done the big reveal on the new Single Pot Still whiskies. First up was the Powers John's Lane 12yo. This was an interesting choice of branding for a new single potstill whiskey, as the other whiskies produced by Midleton under the Powers label are all potstill-heavy blends (the standard Powers Gold Label is THE perfect whiskey for a hot toddy, by the way). Just to quell any fears, I have had it positively confirmed that John's Lane is definitely NOT a replacement for the existing Powers 12yo blend, which is certainly a relief as it's a terrific whiskey as well.
What's the significance of the John's Lane name? Well, as we referred to briefly in the last post, although nowadays all Irish Distillers' whiskies are made at the Midleton distillery, this was not always the case – and the Powers brand was around for a long time before the creation of Irish Distillers in 1966.
Powers John's Lane is a tribute to the original Powers distillery in John's Lane, Dublin, founded in 1791, sited in the west of the city and home of the first steam engine in Ireland. Successive generations of the Powers family continued to grow the business and extend the distillery.
By the time Alfred Barnard visited in the 1880s, the John's Lane distillery was an extremely impressive operation, having been extensively rebuilt following three disastrous fires in the period between 1859 and 1878. Barnard was pretty bowled over by the place, referring several times to its spotless cleanliness and massive scale.
It's not hard to see why. In just under a century, John's Lane had grown from being a small operation in a converted pub producing 6000 litres a year to a full-scale industrialists wet dream occupying over six acres and producing 900,000 gallons (over 4 million litres) of Irish 'whisky' (as it still was then) every year with a workforce of nearly 300 people.
Barnard's description of the stillhouse is illuminating:
"A noble looking building is the Still House. It is 68 feet long, 66 feet wide, and 57 feet high, containing five Pot Stills, all kept as bright and clean as burnished gold; the wash flows by gravitation to the two Wash Stills, each holding 25,000 gallons, and said to be the largest Pot Stills ever made. The product from these stills called "Low Wines" is pumped up to the Low Wines and Feints Receiver and Charger, both of which hold 10,000 gallons each; passing from thence into the Low Wines Stills, each holding about 20,000 gallons, and afterwards to the Feints or Spirit Stills, each of the same capacity, where, by the various distillations, the spirit becomes perfected Whisky".
It seems that Barnard was also treated to the famous Irish hospitality and was suitably impressed:
"On completing our tour of inspection over the Distillery we accepted the hospitality of the partners, and did ample justice to a substantial luncheon…The old make, which we drank with our luncheon, was delicious, and finer than anything we had hitherto tasted. It was as perfect in flavour, and as pronounced in the ancient aroma of Irish Whisky so dear to the hearts of connoisseurs, as one could possibly desire, and we found a small flask of it very useful afterwards on our travels."
Sadly, the John's Lane distillery was closed in the dark days of the 1970s, when the Irish Distillers Group made the tough decision to agglomerate their distilling operations at Midleton. Detractors may carp that with John's Lane being distilled in Cork and bottled mostly from bourbon barrels (with a few Oloroso butts), its relationship with the 'old make' that Barnard enjoyed so much is somewhat tentative.
However, to do so would be to miss the point, which is that this is truly a great whiskey, and a hugely important step in the evolution of the single potstill category, offering a bourbon-matured counterpoint to Redbreast's more sherry-influenced luxury. The creation of Powers John's Lane 12yo is really more of a spiritual tribute to the lost distillery than anything else, as well as being a powerful vindication (as if one were needed) of the remarkable whiskey being made at Midleton in recent years by their Master Distiller, Barry Crockett.
Which brings us nicely to the other new arrival: The Midleton Barry Crockett Legacy. While the John's Lane was derived from the potstill component of the standard Powers 12 year old (a superb dram in its own right, as I may have mentioned before) and then tweaked and prettied up (in spectacularly successful fashion as you may have guessed from my gushing above), the same technique has been used for this jewel in the crown of the new single potstill range, using the potstill base of Midleton Very Rare as the starting point.
As with the John's Lane, the best casks of bourbon-matured potstill whiskey of the desired age and profile have been cherrypicked by Barry Crockett for this Legacy bottling. Another difference, though, is that while the final dressing for John's Lane is done with a small amount of Oloroso sherry-matured spirit, the Legacy benefits from a small proportion of whiskey matured in new charred virgin oak.
This bottling, which has already picked up the overall World Whisky Trophy at the International Spirits Challenge 2011, is the culmination of the decades of loyal service Barry Crockett has given Irish Distillers – an understandable loyalty, given that his father was Head Distiller for the old Midleton distillery (now the Jameson Heritage Centre), and that Barry himself came into the world in the very same Distiller's Cottage in which we're trying his dram.
All of which lends a satisfying circularity to the circumstances, a sense of the cyclical nature of events in history and in whiskey-making on both personal and industrial levels. The new whiskies that Barry has created aspire to bring us back into Irish whiskey's glorious past and, in doing so, to kindle a bright new future for the category. Here's my notes on the new additions to the single potstill stable.
Nose: Again, very noticeable porridge & oatmeal notes, along with buttered popcorn. A heavy, rich nose. Quite mossy and leafy after a minute, with flapjacks and sugar puffs, and chocolate-coated fudge, barley sugar and cappuccino aromas.
Palate: Big flavours and soft mouthfeel, a real gentle giant. The fudge notes are very prominent along with a spicy potstill tingle at the front of the tongue. Becomes very chocolatey and leafy mid-palate, then big apple pie flavours.
Finish: Minerally, honeyed, spicy. Good length with a clovey kick at the death.
Comment: Just brilliant. Another fabulous cask selection combining amazing texture, depth and flavour. The poise and integration are sensational.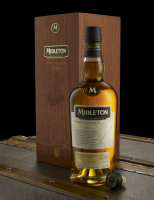 Midleton Barry Crockett Legacy
Nose: Syrupy and fruity, with coconut shell, dried apricot, rich vanilla ice cream, mixed peel. Very appealing initially, yet patience is rewarded too: with some time in the glass, it just keeps developing, yet the integration is so perfect it's almost pointless to pick anything out. Think fruit-flavoured caramel.
Palate: Amazingly clean, spicy potstill character, with strong clean oak and the dried tropical fruit from the nose. Intense, with some citrussy (grapefruit) notes coming through. Sugared almonds, chocolate brownies, then a spicy kick of clove rock and a faint menthol herbiness.
Finish: Chocolate powder, slightly drying oak, clove oil.
Comment: Crystal clear definition: this is potstill HD, yet the complexity is such that it retains an air of mystery. One of those rare, top-quality drams that changes emphasis with each approach, leading to frequent re-pours. A whiskey with a twinkle in its eye; not fully knowable, but captivating nonetheless.
Much, much more is to come from the Midleton distillery in the next few years. Having only recently extended capacity from 19 million to 33 million litres per year, the announcement was made in June that capacity was set to nearly double again, with the distillery expected to be producing around 60 million litres per year by sometime in 2013.
This may be staggering enough, but the really encouraging news is that the potstill element of production is expected to jump from 10m to 22m litres per year as part of that expansion. What would really be sensational, of course, is if some of the planned extra capacity was for single malt whiskey (a style that Midleton do not officially make at present, although we'd be very surprised if there aren't a few experimental casks squirreled away somewhere in one of the distillery's vast warehouses).
For the time being, however, we must assume that the remaining 38m or so litres of capacity will be grain whiskey. There's no doubt that Midleton – and particularly single potstill whiskey – has become a hugely important part of Pernod's long-term strategy, though.
During an extremely tasty celebratory dinner held at Midleton on our last evening, Irish Distillers CEO Alex Ricard explained that the 100m euros being spent on increasing capacity and building dozens of extra warehouses (both at Midleton and down the road in Dungourney) was a preliminary to a long-term brand extension strategy of which these two remarkable new whiskies are but the opening salvos.
Astonishingly, there is supposedly a plan for more than twenty years worth of new potstill whiskeys from Irish Distillers, with one or two new products every year – and indeed, September saw the launch of the magnificent Redbreast 12yo Cask Strength.  Strong hints were also given that we may soon see the revival of one or more of the other Mitchell's of Dublin 'Spot' brands of which Green Spot was originally a part.
It's been an extraordinary year for Irish whiskey, and with Grant's planning long-term investment in Tullamore Dew and the recent news of Beam buying out Cooley, the future looks very rosy indeed.  There are very exciting times ahead as Irish Distillers prepare to take on the hugely ambitious task of restoring the category to equal footing with single malt Scotch whisky. What's certain, though, is that if future releases are on a par with the first new additions to the portfolio, the next few decades are going to be a golden era for lovers of Irish whiskey. The return of single potstill whiskey is afoot.
To read more about the Single Pot Still family head on over to
our main website
.