Talisker distillery is not only maritime in character but in location, with every drop of whisky distilled by the sea. It's not surprising that when it comes to charitable endeavours, the oceans are its focus, and its most recent release dives – literally – into an unseen world that needs our help: marine forests. The whisky to back up the project revitalising them has a fitting name – Talisker 44 Year Old: Forests of the Deep.
Talisker: Made by the Sea
Talisker is very proud of its connection to the oceans. Every bottle proclaims that it is 'made by the sea' on the label and if you stride off through the distillery car park with a little too much vigour, then you will very quickly get wet feet – Talisker really is a distillery on the sea shore, looking over Loch Harport, a sea loch that cuts deep into Skye's western coast.
Over the years, Talisker has worked with a variety of different groups on conservation projects, focusing on the sea, and while its latest may start close to home, it reaches far from Skye, to South Africa and The Great African Sea Forest.
The importance of Kelp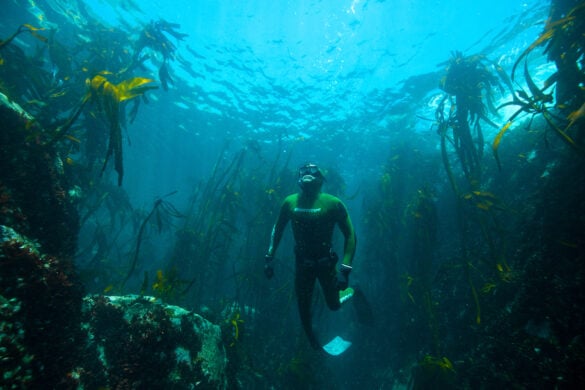 Kelp is an essential part of the ecosystem of the oceans. Vast forests grow in the shallows around the world, absorbing carbon dioxide, regulating water acidity and providing a habitat for everything from microbes to sharks. They also, thanks to their location near coasts, help us – they are a buffer against stormy water and stop coastal erosion, as well as often being a nutritious source of food. Without kelp, the sea would be a much quieter and less healthy place.
However, the forests are increasingly threatened by our actions. Overfishing, marine pollution and climate change are all chipping away at the balance of the kelp forests, and they are rapidly disappearing.
talisker x Parley
Parley for the Oceans – Parley for short – is a group dedicated to ocean conservation. They bring together a wide range of people to come up with and work on ideas to help the sea. With everyone from artists, writers and musicians to scientists, engineers, architects and politicians on board, the group look at things differently and try to create innovative solutions to the problems facing the ocean.
Talisker is rightly proud of its collaboration with Parley, which began with the first in its current – as yet unnamed – series of whiskies: Talisker 43 Year Old Xpedition Oak.
Learn more about Talisker 43 year Old Xpedition Oak >
That project brought attention to the kelp around Skye and the achievements of those who take part in the Talisker Whisky Atlantic Challenge, this new project moved the focus to South Africa.
The Great African Sea Forest
Starting off the shore of Cape Town in South Africa and stretching more than 1000km north into Namibian waters, The Great African Sea Forest is a hidden wonder of the natural world. A dense kelp jungle, it provides a home for hundreds of species and protects the coast from storm surges, all while helping keep the ocean healthy.
However, not all is well in The Forest, and Parley, with support from Talisker, led a trip to Cape Town to investigate and document the current state of the kelp. The mission yacht not only contained a team of scientists and filmmakers, but also a stack of wooden cask staves that headed back to Scotland at the end of the expedition.
Talisker 44 Year Old: Forests of the Deep
Continuing the ideas of the Xpedition Oak – where staves were rowed around the route of the Talisker Whisky Atlantic Challenge – this new Parley project uses the staves that came back from Cape Town. Taking things a step further, they were toasted using sustainably farmed Scottish kelp and shavings from the staves, before being assembled into 10 'marine-charred' casks that were then used to finish a very special Talisker for a few months before bottling.
The whisky in question was a 44-year-old Talisker, the oldest whisky ever released by the distillery.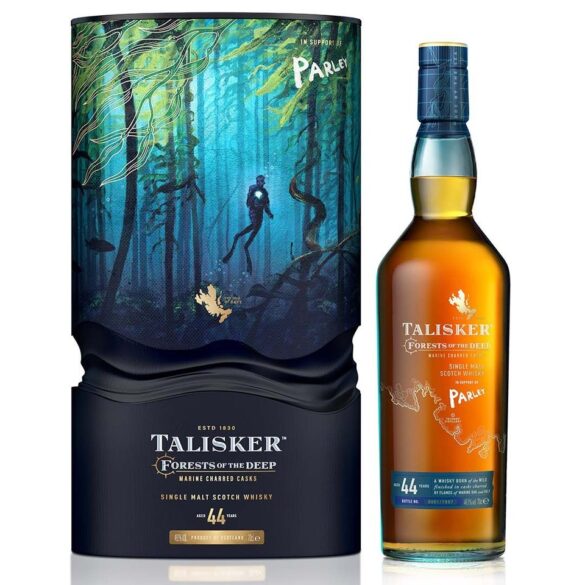 FInd out more about Talisker 44 Year Old: Forests of the Deep >
Nose: Brine and brown sugar, with classic Talisker black pepper underneath. Rich shiitake mushroom, rich loam and bundled twigs are balanced by sweet mint fondant. Wood smoke rolls through followed by singed seaweed and roasted meat. Dark treacle toffee notes sit at the bottom, built on with layers of marzipan and polished oak. A touch of water brings out sweet victoria-sponge cake.
Palate: Butter and singed toast lead, with the classic salt and pepper coarsely ground over the top. Brown sugar and toffee come though, followed by wispy wood smoke. Stewed apples with a dusting of spice are joined by freshly cut oak and wax-polished boards. Stroopwaffel sweetness develops, balanced by singed pears and mulching leaves. Water doubles down on the fruit, revealing more apples and pears and a touch of red berry.
Finish: Black pepper, salted caramel, barrel char and polished oak – a classic Talisker finish.
Comment: It tastes how you would expect old Talisker to taste – still very much a maritime dram, but tempered by years in wood to give a calmed take on the distillery's salt, pepper and crashing wave character. It might just be the power of suggestion, but the savoury edge of the whisky does bring to mind the tastes and smell of kelp, both fresh and and smoking on a fire – a dark, leathery and richly smoky character that appears here well-balanced against the whisky's sweeter side. A worthy cause and appropriately special whisky.
There are just 1,997 bottles of Talisker 44 Year Old: Forests of the Deep available worldwide. There are more details available on The Whisky Exchange website.
You can learn more about the Talisker x Parley Rewild our Seas project on their website.