When it comes to veterans of the whisky industry, Glen Grant's Dennis Malcolm leaps to mind as someone who has spent his entire life almost literally immersed in whisky. This year he celebrates his 60th year of working in whisky, an occasion that the distillery has marked with a very special bottling – Glen Grant 1960 Dennis Malcolm 60th Anniversary Edition.
Born on the grounds of Glen Grant distillery in 1946, Dennis Malcolm was all but destined to work in the whisky industry, and 1961 saw the beginning of a career that has spanned six decades.
Starting as an apprentice cooper, Dennis has worked as distillery manager and ambassador for Glen Grant, Glenlivet and others, before returning to Glen Grant in 2006 as master distiller – only the eight in the distillery's long history.
Glen Grant Dennis Malcolm 60th Anniversary Edition
This year Dennis is celebrating his 60th anniversary in the whisky industry and to commemorate this milestone achievement Glen Grant have released a 60-year-old single malt. Drawn from a single hand-selected oloroso sherry cask, filled on 24 October 1960, this is the oldest single malt released by Glen Grant to date.
The Dennis Malcolm 60th Anniversary Edition is presented in a hand-blown Glencairn crystal decanter based on the shape of the distillery's tall, slender pot stills and a presentation case made of sustainably-sourced walnut wood that has the master distiller's signature engraved within it.
We are very fortunate to have secured a bottle of this whisky and, if it's not already been snapped up, you can this impressive single malt on our website.
A Piece of History
Founded in 1840 by brothers James and John Grant, and industrious pair who helped develop crucial infrastructure for the whisky industry in Speyside, including The Morayshire Railway Company, which ran trains from Elgin to Lossiemouth allowing for easy transportation of building materials and fuel. In 1872 the distillery was inherited by another James Grant, nephew of John Grant, who revolutionised whisky production at Glen Grant, introducing water cooling purifiers and elongated stills. In time James would come to be known as The Major.
Prior to the 1960s and the bourbon barrel boom that came in the years to follow, almost all of Scotland's whisky producers used predominantly sherry casks to mature their whisky to some degree. When Douglas MacKessack took over the distillery from his grandfather, The Major, in 1931 he sourced sherry casks from Bodegas Duff Gordon, as his grandfather had done, but eventually found it hard to get enough casks from them. After some research it was decided that oloroso sherry casks in particular married well with Glen Grant's fruity character and, though bourbon barrels began to make an appearance in the Glen Grant warehouses, oloroso sherry butts became the norm for the distillery.
The oloroso sherry butt used to mature the Dennis Malcolm 60th Anniversary Edition was always intended to be aged over many decades. Speaking about the bottling Malcolm said "it's always been the plan to see how far Glen Grant can go… because, like everyone else in the industry, in the 1960s and 1970s the distillery didn't just lay down stock for themselves, nearly 60% of your total production was sold to blenders or brokers." What this meant for Glen Grant was that there was not a lot of stock laid down just for the distillery in this time, and what there was mostly went into the younger releases, especially the five-year-old and 10-year-old single malts.
"In 1990 it was the 150th anniversary of Glen Grant" Malcolm went on, "the owner, Douglas MacKessack, decided to do a special bottling for that and he selected three sherry butts of 30-year-old Glen Grant. Now this was laid down in 1960, the same as this sherry butt, so I knew at 30-years-old that it was absolutely fantastic and letting it sit for another 30 years was not a worry for me." Perhaps this means there are even older bottlings on the horizon. Only time will tell.
It's The Taste That Counts
After six decades in a single cask, you can guarantee that this is a complex single malt with a rich character and understandably Dennis is very proud of it – "the reason I chose that one, out of a few of them, was because it had all the characteristics of Glen Grant – the fruitiness, the nuttiness, toffee, vanilla and the little hint of  smoke – but I could hardly detect any oakiness."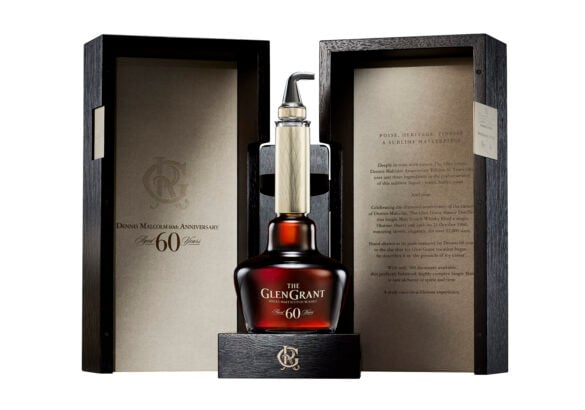 Tasting Notes By Ning 
Nose: Honey-drizzled dates, raisins and sultanas burst forward on the palate, swiftly followed by pancakes liberally covered in maple syrup, vanilla caramel and sweet malt.
Palate Sharp citrus to start with, quickly mellowed by raisins, plums, sultanas, sticky dates and ripe figs. Dark chocolate, green tobacco leaves and sticky ginger cake follow.
Finish: Savoury malt and crystallised ginger mingle with tobacco and soft spices.
I was surprised by how smooth this whisky is, I doubt that the effect would be all that similar if you just distilled a Christmas cake. There was a tiny bit of oaky dryness in the finish, but it didn't detract from the flavours in any way, instead adding extra depth to its character. This truly is a whisky worthy of one of the loveliest people in whisky.
You can find out more about this whisky on The Whisky Exchange website:
Glen Grant 1960 60 Year Dennis Malcolm 60th Anniversary >