It's that time again: Jim Murray's Whisky Bible 2019 is landing imminently and Jim's picks of the world's top whiskies are in.
After a few years of controversial choices, with Scotch whisky bouncing in and out of the top three, and Japanese and Canadian whisky making headlines around the world, we're back to safer ground with the most traditional set of results since 2014.
To grab all the results you can grab your own copy of the bible from our website, but in the meantime…
The winner of Jim Murray's award for 2019 World Whisky of the Year is:
An old favourite and one of Jim's top three whiskies in every year but one since 2012. Unfortunately, as is always the case with the whiskies in the yearly Buffalo Trace Antique collection (BTAC), it's sold out. You can sign up for an email alert in case we do find some more on the William Larue Weller 2017 page.
A third appearance in the top three for the Glen Grant: second in the Whisky Bible 2017, third in 2018 and now second in the 2019 edition. Not bad for a whisky that hadn't been officially released when it received its first award. It's a delicate and complex dram and a worthy entry in the line-up. As of writing we have a few bottles left, but it's sure to be sold out shortly – you can find out over on our Glen Grant 18 year old page.
Another BTAC entry, the Thomas H Handy has long been the geek's choice in the yearly collection, and it has popped up in Jim's top list a few times. Again it's sold out, but you can sign up to get an email if we find more on the Thomas H Handy Sazerac 2017 page.
While full-sized bottles of both the Weller and Handy are sold out, we've just had a few more sample packs of the whole of the 2017 Buffalo Trace Antique Collection arrive – you can find them on our website here.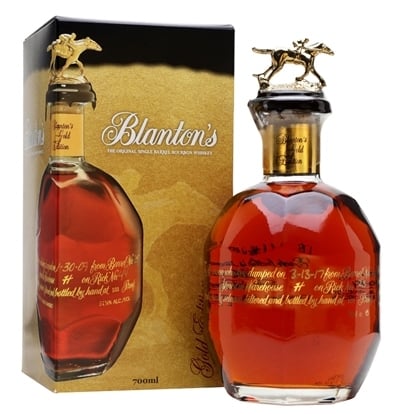 A potentially contentious winner: a bourbon that's not regularly available in the USA. Blanton's Gold almost all goes overseas, and a lot of it ends up being sent back to American whiskey lovers. It's, as the award name suggests, a single-barrel bourbon, with every bottle produced from a single cask, without any mixing with others. Unfortunately, this does mean that it's unlikely that you'll get to try the same one as Jim, as we get a mix of different bottlings in every order and can't guarantee which you'll get. However, if you do get a bottle of barrel #40 dumped on 3 June 2017 and matured in warehouse H, rick 79 then you're in luck – that's the winner.
It's in stock as I type, but it probably won't last long – don't worry, we get it in regularly. You can grab a bottle from our Blanton's Gold Edition page.
The full list of winners
The Whisky Bible is more than just the top awards, with Jim's year-long tasteathon throwing out more great drams. Here's the full list:
2019 World Whisky of the Year
William Larue Weller 128.2 Proof
Second Finest Whisky in the World
Glen Grant Aged 18 Years
Third Finest Whisky in the World
Thomas Handy Sazerac Rye 127.2 Proof
Single Cask of the Year
Blanton's Gold Edition Single Barrel
SCOTCH
Scotch Whisky of the Year
Glen Grant Aged 18 Year Old
Single Malt of the Year (Multiple Casks)
Glen Grant Aged 18 Year Old
Single Malt of the Year (Single Cask)
The Last Drop Glenrothes 1969 Cask 16207
Scotch Blend of the Year
Ballantine's 17 Year Old
Scotch Grain of the Year
Berry Bros & Rudd Cambus 26 Years Old
Scotch Vatted Malt of the Year
Collectivum XXVIII
Single Malt Scotch
No Age Statement
Laphroaig Lore
10 Years & Under (Multiple Casks)
Laphroaig 10 Year Old
10 Years & Under (Single Cask)
Berry Bros & Rudd Ardmore 9 Year Old
11-15 Years (Multiple Casks)
Lagavulin 12 Year Old 17th Release Special Releases 2017
11-15 Years (Single Cask)
Cadenhead's Rum Cask Mortlach 14 Year Old
16-21 Years (Multiple Casks)
Glen Grant Aged 18 Year Old
16-21 Years (Single Cask)
Bowmore 19 Year Old The Feis Ile Collection
22-27 Years (Multiple Casks)
Talisker 25 Year Old Bot.2017
22-27 Years (Single Cask)
Scotch Malt Whisky Society Glen Grant Cask 9.128 24 Year Old
28-34 Years (Multiple Casks)
Convalmore 32 Year Old
28-34 Years (Single Cask)
Gleann Mor Port Ellen Aged 33 Year Old
35-40 Years (Multiple Casks)
Benromach 39 Year Old 1977 Vintage
35-40 Years (Single Cask)
Glenfarclas The Family Casks 1979
41 Years & Over (Multiple Casks)
Tomatin Warehouse 6 Collection 1972
41 Years & Over (Single Cask)
The Last Drop Glenrothes 1969 Cask 16207
BLENDED SCOTCH
No Age Statement (Standard)
Ballantine's Finest
5-12 Years
Johnnie Walker Black Label 12 Year Old
13-18 Years
Ballantine's 17 Year Old
19 – 25 Years
Royal Salute 21 Year Old
26 – 50 Years
Royal Salute 32 Year Old Union of the Crowns
IRISH WHISKEY
Irish Whiskey of the Year
Redbreast Aged 12 Year Cask Strength
Irish Pot Still Whiskey of the Year
Redbreast Aged 12 Year Cask Strength
Irish Single Malt of the Year
Bushmills Distillery Reserve 12 Year Old
Irish Blend of the Year
Bushmills Black Bush
Irish Single Cask of the Year
The Irishman 17 Year Old
AMERICAN WHISKEY
Bourbon of the Year
William Larue Weller 128.2 Proof
Rye of the Year
Thomas H. Handy Sazerac 127.2 Proof
US Micro Whisky of the Year
Garrison Brothers Balmorhea
US Micro Whisky of the Year (Runner Up)
Balcones Peated Texas Single Malt
BOURBON
No Age Statement (Single Barrel)
Blanton's Gold Edition Single Barrel
No Age Statement (Multiple Barrels)
William Larue Weller 128.2 Proof
Up To 10 Years
Eagle Rare 10 Year Old
11 – 15 Years
Pappy Van Winkle Family Reserve 15 Year Old
16 – 20 Years
Abraham Bowman Sweet XVI Bourbon
11 Years & Over
Orphan Barrel Rhetoric 24 Year Old
RYE
No Age Statement
Thomas H. Handy Sazerac 127.2 Proof
Up to 10 Years
Knob Creek Cask Strength
11 Years & Over
Sazerac 18 Year Old (2017 Edition)
CANADIAN WHISKY
Canadian Whisky of the Year
Canadian Club Chronicles: Issue No. 1 Water of Windsor 41 Year Old
JAPANESE WHISKY
Japanese Whisky of the Year
The Hakushu Paul Rusch
EUROPEAN WHISKY
European Whisky of the Year (Multiple)
Nestville Master Blender 8 Years Old Whisky (Slovakia)
European Whisky of the Year (Single)
The Norfolk Farmers Single Grain Whisky (England)
WORLD WHISKIES
Asian Whisky of the Year
Amrut Greedy Angels 8 Year Old (India)
Southern Hemisphere Whisky of the Year
Belgrove Peated Rye (Australia)