The history of whisky in Scotland is littered with the names of closed distilleries. While some of them have risen in fame since their closing, some have continued in obscurity, and a few have done so undeservedly. One that falls most definitely into that final category is Glen Grant #2, aka Caperdonich.

Caperdonich: The Beginnings
Caperdonich, then called Glen Grant #2, was built in 1898 in the town of Rothes – the heart of Speyside. It was constructed by Major James Grant, the third-generation owner of Glen Grant, at a convenient site across the road from his existing distillery. Its purpose was simple: to provide more of the hugely popular Glen Grant spirit that was in great demand around the world.
Unfortunately, the timing was terrible. 1898 was also the year of the Pattison crash, a financial crisis due in part to speculation across the industry (often attributed solely to the eponymous brothers, who were merely part of a wider problem), which led to a huge drop in demand for whisky across Scotland.
Glen Grant #2 soldiered on for a few years, but by 1902 was very much surplus to requirements and closed down. An inauspicious start for the distillery, closing after a mere four years of production.
Caperdonich: A New Hope
By 1965, the Scotch whisky market had changed beyond recognition. The days of the Pattisons and distillery closures were gone and a booming worldwide market was demanding enormous amounts of whisky. Glen Grant was riding high across Europe – especially in Italy where it had become the number one single malt, an honour it still holds today. Its owners needed more spirit to meet demand so turned their eyes to the building over the road: a distillery originally created to make more Glen Grant and ready to do the same once again. Production resumed.
In 1977 Glen Grant #2 was finally given its own identity and was renamed Caperdonich, a mere 80 years after it started making whisky. In the same year, Caperdonich and its elder sibling were sold to drinks giant Seagram's, becoming an important element in the creation of the company's iconic blends, including Chivas Regal.
Seagram's: A Cautionary Tale
When it comes to whisky companies not to emulate, Seagram's comes close to the top of the list. With a history going back to the founding of the Waterloo distillery in Ontario, Canada in 1857, it grew over the following century to be one of the biggest drinks companies in the world, taking the top spot by the 1990s.
However, the company began to diversify its interests and a foray into the world of TV, film and music was a step too far. In 2001, the drinks part of the company was sold off to Diageo and Pernod Ricard.
Among the pieces of the once giant Seagram's empire acquired by Pernod was the Chivas Group, including both Glen Grant and Caperdonich. However, Caperdonich was, yet again, surplus to requirements and closed in 2002.
In an ironic turn, the distillery site was sold in 2010 to still-maker Forsyth's, who tore it down to build a new workshop – they needed more space to make distillery equipment due to the boom in the whisky industry and the building of new distilleries around the world.
Smoky Speysiders
While in recent years we've seen a a lot of breaking down of the stylistic barriers between Scotch whisky regions – Islay whiskies aren't always smoky, Lowland whiskies aren't always light and floral, and Speysiders are very much an eclectic bunch – it's far from a modern phenomenon. Large whisky companies – like Seagrams – always need more smoky whisky for their blended releases, and when the more traditional producers can't make enough, they turn to other parts of their portfolio. Caperdonich, created to make unpeated, light and fruity Glen Grant style whisky, is one of those distilleries – back before it closed, it made peated whisky.
This style wasn't created to be released on its own, but the folks at Chivas Brothers – the bit of Pernod Ricard that looks after its Scotch whiskies – have not only found some casks of smoky Caperdonich, but released them as part of the company's Secret Speyside range.
Learn more about the Secret Speyside whiskies >
Caperdonich 18 Year Old Peated
The Secret Speyside collection was launched in 2017 as a set of 15 whiskies from Longmorn, Glen Keith, Braes of Glenlivet (aka Braeval) and Caperdonich. Initially exclusive to travel retail, it was promised that they would eventually make it to the wider market. I got to try the peated Caperdonich 18 at Heathrow shortly after release, but I never expected it to see it on our shelves.
I was wrong, and the range has landed in regular stores, including the Caperdonich 18 Year Old Peated that I enjoyed at the airport: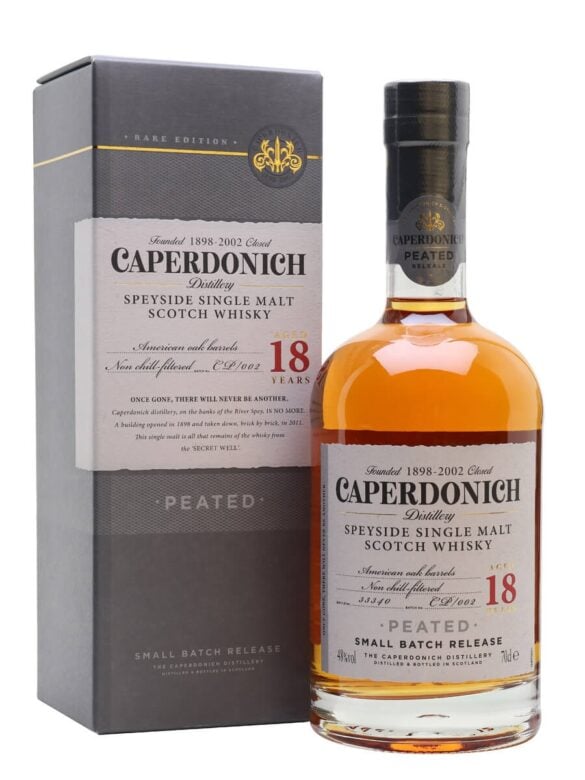 Nose: Orchard fruit with a touch of gravelly minerality and smoke – smoky chimneys in a cold, stony country village. Gentle char notes develop, with waxy apples and fragrant wood following: sandalwood and a touch of musky incense. Fruit builds: pears, apricots and sherbet lemons.
Palate: Soft and earthy peat smoke with some cracked stone minerality following. Dark liquorice and anise notes build underneath, with fruity dark chocolate and gentle spice on top. A dark and zingy mix of chocolate brownies, lemon Lockets and earthy peat are joined by meadow flowers and barley sugar notes, all with a background of fragrant smoke. Tarry touches develop with some time in the glass.
Finish: Earthy spice hangs around, with a quick flash of menthol fading away to leave chocolate and barrel char.
This does exactly what you'd expect from the name – it's a smoky Speysider. It takes the more traditional Speyside character of soft fruit and spice, and adds a layer of rich smoke. The 18 years in wood have helped the peat calm down and bolster the fruit, but it is still no shrinking violet – layers of peat run through the palate. A great dram for smoke fans looking for something a bit more elegant.
You can find the peated 18 year old and more whiskies from the distillery on The Whisky Exchange's Caperdonich Single Malt Scotch Whisky page.