When it comes to our regular exclusive releases, there's one distillery which gets most of the attention. We sit hitting refresh on the shipping website, waiting for details of when the bottles might land in the UK; we hassle the customs team for it to be cleared; and we hassle the drivers who are bringing our bottles to us. And what's more, we regularly hear from you, asking when the next release is due. No other distillery has so much fuss around the release of its whiskies. The distillery in question is Japan's Chichibu.
Why am I mentioning them? Three new single casks have landed and they're going on sale: The Chichibu Martial Arts Trilogy.
What's a Chichibu?
In short, Chichibu is a distillery founded in 2008 by Japanese whisky veteran Ichiro Akuto. Once Hanyu, his family's distillery, closed in 2000, he struck out on his own, selling single casks and becoming a well-respected and award-winning blender thanks to the Ichiro's Malts range. However, there's only so much you can do with other people's whisky, and in 2008 Chichibu opened its doors.
Read more about our visit to Chichibu in 2011 >
The past 14 years have seen it slowly but surely gain a fearsome reputation, with its limited-edition releases flying off the shelves. In order to meet the huge demand, Akuto-san has now built a second distillery – informally known as Chichibu 2 – a few minutes drive from his original location, and has increased production. We will have to wait a few years before there's more of his whisky, especially as he has now released a first ten-year old – called Chichibu The First Ten – and shown what happens when we leave him to mature his whisky in peace.
In the meantime, we will have to make do with an occasional fantastic single cask or two. Or three.
The Chichibu Martial Arts Trilogy
While we get the distillery's regular releases – like The Peated and On The Way, and our exclusive London Editions: 2018, 2019, 2020, 2021 – we also get special single casks from time to time, and we are very pleased to announce that we don't have just one, but three new releases: an ex-bourbon cask, a chibidaru quarter cask and a beer cask.
For these three whiskies, we thought we'd better do something special, and asked Elixir Distillers creative director Raj 'MrC' Chavda to design us something fitting – please welcome the Chichibu Martial Arts Trilogy.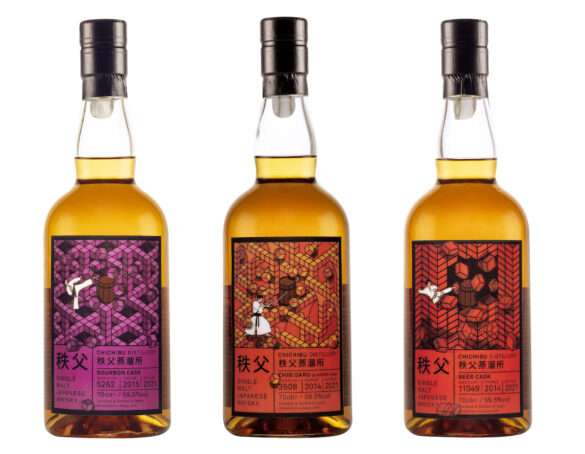 Building on the technology behind our Whisky Show: Future of Whisky labels from 2018, Raj has created three-dimensional labels, that celebrate both Japanese martial arts and the layers of flavour within Chichibu's whisky. Raj explains more in this video:
Chichibu Ballots
As mentioned, Chichibu bottlings don't last very long on our shelves – they barely touch the sides due to their popularity. As such, we generally sell them by ballot, and these three are no different. We'll be popping them up on the website one per month, starting in August 2022. The ballots will be open for two days, and we'll then draw the winners and let everyone know whether they've managed to get a bottle or not.
The dates and links to the pages for each bottle are as follows – you can sign up on each to receive an email when the ballot goes live:
Chichibu 2015 Bourbon Cask #5262 – 23-24 August 2022
Chichibu 2014 Chibidaru Cask #3508 – 27-28 September 2022
Chichibu 2014 Beer Cask #11049 – 25-26 October 2022
You can find details of our ballots on our Terms & Conditions page.
But what are the whiskies like?
Chichibu 2015 Bourbon Cask #5262
This is about as classic a Chichibu as you can get: bourbon cask, unpeated spirit and time. While the wood has had a definite impact – Tokyo is a bit warmer than Scotland, and even six years is enough to add in layers of oak-tinged flavour – the distillery's fruity spirit is really evident here. The edges found in some younger releases have been sanded down, leaving a fruity and spicy whisky that's right up my street: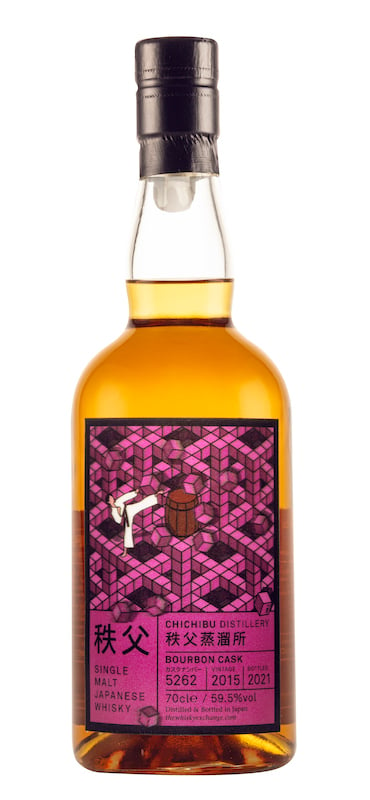 Chichibu 2015 Bourbon Cask #5262 >
Nose: Apple tarte tatin, crunchy toffee and apple boiled sweets – intense orchard fruit with sweetness and a touch of fruity acidity. Pastry notes develop, adding in extra layers of vanilla and exotic spice – cumin, ground ginger, allspice and clove: more jerk than curry. Tropical fruit notes build around the edges – mango jam, juicy pineapple and dried papaya – while spiced custard rolls though the middle with white and milk chocolate.
Palate: Sweet and spicy, with ginger-laced caramel, chocolate sauce and chocolate sponge cake to start, all backed up by baked apples dusted with cinnamon and brown sugar. Minty notes build – mint fondant and mint chocolate chips – as the chocolate fades, and layers of orchard fruit emerge – red-wine poached pears, apple sauce, fresh tart green apples and sweet red apples, all dusted with rich muscovado sugar.
Finish: Apples and pears with a touch of chilli heat, mint chocolate chips and beeswax-polished oak.
Chichibu 2014 Chibidaru Cask #11049
While at first chibidaru casks seemed exotic, we soon learned that while their name literally means 'cute cask', they are in fact 125-litre quarter casks, similar to what producers like Laphroaig use in some of their whiskies. The intention here is to add some extra layers of woody spice, with the smaller cask giving a much bigger wood/whisky ratio and kicking things up a notch. Combine that with smoky spirit as we have here, and you've got a gently peaty spice bomb.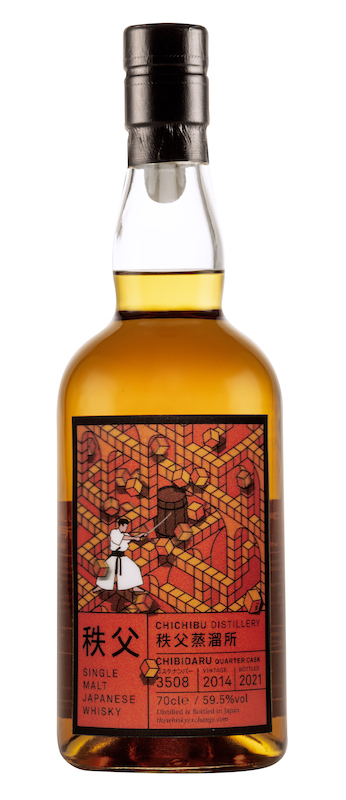 Chichibu 2014 Chibidaru Cask #11049 >
Nose: Freshly cooked rice, milled barley and Portuguese custard tarts, although light on the sugar. Rich and savoury at first, with hints of sweet grain developing. Fresh baguettes, slathered in very good butter, are join by crisp and buttery croissants, and hints of salty preserved lemon and candied violet. Grilled ears of sweet corn – complete with husks – and soft charcoal smokiness drifts around the edges.
Palate: Soft smoke leads: burning mint leaves, charred oak and dusty charcoal. Anise follows the mint along with dark chocolate, bright green spring leaves and a touch of gravel. Sweetness builds, much more noticeable than on the nose, and grilled apples and pears sit alongside mint fondant and sweet dark chocolate.
Finish:  Singed wood and charcoal ash linger with charred apples and mint slowly fading.
Chichibu 2014 Beer Cask #3508
Our final release in the Martial Arts Trilogy is the one that we've been waiting for and, from the reaction both here at TWE and from the folks we've shared it with, it was worth the wait.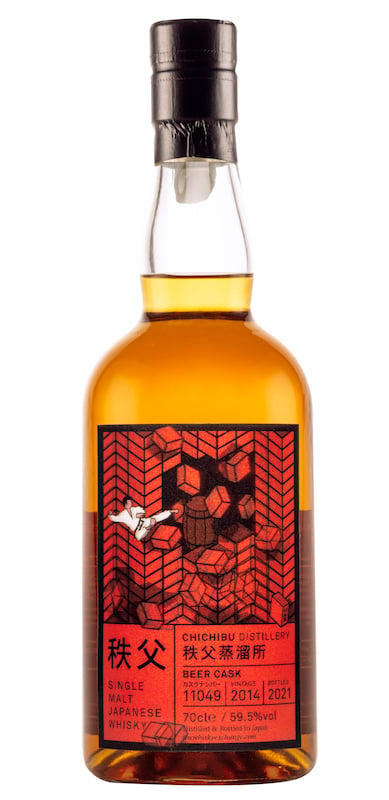 Chichibu 2014 Beer Cask #3508 >
Chichibu's beer-cask matured whiskies have been huge hits, and it's not hard to see why – more than most beer-cask whiskies, they've really embraced the spirit of the beer, and it comes through in the final whisky. That's definitely the case with this whisky.
The beer was The Far East from Shiga Kogen brewery, a huge triple IPA that was packed with hoppy flavour that has been infused into the cask. The whisky has pulled out a load of that fruity and leafy character, all perfectly balanced against the distillery's already fruity spirit:
Nose: Piles of fruit and grain. Granola and porridge piled high with mango, papaya, guava, pineapple and sultanas, all dried and rehydrating in the creaminess. Chocolate milk and rich milk chocolate develop, along with more savoury dark grains and leafy hints – very green. Butter toffee pokes in around the sides along with a slice of Millionaire's Shortbread.
Palate: A huge burst of fruity hops leads the charge: big green leafiness and layers of mango, pineapple, sharp white grape and bitter green leaves, all backed up by a hoppy medicinalness – like licking a handful of hop pellets. That fades through dusky hoppy spice to more familiar flavours: green grass, stewed apple, meadow flowers and crisp, sweet pastry, although all with a leafy, hoppy background.
Finish: Medicinal hops linger, with dried and fresh pineapple fading to spice and green grass.
Chichibu is for drinking
Due to its popularity, Chichibu often gets hidden away in whisky collections, unopened. However, with these three drams we thoroughly recommend that they are opened and drunk, and we'll be making sure to get a load out in to the hands (and mouths) of whisky fans.
Firstly, these three whiskies will be available to taste at Whisky Show – Chichibu will have a stand and we'll be joined by brand ambassador (and karate student, featured on the label of the Chichibu bourbon cask) Yumi Yoshikawa to here more about what they're up to.
Secondly, a few bottles are working their way through our sampling team, and will be available as 3cls from The Perfect Measure by the end of the year.
Good luck to all of you entering the ballots. I suspect I'll see a few of you at the Chichibu stand at Whisky Show – I'm not working on the stand, I'll just be queuing up to try these again.