Jerome Allaguillemette, assistant bar manager at Sexy Fish in London's Mayfair, is a huge fan of Japanese whisky. He explains how he fell in love with these beautiful drams, and why they are just as good in a cocktail as they are enjoyed on their own.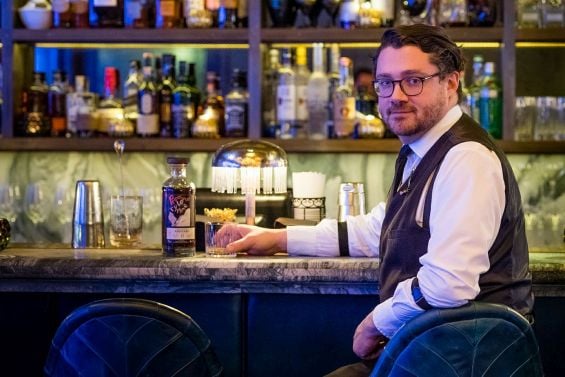 I discovered Japanese whisky while working at the Red Bar at Bam-Bou, where Ladislav Piljar and Xavier Landais had gathered an amazing collection. Xavier and I took this collection to Sexy Fish, where we have grown the collection from 120 to more than 300 expressions.
Everything about Japanese whiskies is fascinating. From their history, closely linked to Masataka Taketsuru, who travelled to Scotland to learn the craft in the early 1920s, to an uncompromised dedication to excellence. Every bottle has a beautiful story to tell – true for every whisky, but Japanese whiskies have an exoticism that is far more exciting.
I fell in love with Ichiro Akuto's work with the Hanyu Card series and his more recent work at his own distillery, Chichibu, which is one of the most exciting whiskies I've tried in the past few years. His approach to the craft is very unique and I believe will become iconic.
extra complexity
Japanese whiskies have a unique combination: the sweetness of the bourbon barrel, the dark, intense raisin notes from the sherry cask and the beautiful spiciness and sharpness of the mizunara Japanese oak contribute to create unique flavours. They also offer an extra layer of complexity and create an incredible finish, and are so versatile that there is a whisky for any kind of cocktail. Here are my two all-time favourites:
The Rising Sun created by Ladislav Piljar at the Red Bar
Shake all ingredients over ice and serve in a coupette.
Royal Redux, on the menu at Sexy Fish
Stir ingredients and serve over block ice with a candied orange and chocolate stirrer.
When recommending Japanese whisky at Sexy Fish we try to understand the guest's tastes, and we've created a selection of flights that showcase the different aspects: Vertical Hibiki, to appreciate how time spent in a cask changes the spirit; Four Woods, with Yamazaki, looking at the effect of different casks; for beginners, there is First Sip – four very different whiskies, from single malt to grain and blended; finally, While it Lasts, a selection of rare whiskies from three closed distilleries.
special serve
There is a ceremonial approach to drinking whisky in Japan where ice plays a major role. We respect this at Sexy Fish and serve whisky over an ice ball, hand carved from a crystal-clear ice block to reduce dilution speed. We also offer a choice of popular Japanese serves such as a mizuwari (whisky served in a highball glass, stirred over block ice and mixed with ice cold water) and a highball (whisky served with soda water).
These are how Japanese whiskies are consumed in Japan, and are so popular some bars have them on tap. Such is the popularity of Japanese whisky now that what used to be a dying craft is now seeing a resurgence in distillery openings as demand grows. I'm looking forward to see what the new era of Japanese whisky holds.