The Singleton of Dufftown has been at the heart of the Singleton range for years and has recently been getting some exposure from its owners as a go-to dram. One of the reasons it has started to step into the limelight is its versatility, including its uncanny ability to pair very well with food. An ability that we decided to put to the test.
What is Singleton of Dufftown?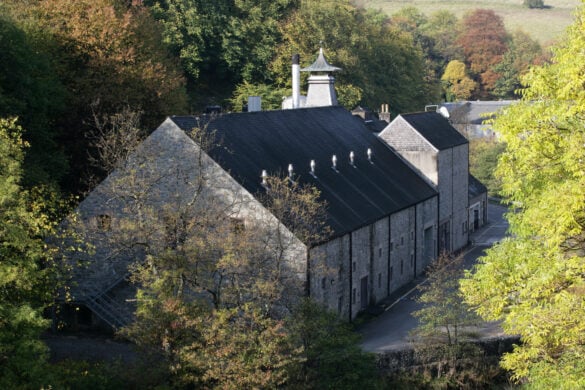 Founded by Peter MacKenzie in 1896, Dufftown distillery was built in the heart of Speyside and is named after its location, Dufftown, which is home many famous distilleries. Despite the rich soils and flowing rivers of Speyside, Dufftown and its neighbouring distilleries found themselves in competition for the best water sources during the late 19th century, and stories are still told of the stream from Jock's Well, a natural spring high in the Conval Hills and source of Dufftown distillery's water, being diverted in the dead of night by rival distillery managers. The plans were foiled and today the distillery still draws its water from Jock's Well.
Dufftown opened at the height of the Scottish whisky boom and just three years before the local whisky market collapsed, forcing distillers to focus on whisky exports. MacKenzie and his sons turned their efforts to the American market, using their reputation for distilling great quality Scotch to help them thrive throughout the USA's Prohibition era.
These days it is most commonly found as part of the global Singleton range – hence the name of its single malts – along with spirit from Glendullan and Glen Ord, and its smooth, nutty and versatile whiskies have racked up awards and accolades over the years.
Pairing Singleton of Dufftown 12 Year Old
The youngest entry in the Singleton of Dufftown range has a light, zesty character with a hint of spice, all flavours that should pair well with delicate dishes that have sweet and creamy notes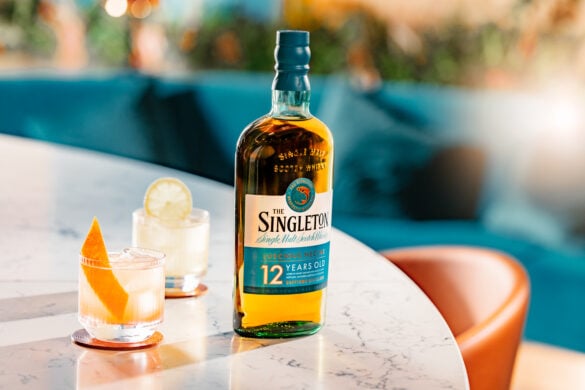 Buy Singleton of Dufftown 12 Year Old >
Nose: Vanilla and oak spice at the fore, followed by lemon curd, hints of ginger and white pepper.
Palate: Lime zest and apricots spring out initially, with crunchy apple, caramel and orange slices underneath.
Finish: Soft baking spices and toasted oak linger in the finish.
I went for a Waldorf Salad, a dish born in 1893 in New York, created for a charity ball at the Waldorf-Astoria hotel. A simple combination of crunchy apple, sweet red grapes, celery and walnut halves on a bed of lettuce, with a creamy dressing of mayonnaise and lemon juice, although some recipes also call for yoghurt in the dressing.
When paired with the salad, the soft spices of the whisky are complemented by the sweetness of the grapes and apples, while the creamy dressing and drying walnuts cut through the zesty fruitiness of the 12-year-old.
Pairing Singleton of Dufftown 15 Year Old
A little bit richer that the 12-year-old, Singleton of Dufftown 15 Year Old is chock-full of malty sweetness, waxy spices and peppery oak notes, with just a whiff of smoke hiding among it all.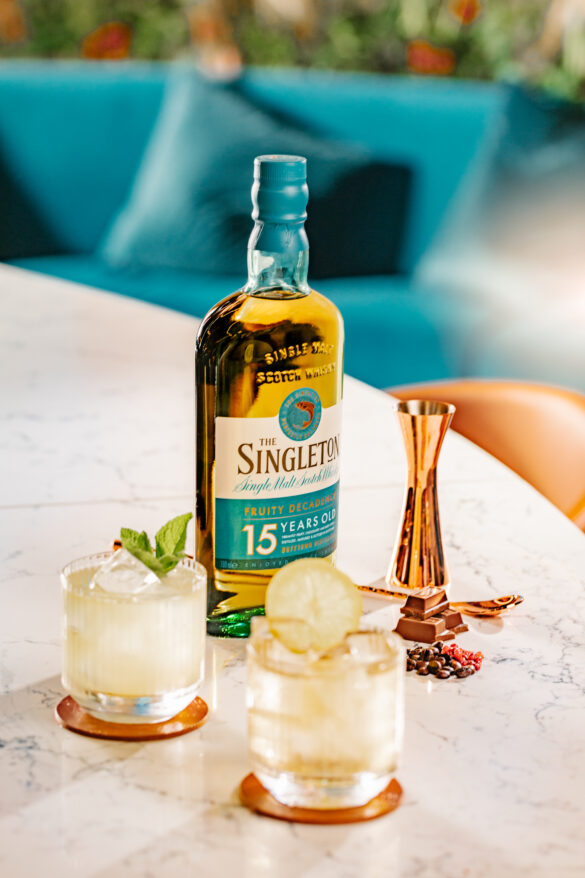 Buy Singleton of Dufftown 15 Year Old >
Nose: Heather honey and toffee apple aromas first appear, with a background on beeswax, charred oak, malted cereals and clove-studded oranges.
Palate: Vanilla and apple to start with, with brown sugar, ginger, honeycomb, beeswax and rolled oats close behind.
Finish: Peppery and warm, with toasted oak and cinnamon lingering behind.
A dish with richer flavours and fresh vegetables will balance nicely with the whisky, so I went for a pan-seared haddock fillet with sautéed potatoes and grilled asparagus.
The freshness of the asparagus and crispiness of the potatoes temper sweet cereal and honey notes in the whisky, and the haddock offers a rich backdrop for the 15-year-old's fruity, peppery character.
Pairing Singleton of Dufftown 18 Year Old
Singleton of Dufftown 18 Year Old is sweet and fruity, with a herbal, savoury edge to it, flavours that will enhance spicy foods without being overpowered.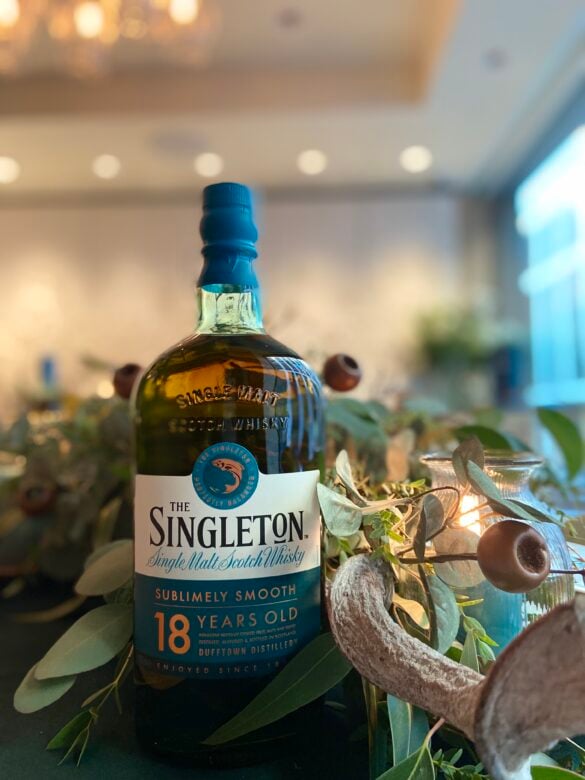 Buy Singleton of Dufftown 18 Year Old >
Nose: Apple crumble and crème caramel are met by brambles, walnuts, pine needles and oak spice.
Palate: Poached pears, dried leaves, autumnal berries and apple juice mingle with malty biscuits, dried fruit and liquorice All Sorts.
Finish: Vegetal herbs and waxy honeycomb meet peppery oak in the finish.
With these flavours in mind, I paired the whisky with sweet-and-spicy king prawns, sticky jasmine rice and steamed pak choi.
The sweetness of the whisky cuts through the spice of the prawns, lifting the richer fruit notes on the palate, and the fresh, green veg highlights Dufftown 18 Year Old's autumnal flavours and herbal edge.
Pairing Singleton of Dufftown 21 Year Old
Rich and sweet, this 21-year-old single malt is as comforting and warm as a hug, with flavours that will pair well with gamier meats or richer dishes.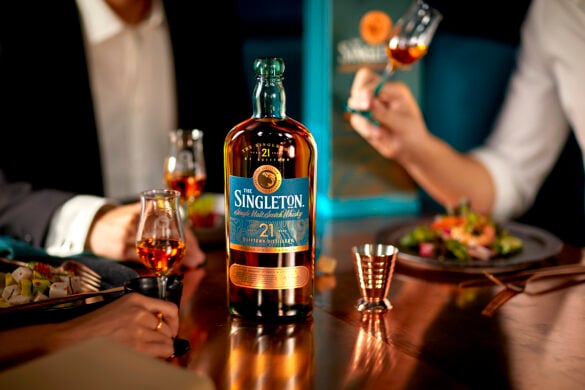 Buy Singleton of Dufftown 21 Year Old >
Nose: Peaches in syrup, sherry-soaked pears and fresh ginger fight for attention, with an undercurrent of caramelised brown sugar.
Palate: Burnt orange, rich toffee, dark chocolate and toffee build together.
Finish: White pepper and ginger linger, with hints of toasted oak and vanilla pods.
Inspired by the whisky's comforting character I paired it with a comfort-food classic – bangers and mash. I used Bramley apple sausages, caramelised onions, creamy mashed potato, grilled asparagus, and a red wine and mustard sauce to make a pub-grub staple that complemented the whisky.
The creamy mash offers a soft backdrop that brings out the rich sweetness at the front of the whisky, while the pork and apple sausage pair well with its fruitier elements, and the spicy mustard adds a lovely heat to it all.
Bon Appetit!
Single malt whisky has developed a reputation of being an after-dinner drink, pairing with chocolates and cheeses, but not much else. The Singleton of Dufftown range proves that this is not the case, its elegant character working well with a wide variety of flavours from the bright and spicy to the rich and meaty, and even light and sweet dishes – and I have a sneaking suspicion it will pair equally well with the more typical cheese and chocolates. So grab yourself a glass and get cooking.
Many thanks to Olivia Heywood Photography for the photos.