If there's one thing we can't be accused of here at TWE, it's not kicking the year of tastings off in some style. As we did last year, we began by welcoming the inimitable Colin Dunn back to Vinopolis, just two months after his previous visit, to taste our way through most of the whiskies in Diageo's Special Releases 2013.
Due the prestigious nature of the range, coupled with the fact that the angels are leaving Diageo with ever-dwindling stocks of aged whiskies, this looks likely to be the only tasting this year where Colin will be able to showcase the range in the UK and we were more than honoured to host the event.
Not having been able to attend the official launch with Billy back in October, this was both the first opportunity I'd had to try this year's releases and also personally the first time I'd ever tasted more than a couple from the range, now in its 14th year, in one go. Given there were also two bottlings from my birth year, I gladly accepted the invite.
So how the did the range come into existence? Diageo are, as Colin reminded us, a blending company who happen to bottle some Single Malts. In 1989, when they were under their previous guise as UDV, the company launched their Classic Malts series to showcase their malt distilleries. Having subsequently discovered some older casks, they decided to showcase their quality with the Rare Malts range, first seen in 1995, which consisted of bottlings predominantly from closed distilleries, distilled in the late 60s, 70s or early 80s and aged for at least 18 years. The success of the range culminated in the creation of an annual Special Releases range in 2001, shortly after Diageo's establishment.
Colin brought along 8 of the 10, omitting only the Oban 21 Year Old and this year's Lagavulin 12 Year Old.
Much has been written about the background to the whiskies, including here on this very blog by Billy, so I'll try and be a little more concise than usual with some interesting facts from the official bumpf.
In Colin's usual enigmatic fashion, we skipped around the tasting mat and I've presented my tasting notes in the order we actually tasted them rather than the order in which they were 'officially' laid out. Trust me, they bear little resemblance to one another…
Only the second appearance of Spanish favourite Cardhu in the Special Releases (and the fourth vintage release ever), this bourbon cask aged 21 year old was distilled in 1991 – the same year the USSR was dissolved.

Nose: Opulent nose of polished wood, manuka honey, green apple, vanilla and toffee.
Palate: Warming palate with a rich, creamy texture showing notes of green apple, cinnamon, clove, a fair whack of oak, liquorice and vanilla.
Finish: Long, warming finish with the green apple that was prevalent on the nose continuing right through to the end.
Comment: Cardhu is often regarded as a breakfast whisky, mainly due to their easy drinking 12 year old that sells very well in warmer climes, especially Spain, but this shows that with the right cask selection it can stand up to much longer ageing. All the elegance of the 12 year old is present here, but with all the factors turned up to 11, this has become a quite different beast.
The eighth release of unpeated Caol Ila, a malt with a loyal following, despite only being first released by the distillery in 2002. Named after the retiring distillery manager, Billy Stitchell, whose father, both grandfathers, great-grandfather and great-grandfather's father-in-law all worked at the distillery before him. That's five generations spanning around 125 years – impressive!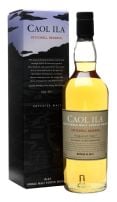 Nose: Toffee, vanilla, ripe banana and Golden Grahams. Left for 20 minutes or so, notes of banana, fudge and custard appeared.
Palate: Fiery upon first taste with sweet lemon and a briney undertone. After ten seconds or so in the mouth, this expands into a secondary note of hazelnut, complemented by delicate, yet fiery smoke.
Finish: Dry finish, smokey and firey with the lemon and brine notes continuing to the death.
Comment: Possibly my favourite of the releases and definitely when cost is brought into play (it's under £70). This makes a great warming malt for those colder days and the alcohol isn't overpowering, even at 59.6% without adding any water.
A perennial favourite for inclusion in the line up (this is the 12th appearance in 14 years) and the equal oldest bottling from the distillery, having spent 35 years in a combination of refill American and European oak casks.  Distilled in 1978, the year that Uranus's rings were discovered.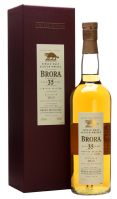 Nose: Rather vegetal nose of hay, straw and manure – the same characteristics you would find in a good red Burgundy.
Palate: Soft and creamy texture with the prevalent flavours being ash, clove and the lemon that you often find on much younger whiskies from Clynelish (the distillery over the road that replaced Brora).
Finish: Incredibly long dry and finish – we're talking minutes rather than seconds with ash and wood smoke.
Comment: Another fantastic old Brora. Soft and restrained in body, but not in complexity. That finish is one of the best (and longest) I've ever had the pleasure of experiencing – simply sublime.
The first ever appearance of The Singleton in the Special Releases range.  Distilled in 1985 – not only the year I was born, but also the year Back to the Future was released.  This was aged in refill American oak for 28 years.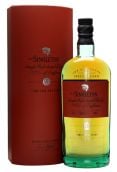 Nose: Even if I didn't know the casks used, the nose gives it away with vanilla, toffee and Madeira cake intertwined. There's a fair whack of oak there too.
Palate: Quite warming, rather spicy and oaky with a lovely oily texture. Spicy liquorice and sweeter honey balance well and just add to the complexity.
Finish: Long and warming finish which is rather different to the inital notes on the palate. The liquorice disappears and is replaced by secondary flavours of pine and cigar box.
Comment: Rather hotter than I was expecting it to be (it's at the lower end of the cask strength Special Releases this year), but a drop of water really does it justice and allows it to really shine.
Rarely seen as a single malt – almost all of the distillery's production (when it was open) went into the Buchanan's range of blends – this is its third appearance in the Special Releases. Aged in refill European oak for 36 years, it's also (as far as I can remember) the first Convalmore I've ever tried.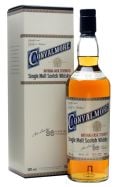 Nose: The sherried origins are very noticeable here, with Christmas cake, prunes, figs and chocolate noted.
Palate: A rich, oily texture with menthol, walnuts, marzipan, joss sticks and chocolate apparent with the faintest hint of acetone.
Finish: Very long finish, almost able to be measured in minutes rather than seconds. A fresh grassiness becomes apparent – quite unusual for a whisky of this age, but this 'misleading' hint of youth is tempered by the trusty appearance of some menthol notes.
Comment: Money no object, this is my choice from this year's range. I love the 1970s style of sherried Speyside, even if I can't exactly put my finger on exactly why. Trying to be more objective, it has a mixture of youthful and aged notes with a complexity that I could sit and think about for a whole evening and with a long, enjoyable finish too – what's not to love?
Making its 7th appearance in the 14 years (though not exactly biennial) is Talisker, Skye's sole distillery. I was very intrigued by this one not just because it's the other one from my birth year (and the year Mohammed Al Fayed bought Harrods), but also due to the rather attractive packaging – admittedly not something I'm normally influenced by.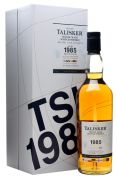 Nose: Classically Talisker maritime nose of seaweed and brine intertwined with intriguing notes of bacon and chili peppers.
Palate: Oily texture with the peppers and brine from the nose joined by menthol, christmas cake and sweet hickory smoke.
Finish: Long length with the brine theme continuing, now joined by citrusy lemon, a hint of smoke and with the christmas cake changing into dark chocolate.
Comment: It's not backward in coming forward – big and bold but with a well balanced complexity.
The ever-present member of the series and the one that always makes the headlines, for the price, rarity and collectability as much as anything else. It was remarked that you never forget your first Port Ellen, with one customer happily admitting his first whisky from the distillery was more memorable (and more enjoyable) than his first kiss. Distilled in 1978 (the year Keith Moon shuffled off this mortal coil) and aged for 34 years in a combination of refill American and European oak.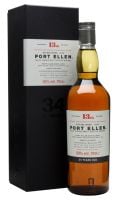 Nose: So complex, it took me a good few minutes to unravel and allow the components – iodine, Shreddies, grass, rubber and lemon – to come to the fore.
Palate: Lightly oily texture with a sweet and fruity character – honey, lemon and lime joined by spicier notes of aniseed and an almost youthful grassiness.
Finish: Long, warming and spicy with the fruity notes dissipating to reveal cinnamon and mint.
Comment: Due to the age, this isn't as peaty as I was expecting. Whilst chemically the peat content never reduces, the long period of wood ageing has clearly had an effect here, with the other flavours increasing in intensity to meet the peat. Is it as good as the hype suggests? Probably not, but then if I'm honest, that's not what Port Ellen is about. It's certainly an enjoyable dram and given the ever dwindling stocks, it's unlikely this will make more than a handful more appearances in the lineup.
The elder statesman of this year's releases, at 37 years of age. Distilled in the year Concorde first carried fare-paying passengers and aged in a combination of refill american and European oak, this is the oldest ever official bottling of Lagavulin and another that had made the headlines this year.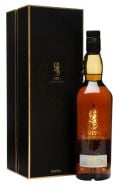 Nose: Intensely 'farmyard' nose of earth and moss backed up by sauerkraut, and honey and toffee from the American oak.
Palate: Tertiary notes of hay, manure, seaweed and brine are joined by fresher notes of honey, guava and cinnamon.
Finish: Very long, with a real dryness (but none of the associated bitterness) from the wood tannins.
Comment: Given the age and the fact the distillery have gone into the unknown with their oldest ever expression, there's a suprising lack of wood notes. The oak is very hard to pick out, only made easier by the wood tannins present on the very end of the finish.
A huge thanks to Colin for hosting another fantastic event at Vinopolis and also to Tim Hain, Bleggae musician extraordinaire, who wowed the audience with a song at the end of the evening (or so I'm told, sadly I had to rush for the last train home!)
Posted in

Scotch Whisky, WHISKY & WHISKEY, Whisky Events, Whisky Tasting Notes
Tagged

Brora, Caol Ila, cardhu, convalmore, Lagavulin, Port Ellen, Singleton of Dufftown, Talisker