Autumn is upon us and the Diageo Special Releases 2013 are here. For those not up to speed on Diageo's yearly release cycle, about now every year they release a range of whiskies from across the distilleries they own, including lesser known distilleries, different takes on more established ones, rare malts and an obligatory pair from closed distilleries. It's one of the most talked about sets of bottlings of the year, and also inevitably one of the most controversial.
Diageo have been getting more involved with the online world over the last year, with a few Facebook pages and Twitter accounts popping up, and the Special Releases have taken a jump into the social world themselves. You can find them on Twitter at @SpecialReleases and the PR folks asked us to Tweet using the hashtags #SpecialReleases and #ExquisiteMalts – you'll be able to see the tweets of the assembled masses on those links for the next couple of days, before Twitter's search starts forgetting about them. The latter tag didn't get a lot of love…
Along with the whiskies Diageo have also, for the second time, released a rather pretty book talking about the drams and a bit of history of the distilleries as well as the Special Releases themselves. They've put it on their website as a PDF if you want to follow along at home.
So, to kick off with the most talked about of this year's bunch – The Port Ellen 13th Release: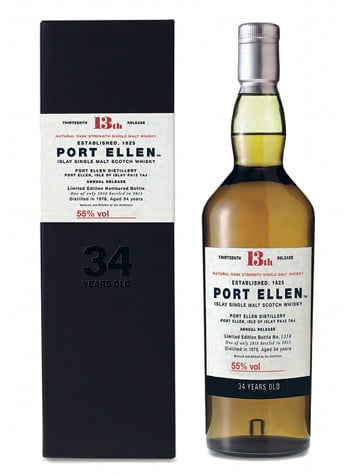 Port Ellen is experiencing a meteoric rise in price on the secondary market, which is in turn pushing up the prices in stores – both from retailers keeping their prices in line with auctions and from bottlers upping the prices of each new release. It makes sense that the producers of the whisky are trying to get a cut of the big price increases and Diageo's is one of the more daring price pushes we've seen so far – £300 in 2011, £600 in 2012 and now £1500 in 2013. Even at £600 last year's bottle barely lasted a day worldwide, so with a jump to over twice the price we'll see if it slows things down. Based on the number of enquiries we've had about it already I suspect that things will go ahead as usual…
Nose: Syrup, wax and crushed seashells, chamois leather and touches of brine. Water brings out more smoke, with a touch of citrus.
Palate: Sweet and salty, with charcoal, ash, flashes of pink wafer sweetness, dark woody notes and sweet green apple, both flesh and skin. Water amplifies the savoury and smoky, with glazed ham and leather, and also lemon sherbert touches.
Finish: Chocolate, liquorice, rich earth, herby hints and dark, perfumed smoke.
Comment: Much bigger and darker than I was expecting, this dram definitely does well with a drop water. It's got the archetypical Special Release coastal notes as well as some great rich woody notes that don't overpower.
After the Port Ellen the Special Releases Brora is generally the most sought after bottle. However we have eight of the previous releases available on the website which shows that it's a little more obtainable than the PE (only three). The Broras do seem to be seen more as drinking whisky, rather than the 'stick on a shelf and stare at it' reputation of the Port Ellens, and sticking with that it's come in at half the price.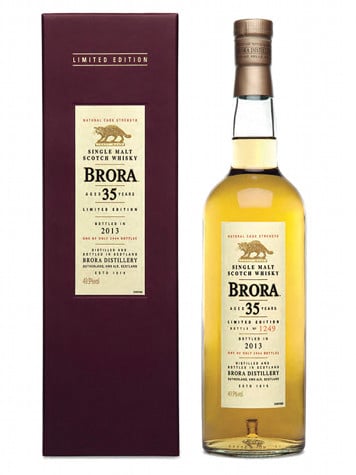 It's come from a mix of refill American Oak and European Oak casks and the phrase used in the description by Diageo is "Annual allocation has extended availability of this irreplaceable malt but stocks are now depleted." Could this actually be the last Brora Special Release? I suspect not…
Nose: Sweet and waxy with pineapple and polished wood at first, but with a farmyard touch at the back. That dirty note grows as it sits in the glass, bringing out more earthiness, herby hints, a wisp of smoke and a touch of sea air.
Palate: Sweet fruit to start with muddiness and chocolate quickly rolling in. It's spicy, with mulchy hay, fruity dark chocolate, liquorice and ashy touches. Water amplifies the darker with more liquorice and dark chocolate, as well as turning up the smokiness and bringing out a lightly medicinal character – bandages and wood ash.
Finish: More liquorice and sweetness, sweet apple, green herbs, chocolate and damp ash.
Comment: The first comment from tasters around the room was "it's a Brora this time", after a few previous batches straying into sweeter and brighter Clynelish territory. On the nose this initially hints that it might go that way, but on the palate it's dark and smoky, with great depth.
The first of the other two regulars in the line-up is the unpeated Caol Ila. Last year it was my pick of the bunch, thanks to the whisky all being matured in sherry casks, and this time it's a bit different for a few reasons: Firstly it's a mix of sherry and bourbon wood, secondly it has no age statement and thirdly it's got someone's name on it.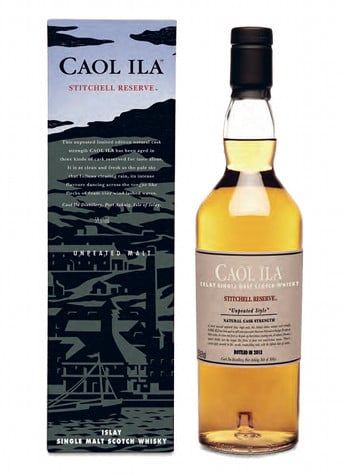 It's named for Billy Stitchell, the retiring Caol Ila manager. He's the fifth generation of the Stitchell line to work at the distillery (along with his father, both grandfathers, a great-grandfather and a great-great-grandfather – stretching back to the 1880s) having started as a cask filler back in 1974. After almost forty years at the distillery ('during five decades' according to the bumph) he's stepping down and has been given the rare, for Diageo at least, honour of having a bottling named in his honour.
Nose: Sweet caramel, fresh cut grass and ferns to start, with resin, sweet sappy wood and pine needles. Water adds in a hint of darker sugars (black treacle?) and a wisp of smoke.
Palate: Sweet and green with a dark wood smokiness. It's surprisingly rich and dark in flavour, with liquorice and honeyed biscuits, as well as shot through with fresh herbal notes. Water makes the darker notes more noticeable, with liquorice, plums, raisins and cinnamon spice contributing to a grown-up fruitcake feel.
Finish: Demerara syrup, damp dark wood and light touches of appley fruit.
Comment: Much more unpeated than some of the other releases and great for it. It doesn't feel like a typical Caol Ila, with lots of darker notes masking the usual freshness, and at almost 60% can happily take a good slug of water. A great send off for Billy.
The other regular is the Lagavulin 12yo, its twelfth appearance in the Special Releases lineup. A younger edition than the regular 16yo, it goes for a more raw and punchy style than its stablemate.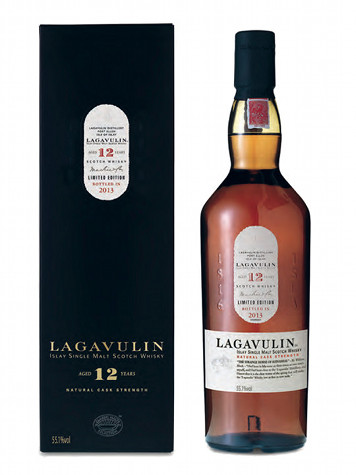 It's usually a different beast to the 16, switching out the richer style for a cask strength, refill American oak matured, spirit-led character – what about this time?
Nose: Caramel, sea spray, foliage, green ferns, rock pools and gravel. Campfire smoke, charred lemons and limes. Quite dry.
Palate: Sweet but with a savoury, gravelly touch. Brine, cracked pepper, sweet chocolate, bitter herbs and lots of alcohol heat. Beach bonfires, with a touch of burnt rubber, dark wood and damp ash develop. Water calms down the heat and brings out sweet hammy smoke, sweet fruit and a touch of tar.
Finish: Dark burnt wood, chocolate and, with water, some sweet red fruit.
Comment: The biggest dram of the night, with a facepunch of smokiness and flavour. Not as fresh as I was expecting from previous releases, but happily marrying the traditionally richer style of the 16yo with some greener, more herbal notes that would get rounded off with more time in the cask. This wasn't my last dram of the night, but probably should have been – a good'un.
With those four out of the way we get to the, for me at least, more interesting group of releases. First up: Cardhu. They previously released a 22yo as part of the 2005 Special Releases and it went down rather well (with a 90pt review from Serge).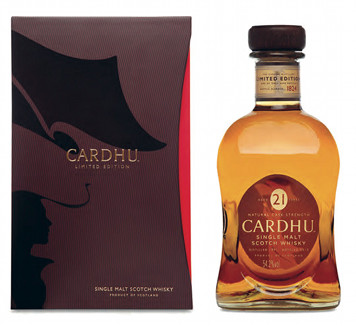 Cardhu is a distillery that doesn't get much love in the UK. Fantastically popular in Spain, its image seems to be still tainted by the 'pure malt scandal' of a few years back. However, the regular 12 year old is a perfectly decent malt and I've been fortunate to try a couple of excellent indie bottles in the last year. Both of those were prefixed with someone saying 'I know it sounds weird, but here's an excellent Cardhu' so there is definitely still some work to do on the distillery's rep. Hopefully this new entry will help:
Nose: Sweet and spicy with green leaves and a drying minerality. Sweet fruit (crunchy green apple and papaya pieces), waxy touches and sweet flowering meadows are balanced by a touch of something almost balsamic-like.
Palate: Syrupy up front with pine needles and salted caramel. It has a growing spiciness with chilli touches that breaks into green wood, spiced bark, green apple skins and sweet citrus. As it sits it develops some buttery notes with some darker sugars.
Finish: Sweet butter, honey, old polished wood and vanilla fudge.
Comment: A delicate dram that many people missed out on after killing their palates earlier in the evening. A balancing act of dark and light flavours that comes out on top, although maybe not for those who want a dram to give them a slap.
Port Ellen and Brora are far from the only closed distilleries on Diageo's books. Along with lamented Rosebank, Port Dundas and a variety of others sits Convalmore. The distillery still exists, but it's not distilled anything since 1985, one of the later victims of the 1980s closures. The folks at William Grant's now own the building but the name, through Diageo precursor DCL, still belongs to the Big D.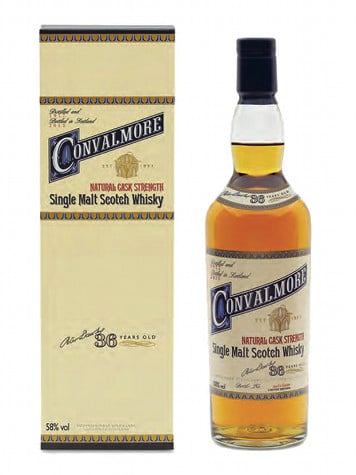 Another repeat from the 2005 Special Releases, although this time a 36yo rather than the 28yo of last time. While the age of the whisky has changed the presentation is quite similar, going for the classic Convalmore packaging – very much a design classic and one that has informed a number of other distilleries work over the years. Releases of whisky from the distillery are particularly rare, with only handful appearing in recent times and tasting notes for them few and far between, which made researching this before trying it quite difficult – this is certainly the first I've tasted from them…
Nose: Fields of new ferns, menthol, bruised mint and moss, with toffee, cedar and fruit underneath – dried strawberry and a touch of mango.
Palate: Perfumed wood, incense, brown sugar, green leaves and rich earth, along with some alcohol heat. A drop of water softens the dram and peels back some of the wood to show off more sweetness, with chocolate wafers, shortbread, liquorice and mint.
Finish: Waxed wood, incense, liquorice and dark chocolate.
Comment: One of the most anticipated drams in the lineup and it meets expectation – a masterpiece of wood management with fruity spirit balanced by darker woody notes and spice. Tasty, and the label looks even better in person than in the picture…
Next we have a whisky from Oban. A big hit in the US but more of a cult dram in the UK, it's rumoured that all of its production now goes to single malt to keep up with demand – it's a fairly small distilery (as Diageo distilleries go). The whisky is a mix of rejuvenated American Oak and second fill 'ex-bodega' casks, Diageo's very careful nomenclature for what most of us (maybe inaccurately) call sherry casks.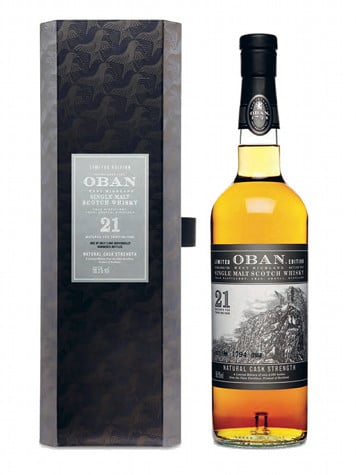 This is the first appearance of Oban in the Special Releases for almost 10 years, with the last one being a 20yo popping up in 2004, and this new edition pips that by a year, making it one of the oldest Obans we've seen. Not that we see much from the distillery apart from the regular 14yo and Distillers Edition…
Nose: Seashells, brine and ferns, with toffee sweetness, red wines gums and developing floral notes – iris? Bushy green leaves, redcurrants, butter and cinnamon appear after some time in the glass.
Palate: Golden syrup and spice up front, with warming spice – cinnamon, nutmeg and allspice. Apple caramel and apple skin provide some fruitiness. Water calms down some of the spiciness to give spiced dark chocolate, toffee and clean, sweet apple notes.
Finish: Light chocolate, ginger and driftwood.
Comment: I wasn't sure what to expect from this and was very pleased – Coastal, but not too much so, with some great rich depth and contrasting fresh fruity notes. It takes water well, keeping its spicy flavours while losing some heat, and doesn't get too sweet.
The next whisky in the line-up is another that gets more of a kicking than it deserves – Singleton of Dufftown. Ever since the Singleton range appeared across the world the official releases of Dufftown have been focused on approachable and easy drinking whiskies, a fine goal and one that I thoroughly support. However, all three of the Singleton distilleries (Dufftown [sold in Europe], Glendullan [USA], Glen Ord [Asia]) can and do produce more interesting spirits that appeal to the more geeky whisky drinker and I'm rather pleased that Diageo have let the Dufftown folks do a bit of showing off outside of the regular profile.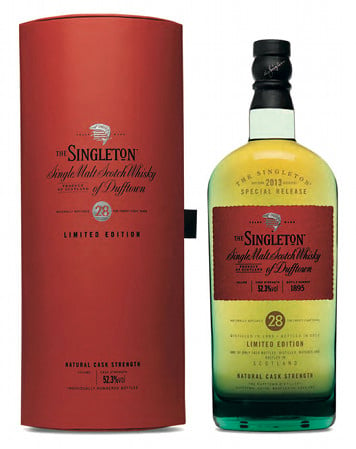 It's all been matured in refill American Oak, which I assumed meant that it's all ex-bourbon (Diageo are quite canny when it comes to talking about cask types), which is a departure from the sherry and bourbon mix that's usually used for the Singletons.
Nose: Eucalyptus honey, spice and browning hay. Beeswax polished tables, floral touches (sugar flowers?), vanilla cream, apples, pears and some light raisiny notes.
Palate: Elegantly woody, with wax polish, linseed oil and sweet caramel leading to some darker flavours, including liquorice, woody spice and plummy fruit. Water knocks out the more interesting flavours, leaving it sweet and easy drinking but not much else – one to keep neat.
Finish: Green wood sappiness, cinnamon spice and touch of old wood.
Comment: Much darker in flavour than expected if this was all ex-bourbon cask, but it also doesn't have quite the depth I'd expect from sherry casks – a tasty dram that plays with the Singleton feel and definitely benefits from the higher strength. Maybe we'll get a high strength regular bottling of Dufftown one day… (we won't)
The penultimate whisky in the list is the one that I like the look of most of all – the Talisker. The distillery already gets more than its fair share of special editions, with last year's 35yo Special Release getting rather a lot of attention. This year they've pulled things back a bit and gone for a release that echoes the first Special Release – the Talisker 28yo that we tried at The Whisky Show this year. That sold for £495 per bottle in 2001, and they've even stepped the price back a bit from that for this release.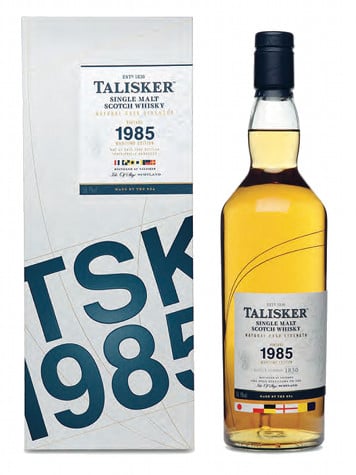 Matured in refill American Oak and offered with a rather more contemporary look than the other bottles in this year's Special Releases. It also has my favourite bit of marketing speak about it in this year's book:
"A supreme Talisker; wonderfully classic in style and as sophisticated as its peers but with an extra 'chilled' self-assurance and even an edge of darkness. A malt that lives life to the full and doesn't take itself too seriously: it's also ever-so-slightly edgy, with suggestions of a volcanic heritage."
That paragraph shouldn't please me as much as it does.
Nose: Brine, green leaves and a big meaty mouthfeel. Sea spray ozone, bung cloth, damp wood and dunnage warehouse mustiness (the good kind).
Palate: Cooling anis and liquorice sweetness up front, with grassy smoke and drying ashiness. It builds in intensity (to quite ridiculous levels), with dark chocolate, more sea spray and dark earthy smoke. Water takes the edge off to reveal more sweetness and fruit – apples, oranges and mango. Smoke is still ever present but doesn't intrude, providing pine needles and a meaty, sweet cured bacon-like background.
Finish: Seaweed, dark fruit, chocolate and stony minerality.
Comment: An intense whisky that needs some taming with a drop of water, but which shows off the more intense side of Talisker that Diageo have been promoting recently. Lots of fierce sea and fruit, with dark depths underneath.
I've saved the most expensive dram for last – the old Lagavulin. After last year's excellent sherried 21yo they've stepped things up a notch and gone for their oldest ever release, at 37 years old.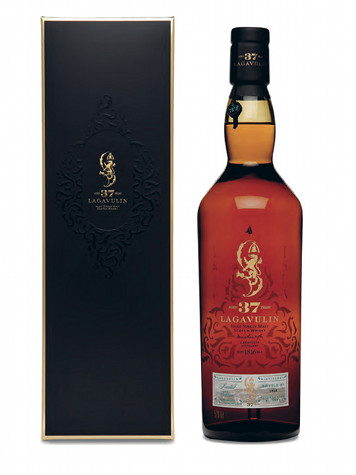 It's a mix of European and American oak, and this age suggests less of the extreme smoke that you find in the 12yo. At £1950 a bottle it's priced where it should be, with old Lagavulin attracting lots of interest (including several emails while I've been writing this, even though I'm out of the office), and while it is a lot of money I'm fairly sure it'll disappear fairly quickly.
Nose: Big and meaty straight off the bat, with raisins, ham and mulching grass. There's brine around the edges along with sour plums, liquorice, leather and lots of earthy smoke.
Palate: Sweet and briney with dark cocoa, leafy forest touches (like walking through a tunnel of ivy and vines) and dark, rich riverbank mud. As it sits notes of lightly milky coffee and brown miso develop, along with spiced apple. Water brings out dark sweetness with chocolate and old wood, makes the sweet fruit more noticeable and adds in some briney seaweed.
Finish: Long, warming and chocolatey, with sweet earthy smoke.
Comment: Big, dark and rich with more smoke than I've ever found in a whisky this old. More restrained than the younger bottlings but very much carrying on their ideas, with more of everything other than youthful exuberance. A great dram.
So, what do I think? It's an excellent selection with no real missteps. With the Port Ellen and Brora jumping out of the affordable category for many drinkers/collectors, the middle of the range is going to get some attention, and I think the Oban and Convalmore are going to get a lot of interest, with good reason. The Talisker fans will jump on the 1985, so if that sounds interesting I wouldn't delay too long.
The hidden gems for me are the Cardhu, which is up there with the best of the indies I've tried, and the Singleton of Dufftown, showing that there's lots more to the distillery's output than 'beginners whisky'. However, for those not looking to splash out, the Caol Ila and Lagavulin are definitely both up to standard and worth a look.
Update: You can find the 2013 Special Releases on this page of our website. Well, the ones we have left…
For our posts on special releases passim: 2008 pt1/pt2, 2009, 2010, 2011, 2012.
Posted in

Scotch Whisky, Whisky News, Whisky Tasting Notes
Tagged

Brora, Caol Ila, cardhu, convalmore, Lagavulin, Oban, Port Ellen, Singleton of Dufftown, Talisker