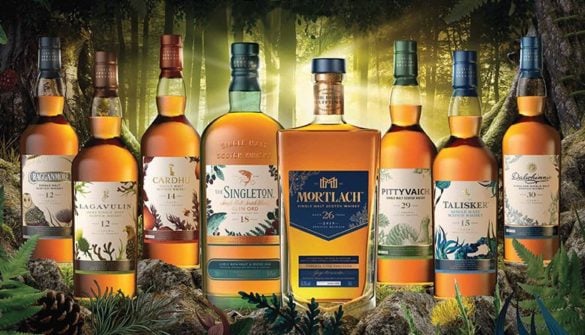 Announced back in July, the Diageo Special Releases 2019 have now been unveiled. The yearly range is a fixture of the whisky calendar, and the past few years have seen a number of changes.
Find out more about what's changed: Diageo Special Releases 2019 – announced!
This year's line-up of eight whiskies stretches from a punchy, sherried Cardhu to a surprisingly-smoky Cragganmore, checking in with a few old favourites on the way.
Caroline, Ning, Tom and I got to try them.
A cask-strength version of my favourite entry in the Singleton range. Originally only available in the far east, Singleton of Glen Ord has been difficult to find elsewhere, so this is a welcome appearance. It's been matured in 'freshly charred American oak hogsheads', by which I suspect they mean dechar/rechar casks.
For more cask info check out our Glossary of Terms.
Caroline
Nose: Very delicate, with faint notes of smashed apricots and raspberry jam on scones topped with lashings of cream. Chocolate-covered cherries join the party, accompanied by peach and cereal notes, and a hint of wet bramble hedges.
Palate: Notes reminiscent of Grande Champagne Cognac at first. Leather, apricot frangipane, and some mint, alongside the return of those chocolate-covered cherries. Oak spice and tart citrus balance out the sweetness.
Finish: Portuguese custard tarts on top of oak floorboards, with some lingering fruit and a twist of seasoning.
Billy
Nose: Spiced fruit loaf with candied peel. The spicy baked goods theme continues with apple pies, Danish pastries and spiced sponge cake. A zing of lemon zest hides behind the sweetness, along with crunchy barley sugar and travel sweets.
Palate: Buttery notes are quickly washed away by citrus. Spice rebuilds from the back, exploding a ball of prickly cinnamon in the middle of the palate. Things then cam down, revealing orange peel, candied lemon and a touch of polished oak. Hints of mint chocolate sit at the back.
Finish: Leafy mint fades to lemon and orange zest. Oaky spice builds.
Comment: Almost exactly what I'd expect from an 18-year-old, adding some extra oomph to the regular bottling with both an extra kick of ABV, and more fruit and spice.
Pittyvaich is often described as rare – it was only open for 19 years and closed back in 1993. This is the third Special Release from the distillery since 2015, 'double-matured' in oloroso- and Pedro-Ximénez-seasoned casks.
Ning
Nose: Plenty of citrus to start with, followed by Irn Bru, marmite on toast, vanilla, butter and strawberry jam.
Palate: Malty at first, it mellows quickly into vanilla, marmalade, buttery toast and flowers. There's a hint of something spicy, hidden below a layer of sugared-almonds, fizzy drinks and lemon sherbet.
Finish: A hint of Irn Bru returns, bringing with it caramel, sweet grass, bitter orange and crystalised ginger.
Billy
Nose: Almost fizzy – hints of sourness, yeast and candied peel. Fruity notes build – dried apples and pears with a handful of sultanas – with bready notes leading to darker and richer flavours. Hints of milk chocolate, light fruitcake and brown sugar slowly emerge.
Palate: Creamy texture leading into a complicated palate. Sweet orchard fruit tussles with oak spice, and the fruit wins in the end. The fizziness is back, with sour sugar notes balanced by spiced shortbread. Buttery pastry develops, filled with uncooked apple and ready for the oven.
Finish: Spice lingers, slowly fading to reveal apples, pears, sultanas and damp oak.
Comment: It wouldn't be a Pittyvaich if it wasn't a little out of the ordinary, and this combines last year's yeastiness with a load of fruit to create a very interesting dram – I suspect it'll split opinion.
A long-aged and unfussy dram from the Highland favourite (yes, I know it's legally a Speyside, but that's just an artefact of parish boundaries and they still call themselves a Highland distillery). A combination of refill hogsheads and butts, matured for more than 30 years – that's what I'm looking for.
Caroline
Nose: Muddy boots fresh from forest floors, and November bonfires in the distance. Clinical lemon aromas are joined by glacé cherries, iced vanilla buns, and grape jelly. A touch of high-quality olive oil is joined by honeysuckle and burnt orange toffee.
Palate: Waxy, with vanilla toffee, honey and sticky crystalised ginger. Freshly-squeezed berry juice follows, then the cask makes its presence known and spicy oak notes build.
Finish: Heavier spice and dense ginger cake, fading to orange blossom honey.
Billy
Nose: Raisins and spice with leathery hints kick things off. The leather quick fades to reveal freshly polished oak and lightly spiced baked apples. Minty notes creep in around the edges, along with fresh, green leaves. These slowly sweeten into grassy spring meadows with stacks of hay around the edges.
Palate: Sweet and floral to start, with wax-polished oak as a backdrop. Slices of apple and pear follow, with candied flowers and a hint of both zingy lemon zest and bitter pith. There's biscuits at the base – shortbread, and oatmeal and raisin cookies – all dipped in a bowl of single cream. Spice builds through the middle along with herbal leaves: mint, menthol and a sprinkle of cinnamon.
Finish: Polished oak leads to Garibaldi biscuits, lemon jelly and mint choc chips. Cream remains.
Comment: The dram is a bit of a journey. It's more delicate than the notes above suggest, with a gentle, almost traditional lowland character of grass and hay. A dram that rewards dedication.
The first of the big sherry casks, matured for a relatively short 14 years in amontillado-sherry seasoned hogsheads. Amontillado's nutty and elegant character should give us something a bit different to the more classic oloroso casks.
Tom
Nose: Fresh, vibrant candied lemon; light and sherbety. Sweet, A touch of willow frond and nettle.
Palate: Bright and zesty before a rapid descent into seasoned wood, integrated nicely with grilled-orange notes. Sherbet lemons still floating around up top.
Finish: Everything stays; orange, wood, char and a touch of fresh greenery.
Billy
Nose: Caramel sauce and hazelnut brittle with a background of almonds and Italian nutty pastries – panforte bianco. The sweetness becomes fragrant but sharper, with wood polish and waxed lemons taking over. The caramel notes remain along with a handful of oatmeal and raisin cookie.
Palate: Rich and thick, with singed toffee and caramel sauce up front. Dark fruit-cake notes build, with burnt edges and a touch of glacé cherry. Chocolate sauce is poured on top before the addition of a sprig of mint. Soft spice and rich ginger cake complete things.
Finish: Spicy notes slowly fade, leaving dark chocolate, candied orange and damp wood.
Comment: An immediately sherried dram, with toffee and nuts jumping out of the glass. The palate continues that in spades – one of the lovers of sweet sherried drams.
A whisky that confused me from its original announcement until the moment I put it in my mouth: 'A complex and intriguing bottling that combines Speyside elegance with a touch of spice and smoke.'
'Is this a smoky Cragganmore?' I asked. 'But they don't make smoky whisky at Cragganmore?' I told everyone who didn't get away fast enough. Turns out, I was wrong.
This is the first-ever release of smoky Cragganmore, matured in refill American-oak casks.
Caroline
Nose: A coating of bacon dust on soft waxy lemons, key lime pie and damp, mossy tree branches. Intensely sweet purple boiled sweets somehow mingle harmoniously with a dry and ashy peat.
Palate: Oily ash coats the mouth, along with bitter lemon and a flash of orange bitters. Bark and moss come in from the forest, bringing with them a shadow of something weightier, almost stuffing-like.
Finish: Sweeter peat and ripe apples, followed by honey and lemon tea and hints of burning heather.
Billy
Nose: Green smoke – burning leaves and damp peat. Leaf mulch and damp-forest notes build, with a background of stewed apple sweet-and-sourness. Fragrant woody spice develops – sandalwood, thick curls of cinnamon bark and Christmas wreath pine. Fresh seaside breezes slowly roll out of the glass, with a background of buttered malt loaf wafted over by soft breezes of mint and menthol.
Palate: Softer smoke than on the nose, with spiced toffee and sponge cake accompanied by a distant leafy bonfire. Hints of tar and dockside rope develop but disappear behind sweet grain and milk chocolate. Candied orange and spice build through the centre, along with smoky flamed peel.
Finish: Spiced chocolate fades to leave char and sweet damp oak.
Comment: A surprisingly smoky from a distillery that I didn't realise made smoky spirit. I think we'll see this one disappear quickly – it's an interesting new take on an old favourite, and rather good with it.
After last year's stellar Talisker 8 Year Old, I was intrigued as to how they'd follow it. With the regular unpeated Caol Ila dropped from the line-up, I was wondering if this could fill the gap – a dark and spicy aged for 15 years sounds like a good swap.
Ning
Nose: Rich bonfire smoke mingles with sharp lemon, a hint of vanilla and smouldering driftwood. Some spicier aromas develop – ginger and green chilli – as well as floral lavender.
Palate: Creamy vanilla and driftwood burst forwards, followed by notes of smoke, dark berries, warm spices and malt loaf. A hint of green banana adds a dry edge, before moving to treacle tart, rich buttery pastry and earthy peat.
Finish: Milk chocolate, fresh mint and burnt caramel linger softly, alongside salty sea air and wood smoke.
Billy
Nose: Fields of damp ferns, sea-splashed rocks and smoky dark sugar. Treacle-toffee notes hide at the back, with hints of liquorice and creosote. Splintered fence notes build, restrained by stewed apple and tarte tatin. Soft spice develops along with fruity jelly.
Palate: Earthy and mulchy to start – piles of damp autumn leaves. The darker notes from the nose remain but are joined by sweet chocolate sauce and liquorice. Leafy notes become sweeter, with herbal notes developing. Sweet fruit sponge drops in from above but darkens to become dark fruit cake with a handful of chocolate chips.
Finish: Rich fruit and buttery pastry. Hints of mint and earthiness linger.
Comment: Does exactly what it says on the tin – it's a Talisker, and it's deeper and spicier than usual. It may have lost its sea-salt and black-pepper trademark character, but it's still got a touch of shoreline in with a whack of tasty darkness.
The one remaining regular in the line-up and very much and old favourite. Aged for twelve years in refill American oak, you can get a much rawer Lagavulin than this – no frills, just a punch of southern-Islay character.
Tom
Nose: Lemon oil, fresh-cut citrus peel, soot and warming wood smoke. Cosier than the Talisker; more farmyard than cliff-side. Maybe slightly on warm tar – walking past a roofing crew in the summer.
Palate: Fresh green veg. Sooty and very fresh; all treble. Young, fresh wood and spice. Very excitable but lacking in substance.
Finish: Soot, spent fire and citrus.
Billy
Nose: Sweet green peat and sharp apples – a fire in a damp orchard. Briney edges are balanced by sweet fruity chews and a hint of anise: Fruit Salads with maybe a Blackjack thrown in for good measure. Earthy notes sit underneath with a zing of brine and menthol.
Palate: Very mineral forward – cracked stone and rock pools lead the way. Drying but sweet, with pink shrimp sweets balanced against saucy BBQ smoke, damp earth and peat. Menthol and spice build, with cinnamon fireballs tempered by fruity boiled sweets: lemon lockets and orange lollies.
Finish: Sweet spiced apple and a touch of tar. Bung cloth notes slowly fade.
Comment: It might be the last surviving mainstay of the range, and it slots right back into its niche. Both sweet and more minerally than other years, it shows the punchy side of the spirit that we expect in this yearly release.
Last but far from least, the really sherried one – there had to be one. While I was hoping this would be a 26-year-old refill bourbon, that was never going to happen: Mortlach goes with sherry and the Mortlach fans want sherry.
This one has taken that to the max with maturation in first-fill oloroso- and PX-seasoned casks. It takes a heavy spirit to stand up to that, but fortunately, the Beast of Dufftown has teeth…and a bit of weight.
Caroline
Nose: All those notes from re-doing your house: stewed black tea, jam on toast, open paint pots and varnish tins. Then it becomes a dried fruit fiesta, with raisins joined by hot apple upside-down cake with oodles of caramel. A sulphury note does attempt to push through, but the fruit smacks it down.
Palate: Less weighty than first expected, oily but with drying tannin. Lots of hot caramel notes, veering slightly into varnish, are joined by intense clove, plum and liquorice notes. There's a big wedge of fruitcake too, the kind with lots of spice and dried orange peel.
Finish: London cheesecakes layered with liquid treacle toffee.
Billy
Nose: Leather and tar at first, but with a wave of dried fruit quickly following on behind: a handful of raisins, a bucket of sultanas and a river of caramel-apple sauce. Lumps of polished oak float by, accompanied by ginger cake, toffee sponge and caramel cake bars. Char notes build.
Palate: Spiced sponge cake, burnt raisins and lots of dates. Sweet spice gradually builds, with butter pastry draped over the charred fruit. Berry and menthol notes develop – blackcurrant lozenges? – as well as butterscotch candy and cinnamon toffee. Caramac bars are a surprise, creamy addition before a wave of berry jam pulls us back down into fruity darkness.
Finish: Soft spice and apple cake slowly fade.
Comment: A well put-together sherried dram that will please Mortlach fans. There was much potential for this to go off the rails and turn into a bit of a jammy mess, but it doesn't – if you like a big sherry-cask dram with stuff going on, you'll enjoy this.
If you want to see what's happened in previous years, we've got details and tasting notes for all the releases since 2008 here on the blog: 2008 pt1/2008 pt2, 2009, 2010, 2011, 2012, 2013, 2014, 2015, 2016, 2017 and 2018.
To learn more about the series's history, head over to our Diageo Special Releases – what are they? post.
We still have a few bottles from previous year's releases – you can find them on our Diageo Special Releases page.