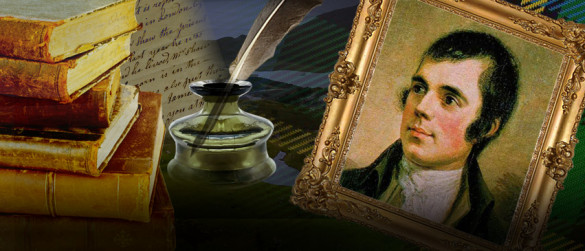 The end of January heralds the first big date in the Scotch whisky calendar, 25 January. The birthday of and traditional day for the celebration of the life of Scotland's bard, Robert Burns.
Burns Night and whisky are inextricably linked, and I've recently come across my favourite description of the man's attitude to a dram: '…it is often written that he was fond of whisky.' Living in Scotland at a time when whisky, both legal and not, was seemingly everywhere, drunk at all times of day, it's a fortunate thing that he wasn't averse.
Looking into his poems, you find numerous mentions of Scotland's native spirit, but Scotch Drink probably shows his appreciation the most. In it, he praises whisky on its own, in punch, in company and with food. He also dismisses wine, wishes gout and kidney stones on those who don't like whisky, and gives his opinion on brandy:
Wae worth that brandy, burnin trash!
Fell source o' mony a pain an' brash!
Twins monie a poor, doylt, drucken hash,
O' half his days;
An' sends, beside, auld Scotland's cash
To her warst faes.
Paraphrased: brandy's fiery rubbush that causes hangovers, kills people before their time and funds Scotland's enemies – Burns was not a fan of pre-revolutionary France.
He also laments the loss of Ferintosh, a group of distilleries on the Ferintosh estate in the Black Isle, which don't seem to have closed until after the poem was written in 1785-6. However, in 1784 they lost a special tax-exempt status that the estate had been granted, and they started to fade. These events fuel his final attack on the excisemen – collectors of taxes from the distillers.
This is a sad irony, as in 1788, in search of a more steady income than he could get as a farmer and poet, he became an exciseman himself. Despite apocryphal tales of his exploits in the role, he doesn't seem to have been entirely happy with the situation, as The Deil's awa wi' the Exciseman, a song about a town happy that the devil has danced away with their local exciseman, shows.
Burns may have not had much time for drinks that weren't Scottish, but there is now much more to Scotland than whisky. You can find a selection of them over on our Burns Night page, including a few whiskies, but as someone who drinks whisky all year round, I like to go for something different when I celebrate the bard's birthday.
Last year I went for beer, and I will be out on Sunday at a winter ale festival to do my toasting of Burns, but this time I thought I'd go for one of my favourite white spirits: gin.
With so much distilling happening in Scotland anyway, the country has been a major producer of gin for years. However, recently it's moved away from the larger names, the Tanqueray and Gordon's produced at Diageo's large distilleries, and smaller producers have appeared.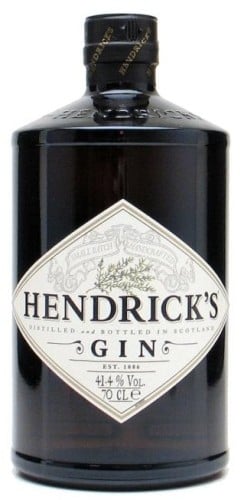 First on my list is the first gin that I saw making a thing of its Scottishness: Hendrick's. It's produced by William Grant's, the folks behind Glenfiddich, Balvenie and Monkey Shoulder, as well as the Grant's blended whisky and a whole range of other spirits, from Tullamore DEW to Reyka vodka and Sailor Jerry. Experienced in the world of drinks, they launched in 1999 into a market ready for a newly presented gin. They also created a quirky image and unusual serving suggestions, both mainstays of the modern gin world.
Hendrick's USP is its use of cucumber and rose-petal essence, preventing it from being called London Dry Gin but adding something different. It makes a great G&T, and a slice of cucumber rather than your usual wedge of citrus makes for an even fresher, palate-cleansing drink.
At the other end of the size and age spectrum sits Strathearn, who bill themselves as Scotland's smallest distillery. While they've recently started to distil malt spirit, destined to become whisky one day, they've started as many new distillers have, with gin. They use their whisky still, adding a basket of botanicals in the lyne arm, and, despite only having been distilling for a year or so, they've already produced a range of different gins.
For this weekend, I'd choose the Strathearn Oaked Highland Gin, made by infusing their Classic Gin with oak chips for a hit of woody flavour. My drink of choice for oak-aged gins is a Negroni: equal measures of gin, Campari and red vermouth (I normally go for a mix of Punt e Mes and Gancia Rosso), stirred over ice. It's pleasantly bitter aperitif that will prepare you for an evening of food and drink.
If you're not a fan of cocktails, then make sure you at least grab yourself a dram this weekend, and raise a toast to the Ploughman Poet.
Sláinte mhath!
And if you want a bit of Burns to listen to during dinner, then head on over to the BBC Robert Burns page – they've got great readings of his poems and songs, with appropriate accents, including Scotch Drink and The Deil's awa wi' the Exciseman.