Gin and tonic saves lives. Or at least it did, back when malaria was rife and the powers that be needed to get quinine – one of the most effective anti-malarial substances on the planet – into the populace. Quinine, found in the bark of the cinchona (quina-quina) tree, is notoriously bitter, and it was only by instructing soldiers to mix it with soda water, sugar and gin that the British government could get troops stationed in India to stomach their medicine.
Mixing quinine with alcohol wasn't, however, a British invention (although we do excel in making everyday things alcoholic). Before 1820, when quinine was isolated as a cinchona alkaloid and adding it to things became much easier, it was common to dry and grind up the bark, often referred to as 'sacred bark', and mix it into wine. To paraphrase Mary Poppins, just a spoonful of sugar and alcohol makes the medicine go down…
Today, almost 400 years after Jesuit priests first documented its effectiveness, quinine is still used as an anti-malarial drug. No matter what the self-proclaimed wit in the pub tells you however, no-one drinks gin and tonic purely stave off disease. (They couldn't, even if they wanted to, as the quinine is not present in sufficient quantities to be efficient. It's also synthetic, so they really are barking up the wrong tree…)
Tonic water is, nevertheless, great. The recent boom in gin has led to an equal rise in the number of available tonics, and many of them are not only delicious accompaniments to gin but also worthy of appreciation in their own right. For many, it's the gentle quinine tang that makes tonic so tasty – and makes it impossible to consider any other accompaniment to a long gin drink.
But what if you added the quinine to the gin? Hendrick's have just released a new 'quininated' gin, Orbium, which adds quinine, wormwood and blue lotus blossom to their classic recipe. So, does Orbium obviate the need for tonic?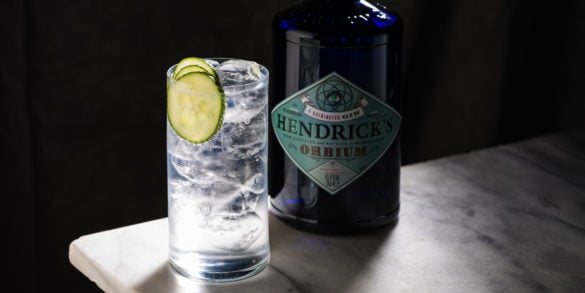 For the growing number of people opting for G&S* rather than G&T, something which lets the gin flavour shine through and cuts down on sugar content, Orbium is certainly an interesting way to preserve that delicious quinine bitterness inherent in a G&T.
(*gin & soda, not Gilbert & Sullivan)
I, however, am not one of those people. I am a G&T devotee and the idea of mixing gin with salty, dry, flavourless soda water has never appealed. Time to see if Orbium can change my mind…
Neat:
Nose: The quinine is immediately evident: it smells like gin and tonic. It's a mellow nose, with clean, fruity and floral notes rounding out the aromas. After a time the classic Hendrick's profile reasserts itself, with the beloved cucumber notes coming to the fore, supported by hints of rose that are accentuated by the blue lotus blossom.
Palate: Initial green floral notes – think eating crushed rose petals – are followed by a sharp tang as the quinine and wormwood wash through. This woody bitterness, which carries hints of mint and pepper, lingers on the back of the tongue, while flavours of citrus, cucumber, juniper and rose petals also emerge.
Finish: Distinctively bitter, but pleasant.
With soda:
There's no doubt that the soda allows the gin flavours to shine – a very good thing with a gin this complex and rounded. There is also definitely a tonic-y feel to the drink thanks to the quinine, although the overall experience is saltier and thinner. I miss the body of the tonic and, if I'm honest, the counterpoint of sweetness. This is a refreshing drink for gin purists, particularly those that enjoy flavours on the more bitter end of the spectrum, but I know I'll enjoy this more with tonic.
Is this the end of G&T? No, but it is a useful prompt to question our drinking habits and experiment more with flavours and ingredients – which can never be a bad thing.
Hendrick's Orbium is now available at The Whisky Exchange. Unfortunately it can currently only be shipped to the UK – we'll let you know when we can deliver elsewhere.