Since The Teeling Whiskey Company started releasing bottlings in early 2013, they've been gradually building up their range. Starting with their rum-finished Teeling Small Batch blend and Poitin, they moved on to the Cabernet-Sauvignon-finished Single Grain, Sauternes-finished 1991 vintage and white-Burgundy-finished 1987 vintage, but there were still a couple of gaps in the line-up: malt and pot still. They've now plugged one of those with the launch of Teeling Single Malt.
Teeling is latest venture for the eponymous family, formerly the owners of Cooley, which they founded as Ireland's first independent distillery in the mid-1980s. When they sold the distillery to Beam Inc in 2012, they managed to get some casks as part of the deal, and are using this whiskey to produce their current range while waiting for their own to be ready – their Dublin distillery now has stills and will be hopefully be ready to start distilling by the end of February.
While Ireland is better known for its blends and pot still whiskey, there is also a tradition of malt whiskey. The focus on the other styles came about from a combination of factors in the first half of the 19th century: grain prices, high taxation, slimming profit margins and a glut of whiskey on the market all contributed to a move towards cheaper, unmalted grains. Despite the lack of attention it is often paid, with only a handful of brands still in existence, single malt is still very much a part of Ireland's distilling heritage, and has its own character, different to that of spirit produced in other countries.
At first glance, it seems that the Teeling Single Malt has taken a different path to the Small Batch, Single Grain and Vintage Reserve 1991, with a simply-matured single malt rather than a cask finish. However, look beyond the label and master blender Alex Chasko's love of interesting casks is made apparent, with the Single Malt being a vatting of whiskey finished in sherry, port, Madeira, white Burgundy and Cabernet Sauvignon casks. Teeling's stocks stretch back to the early days of the Cooley distillery, and there's also some well-aged whiskey in the mix, with the oldest from 1991 – 23 years old.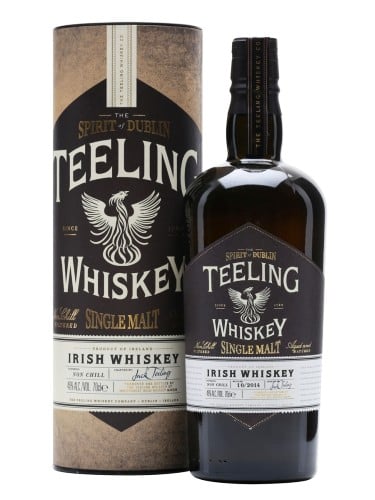 Nose: Green grass, sweet-and-sour green apple, Pineapple Kubes and zesty lime skin, with vanilla extract and dried fruit providing some richer and darker notes.
Palate: More Pineapple Kubes, icing sugar, lemon bonbons and sponge cake with butter icing, with Granny Smith apples for some balancing sharpness and some cloves for bitterness and spice.
Finish: Sweet lemon and butter hangs around, with some sharp and almost minty woodiness in the background.
Comment: Young and fresh, but also showing the rich and fruity notes for which older Irish whiskey is known. At a recent tasting, we found that a lemon-flavoured boiled sweet is a surprisingly good accompaniment, making the palate explode with even more fruit.
With the new distillery well on the way, and production due to start shortly, 2015 is going to be a big year for Teeling. With a warehouse full of aged stock and new spirit shortly about to flow, there should be some interesting releases on the horizon.