St Patrick's Day is the day when Ireland celebrates its patron saint, both a religious and cultural festival. As it approaches, how should you mark the occasion and more importantly, what should you drink? There's lots to choose from – if you're after some quick ideas, we've created a list of our recommendations – just click the banner below.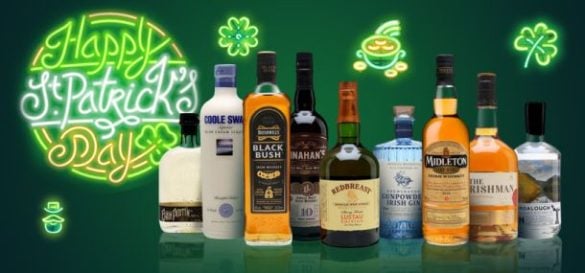 A wide range of drinks is made on the island, including beer, spirits and liqueurs – here's the lowdown:
Debate will long rage about whether Ireland was making whisky before the Scots, but one thing's for sure: the Irish whiskey scene is booming. The styles of whiskey produced includes blended, single malt and single grain, just like their Gaelic cousins, but adds the unique single pot still, which combines malted and unmalted barley for extra spiciness. Along with the long-established three main distilleries, Midleton, Bushmills and Cooley, over the past few years at least 20 new distilleries have either been built, or are being built. These include Glendalough and Teeling, with brands such as The Pogues using production from the bigger distilleries.
Ireland may be famous for Guinness, but there's much more to the Emerald Isle's beer scene than the world's bestselling stout. Red ales used to be made throughout Ireland, but today, lager and craft beers are the main rivals to the Black Stuff. Ireland's version of CAMRA has recently been established – Beoir – which supports and promotes the native microbreweries. Franciscan Well is one of the more successful craft brewers, and its beer barrels were used for finishing Jameson Caskmates.
If you're looking for an alternative to Baileys, Coole Swan is a richer and creamier version, and this glass set makes a great gift, too. Prefer to make your own? See Billy's recipe here.
The original spirit of Ireland, poteen (or poitin) is a spirit similar to vodka. The earliest records of distillation in Ireland date to the late-6th century, but when home distillation was banned in 1661, it effectively stopped legal production of poteen until 1997. Bán is made from potatoes, malted barley and sugar beet at Echlinville disitllery (one of those that will soon be releasing whiskey), and there's a barrel-aged version, too.
Cocktails
Irish coffee is the country's classic cocktail and after-dinner drink, whether you decide to make it yourself or go for a pre-mixed version such as Sheridan's. The standout success in Irish cocktails has actually been on the other side of the pond, with Belfast-born Jack McGarry and Sean Muldoon's bar in New York, Dead Rabbit, winning various World's Best Bar awards, creating their own bitters, and even writing their own cocktail guide.
Ireland also produces vodka, gin and more. Whatever you choose, enjoy the day and sláinte mhaith!
Posted in

Events, Irish Whiskey, Other Spirits, SPIRITS & LIQUEURS, WHISKY & WHISKEY
Tagged

Baileys, Ban, Bushmills, Coole Swan, Cooley, Gelndalough, Jameson, Midleton, Sheridan's, Teeling, The Pogues