One of the 'problems' of the whisky world is the frequency of celebrations that require a dram to be raised. Since the end of summer we've had holidays and festivals every couple of weeks. This culminates in the craziness of Christmas and New Year, and generally we like to have a bit of a sit down and a rest in January. However, the world of Scotch whisky does not rest, even in this most depressing of months, and there is no time to rest – January 25th is Burns Night.
In celebration of one of Scotland's greatest artists, people will be gathering together this weekend to read poetry, eat haggises (haggi?) and drink whisky, all in the name of Burns. Much is written each year about the whisky and haggis part of the evening, so I thought I'd got for something a little different – beer and dessert.
It's fairly well known that while these days I'm firmly in the spirits camp, I came to rest here through a baptism of beer. I'm still a rather big beer fan and have been pestering the boss to get some beer on the website for a while. Last year we finally picked up a few appropriate bottles – the Harviestoun Ola Dubh range.
Scotland used to be really well-known for its beer, and while it fell slightly into disrepute towards the end of the last century it's now returning to its rightful place amongst the best brewers in the world. Harviestoun are one of the better known names in the Scottish brewing and they've combined their Old Engine Oil porter with some whisky cask ageing to create a rather tasty beer. There's a bit more to the story than that (of which more in a later blogpost), but suffice to say it's a rich and heavy beer, with restrained sweetness and a touch of whisky. Here's some tasting notes for the most popular Ola Dubh bottling – aged for about 6 months in casks formerly used to mature Highland Park  12 year old: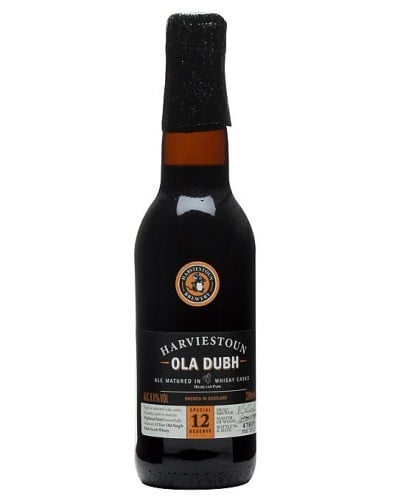 Nose: Sweet to start, with stewed raisins, berries and liquorice, balanced out by a rich and savoury soy sauce/umami note.
Palate: Lighter than the nose and colour suggest, with sweet fruit quickly swamped by dark roasted malt. Fortunately, stopping it from becoming unbalanced, the rich stewed fruit hangs around underneath.
Finish: Barrel char, Marmite and lots of bitterness initially, with some fruit creeping around the sides of the tongue as it lingers.
Comment: A big beer, bottled at 8% with lots of flavour. However, it treads the fine line between being too sweet and too savoury with good balance. Definitely not a beer to open your Burns Supper, but a good one to go with your main course, where it will hold up to peppery haggis.
After a heavy and generally filling meal of carbs, fat and protein, there's only one thing that a Burns Supper could possibly end with: more of the same. However, rather than going for a heavy pud I rather like something that is good at pretending to be healthy and light, while mainly only being quite light – Cranachan.
Cranachan is a simple combination of Scottish ingredients – oats, fruit, whisky and cream. However, within that simple set of ingredients there's a lot of scope for fanciness and variation, something that I've investigated (purely in the name of Science) over the last few years. Here is my recipe:
Ingredients:
Cream for whipping
Icing sugar
Oats (I've used a variety over the years, with Scottish chopped oats being chewier rolled oats. A mixture would work)
Brown Sugar
Gooseberries or Raspberries (depending on what you like and can get)
Granulated white sugar
Whisky
Honey (optional)
Directions:
Put your fruit in a pan with a little water and some sugar. Cook them down, adding more water if necessary, until they break down into a gooey but still chunky sauce. Taste and add more sugar if necessary (probably more necessary with the gooseberries). Leave to cool.
Put your oats in a pan with a sprinkling of brown sugar and keep them moving until the sugar starts to melt. Remove from the heat and keep stirring until the sugar has re-hardened. Leave to cool and try not to eat all of the mixture on its own.
When you are ready to assemble the dish whip up some cream, and then fold through some icing sugar and a splash of whisky. After some testing of different styles of whisky I came down on the side of something simple, sweet and gently woody as the best bet to cut through the fat of the cream and sweetness of the fruit – Glenmorangie 10 works quite well. If you're using raspberries and want even more raspberry flavour then a bit of Chambord works rather well as a substitute (and is available in a rather dinky mini bottle if you don't want much). Then add most of, but not all, of your oats to the cream and gently fold them in.
I like to serve this as a pretentious 'trio of cranachan', with gooseberry/whisky, raspberry/whisky and raspberry/Chambord options in separate glasses on the same plate. I have a lot of glasses.
Take a serving glass (or tumbler – my glasses are all for drinking), add in a spoon or two of the fruit and top with lots of the cream/booze/oaty mixture. Give it a little swirl with a spoon to help get some fruit into the cream, but leave it fairly unmixed. Sprinkle a few more of the oats on top and then finish with a piece of fruit. If you like things a bit sweeter then drizzle a bit of honey on top.
Return to the fridge to chill. Serve.
It's got fruit and oats in so it has to be healthy. Just don't think about all the cream and sugar.
So, good luck to those having parties this weekend – may your haggis addressing be lusty and your whisky tasty. If you're not going to a Supper then join me in raising a dram on Friday to both those who are and to the memory of Burns. It's as good as an excuse as any for a dram.