Modern Scotch whisky is at an interesting point. Whisky makers are torn between two poles of thought – tradition and innovation – with regulations governing both pushing them to choose their paths carefully. When it comes to carefully respecting the past while looking to the future, no one quite walks that fine line as well as Glenmorangie's Dr Bill Lumsden with his yearly Private Edition bottling. This year sees the launch of the 10th release in the series, and it's his geekiest experiment yet: Glenmorangie Allta.
The Glenmorangie Private Edition range
Each entry in the Private Edition range showcases the more experimental side of Glenmorangie. The distillery is best known for its straight-down-the-line core range, but it's always had more left-field releases on the books. From early forays into the world of finishing, to buying forests in the Missouri Ozark mountains to make custom casks, Glenmorangie has, at least in recent memory, always had a love of playing with whisky.
The Private Edition range started out with the release of Sonnalta PX – a Pedro-Ximénez-sherry-finished version of the classic Glenmorangie Original – and quickly started heading into less-trodden territory. From there we had the lightly-peated Finealta, Sassicaia-finished Artein, new-oak-matured Ealanta (Jim Murray's top dram in The Whisky Bible 2014), red-wine-finished Companta, floor-malted-Maris-Otter-barley-based Tüsail, sweet-shop-inspired Milsean, madeira-finished Bacalta and rye-matured Spios. Each very different and revealing one of the many experiments that Bill Lumsden has hidden in the Glenmorangie warehouses.
It's all about the yeast
For the tenth birthday of the range, Bill has created a whisky that has been in the making for years. It was inspired by whisky-writer Michael Jackson's insistence that Glenmorangie used its own strain of yeast when making whisky. While Bill Lumsden couldn't find any evidence of that in the distillery's recent history, he decided to make it so.
Yeast is everywhere. It's a micro-organism that is almost ever-present, floating in the air and lying on almost every surface. Not every strain of yeast can be used for fermentation – the process of turning sugary liquid into alcohol that's at the heart of the whisky-making process – and the ones that can don't necessarily produce nice flavours, so choosing the right one was important.
Saccharomyces Diaemath
To find a strain with a connection to Glenmorangie, they took samples from around the distillery and sent them to yeast experts Lallemand for analysis. After a lot of research, they isolated three or four viable strains of yeast, all found living on barley from Cadboll, a nearby estate that supplies the distillery with top-quality malting grain.
A single strain was selected and cultured, growing it from a single cell up to nine tonnes of yeast. The distillery named it Saccharomyces Diaemath. "Dia e math" is the Gaelic for "God is good", a reference to the old name for yeast: goddesgood. Back before brewers and bakers knew how yeast worked, they assumed it was the work of God, and, as we know, the work is good1.
Making Allta
Glenmorangie Allta starts with two very specific ingredients: Saccharomyces Diaemath and malted barley from the Cadboll estate, a yeast and barley from the farm where it was originally found. The rest of the whisky-making process is almost identical to that of regular Glenmorangie, although the spirit was filled into second-fill- and refill-bourbon casks, to allow the underlying character to take centre stage, rather than the flavours from oak that you'd get with first-fill casks.
Originally the plan was to mature the whisky for about 15 years, but even with less-active casks, the woody flavours started to take hold quickly. Bill chose to release it this year, at under 10 years old, to make sure that there was a still a distinctive Diaemath character.
He also chose to bottle it at a higher strength than previous releases, giving it more intensity to better show off the flavours that Diaemath has produced – 51.2% ABV rather than the more usual 46%.
But all that aside, what does it taste like?
Glenmorangie Allta Private Edition No.10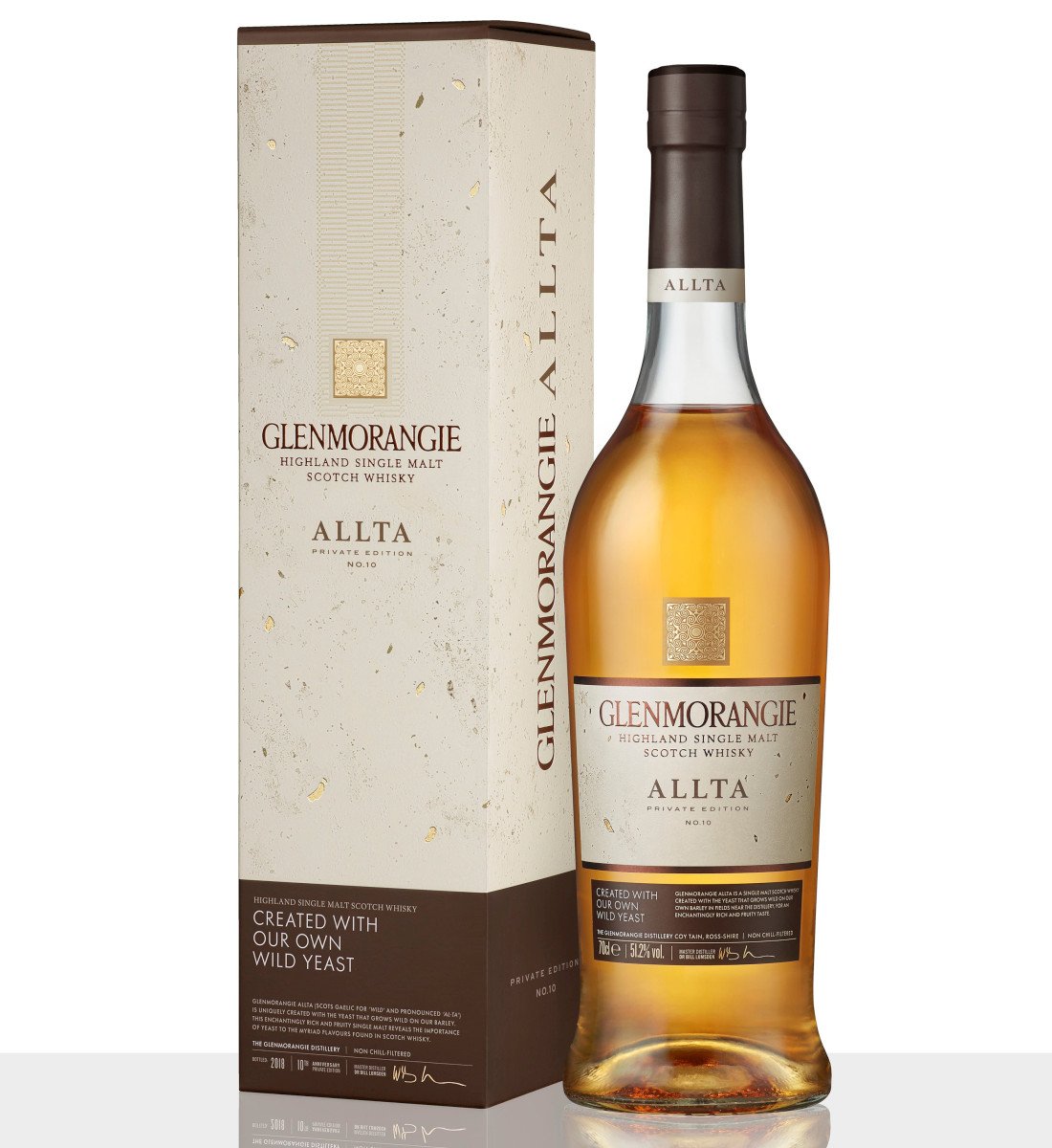 Nose: Thick toffee and caramel notes to start. Fruit, herbs and a touch of earthy spice develop in the glass – apples, sultanas and green leaves. Malty notes slowly appear, sweet and grainy – like standing in the middle of a malting floor just after the barley has been turned. Crunchier, more youthful notes fill in the gaps: green apples and slightly underripe pears. A drop of water reveals candied violet floral notes as well as more pears: fresh, poached and pear drops.
Palate: Barley sugar, fruity boiled sweets, honeysuckle and a touch of the candied violet from the nose lead. Vanilla cream (single cream) runs through the centre of the palate, accompanied by baked apple and a touch of sugar-crusted, slightly singed, flaky pastry – tarte tatin and cream. Water brings out more orchard fruit, as well as a touch of earthiness and even more cream.
Finish: The apples and cream fade away to leave cheek-tingling spice and orange zest.
Comment: A combination of crunchy fruit and softly spicy spirit with Glenmorangie's trademark creaminess and American-oak vanilla notes, with apples and pears providing a bridge. A successful experiment.
The Future
While Allta is a one-off limited edition, Glenmorangie has continued to use the combination of Diaemath and Cadboll barley almost every year, with a week of production dedicated to it. While we probably won't see an ongoing 'wild yeast' bottling, it will no doubt work its way into other whiskies in the future – another paint in Dr Bill's flavour palette.
Glenmorangie Allta is now available to pre-order on The Whisky Exchange. Orders will be dispatched as soon as the whisky arrives.
---
1 Goddesgood means something more similar to 'a gift from God', but I'm not going to begrudge Glenmorangie for tweaking it slightly to make such a good name for its own special yeast.