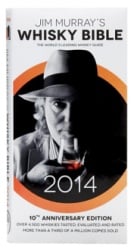 Another year, another burst of whisky-related discussion and outrage on the internets – Jim Murray's Whisky Bible 2014 is out. Over 4500 whiskies, along with Jim's tasting notes and scores, packed into one pocket sized mini-tome, ready to be pored over by his disciples and torn apart by his detractors.
Whether you agree with Mr Murray's scores and descriptions or not, the appearance of the Bible has become quite a key point in the whisky year, with retailers bracing themselves for the inevitable website hit of the top whisky, and producers getting press releases ready in case they get a Liquid Gold award. One thing that Jim does without fail is get us talking, with lots of whiskies that otherwise might have hidden away quietly popping up and being noticed again.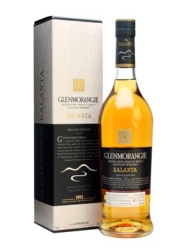 Top of this year's list is Glenmorangie Ealanta, now sadly sold out. I wrote about it here on the blog when it appeared back in February, and while it wasn't really to my taste it was an interesting dram that was well worth a taste. Jim has spoken, and the remaining bottles have been snapped up, hopefully mainly by people who want to test their palates against his.
Rounding out the regular top three are the William Larue Weller and Thomas H Handy from last year's Buffalo Trace Antique Collection (unfortunately our BTAC page is usually empty – they sell out rather quickly…).
Jim Murray is a big fan of the Antique Collection, with at least one of the bottlings appearing on the podium each year for the last five – almost half of the editions of the book. Unfortunately, due to the release of the Collection happening shortly after the deadline for submissions to the Bible, they appear in the following year's book each time, meaning that they are inevitably sold out by the time that a new edition appears. I'm pleased to have got to try both the Weller and Handy from last year's release, and they are both pretty special – definitely worthy of a taste if you get a chance.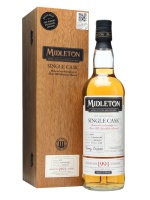 We're quite please with the results from the whiskies that we sent in, as Jim gave our Midleton 1991 Single Cask 96.5pts – the joint second highest score in the Irish whiskey category. It tied with the Powers Johns Lane and was only pipped by the new Redbreast Cask Strength, the winner of the Best Irish Whiskey award. You can find our blog post about it over here, but in short: it's quite special.
Anyway, as is traditional, here's a list of the award winners for the year that you can find over on The Whisky Exchange website. As usual, many of them are no longer available…
Scotch Overall Winners:
Scotch Whisky of the Year & Single Malt of the Year (Multiple Casks) – Glenmorangie Ealanta
Scotch Blend of the Year – Ballantine's 17yo
Scotch Grain of the Year – Clan Denny Dumbarton 48yo
Single Malt Scotch:
NAS – Ardbeg Corryvreckan
10yo and Under (Multiple Casks) – Glen Grant 10yo
11-15yo (Multiple Casks) – Highland Park 12yo
22-27yo (Multiple Casks) – Highland Park 25yo
35-40yo (Multiple Casks) – Old Pulteney 40yo
35-40yo (Single Cask) – Glenglassaugh Massandra Collection Aleatico 39yo
41yo and Over (Multiple Casks) – Gordon & Macphail Glen Grant 1960
41yo and Over (Single Cask) – Glendronach Recherché 1968
Blended Scotch:
NAS (Standard) – Ballantine's Finest
5-12yo – Johnnie Walker Black Label
Irish Whiskey:
Irish Whiskey of the Year & Potstill Whiskey of the Year – Red Breast 12yo Cask Strength B1/12
Irish Single Malt of the Year – Bushmills 21yo
Irish Blend of the Year – Jameson
American Whiskey Overall Winners:
Bourbon of the Year – William Larue Weller 2012
Rye of the Year – Thomas H Handy 2012
Bourbon:
NAS Single Barrel – Buffalo Trace Single Oak Project Barrel 101 (we have some Single Oak Project, but no 101s, we're afraid…)
9yo and Under – Ridgemont Reserve 1792 8yo
10-17yo (Multiple Barrels) – Parker's Heritage Collection 6th Edition Blend of Mashbills 2001
18yo and over (Multiple Barrels) – Evan Williams 23yo
Rye:
11yo and over – Sazerac Kentucky Straight Rye 18yo 2012
You can find a list of all of the whiskies scoring over 96 points in this year's bible that we have in stock over on the main Whisky Exchange website.