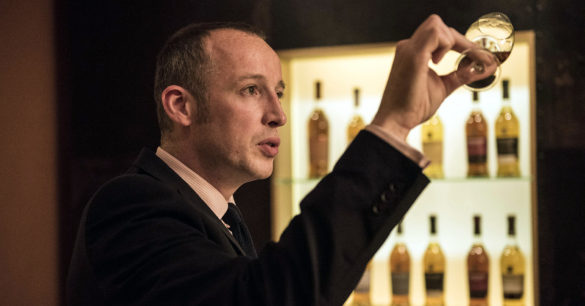 Brendan McCarron is Head of Maturing Whisky Stocks for The Glenmorangie Company – makers of Ardbeg and Glenmorangie – and heir apparent to the company's whisky creator, Dr Bill Lumsden. We spoke to him at the launch of Ardbeg An Oa, his first addition to the Ardbeg range.
How did you get involved with the whisky world?
I did chemical engineering at university and I started out making drugs on the south coast of England but my girlfriend was homesick and wanted to move back to Scotland, so I went to Diageo to work on a project in kiln efficiency – real sexy stuff. Three months in, Diageo decided to build its first single malt whisky distillery in 30 years: Roseisle. The guy running the project asked me to come and work for him.
Roseisle was when the spark went off. I think I had two months' experience, six weeks' experience. I didn't know what draff was; not a clue what wash was – I'd been working in a maltings. The next most inexperienced person on the project had 19 years. I was just like a sponge, soaking up all this information.
Then I went to Leven [Diageo's experimental distillery and bottling plant], where I did blending. Physical blending: not like [Johnnie Walker master blender] Jim Beveridge, but actually getting the physical casks out of the warehouse and pouring them through filters into vats. Then I went to the USA where things were totally different.
I started applying for real jobs and was lucky because I went for a job that I had no chance to get, at Oban – I was distillery manager when I was 28. I was there for two years and then got promoted. Oban is on the west coast and my boss hilariously said 'I'm moving you out west.' I thought I was off to America again, but no. Islay. I was in charge of Caol Ila, Lagavulin and Port Ellen maltings. I was there for an amazing three years, then Dr Bill Lumsden tapped me on the shoulder.
When is Bill Lumsden retiring?
There are no plans. I'm three-and-a-half-years in and the learning has been amazing. I'm cocky as hell, so I'm like 'I'm ready now!' And Bill's like 'You're ready never!' He'll be here for at least five years, but probably way more than that – it's too much fun! The longer he stays, the more chance me being a success is.
They called it the Son of Bill project. I thought that was amazing – 'That's cool, I'm the Son of Bill.' But someone wrote it in an email, and when you write it as an acronym it's SoB, and that's not so good.
What do you day to day?
I am Head of Maturing Whisky Stocks. Our business cards are A3 – it's the only way to fit on our job titles. I do everything that Bill does, and he lets me work on certain projects: Ardbeg An Oa, Glenmorangie Astar, Glenmorangie Grand Vintage 1990. He'll just say 'Go and put the casks together, put together the recipe, put this together, that together.'
I also work on less sexy parts of the business: working out how full our warehouses are; where should certain casks go, where should we build new warehouses, how much spirit we should distil next year…
How did Ardbeg An Oa come about?
It's been just shy of three years I've worked on that. We've always wanted to add to Ardbeg's range as it's only had three [whiskies in the core range]. It starts with taking samples of everything we have in the warehouse – every type of cask we have.
There's this overly used marketing story of the distillery manager walking through the warehouse and stumbling over a cask of 40-year-old whisky. I'm cynical about that, but genuinely, I went to Ardbeg and there were casks coded as sherry casks, but Doug the warehouse manager said they were PX casks. Sherry is oloroso and PX is called oloroso on our coding system. Fully matured PX! It tasted unbelievable. It was like rum-and-raisin ice cream: sticky, balsamic vinegar, slightly burnt brown sugar. It was perfect, but the smoke was so discreet as the sherry was covering it, that it wasn't really Ardbeg. You can't launch a permanently available Ardbeg that isn't smoky.
I also had some new charred oak casks there which were about the same age, a little older, actually. They give vanilla, but not the same way that vanilla goes into Glenmorangie Original. There's a bit of vanilla, a bit of roundness, a bit of creaminess. But the main thing is that it doesn't interfere with the smoke, so you get that massive smoky note. Then at the same time there's a hibiscus note and herbal notes of rosemary and sage. I thought it was a beauty. In the end, it came down to using the PX casks and the new charred oak, but hanging in the middle is Ardbeg 10 – Ardbeg from ex-bourbon is the spine, and these two other things are draped on top of it.
The final flourish is all Bill – I'd love to take credit for it. He said it needed time to marry. It's like it's almost there but is frayed and needs time to knit together. That's why we put it in a huge French oak vat in the Gathering Room, as we call it. It sits there for about three months and rounds off: lets the sherry come in, the smoke come back and the sweetness come in. Then finishes again with the smoke. That's how An Oa came about: with great difficulty and lots of sampling over three years.
Why is the latest release called Ardbeg Twenty Something?
I work with a guy called Marcus: he's an accountant, so he loves a spreadsheet. He looks at the stock in a black-and-white, litres-of-alcohol way, then I look at it from a quality point of view. Between us, we build up a list of how much stock we have and how much we need to distil.
Ardbeg has been going for 20 years and we had some stock from before we bought it, so we were looking at older casks that we have and I was drawing samples of them. There was some that was 21 and some that was 23. He was going into a meeting and needed to mention it, so wrote down Ardbeg 10, Uigeadail, Corryvreckan, An Oa and Ardbeg 20 Something. Everyone went 'That's amazing. This is it.' It was going to be called Ardbeg 23, but now it's called Ardbeg Twenty Something.
What's next for Ardbeg?
A big focus for next year will be Ardbeg An Oa. Because that's the first batch that's out, and we'll be making sure the second batch is as good as the first, and the third batch as good as the second.
But I'm going off message here, and someone will probably murder me for this, but I also want a permanently available, aged Ardbeg. Aged, older Ardbeg. Not because I think age is important or age is better; but the reason I want the age to be declared is that Ardbeg turns on its head when it's older.
Ardbeg 10yo is big smoke, intensity, saltiness, rawness. And then underneath it, if you look hard, there are limes and pastilles and citrus. Over time, the smokiness drops. The smokiest Ardbeg you'll get is the spirit running off the still. And from that day on it decreases; what increases is the fruitiness and citrus.
That's why I want an aged Ardbeg, so people know when they pick it up it's going to be less smoky. It'll be like a blanket of smoke with wine gums, fruit pastilles and sweetness on top. It will be more expensive, because its older, and that's rarer and there's less of it, but I'd love to put something up there that's aged, older and permanently available. It's not guaranteed, but if I get my way it'll be there, or I'll be fired.
Brendan's Ardbeg An Oa is now available, as is his first major project, the new release of Glenmorangie Astar.