Gift packs can be a fantastic, convenient way to get yourself – and the ultimate recipient of your carefully considered and wildly lavish gift – the absolute maximum in terms of bang/buck ratio. They can also, if done poorly, be full of low-grade toiletries.
Luckily, we're here to help you navigate the choppy, festive waters of Gift Pack Lagoon, and to sail your Christmassy ship, HMS Generosity, safely into Great Present Bay*.
Anyway, here are our ten favourite gift packs on The Whisky Exchange website right now – those which, we feel, best encapsulate good quality, great value, and just a little eccentricity.
Diplomatico Reserva Exclusiva Rum and Chocolate Experience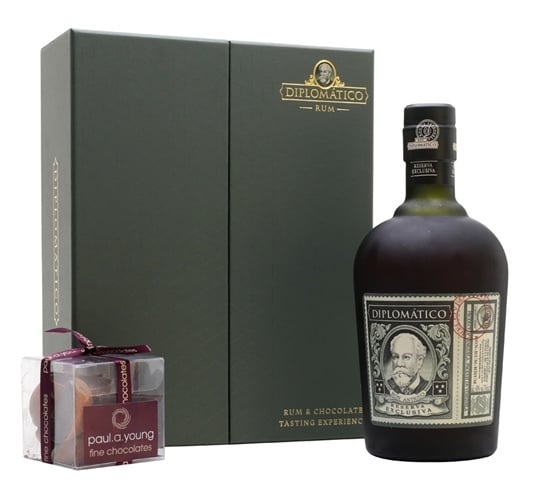 £49.95
Buy now >
Reserva Exclusiva is one of our best-selling rums. Aged for 12 years, it's thick and full-bodied – almost dessert-like in texture – as well as delightfully sweet, making it approachable and satisfying for both experienced spirit sippers and budding rum enthusiasts. In this beautifully-constructed gift pack, the rum is accompanied by a box of dark chocolate orange segments from chocolatier Paul A. Young, crafted to compliment the cocoa, espresso and warm-spice notes of the spirit. The pack itself opens into a serving tray, too. In all: a true tasting experience.
Chivas Blend At Home Kit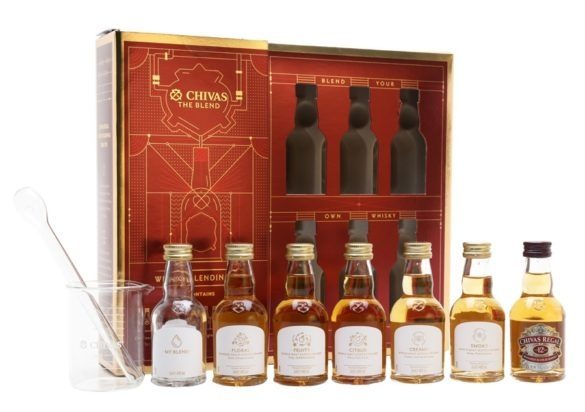 £29.95
Buy now >
Chivas Regal is one of the world's best-known and most-popular blended Scotch whiskies – but why is that? And how does a blend reach such flavourful potency? This great kit offers not only a fun way to spend an evening – meticulously blending the six component whiskies to create a blend to be proud of – but genuine insight into blending as an art form. A thoughtful and engaging gift for the whisky lover in your life.
Maker's Mark in Wooly Jumper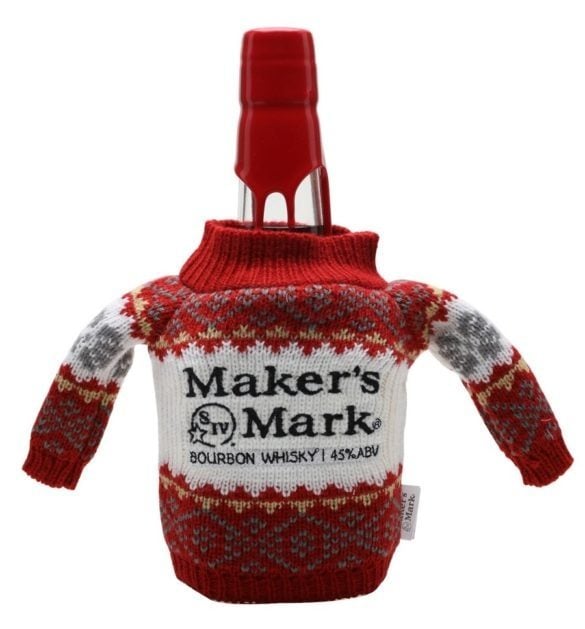 £29.95
Buy now >
A perennial favourite with The Whisky Exchange editorial team, this is a bottle of Maker's Mark bourbon whiskey, wrapped up nice and warm in a knitted jumper. There's not much more to say about it to be honest – it's a cute, festive way to present your nearest and dearest with one of the most popular bourbons on the market, and for a great price, too
Ardbeg 10 Year Old Bone Pack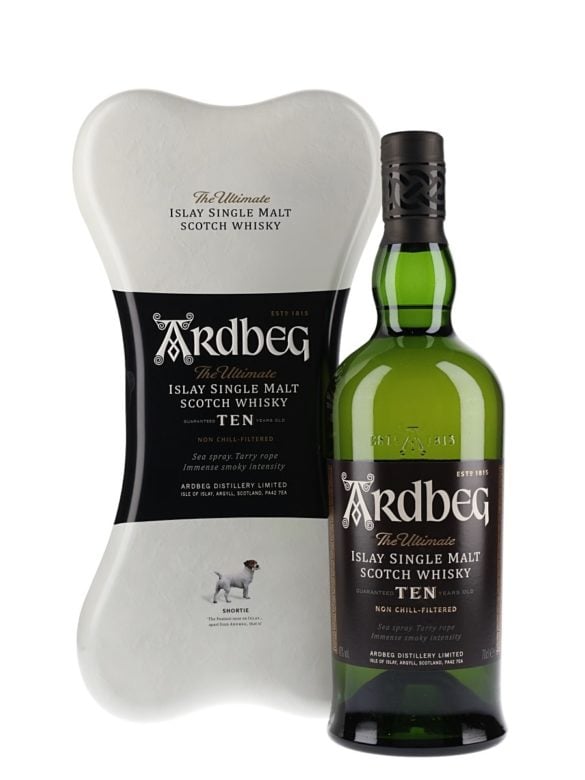 £46.25
Buy now >
Affectionately dubbed the Ardbone here at TWE Towers, this is one of the world's favourite Islay whiskies presented in an adorable, doggo-appropriate bone-shaped tin. Created to honour Ardbeg's resident Jack Russell, Shorty – and to melt our pathetic, animal-loving hearts. Dog-loving peat-fan might seem niche, but this is sure to make the right person very happy indeed.
Dom Perignon 2002 P2 Gift Box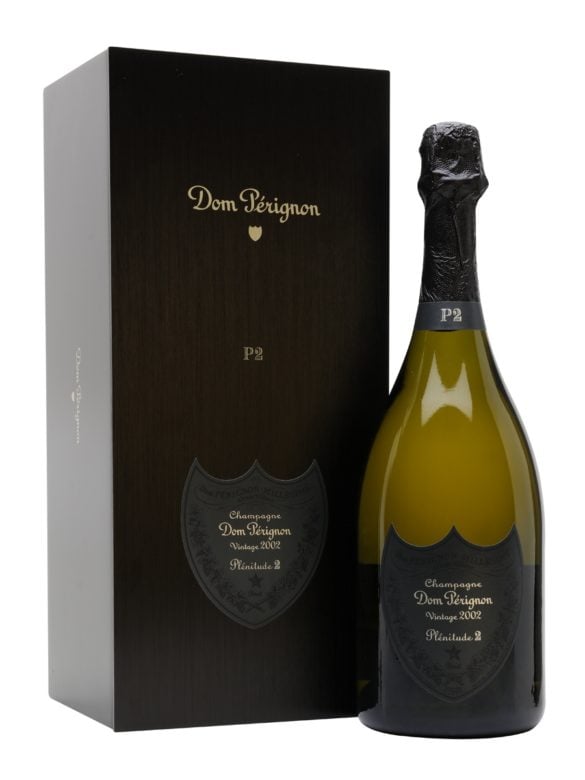 £303
Buy now >
It might not come with a cuddly toy, but this gift box containing a bottle of Dom Pérignon's 2002 P2 will make any Champagne lover swoon come Christmas day. P2 stands for Second Plenitude and means that it's the second, longer-aged release of a vintage – this was released 10 years after the original 2002. It's rich, luminous and an experience your recipient will definitely remember.
Glenfarclas 10 Year Old Gift Pack with Free Snood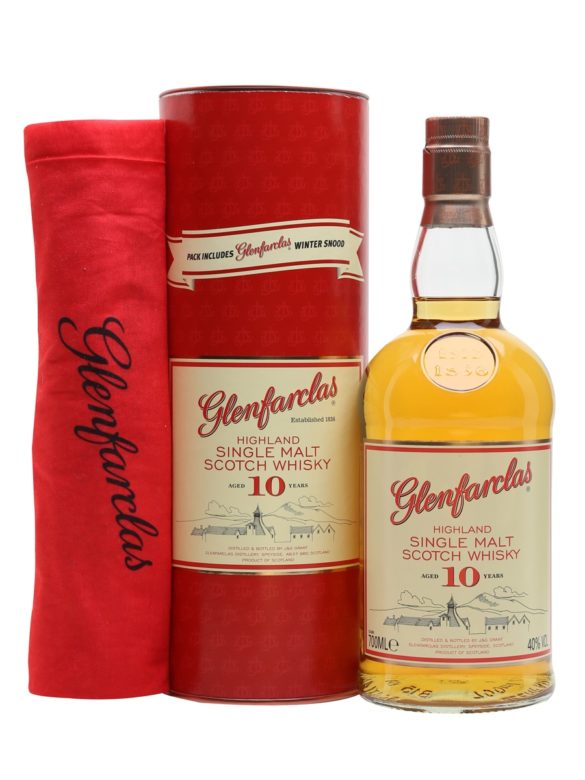 £32.95
Buy now >
We loved this gift pack back when it contained a cosy Glenfarclas-branded bobble hat and, frankly, we love it equally as much now that it contains a cosy Glenfarclas-branded snood. Fruity and malty, Glenfarclas 10 Year Old is exemplary of sherried Speyside single malt whisky, and as warming as the garment which accompanies it. A fantastic intro for budding whisky enthusiasts, and an easy-drinking dram that any connoisseur will appreciate.
24 Days of Rum Advent Calendar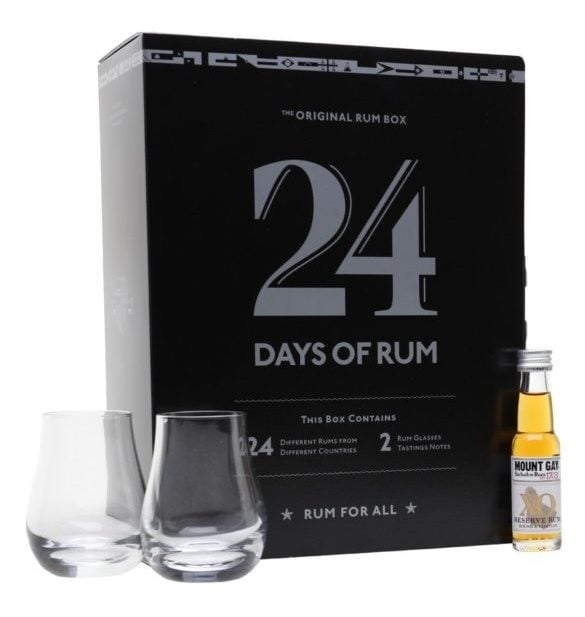 £79.95
Buy now >
24 different rums from 24 different countries is quite the proposition, and that's exactly what you'll find in this festive, globetrotting multipack of miniatures. Along with the two included tasting glasses, this pack presents an impressive journey through the many different facets of one of the world's best-loved and most-interesting spirits. A must-have for the budding rum fan this Christmas.
Perfect Measure Cognac & Chocolate Pairing Set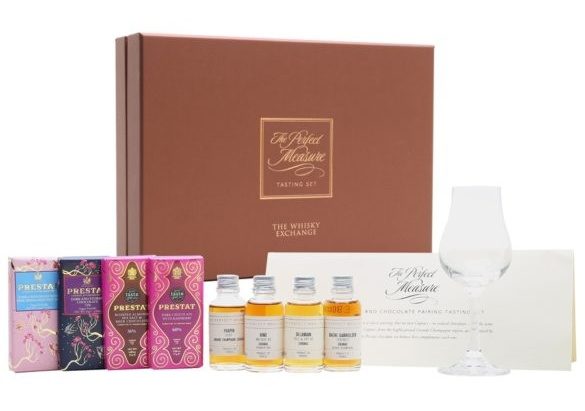 £49.95
Buy now >
Luxury in a brown box, this Perfect Measure tasting set pairs four fine Grande Champagne Cognacs with a quartet of exceptional complementary chocolates from Prestat. Whether you're looking for a delicious, post-Christmas dinner tasting experience or just to provide someone you love with an evening of epicurean enjoyment, this pack is the perfect thing.
tarquin's gin miniatures Gift Pack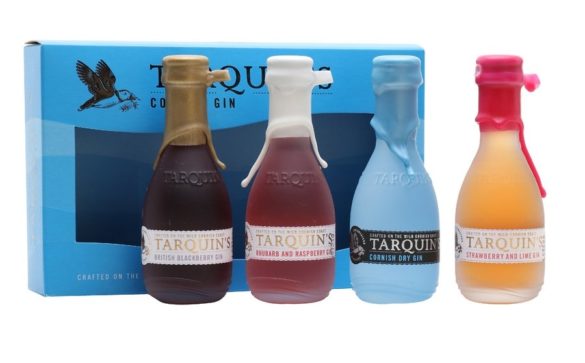 £24.95
Buy now >
An excellent gift for those who take a jam-first approach to scones and an inquisitive approach to life. Containing four cute miniatures from Cornwall-based Tarquin's, this set allows the recipient to explore classic English flavours in gin form, plus of course the Cornish Dry Gin upon which the distillery made its name.
Sipsmith Hot Gin and Tonic Set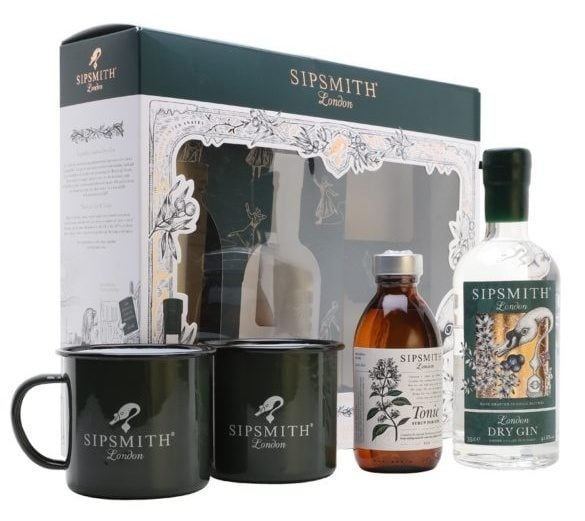 £39.95
Buy now >
Mulled wine, mulled cider, Hot Toddy… classic winter drinks. The newest addition to this esteemed list might just be the Hot Gin, here pioneered by London gin genies Sipsmith. With a half-bottle of Sipsmith London Dry gin, a 20cl bottle of tonic syrup and two mugs in which to serve, this set needs nothing more than hot water and a slice of orange to bloom into a  warming, aromatic masterpiece.
If none of those take your fancy, we've got loads more gift packs for you to choose from.
* Sorry
Posted in

Champagne, Cognac, Gin & Jenever, Other Spirits, Port, Rum / Rhum, Scotch Whisky
Tagged

Ardbeg, Chivas, Diplomatico, Dom Perignon, Glenfarclas, Maker's Mark, Niepoort, perfect measure, sipsmith