Whisky Show is almost upon us again. It's our lucky 13th show – 12th in person – and the first year where we are combining our traditional weekend of whisky at Old Billingsgate with a whole host of online virtual sessions. We'll be mixing up online and real life from 1-3 October and then going fully virtual from 4-6 October. You can find full details on the Whisky Show website.
But enough show shenanigans – what about the special Whisky Show bottlings? Well, we are very pleased to announce their arrival: Adventures in Flavour.
Meanwhile…
Every year we produce a range of whiskies for The Whisky Exchange Whisky Show, and the past few years have seen Elixir Distillers' creative director Raj 'Mr C' Chavda go further with his label designs than ever before. We've seen lenticular 3D, riffs on modern art and labels covered in UV sensitive ink, but this year he's stepped back in time and added a classic twist – comic book heroes and anaglyph 3D.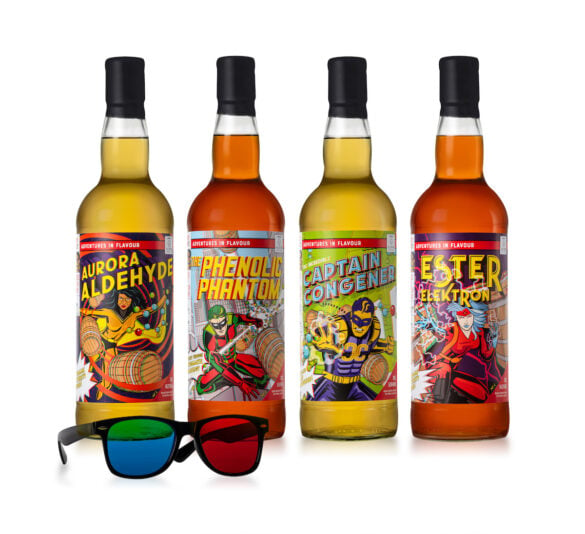 Superheroes of Flavour
Inadvertently, I helped Raj come up with this year's idea:
"I was thinking about the show theme – a journey through flavour and having just completed my WSET Level Two Spirits qualification with Billy, words like 'phenol' and 'congener' came easily to mind. I started to think about what makes up flavours themselves and imagined these compounds as the heroes of whisky."
As a comic book geek, it was fascinating to see Raj's process of pulling part old silver-age covers and reassembling them as whisky labels, as well as creating his four superheroes of flavour, each named after something that gives whisky its character:
Congeners – a term that covers all flavour compounds
Phenols – the compounds that give peaty whisky its distinctive smokiness
Aldehydes – the things that make nuts nutty, cinnamon spicy, and whisky both
Esters – fruity flavours, from apple to mango and pineapple to banana
Along with the superheroes, each bottle comes with a pair of 3D glasses, which reveal hidden depths and layers in the labels.
I sat down with Raj to dig into his ideas a bit more:
But enough about the labels, what about the whisky?
Bunnahabhain 19 Years Old – Ester Elektron
A 2001 vintage from the Islay favourite, matured in a sherry butt. It's a classic from the distillery, with all the rich fruit and rancio that you'd expect. Bottled at 54.3% ABV and priced at £150.
Nose: Rich fruit and damp leaves – forest floors covered in rogue raisins. Toffee apples and toffee sauce build with apple crumble and a dollop of rich vanilla custard. Raisin jam, malt loaf and butter cookies fill in the gaps.
Palate: Thick on the palate and very rich. A touch of forest pond and bracken-covered earth is overtaken by dark chocolate sauce and heavily spiced fruit cake – buttery nutmeg and hot cinnamon. Cake-batter notes develop, sweet and creamy.
Finish: Spiced apple purée, toasted rye bread and a drizzle of custard on bread-and-butter pudding.
Blended Scotch Whisky 41 Years Old – Aurora Aldehyde
A long-aged blend that has spent a large chunk of its recent life in a single sherry butt. We don't know for sure what's in it, but if you've seen similar whiskies to this around recently, you might have some guesses. Bottled at 57.6% ABV and priced at £240.
Nose: Fruit cake with lots of fruit: glacé cherries, sultanas, plump raisins and juicy dates, all topped with fruity caramel. Ginger cake develops, as well as leafy notes and damp earth. Polished oak, candied orange peel and spiced dark chocolate build.
Palate: Fruit loaf studded with singed raisins and spread with raisin jam is joined by charred staves, baked apples and woody spice with notes of candied pear developing. Riverbank loam and damp bark emerge, balanced by spiced toffee, dark chocolate, and black cherries and their stones.
Finish: Damp oak, cherry stones, char, lingering dark chocolate and singed orange.
A Speyside Distillery 20 Years Old – Captain Congener
We can't say any more about where this is from, which in turn might help you guess which family-owned producer it is who has asked that we don't tell anyone its provenance. This one came from a sherry butt, the type this distiller is well-known for, is bottled at 57.6% ABV and priced at £135.
Nose: A balance of raisin fruitiness and savoury leafy bracken notes. Fruity cherries, and buttery an almondy Cherry Bakewells build. Green and leafy notes hide beneath, joined by runny caramel, stewed apple and white-wine-poached pears.
Palate: Buttered sponge cake, candied orange, butter cream and baking spice. Rich and creamy notes build, followed by sweet apple and pear jam, a touch of blackcurrant and some barrel char. Buttered malt loaf, mincemeat and more spice bring up the rear.
Finish: Blackcurrant on spiced fruit loaf. Damp oak and lingering leafiness.
Ardbeg 20 years Old – The Phenolic Phantom
Last in the Adventures in Flavour range, but from from least, we have something rather special from Islay – a refill-bourbon cask of Ardbeg. Filled in 2001 and bottled this year, it's a classic Kildalton dram and a cracking Ardbeg. Bottled at 51.4% and priced at £450.
Nose: Sea spray and oily smoke. Darker notes of tarry ropes are balanced by singed citrus and buttery lemon shortbread. Orchard fruit – sharp apples and sweet apple purée – are dusted with icing sugar. Mulchy grass and fallen leaves roll in around the edges.
Palate: Sweet and smoky, with apple-and-cinnamon syrup poured over warm croissants, all topped with baked apples and pears. Mintiness builds through the middle followed by green leaves and driftwood. Seaside smokiness and salty sea air surrounds everything.
Finish: Singed oak, sweet apple and soft spice fade to leave barbecued fruit.
Ben Nevis 25 Year Old – WHisky Show 2021
Alongside the Adventures in Flavour, we also have a bottle to celebrate Whisky Show's return to being in real life. There are only 100 bottles of this cracking Ben Nevis, from the fabled 1996 vintage, and it's packed with all the fruit and spice you'd expect. It's bottled at 51.2% and priced at £250.
Nose: Buckets of fruit and spice: chilli flakes and black pepper sprinkled on apples, pears, pineapple and mango, all topped off with a handful of gummi bears. Butterscotch pastilles and vanilla cream float throughout the gaps.
Palate: Big spice leads – freshly stripped cinnamon bark, dark oak and clove hints. Orange builds and takes over: stewed segments, jelly and boiled sweets. As the fruit and spice fade, the vanilla notes dive back in supported rich and dark fruitcake: sweet pastry cream spilled on a freshly polished table all mopped up by dark-brown-sugar-slathered malt loaf.
Finish: The spice lingers, with layers of fruit and dark sugar circling as they fade: apples, pears and muscovado.
Comment: A fantastic combo of fruit and spice, with layers of both spanning the spectrum from fresh fruit salad to rich fruit cake.
How do I get one?
All five bottles will be on sale from the on-site Whisky Show shop for attendees of the show. Those who have virtual-only tickets will be sent a special secret link for them to be able to grab a bottle from our website. However, they are all very limited, so if you are one of the lucky ones who have a chance to pick up a bottle, don't hang about…
In the meantime, there are still a few tickets to the physical show as well as virtual passes if you can't make it down to London this weekend – you can find them all at the Whisky Show website.