The past few months have seen delays to lots of new drinks. Hiding in that list is one that I've been waiting for – a new beer. I love beer, but when it crosses over with the world of whisky I'm often disappointed, with cask-aging and weird malts making things that I don't like. However, if there's a distillery which I trust to do something interesting with the idea, it's Ardbeg – introducing Ardbeg The Shortie Smoky Porter.
Brewgooder – beer for charity
The Brewgooder project has been quietly rumbling along behind the scenes of the beer world for the past few years, raising loads of money for water charities. Brewgooder lager is a regular on supermarket shelves and in BrewDog bars (they brew it for them) and they've expanded the range recently with a fruity pale ale and a session IPA – all of the company's profits go to projects that help supply clean water in areas who need it.
Annoyingly, the project's plans for 2020 were disrupted by the pandemic and its biggest campaign yet ended up not going quite to plan – The Global Gathering: a 250-brewery global event to celebrate Brewgooder's 4th birthday with lots of special beers launched to raise money for charity.
Fortunately, lots of the beers did hit the market, but one has been delayed – the one I've been waiting for. An interesting collaboration that came about due to the wonders of house sharing…
Our house, in the middle of our street
Brewgooder founder Alan Mahon has a flatmate also called Alan – Alan McIntyre. The second Alan is no stranger to the drinks world, being Ardbeg's Global Senior Brand Manager, and, as you'd expect, they came up with the idea of a Brewgooder/Ardbeg collaboration, and The Global Gathering seemed like the ideal time to go ahead with it.
One problem: it takes a while to get projects like this going, and they only had a few months.
A meeting was called. Brendan McCarron, Ardbeg head of maturing stock and king of product creation alongside industry legend Dr Bill 'People say I tell dirty jokes – what do you think about this one…' Lumsden, was brought in. Thoughts were had. The project was green lit.
Local beer for local people
Both Brendan and Bill are big fans of Glasgow's Williams Brothers brewery, and they were very quickly brought on board to work on the project.
The plan was simple: combine Ardbeg's smoky character with that of a beer, make it, sell it, make money for charity.
But what beer to make?
The original plan was for some kind of pale ale, with an IPA or a hazy New England IPA as the front runners, but it's difficult to bring peat smoke into that kind of beer and keep things in balance. After a number of test brews, the plan changed and the journey towards The Shortie Smoky Porter began: a dark beer with a proportion of Ardbeg peated malt in the mix.
Ardbeg The Shortie Smoky Porter
While Brendan would not reveal the final recipe, it is carefully balanced so that the peated malt's smoky character doesn't swamp the rest of the porter – the main reason why I've been skeptical of peated beers in the past. Peat is a very difficult flavour to balance in whisky, where distillation and maturation can tame it, and in beer it can all too often become the only flavour. How did they do?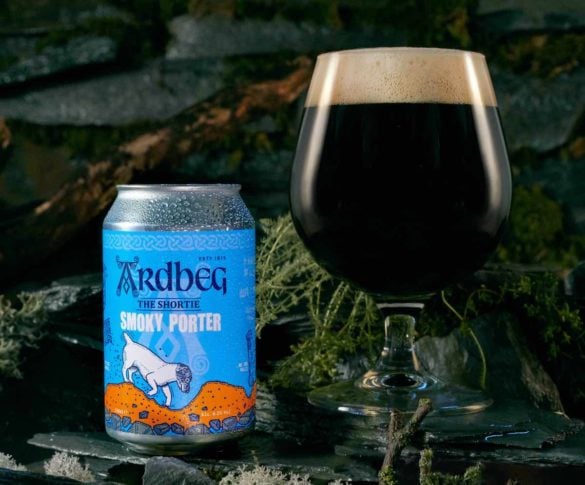 Nose: Toffee with a touch of tar to start. Hints of coffee and roasty malt build, along with sweetcorn (in a good way – it's something I get from lots of smoked beers, especially Schlenkerla, the legendary Bamberger rauchbier) and wood smoke. Liquorice and damp grass slowly develop along with a touch of Marmite meatiness.
Palate: Black treacle, coffee grounds and freshly pulled espresso. Creamy notes – coffee-heavy cappucinos – develop, followed by dark berry fruit: smoked Ribena with smashed-up liquorice pastilles.
Finish: Earthy peat smoke, dark malt and more coffee – both freshly made and damp grounds.
Ardbeg and Williams Bros have done what I hoped they would: made a balanced peated porter that hints at the whisky's character without detracting from the inherent beeriness of the beer. Top work team.
How do I get some?
It's a limited edition for now, with only 4,500 four-packs out in the wild, exclusively available from Ardbeg themselves and their 'embassies'. Fortunately, The Whisky Exchange is an Ardbeg embassy, and both our London Bridge and newly reopened Great Portland Street shops will have these for sale – drop them a line before heading down to make sure they still have some, as they're going to go fast.
We've also managed to grab a few for The Whisky Exchange website, which we're selling as a double pack alongside a bottle of Corryvreckan – the ultimate smoky boilermaker.
But who knows, if it's popular it could be a new entry in the Brewgooder range. Watch this space…