Compass Box never sit on their laurels for long. After last year's Great King Street releases (New York, Experimental 00-V4 and Experimental TR-06) and Delilah's it looked like they were jumping headfirst into the world of blended whisky, rather than their more usual focus on blended malts. Their latest released has continued with the blended whisky motif, although in a slightly different way to most, with The General.
I was running a training class about whisky the other week and one of the sections that seemed to confuse people the most was the different classifications of whisky – what is a single malt, single grain, blended malt, blended grain or blended whisky? These new(ish) classifications aren't universally popular (and the changes to the regulations led to another pair of Compass Box releases – The Last Vatted Grain and The Last Vatted Malt), but they are at least clear:
Single means from one distillery.
Blended means a mixture of whiskies from different distilleries.
Malt means made in a pot still using only malted barley.
Grain means either made using grains other than malted barley or using a column still.
Combine a word from group one with a word from group two and you have four of the five categories. The fifth, Blended Whisky, simply means a mixture of Malt and Grain whisky, no matter which distillery they're from. There's talk of 'Single Blends', and we've even released one, but that's not an 'official' term and they're rather rare anyway. So, to start with we know that The General is, like the Great King Street and Asyla before it, a mixture of malt and grain whisky.
Other than that we don't know much.
Compass Box are always on the look out for interesting whiskies to become components of their bottlings, almost all of which are either blended whiskies, blended malts or blended grains. So, when a pair of parcels of casks a little different to most came their way they couldn't really turn them down.
Both parcels contained casks of blended whisky. Now, that's not a particularly common thing on its own – whisky blending is normally done with mature spirit and after it's done it goes pretty much straight into the bottle, sometimes after a short marrying period in wood. It seems that these casks contained whisky that was blended when young, wasn't needed and was then put back in the casks to wait until someone wanted it. Now, years later, the whisky has thoroughly married together and created something a bit special.
The first parcel was of 33 year old whisky, the youngest whisky in the final mix. Compass Box have not disclosed the nature of the second parcel, in part due to an awareness of the Scotch Whisky Regulations – they disagree with some of the regulations so are very careful to comply with all of them, and tell us when they bat up against something they think a little silly. In this case it is, I assume, section 12 part (2) of the regulations, which forbids the use of multiple vintages or age statements appearing on the label. They're taking the rule slightly beyond its context, but that's part of why we like Compass Box, lovable belligerents that they are.
That said, the rumour mill reckons the second parcel is 40 years old. Tell no one.
Of the casks and contents themselves they don't know very much else. They've worked out the cask types by tasting the whiskies, but the make-up of the liquid is something that they've not got much information on and which we have even less. All we know is that it's Blended Scotch Whisky.
They decided to combine the two parcels of whisky and after a variety of recipes came up with the proportions from each batch that have now become The General.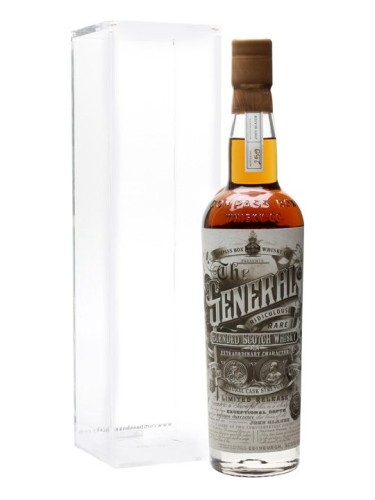 Nose: Old polished wood to start, with dark, woody sugars and some maple syrup. There's some more fragrant notes hiding behind, with sweet coconut, sandalwood and honeysuckle. As it sits in the glass more intense sweet notes appear, with marzipan balancing out some of the darker, more savoury woody notes.
Palate: Lots of old dry wood and cinnamon spice to start – a bit of a zinger. Spiced butter and crunchy green apples come in, with charcoal, aniseed and a touch of soft liquorice. The apple-y flavours develop and become quite strong, before the old polished wood and anise notes come to the fore again.
Finish: Very much a continuation of the palate, with apples and spice joined by gentle polished wood. As it fades, sweet marzipan notes appear.
Comment: A whisky that both is and tastes old, with freshly cut boards and old, polished tables backed up by solid spiciness. However, dancing over the top of that is some sweet fruit and buttery notes that add an excellent contrast and lots of complexity.
 The General is available on TWE's website, priced at £180.