There seems to be a long running tradition across the internets of writing round-up posts at the beginning of the year. I've not yet done so and am starting to feel left out, so here's a bit of a look back over the year.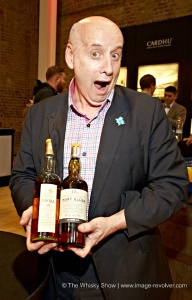 Firstly, our London shop did its usual pile of tastings through the year, from Colin Dunn's Diageo Special Releases tasting (sign up to the mailing list now if you want to come to this year's one…) to occasional shop inmate Ed Bates telling us of the wonders of Cognac. We even had a couple of special tastings, with the shop's 8th birthday celebrations being preceded by the finest tasting of the year – Elegant Oldies, with me an m'former colleague Tim at the helm. After the Christmas break the tasting team are back on the case, and we've already starting booking up evenings for the next 12 months – there are already some treats on the list.
Secondly, TWE HQ had a bit of a change, with summer seeing us move to a new warehouse. We've now got loads more space and our range of whisky and spirits has taken a bit of a jump, with lots of old bottles that we previously wouldn't have had space for joining the huge numbers of new products that we have on our virtual shelves. At the time of writing we have a total of 7100 bottles, books and other random bits of pieces up on the site. Which is nice.
But what about releases? We put out some interesting whiskies under our own labels over the year, with a raft of new Single Malts of Scotland and Elements of Islay bottlings coming out. Add to that an exclusive Glendronach PX cask, an exclusive Midleton 1991 single cask and four excellent Signatory bottlings of whisky that we selected while up at Edradour in the spring, and you've got a rather nice range of whiskies. Along with those was the culmination of a couple of years of planning and work – the release of the Glenfarclas 1953 Coronation Decanter.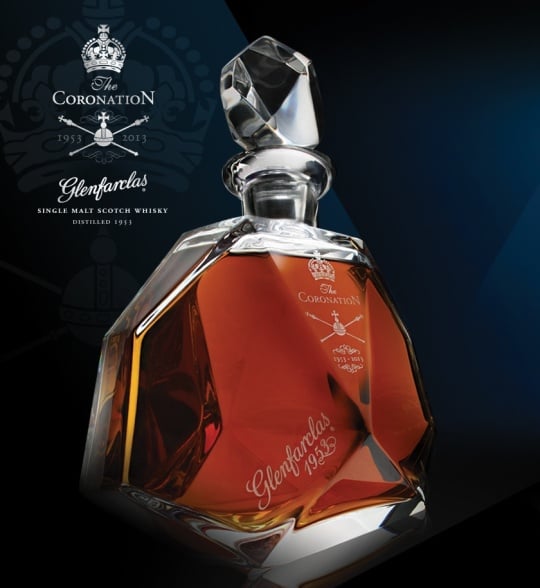 Work on our Coronation bottling started shortly after I arrived at TWE back in 2011, with whisky selection and ideas of how to present it being bandied around in the office. It finally appeared in September 2013 as a very limited release that went down rather well with those who tried it – 93 from Serge, 95 from WhiskyCast, 5/5 from CLASS magazine, 94 from Dramming and some very appreciative tasting notes from Tim and I. They've sold rather well, but we still have a few left, both full-sized decanters and miniatures.
We also had one of our fastest selling whiskies of all time – our most recent Karuizawa 1981. An excellent whisky, but one that shot off the site incredibly quickly. Here's a little graph showing the impact the release had on our site traffic:
There will be another Karuizawa appearing soon and we're looking into ways of making things a little bit easier both on our website and on those who want a bottle – we have plans, we'll let you know when we decide on one.
It seems that other people also released some whiskies over the year, with the regular linchpins of the dramming year joined by a few new shiny things. Things started off as usual, with a new Glenmorangie Private Edition (the Jim Murray Whisky Bible 'Best Whisky of 2013' Ealanta), followed by a whole pile of whisky including Highland Park Loki, the Ardbeg Ardbog, Talisker Storm and Port Ruighe, Balvenie 12yo Single Barrel and Tun 1401 Batch 8, tasty things from Compass Box, Girvan Patent Still and the Diageo Special Releases.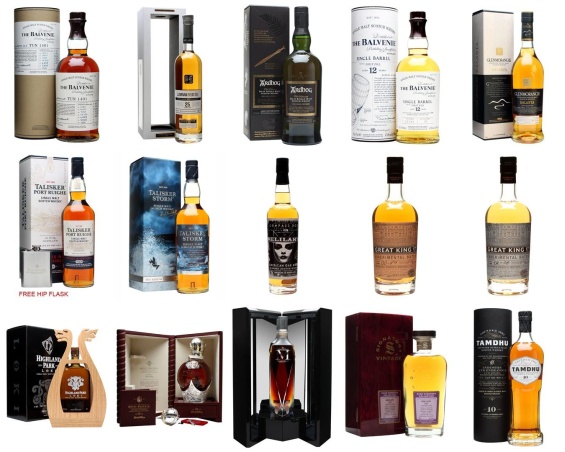 There were also the super-shiny bottles, like the Macallan M, Bowmore 50yo (blog post coming soon…), Signatory's Kinclaith 1969 (incredible whisky) and Royal Brackla's 'trickled out without any fanfare' 35yo. And that's "ignoring" the split of the Laing brothers and the steady stream of great bottlings coming from Douglas Laing, Hunter Laing, Adelphi, Berry Brothers, Gordon & Macphail and the rest of the indies. There's been some pretty good whisky appearing this year.
Even after all of that, I still liked the Tamdhu 10 the best and have even said nice things about it on the blog here. I am still lamenting the fact that they are bottling at 40% in the UK and 43% everywhere else – I tried the 43% version and it's even better.
Dear Ian Macleod,
Please bottle Tamdhu 10yo at 43% in the UK. I will be your best friend and you can come to my birthday party.
Love,
Billy
If that won't work, nothing will…
We finished the year off with a pair of excellent competitions – our Fine Spirits and Whisky Advent Calendar and a prize draw for a bottle of Hibiki 30. They are now both over and all the winners have been informed. The most impressive thing about them was the number of entries – we had over 230k entries in the Advent Calendar draw. Based on simple probability, if you entered every single day, that gave you about a 1/400 chance of winning something, which was a much better chance than winning the Hibiki draw. I suspect we may see the Advent Calendar return next year.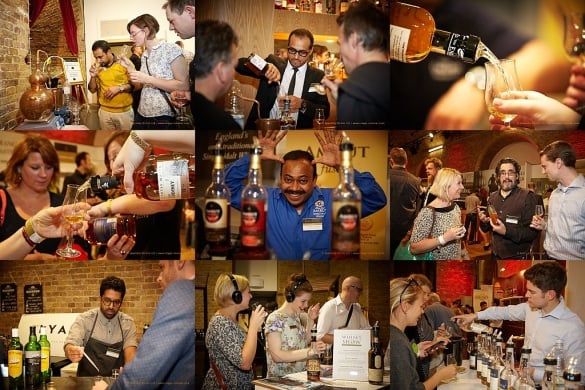 I couldn't finish a round-up of the year without mentioning our big event – The Whisky Exchange Whisky Show. It was even bigger than in 2013, with lots of whisky, food, people and stuff happening. We even had a bunch of rather excellent whiskies released at the show. We're well into the organisation of the 2014 show and tickets should be on sale Real Soon Now. We could start selling them now, but we want to have a few more bits and pieces confirmed before we start taking people's money. It will be in October again, with exact dates being announced when tickets go on sale. You can see what happened last year over here.
Last, but far from least, we gave some awards. After much deliberation, intra-office guerilla warfare and a public tasting we came up with our top Whisky and Fine Spirit of the year – Glenfarclas 15 and Botanist Gin. The thing that pleased us most about the awards is that most people looked at them, considered for a bit and then went 'Okay, that makes sense'. Which for me is the highest accolade an award for flavour can get.
But what of next year? Some of the regular things are already on their way – Glenmorangie Companta hits the market in a couple of weeks, rumours of Ardbeg Auriverdes and Highland Park Freya are making the rounds and there is already speculation on what the Diageo Special Releases will bring. I'm especially looking forward to a few exclusive Gordon & Macphail bottlings that we chose when visiting last year – the two they brought samples of down to the Whisky Show were excellent and I look forward to having a taste of the finished product when they hit our warehouse soon.
Anything I've missed? Anything still to come that you're looking forward to? Let us know – we like hearing from you all. Apart from Tim F, he just points out the mistakes I've made on the website without him here to guide me…
Posted in

Irish Whiskey, Japanese Whisky, Scotch Whisky
Tagged

Ardbeg, Balvenie, botanist, Compass Box, edradour, Elements of Islay, girvan, Glenfarclas, Glenmorangie, Hibiki, Highland Park, Karuizawa, kinclaith, Macallan, Midleton, royal brackla, Signatory, Talisker, Tamdhu