One of our big tasks in December is finding interesting products to put special offers on. These can be things we've got lots of bottles of, things that we can knock some money off and things that we can give freebies away with, but in the main it means digging through our big list of "What we've got" to find interesting things that our customers might want.
What these also means is that we come across bits and pieces that make us stop and have a 'Really? How has that not sold out?' moment. Here are some of those things: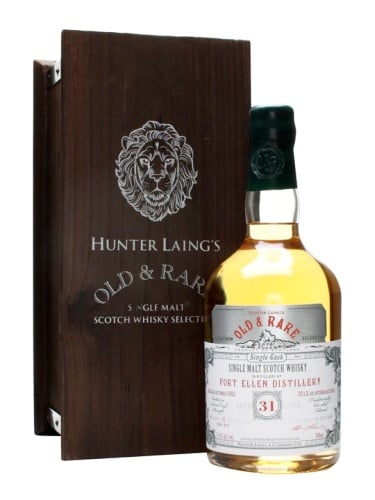 Since the Laing brothers divided the company in two there have been some interesting bottlings appearing from them, but this is one of the more interesting releases in the revamped Old & Rare range. It's a Port Ellen and it's from a sherry cask, so is almost certain to sell out quickly despite its hefty price tag, but for the collectors amongst you it's got something else going for it – there are only 67 bottles.
That's a stupidly small number of bottles and for those who like to have something in the cupboard which is rather unique then this could be for you. We've put it up on the website with no fanfare so get in now before it disappears.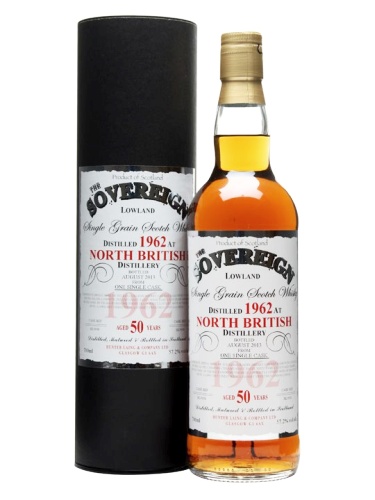 Another from the Hunter Laing stable, this is a bit of a steal – a 50 year old whisky for under £200. It's a grain, which immediately pushes the price down a bit, but even so this is quite ridiculously good value – and it's not even on special offer.
For those of you who have been following the Malt Maniacs Awards, this is not the North British 50yo that picked up a silver medal and was in their top 10 of whiskies in the competition. That was the Douglas Laing Director's Cut release, which we're suspecting was part of the same batch.
The big difference between the two is obvious – the Sovereign is £185, the Director's Cut £394. This one is less than half price. Bargain.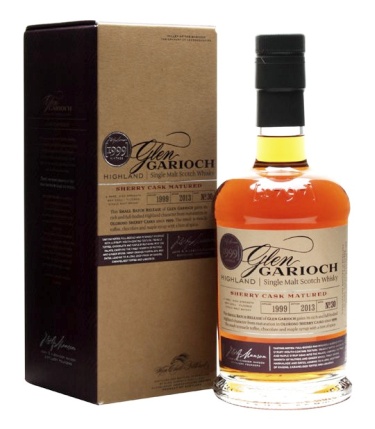 I'm not entirely sure how this one got past me, as I'm a bit of a fan of Glen Garioch – it's a new vintage fully matured in ex-oloroso casks, bottled at a punchy 56.3%.
The folks at Glen Garioch know how to put together a whisky and while I'm normally a fan of their more tropical fruit influenced bottlings, a bit of big sherry and Garioch is something that I'm rather keen on the idea of.
A shift from previous releases, with Glengyle distillery producing a pair of whiskies as their 5th Work in Progress report – one from bourbon casks, one from sherry casks. The Kilkerrans usually get a fair bit of love when they appear, but these seem to have slipped under the radar.
The series is released at a rate of about one bottling (until now) per year, showing how the spirit is getting on since it legally became whisky five years ago. This is a bit of a compare/contrast set, allowing us to see how 8ish years in different kinds of wood has influenced the spirit.
Here are some notes:
Bourbon
Nose: Light but quite intense, with lemon sherbert, lemon butter icing and some lemon zest. Underneath there's some waxiness and touch of honeysuckle, along with a hint at some darker liquorice-like notes.
Palate: Richer than the nose suggests, with spiced sponge cake, light brown sugar and some caramel. There's also some darker woody notes appearing, with the liquorice hinted at by the nose complimented by some damp oak and woody spice.
Finish: Liquorice, butter and lingering barrel char.
Comment: It's definitely not the oldest dram in the world, but it's got a good punch of flavour – good spicy oak and some great darker notes to balance the up front sweetness.
Sherry
Nose: Rich and buttery, with brown sugar and cakespice (thank you Tim F). The waxiness found in the bourbon cask is also here, along with some honeysuckle, but they're overpowered by fruit – sultanas and stewed apple.
Palate: Oily and sweet, with more stewed apple and some charcoal touches. Floral touches and raisins sit behind the apple, along with some tingly cinnamon. It almost gets soapy, but stops just before it gets there.
Finish: Dark, woody spice lingers, along with some char, turning towards Digestive biscuits over time.
Comment: Both buttery and delightful – it's got a lot of things I like, with under-control floral touches and some nice dark, spicy bits. My favourite of the two.
In short – worth a punt. Even Serge liked them, with the bourbon cask being one of his best of the year.
There you go – five whiskies you may not have noticed, and all of which are worthy of some inspection. I suspect a few of them will be disappearing soon…