Despite mentioning how we of the drinks business like to have a bit of a rest in January in my Burns Night post, it seems that this year there is to be no further rest. Over the last couple of weeks there have been a worrying number of new bottles appearing from across the world of spirits, including two whiskies that we've very specifically been waiting on: a pair of new Whisky Exchange exclusive bottlings from Gordon & Macphail – a Ledaig and a Glentauchers, both distilled in 1997.
Our little business trip last April, as mentioned in blog posts passim, did not stop at Signatory. We carried on north from Pitlochry, through the wilds of the Cairngorms into Speyside, and on to Elgin, home of Gordon & Macphail. They started in the town back on May 24th 1895 as a shop in the increasingly prosperous town – as the Elgin Courant, the finest named newspaper I've heard of for a while, said, "in New, Centrical, and Commodious Premises, No's 38 and 40 South Street… a Family Grocers, Tea, Wine & Spirit Merchants".
Shop boy John Urquhart was among the first employees of the fledgling company and advanced through the ranks, picking up the responsibility for purchasing whisky along the way. In 1915 founder J.A Macphail retired and Urquhart became a partner, soon becoming the senior partner, as the other founder, James Gordon, died shortly after. Since then the Urquhart family has been at the reins of the company, now very much focused on the wine and spirit merchant side of the business – while the shop is still sat on South Street, G&M are known world over for their whisky selection.
Having started buying back at the end of the 19th century, they've amassed not only four generations of whisky industry knowledge and connections, but also an impressive array of casks – there aren't many independent bottlers that can pull out a 70 year old Mortlach 1938 one year and follow it with a similarly aged Glenlivet 1940 shortly after. Having had a brief tour around just one of their warehouses, I can say that there is a lot of impressive stuff still to come.
The purpose for our visit was simple: to select some whiskies that we wanted them to bottle for us. After a 'very difficult' afternoon of working our way through a small pile of samples we chose two, both from 1997 – a Glentauchers and a Ledaig.
My love for Ledaig is quite well-known – ever since trying the phenomenal, and very much sold out, Berry Brothers bottling of Ledaig 2005 which kick-started the recent craze, I've been slightly obsessed. Bottled young it can be hugely peaty, and when married with an active sherry cask delivers an incredible combination of smoke and fruit that opened up a whole new style of whisky to me.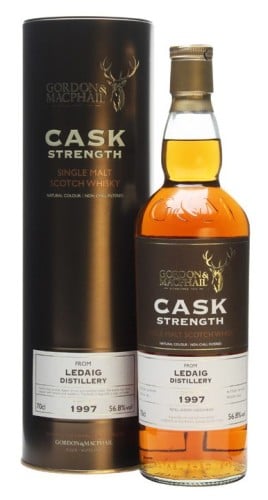 Our bottling is a little older than the six and seven year olds we've been able to get until now – being able to look through the G&M warehouses has lots of benefits. Aged in a sherry cask for 14 years, it's matched up the flavour intensity of the younger drams with a more complex palate:
Nose: Classic big Ledaig: sweet peat smoke, mulchy seaweed and ozone – coastal to the max. Leather and spice, waxed jackets, sweet liquorice, spiced biscuits and sweet raisins.
Palate: Intense with sweetness and spice – ferns, sharp apples, liquorice, menthol and mint. Bertie Basset and blue bobble Liquorice Allsorts, rich earth and some iodine. Chocolate cake and kirsch soaked cherries. Wood smoke and brine ever present.
Finish: Tingly, with sweet mint chocolate, sticky raisins and lingering medicinal peat with soft apples, mint fondant and sugar mice.
Comment: Really fresh despite its age and the cask it's been in. Spicy and savoury at the base with beautiful sweetness dancing over the top.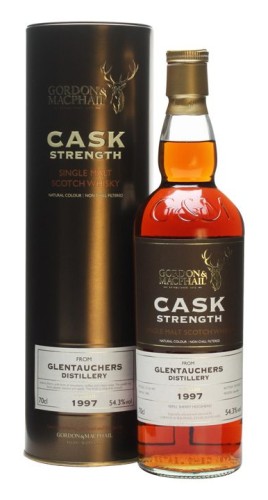 Our second choice is the one that I jumped at as soon as I first gave the sample a sniff. There are certain flavours that I'm a complete sucker for and topping that list is cinder toffee. Well. To be more accurate – Crunchie Bars. It's the smell I get from the finest batches of Aberlour A'Bunadh and is the key flavour I look for in a heavily sherried dram if it's going to go on my keeper list. However, this dram had a bit more to it than I expected:
Nose: Heavy sweetness – caramel, Crunchie bars, Eccles cakes (pastry and filling), sticky liquorice, figs, sugared plums, nutmeg
Palate: Soft mouthfeel but intense flavour – barrel char and hints of sweet-cured bacon, leathery and rich earth, grown-up bitter dark chocolate cake, and rich raisiny sweetness and black liquorice to balance.
Finish: Spiced pastry, rich fruit, lingering berries, chocolate and smoke
Comment: Big, rich, heavy, and full of chocolate and fruit. Classic sherry cask whisky with an unexpected whisp of barbeque smoke running through the middle.
Crunchie bars and BBQ was something I couldn't really resist, and thankfully the rest of the team agreed.
We got to try them again at The Whisky Show back in October, and approached them with a touch of trepidation – they'd spent a few extra months in wood since we'd selected them and whisky from a production bottle never quite tastes the same as a cask sample. Fortunately they were, if anything, better than we remembered, with the smoke of the Glentauchers pleasingly more noticeable and the Ledaig even more intense. There's something quite satisfying about someone trying the (now sold out) Ledaig 7 year old that we'd selected as one of the Whisky Show bottlings on our stand at the show and commenting that they liked it as much as 'the other Ledaig', only to find out that you'd help choose that 'other Ledaig' as well. Win.
Both the Glentauchers 1997 and Ledaig 1997 are now available from The Whisky Exchange website for the rather reasonable price of £54.95.