Dr Bill Lumsden likes looking ahead. At the launch of his latest creation, the Glenmorangie Companta, he talked about his plans for the future – he currently has 29 new Glenmorangie bottlings in development. While not all of these will see the light of day, that pool and the roadmap he's drawn up for 5-10 years of future yearly releases in the distillery's Private Collection range show that the series won't be petering out any time soon.
The Private Collection bottlings had the genesis in the mid 00's, when Bill and the marketing director of the time tried to impose some order on the rather erratic nature of Glenmorangie's experimental releases. Rather than the occasional cask popping up from time to time they decided instead to focus on a yearly bottling that would be produced on a larger scale. The first, Sonnalta, was a hit and while Finealta and Artein didn't quite hit the same height, last year's Ealanta proved to be particularly popular, picking up the coveted World Whisky of the Year award in the 2014 Edition Jim Murray's Whisky Bible. If you're looking for a bottle of the Ealanta get over to our site sharpish – we've got a few bottles left.
With that double-edged accolade still new on the mantlepiece, how would Bill Lumsden and his team, now including former Penderyn Distiller Gillian MacDonald, follow it up? Simple – do something completely different.
Being owned by a luxury goods company known for the quality of its wine subsidiaries is definitely useful for Glenmorangie, with experiments in cask finishing being at the core of their range since the mid-1990s. This has continued since Bill Lumsden moved into his current, variously titled role as (sort of) Master Blender.
Whether it's deliberately seeded, long-term marketing or not, Dr Bill has been talking about his love of Burgundy in interviews for years. He first visited the region in 2008 and while being shown around various vineyards came across Clos de Tart, one of the Grand Cru monopoles (an area where all of the wine is produced by a single company). They produce a red Burgundy from predominantly Pinot Noir grapes and Dr Bill was rather taken by their wine. He bought a small parcel of empty casks and shipped them back to Scotland for some experimentation.
Glenmorangie had done a Burgundy Finish whisky before, but it was discontinued due to the lack of consistency in the quality of casks they could obtain. With a smaller number of casks, such as the small parcel they got from Clos de Tart, things were much better and the foundations of Companta were laid.
They filled the casks with 1999 vintage whisky, a batch of approximately 10 year old spirit that had been earmarked for the Glenmorangie Original. They left the spirit in the casks until 2013, bringing the whisky up to around 14 or 15 years old. Bill described the Clos de Tart matured whisky as 'too austere' and he looked for something in the warehouse that could help round things out. Fortunately there seems to be no end of experimental batches hiding in Glenmorangie's reserves, and a batch of 1995 vintage spirit that had been finished for 8 years in fortified wine casks from Rasteau in the Rhône region fitted the bill. After a long development process of blending the casks together in different quantities, a kick from Gillian to stop playing with the whisky settled Bill on a recipe (60% Clos de Tart, 40% Rasteau), and after six months of marrying Glenmorangie Companta was born.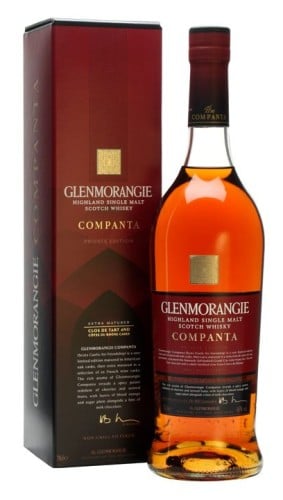 While the bottle doesn't carry an age statement, it is, to reiterate, a vatting of 1999 vintage whisky finished for 4 years in Clos de Tart Burgundy casks and 1995 vintage whisky finished for 8 years in sweet fortifed Côte du Rhône wine casks from Rasteau – a respectable amount of time in each of the casks used. Wine matured whisky can occasionally go a bit weird, so I was intrigued to see how this went and what the fortified casks brought to the mix.
Firstly, a quick note about the colour – it's quite red. Internally they codenamed the whisky 'Cherry Red' and it's easy to see why. The colour is all natural and, to complete the duet of whisky geek friendly specifications, it's also not chill-filtered.
Nose: Pungent – blood oranges, spiced milk chocolate, coarse black pepper, stewed plums, almonds, red apples and sweet waxiness, with underlying darker leather, damp wood and earthy notes.
Palate: Sweet and spicy to start, with fresh vanilla cream at one end of the spectrum and old oakiness at the other. More chocolate, nutmeg, liquorice, dark cocoa, black pepper, green leaves and some barrel char. Along with all of that it's packed with winey flavour – tannic grapes, rich port sweetness, cherries and some leather.
Finish: Spicy and long, with black pepper, anis, berries and orange zest.
Comment: On the edge of what I think of as whisky. It's picked up so much wine character that a lot of the spirit has been lost, coming through in the orange hints that make themselves known throughout. However, it is pretty good – over the top with winey flavours, but also packed with chocolate and spice. Not one for those who have a serious aversion to wine cask matured whisky, but it looks like the fortified Côte du Rhône casks have pulled it back from being too much.
A brief word on the name – Companta. According to Glenmorangie it means 'friendship'. According to the internet, both a variety of handy gaelic translation websites and people on the internet who don't speak Scots gaelic but do know how to use translation websites, it means 'sociable'. There seems to be mild consternation about this mismatch. I will leave further debate to language scholars and leave you with this:
It has been pointed out by Joel in our shop that Companta could well be a movie tie- in – Glenmorangie Rhône Burgundy. All abuse for that should be directed at Joel via the Shop Facebook page.
Glenmorangie Companta is now available at the Whisky Exchange website for the rather excellent price of £66.95.