To continue our celebration of Deanston 18 Year Old winning our Whisky of the Year 2022 award, we're taking a look at the history of this great Highlander. 
Deanston scored a decisive victory at our annual Whisky of the Year blind tasting. The result confirmed without a doubt what the whisky world has known for some time, that this Stirlingshire distillery is a serious contender in the single malt category. However, it's not long ago that Deanston was one of Scotland's great workhorses – steadily turning out quality blending stock to little fanfare. But over the course of its relatively short history – at least by Scotch whisky standards – Deanston has distinguished itself as a distillery to be reckoned with. These are the six bottles that tell that story.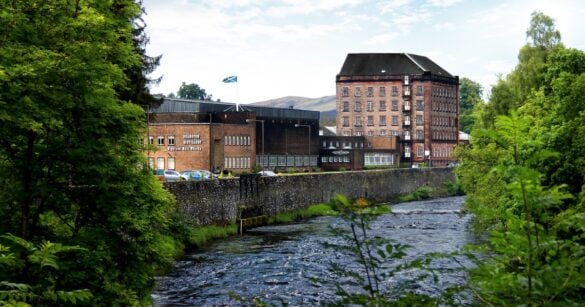 The old Adelphi Mill was a technological marvel. As far back as the 1810s, its vast premises were lit by lamps fed from a central gas works and its machinery was driven by four colossal water wheels turned in the River Teith. These feats of engineering were so spectacular that the plant became a popular spot among tourists venturing north of the Highland Line. The village of Deanston grew outward from the mill in to house its various workers and visitors.
More than a century of prosperity came to an end in the 1900s when the Scottish cotton industry that had been a vital part of the industrial revolution began to fade. The Adelphi mill clung to life longer than most, but in 1965 its factory floors fell silent. However, they would not be idle for long.
Teith Mill Blended Whisky, 40% – Bottled 1970s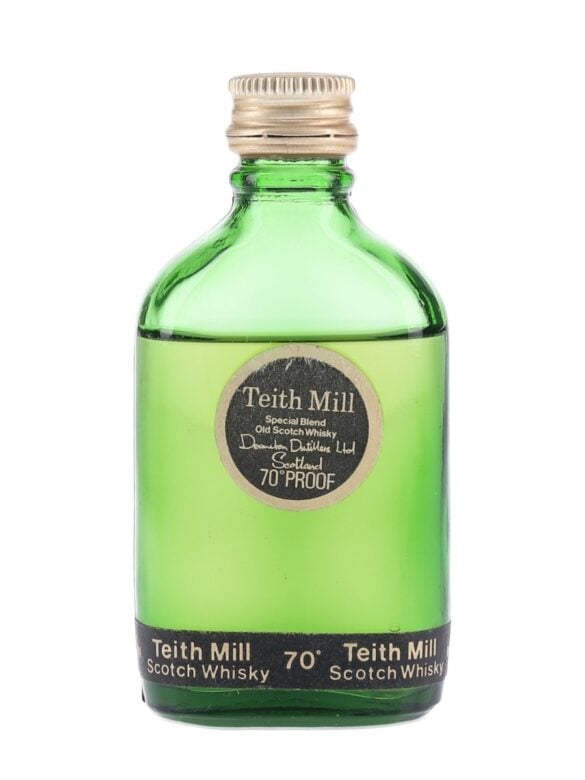 The 1960s are regarded now as a golden age of whisky production. Sales were strong and the high demand for blending stock saw a number of new distilleries spring into being across Scotland. Loch Lomond, Glenallachie and Tomintoul all came online during this period of optimism. Broker and blender Brodie Hepburn Limited moved into the old Adelphi mill soon after it shipped its last batches of cloth.
Deanston distillery came online in 1966, powered by modern electric turbines where its famous water wheels once stood. The new owners swiftly brought to market a range of blends containing Deanston and other malts from their portfolio including Macduff and Tullibardine.
Deanston Mill 8 Year Old Single Malt, 40% – bottled 1980s

Though the majority of production went for blending a few early bottles of single malt were produced, labelled as Old Bannockburn and Deanston Mill. Though the site was successful enough to attract the attention of Invergordon distillers, which acquired it in 1972, Deanston struggled in the lean years of the 1980s.
In 1982, poor trading conditions forced Deanston to close, with little hope that it would re-open. Its pot stills remained cold for years, as distilleries were shuttered around Scotland – but by the end of the decade, things were looking up. London-based Blender Burn Stewart took on Deanston in 1990, heralding a new start for the old mill.
Deanston 12 Year Old 'Un-chill filtered', 46.3% – old presentation, bottled 2009
After quietly modernising thorough the 1990s, the mid-2000s found the distillery at a crossroads. Its owners wanted to push it as top-drawer single malt brand and in 2009 they brought the Deanston name into the 21st century with a new 12-year-old single malt that proudly identified itself as 'Un-chill filtered, exactly as it should be'. Since then, the brand's reputation has grown massively among whisky drinkers.
Try the latest edition of Deanston 12 Year Old >
Today, the Deanston team carries out the sort of work that makes whisky drinkers take notice. They mash Scottish barley and ferment it for as long as four days prior to distillation. Pushing fermentation past the first couple of days won't make any more alcohol but it does tend to make the alcohol you wind up with more interesting. All of their official bottlings are arriving on our shelves at respectable ABVs above 46%, non-chill filtered and without artificial colouring. These extra steps beyond what is legally necessary to make whisky, are often what it takes to make a whisky great.
Deanston 18 Year Old, 46.3% – Bottled 2021

Buy Deanston 18 Year Old now >
Master distiller Brendan McCarron joined Deanston's owner Distell in 2021, a significant departure for the former head of maturing whisky stocks at Glenmorangie. Shortly after his arrival, Brendan fought to save long-running Deanston 18-year-old from discontinuation. As it turns out, he was right to do so. The distillery's flagship expression shows exactly what modern Deanston is all about – waxy and tropical, with intense citrus fruit and a generous layering of American oak vanilla.
Deanston 1997 Palo Cortado Finish, 51.8% – bottled 2019

Recent years have seen a broader range of casks than ever before arriving at Deanston. While the oily, fruity spirit produced there is well suited to ex-Bourbon barrels it's also robust enough to stand up to more boisterous casks like sherry and new American oak. The highly sought-after Palo Cortado matured expression sold out quickly, prompting yet more whisky lovers to take notice of Deanston's new releases.
"I'll be honest with you," Brendan told us in a recent interview. "I think at Deanston we've made loads and loads of amazing whiskies but we've made them in tiny amounts. So in a way it's almost just pissed off the Deanston fans. Deanston Palo Cortado was just phenomenal and there was a thousand cases too little of it because there were so many people who wanted to try that whisky and then it was all gone."
Find out more about Deanston 1997 Palo Cortado Finish >
Part of Brendan's plan for the future of the distillery involves laying down more casks for single malt and plotting the special editions of tomorrow. Or as he put it, "It's now our time to be more selfish with this whisky."
Deanston Virgin Oak, 46.3% – old presentation, bottled 2010

As well as being a vocal champion of Deanston single malt, Brendan has set himself to breaking down and improving the existing expressions. His particular pet project being the much loved Deanston Virgin Oak, which he is currently in the process of tweaking and developing – running trials with alligator char casks and American oak from different origins.
Try the new Deanston Virgin Oak >