The story of Cuban rum is, in many ways, the story of Cuba. Its evolution has followed changes in the island's economy and culture, from the first aguardiente to the light aged rums we enjoy today. For much of that history, one name has been synonymous with these unique Caribbean rums: Havana Club. It flew the flag for Cuban distilling and culture through difficult years and helped grow its reputation around the world. It is with that in mind, that we tell the story of Cuban rum with these three drinks – all of which have Havana Club at their hearts.
Hecho en Cuba
Sugarcane reached Cuba in the early-16th century and – following the universal rule that human beings will make alcohol from whatever's handy – rum soon followed in the form of pot-distilled aguardiente, literally 'firewater' in Spanish. In the beginning, rum production in Cuba lagged behind what was happening in neighbouring Jamaica and Barbados. For many years, the Spanish crown outlawed rum production there for fear that new-fangled cane liquor would erode the trade in homegrown wine and brandy. From this we can infer with some certainty that even the earliest Cuban rums were pretty damn good.
Come the 19th century and the sugar business was booming. Plantations across the island began switching from coffee and tobacco to cane. Sensing an unexplored commercial opportunity, the islanders invested in the infrastructure and equipment they would need to make rum. The original home of Havana Club was built during this time – a large, modern distillery in Cárdenas in the island's northern reaches. Column stills were brought in and the pioneers of Cuban rum began to develop an elegant style with a sense of identity. When the first cries for independence rang out across Cuba, the growing industry was an important symbol of the nation that might be.
Canchánchara
With the outbreak of The Ten Years War (1868-1878) Cuban rum took on an even greater importance. To the islanders It was a symbol of their fledgling nationhood: they drank it to steel themselves before battle and to toast the dream of an independent Cuba.
The country's first native cocktail was popularised in this period, a fortifying blend of rum, lime juice and honey favoured by the rebel forces. This forerunner to the Daiquiri predated technological advances like the ice machine and the Boston shaker and so the rebels drank it as it came. The recipe given here is for a more modern version that's well chilled and perfect as an early-evening livener.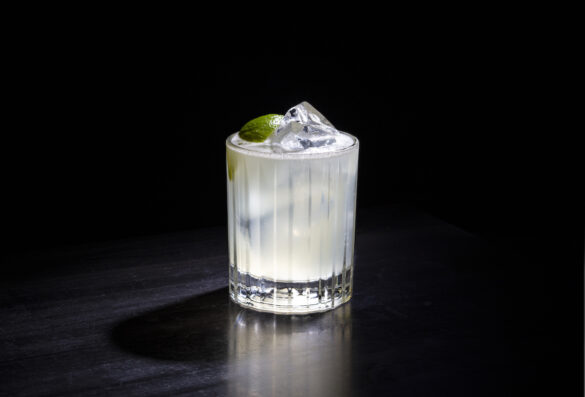 The trick is using a good-quality honey and, of course, the right rum. The aromatic, grassy Havana Club Professional Edition D contains a high proportion of fresh aguardiente that makes a fitting tribute to Cuban rum's early history.
Ingredients:
50ml Havana Club Professional Edition D
20ml fresh Lime Juice
20ml honey Syrup
Directions:
To make the honey syrup combine equal volumes of hot water and honey. Stir until everything is dissolved and leave to cool to room temperature. Shake all ingredients with plenty of ice, strain into an ice filled tumbler and garnish with a wedge of lime.
El Presidente
Rum production flourished in the independent Cuban Republic. The use of column stills, charcoal filtration and refill casks made for elegant rum that proved popular with thirsty visitors to the island. By the early-20th century, word of Cuban rum's quality had spread across North America. This good reputation proved especially important when overnight it became much harder to order a stiff drink in the USA.
After years of lobbying, a coalition of organisations including the Anti-Saloon League, the Women's Christian Temperance Union and the KKK successfully outlawed alcohol 'for beverage purposes.' While January 17, 1920 was a dark day in the United States – it was the beginning of a new era for Cuban rum. Local cantineros reworked contemporary cocktail culture to suit the local climate and ingredients. Havana became a destination for thirsty holidaymakers, whose presence brought international renown to Cuban innovations like the Mojito, the Daiquiri and a Manhattan style drink called El Presidente.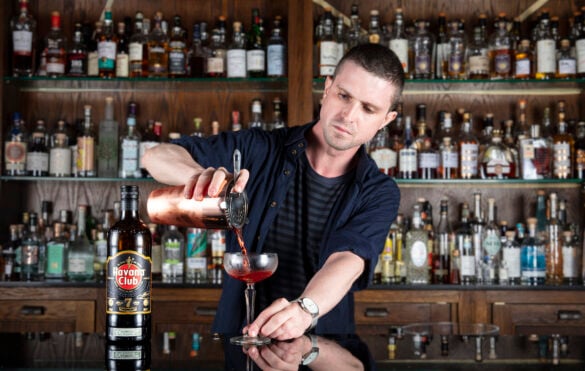 While many recipes for this old classic call for lighter rums, this version draws on rich Havana Club 7 Year Old. The result is a medium-bodied drink with notes of orange, vanilla and dark chocolate – ideal for after-dinner sipping and perfect company for a Cuban cigar.
Ingredients
60ml Havana Club 7 Year Old Rum
20ml sweet white vermouth
2 barspoons triple sec
1 barspoon grenadine
1 dash Angostura bitters
Orange for garnish
Directions
First, put a cocktail coup into the freezer. Then combine all ingredients in a mixing glass with ice and stir to chill and combine – you can taste as you go to make sure the dilution is right for you. Strain into your frozen cocktail glass and garnish with an orange twist.
The Hemingway Daiquiri
Cuban cocktail culture retained its world-class status long after the repeal of prohibition. Many of the great drinks associated with the scene were direct descendants of the Canchánchara, built around the chemically harmonious pairing of light rum and lime juice. Towering above them all, we find the classic Daiquiri. Like all the great canonical cocktails, it works to a simple formula that's ripe for reinvention: rum, citrus and a little sweetener to tie it all together.
For decades it was re-mixed in bars around the country with a few notable versions earning mentions in the history of drinking. This one took the name of its biggest fan, a certain Mr Ernest 'Papa' Hemingway – who was known for hunting, fighting and publishing the odd story here and there.
Hemingway lived in Cuba intermittently from 1940 onward. On the island he could fish and drink rum while the good weather offered comfort for his poor moods and worsening health. During this period, he purportedly liked nothing more than to post up at El Floridita in Old Havana and order what he called a Papa Doble – a king sized Daiquiri made with grapefruit juice and Italian Maraschino liqueur.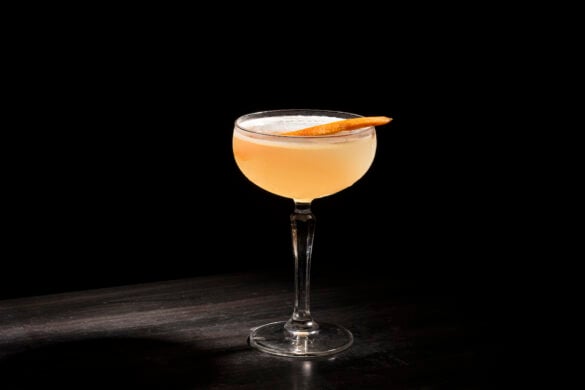 He said that because the drink contained no sugar it was less detrimental to his diabetes. A genius Hemingway was, but he didn't know – or wouldn't admit – is that there's plenty of sugar in liqueur and grapefruits.
Havana Club 3 Year Old Rum remains the benchmark for Daiquiris and it performs admirably here. The fresh-cane grassiness, vanilla, and notes of citrus peel work perfectly with the bitter grapefruit and the botanical funk of the maraschino.
Ingredients:
100ml Havana 3 Year Old Rum
30ml lime juice
30ml grapefruit juice
25ml Maraschino liqueur
Directions
The recipe given here is a double portion and will comfortably serve two. To make it, shake all the ingredients with ice until the outside of the shaker turns frosty. Fine strain into a frozen cocktail glass and serve un-garnished.
Hemingway left Cuba in 1960 – barely a year after the Cuban Revolution. Despite what many have implied since, he met Fidel Castro only once before returning to the United States for the final time. They spoke about fishing. Revolutionary Cuba has since embraced its connection to the great novelist and the Papa Doble continues to flow at El Floridita to this day.
The future of Cuban Rum
Cuban rum fans have lots to be excited about right now. New brands exploring variations on that distinctive light, dry style are appearing in shops and bars around the world. It also seems that US-Cuban relations – which retain some residual chill from the Cold War – may be improving at last. This could spell an end to the embargo that has prevented Cuba from exporting rum to its nearest, and largest, potential market. It's not a certainty yet, but this would start a new chapter for Cuban distilling, meaning more Cuban rum and – of course – new ways to drink it.
Now that's worth raising a Daiquiri to. Salud!